Citadela Directory plugin received a significant update last week. Together with dozens of minor changes, we've released 2 new features in one update: Multiple Packages & Permissions Manager. Yes, that's right, you can now set up a free package that is limited and then an unlimited number of premium packages.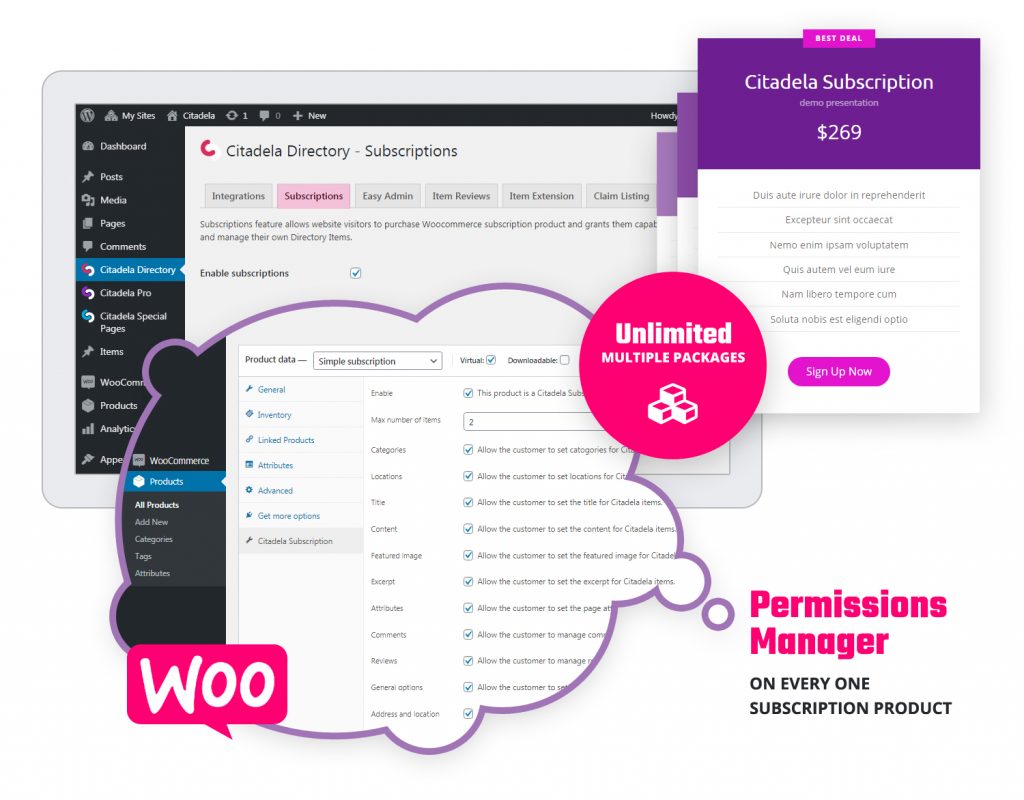 When we first started planning the new Citadela theme and its plugins, we decided to build on the best e-commerce solution – WooCommerce. WooCommerce has not only the most extensive collection of payment gateways; it is extendable, fully supported by Automatic and works flawlessly with the WordPress ecosystem.
What have we done now? Citadela Directory plugin works as a layer on top of WooCommerce and extends its functionality. You use WooCommerce to add subscription packages and administer directory permissions directly inside the WooCommerce package.
It's the most straightforward way you can imagine. After you set up your packages in WooCommerce, they are automatically interconnected to the Citadela Directory plugin. It's a fast, secure, extendable and future proof solution. Please have a look below to see how simple it is to set it up.
Are you a newcomer in the subscription setup? Then you welcome detailed documentation on how to set up monetization on your website. See Multiple Listing Subscription.
All Citadela code in our theme and plugins is strictly following all WordPress approved codex. That way, if you're a skilled developer, you can extend it to your needs (or hire a company to do it for you). Do not forget that Citadela is a free theme released, reviewed and checked by WordPress people. Our free Citadela Directory Lite plugin is also on WordPress.org, and it fulfils the highest WordPress standards.
This is still just a beginning, guys. New features are coming very soon 🙂
Full Membership for $99/year
The first one is the annual Full Membership. It comes with yearly access to all products and their updates. You have access to everything we added, and also we are going to release within 12 months from your purchase date. Also, you have access to dedicated support service for 12 months.
Lifetime Membership for just $149. No renewal fees.
Second is Lifetime Membership. It comes with lifetime access to all products and their updates. Also, within this Membership, you have unlimited usage license. This offer will end when the second phase of Citadela is done. Also, you have access to dedicated support service for 12 months.