Compatible Browsers
IE9+, Chrome, Firefox, Safari
GDPR Compliant
Yes, with our GDPR plugins
- Fix: Recurring event calendar WP 5.7 compatibility issue
- Update: Added core WP wp_body_open() function
- Fix: Post date issue with Romanian language
v4.0.23
February 25, 2021
- Fix: Loading of GoogleMaps and OpenstreetMaps API - child theme fix
v4.0.22
February 23, 2021
- Update: AIT API key settings updates
- Update: Loading of GoogleMaps and OpenstreetMaps API
- Fix: Fixed range input in admin settings
v4.0.20
December 17, 2020
- Update: WP 5.6 compatibility update
- Fix: Stripped apostrophe in search results
v4.0.19
November 26, 2020
- Fix: Draft items appears on the header map
v4.0.18
September 24, 2020
- Fix: Search form radius input was broken visually on WooCommerce pages
- Fix: Taxonomy list item does not appear for mobile devices inside carousel
- Fix: Contact form does not send some data after updgrade to WP 5.5
- Update: WP 5.5 compatibility update
- Update: WP 5.5 compatibility update
- Fix: Escaped characters in email from Contact Owner Form
- Fix: Infobox in small maps is centered vertically to fit and prevent being cropped
- Fix: API keys & WP Multisite
- Fix: Images with anchor could not be floated / aligned in content
- Added: Top Bar with tagline and soc. icons above header when tagline is set
- Fix: Admin aprove option at items did not send emails to administrator
- Fix: After creating package ( if permission manager is activated ) user cannot show profile page
- Fix: Fixed WooCommerce Product Categories select in widget
- Added: Support for special offer detail page
- Fix: Incorrect decoding of url in advanced filter
- Fix: Incorrect displaying of special characters in the Item review user name
- Fix: Registration without captha not working in user panel
- Fix: Custom class in search form element is not working
- Fix: Widget Navigation Menu and its anchors were not aligned properly
- Fix: Search radius popup was sometimes not reachable in Collapsed layout and its offscreen detection was improved
- Fix: Count of resources restricted also to languages in items info element
- Fix: Fixed input icons align in Login / Regsiter widget when help texts are filled
- Fix: Removed empty css styles
- Fix: Fixed warnings and notices in some edge cases
- Fix: Content conditions and navigation improvements
- Released DirectoryPRO theme version
- New: ThemeForest Theme Activation
- Fix: Fixed Warning message displayed with Item Post on archive and category pages.
- Fix: Fixed Warning message displayed with Item Post in some edge cases.
- Fix: Header Map displayed only first 100 items, ajax loading of other Item posts was corrupted.
- Fix: Fixed javascripts for maps provider checking
- Update: Validated CSS styles to satisfy W3C validator
- Added: OpenStreetMap implemented in Header Map Element and Item's detail page (no API key required)
- Fix: Sign Up page on multisite installation
- Fix: Fixed frontend Warning at event pro detail page
- Fix: default false value for featured item if user dont have permissions to change this.
- Fix: Cancel upgrade process from subscriber to free role.
- Fix: Submenus on iPad were not working properly
- Update: Updated dates for events in demo content
- Fix: Captcha improvements at registration
- Added: AggregateRating structured data
- Fix: Reviews structured data
- Fix: Use general wordpress date format at event element only for box layout (because lack of space at list layout). 
- Fix: If geolocation is disabled in browser go to default position
- Fix: Contact owner form cooperate with review plugin
- Update: Updated deprecated Wordpress function login_headertitle()
- Fix: Fixed frontend Header Map on Item Post draft preview page
- Fix: Events pro category does not appear image if is set under events pro category settings
- Fix: Social icons warning appear at frontend
- Fix: List bullets on item detail were overlapping slider on tablet
- Improvement: Improved Google Maps API javascripts for Header Map element
- Added: Theme package include marketing plugin "HubSpot All-In-One Marketing – Forms, Popups, Live Chat" to grow your email list, generate leads, and manage all your contacts inside HubSpot's free CRM. Plugin can be found in theme folder ./ait-theme/plugins/leadin.zip
- Fix: Removed undefined infobox displayed after click on geolocation map marker
- New: Revolution Slider element offer selection of slider for each language on Special Pages in Page Builder
- Update: Return urls for AIT PayPal Payments plugin can be defined separately per each language on multilingual websites
- Fix: List bullets were not aligned by text align
- Update: Google+ share button in page title share buttons and Item detail page replaced with Pinterest. Google+ is going to be closed on April 2nd of, 2019
- Fix: Removed accidental output in Login/Register Widget
- New: Default currency obtained from Theme Options -> Payments -> Currency
- Fix: Corrected condition in AIT Requirements Checker for ICONV extension
- Fix: Fixed special characters in website name displayed as attributes for logo
- Fix: Fixed responsive width for Contact Owner Form in colorbox
- Fix: Fixed duplicated on/off buttons in Page Builder
- Fixed menu description
- Update: Wordpress 5.0 compatibility update
- Update: PHP 7.2+ compatibility update
- Update: PHP 7.2+ compatibility update in nette framework
- Update: PHP 7.2+ compatibility update
- Fix: Fixed items subtitle padding 
- Fix: Fixed translation of payment methods in user profile page
- Fix: Fixed decimal ordered list
- Improvement: Speed improvement for search query
- Fix: Fixed portfolio filter for iOS touch devices
- Fix: Fixed registration process in case the only keyboard is used to fill the registration form
- Fix: Removed shortcodes from Item post content text displayed on Event Pro detail page
- Fix: Fixed size of icons in Google Maps to meet the new design of buttons applied by Google
- Fix: Registration widget - selection of packages is available only when two or more packages are available
- New: Added Tripadvisor logo to social icons selection in Theme Options > Social Icons settings
- New: Load Google Maps on request after click on button
- Fix: Fixed work with Items authors which username was defined as number instead of text
- Fix: Word-break for email adress
- Fix: Added taxonomy title as alt attribute for Category and Location icon images on archive pages
- Improve: Improved javascript logic for Contact Form element.
- Fix: Address word wrap on Item detail page
- Improvement: Save button in Page Builder and Theme Options will be disabled until page has fully loaded to prevent unintended save with uninitialized inputs
- Fix: Missing share buttons in Title Element of Items, Events Pro and Special Offer archive pages
- Fix: Email notifications of Item post submitted to review by administrator
- Fix: Web address word wrap on Item detail page
- Fix: Item and EventsPro posts are displayed in all languages once they are marked as not translatable in AIT Languages plugin
- Fix: Fixed zoomed images in colorbox cloned by bxSlider jQuery plugin
- Fixed: Special offer featured image 
- Fixed: Comments form 
- Fixed: Captcha item review formr
- Fixed: Added missing alt attribute for featured image in Theme->Posts widget
- Update: Form fields reset styles in reset.css
- Added: Support for AIT Comments Extension plugin
- Added: GDPR support for contact owner form, custom notification text can be displayed within Name, Email, Subject and Message inputs
- Added: GDPR support for registration form, custom notification text can be displayed within Username and Email inputs
- Added: GDPR support for AIT Claim Listing plugin
- Added: GDPR support for AIT Item Reviews plugin
- Update: Updated Promotion element, available input for image alt attribute
- Added: Helper input for all Inputs in Contact Form element (GDPR requirement)
- Fix: Fixed email notification for expired Package - can be defined in Theme Options > Packages settings.
- Fix: Fixed typo in theme admin
- Update: Contact Owner form on Item detail page updated. Added Captcha and loader icon.
- Fix: Fixed sending of multiple emails after clicking on submit button in Contact Owner form on Item Detail page.
- Update: Updated product image cropping sizes for Woocommerce 3.3+
- Update: Allowed opening of Woocommerce Product images in lightbox in responsive design
- Update: Updated Colorbox jquery library to latest version
- Fix: woocomerce gallery detail
- Fix: Starting position of Header Map Element is always position defined in Header Map element, instead of position 0,0
- Fix: Fixed Search dropdown
- Fix: Fixed wrong Username displayed in Login Widget if email address used as username
- Fix: Fixed Streetview for header map on standard Pages, Streetview is displayed according to settings in Header Map element
- Fix: Fixed Search form category
- Fix: Fixed number of Item posts displayed in Header Resources section on multilingual website
- Fix: Fixed Add Media button in admin screen for directory users
- Fix: Missing functionality from Yoast SEO plugin in SEO metabox
- Update: Updated FontAwesome library
- Fix: Fixed use of special characters in visual editor
- Fix: Fixed missing My Items button in login widget when administrator have to approve users Item posts.
- Fix: Image widget css
- Fix: Wrong redirection on password protected posts
- Fix: Registered user could see all Items while creating new Event Pro
- Fix: Captcha in Contact Form Element is regenerated after form submit and reset
- Fix: Problem with untranslatable notificiation payment email. Text in the email is translated now. Make sure have also latest AIT Languages plugin.
- Fix: Item featured image use post title as alt attribute
- Fix: Fixed dropdown menus in WordPress visual editor
- Fix: Fixed special characters escaping for categories title in portfolio filter
- Fix: search filter pagination error
- Fix: Button My Items in login widget displayed only if logged in user has capability to manage Item Posts
- Fix: Zooming page in responsive after using search category
- Fix: Main menu hover fix
- Fix: Mobile menu
- Fix: Deprecated "add_to_cart_fragments" hook
- Fix: Comment form style fix
- Fix: PHP notice if price value not set
- Update: WooCommerce 3 compatibility
- Fix: Search results in Header Map and regular result list didn't match in edge cases
- Update: Demo images are now downloaded via HTTPS
- Fix: Minor bugs in JS in Advertisements element
- Fix: Do not send full server directory paths to JS object in elements
- Update: Basic compatibility with WooCommerce 3.0 (resolved deprecated notices)
- Fix: Preview of Text element in Page Builder for other languages
- Fix: Missing names for sidebars in some languages caused widget administration to be unusable
- Fix: Radius unit (km, mi) is now translatable (via AIT Languages plugin or your own translation)
- Fix: Blank Header Map on Event Pro detail page
- Update: Year range from 1900-3000 for datepicker in Theme Options / Page Builder
- Fix: Proccess shortcodes in promotion element's text area
- Fix: Show Page Builder button on Admin Bar only when user has permission to access Page Builder
- Fix: Enabled fuzzy search in jquery.chosen.js selectboxes in Page Builder - able to find nested items now
- Fix: Shortcodes Generator modal window failed to load in Page Builder for Text Elements
- Fix: Use HTTPS protocol for external services - Twitter, Mixcloud
- Fix: Search sentence fix
- Fix: Twitter referral in share buttons
- Fix: Responsive search input fix
- Fix: Item carousel spacing fix
- Update: Bundled AIT Updater v5.0
- Fix: Horizontal tabs responsive script
- Fix: User couldn't access wordpress login screen via direct link example.com/wp-admin/
- Update: Bundled same demo content as on our preview website for Directory+
- Fix: Item Features style fix
- Fix: Login Widget Last Password width fix
- Fix: Displaying remove icon in Search category
- Update: Support for free basic packages
- Update: php7 optimization
- Fix: Footer Search Input Icon fix
- Fix: Logged in users could see only their items on map
- Fix: Items with 'draft' status were displayed on map
- Update: Updated demo-content
- Improved: Usability of Page Builder on smaller resolutions
- Added: Collapsible Available Elements to gain more screen estate while scrolled
- Fix: W3C validation error in Search Form element
- Fix: Redirects and notifications on frontend login failure
- Fix: Radius popup remained opened after page refresh
- Fix: Messed Claim Listing form styles
- Fix: Search imput style fix
- Update: Speed optimization for projects with large number of items
- Update: Header Map loads items asynchronously (prevents server failures and heavy loads)
- Fix: Password protected pages works correctly with Page Builder
- Fix: Position of Columns Element On-off switch
- Fix: Max 4 rows in Element Content previews in the Page Builder
- Improvement: Allows users to register with Cyrillic usernames
- Fix: Problem with malfunctioned permalinks after importing Demo Content
- Fix: Upcoming Advanced Search plugin styles interferee with original Search Form location input
- Fix: Php warning when Event's Pro Fee price was empty
- Fix: Date-related translations in calendar on event's detail page
- New: Content preview of Elements in Page Builder. You can have brief look what will Element look like on frontend when you are working in Page Builder.
- Update: Removed deprecated meta value target-densityDpi
- Fix: Positioning of location input in search form element
- Added: Notice when only registered users can add review
- Added: Compatibility with upcoming Ait Advanced Search Plugin
- Fix: Item address small style fix
- Added: Locale based number formatting for price in WpLatte currency macro
- Fix: Carousel initialization conditions
- Update: Currency formatting for Events Pro fees
- Fix: Placeholder in range input
- New: Option for enabling 'Anonymize IP address' feature in Google Analytics
- Fix: TinyMCE editor fullscreen in Page Builder
- Fix: Problem with searching in other languages then default
- Improvement: Sort Font Awesome icons alphabetically
- Update: Drag&drop ordering pages and custom post types is removed, it caused some serius problems. Can be enabled back with 'Simple Page Ordering' plugin
- Fix: Portfolio Archive Page Title style fix 
- Update: Compatibility with AIT permissions manager plugin
- New: Redesigned Page Builder, Theme Options and other admin pages related to AIT theme features
- Fix: Page share on event archive page
- Added: Custom message in Google Map element if there is a problem with API key
- Fix: sub, sup style was missing
- Fix: Stripe payment process possible security issue
- Update: Bundled plugins updated
- New: Compatibility with new membership system
- Fix: List style fix in Item detail page
- Fix: Text width when item has no image 
- Fix: Cases when Ait Toolkit plugin isn't active
- Fix: If "Date To" wasn't specified theme displayed current date
- Fix: Admin google map streetview initialization
- Fix: Events order on item's detail page
- Update: Updated mobile.js library
- Fix: Export function fatal error when revolution slider directory doesn't exists
- Fix: Search results populated in breadcrumb
- New: Theme now displays also Events Pro which have already started and are still running (requires most recent version of Events Pro plugin)
- Added: Compatibility for Special Offers filters on archive page
- Updated: FontAwesome icons v4.6.3
- Fix: Fixed header resources link when translation exists
- Fix: Megamenu with Icon Image 
- Fix: Fixed comment pagination links
- Update: Updated Google Fonts list
- Fix: Potencial fatal error with AIT Get Directions & AIT Item Extension after their deactivation
- Update: Updated TGM Plugin Activation library to v2.6.1
- Fix: When there are multiple version of same language like en_US, en_GB, en_CA, item search wasn't working
- Fix: Captcha in Contact Form element now works with cache plugins like WP Super Cache
- Update: Requirements checker now checks for max_input_vars param, it is recommended to set this PHP param to value at least 3000
- New: In Theme Option you can insert Google Maps API key (requirement for all Google Maps since 22.06.2016)
- Fix: Widget Background Color is changing from Website to Page Background Color
- Fix: Left Sidebar Woocommerce Widgets Style fix
- New: Added Greek, Canadian English, Turkish and Ukrainian languages to Google Maps Element
- Fix: Woocommerce my-account pages
- Added: Compatibility with Special Offers Plugin
- Fix: Carousel Arrows in Narow layout style Fix 
- Update: Updated ajax return messages for contact form element
- Update: Regenerated POT file for translations containing the newest text strings
- Fix: PHP error - Undefined var $parentTheme in AitUpgrader
- Improvement: Google Maps are loaded in the WP admin and on the frontend according to selected language
- Fix: Need for "double" save of Theme Options to invoke color/design changes is gone
- Update: Response notification when required fields for wp-mail are missing
- Fix: Streetview on empty search results page
- Improvement: Skeleton and Theme Upgrader
- Fix: Package slug and compatibility with AIT Claim Listing
- New: Item's features are now included in search by keyword
- Fix: Search Type 3 Icon Text in Responsive showing now 
- Updated: Widget Area element progressive page loading
- Fixed: Package name now accepts special symbols
- Fix: Woocommerce checkout page wasn't displaying image for paypal payment option when progressive loading was enabled
- Update: Added response notification for wp_mail ajax in contact form element. Now there is also a notification if the mail wont send.
- Improvement: Export only images which are in media library and all their sizes. This results in reduced size of exported content.
- New: Item's subtitle included in search by keyword
- Fixed: Url param escaping for search filters
- Update: Updated return headers for contact owner ajax
- Fixed: Added admin capabilities for yoast seo plugin
- Added: Possibility to order Events in Event Element by Event's date (requires updated Ait Toolkit plugin)
- Fix: SEO element on 404 page (and other spcial pages) is working again
- Fix: Better compatibility with Object Cache plugins and WpLatte engine
- New: Included recurring events in Events-Pro Element
- Fix: Dates translations on single Event Pro page
- Update: Updated demo-content
- Fix: Allow language inputs for text controls on Blog special page in Page Builder
- Fix: Do not display commnets element on frontend on these special pages 404, search, archive, wc_product, wc_shop
- Update: Updated demo-content
- Fix: Do not display comments element on irrelevant pages in Page Builder, such as 404, search page, etc.
- Fix: Post dates in Posts Element
- Fix: Responsive toggles display
- Fix: Woocommerce select display
- Fix: Dragging elements from/to columns in pagebuilder
- Fix: Problem with saving content in 2 Text Elements placed within the same Columns Element
- Fix: Missing image for items without Featured Image on Items Archive Page
- Fix: Header Map address on event-pro detail page
- Added: Email validation during registration of new users
- Fix: Clean up dead captcha files
- Fix: (Related only to all directory-type themes) Our AIT Shortcodes button in the editor can use even package users. There are no restrictions for that button (aka shortcodes generator) now
- Fix: Bug in Categories Widget with double title when categories are displayed as dropdown
- Fix: Disabled conflicting selectbox library on woocommerce pages
- Fix: Category option does not show "+ Add new category" text when user hasn't got the capabilities
- Fix: Map Info Box Title hover 
- Fix: Description on Categories and Locations detail pages
- Fix: Item Review Button Loader Fix
- Added: Option "Nofollow Web Link" from Theme Options > Item Detail Options is applied also for links on taxonomy pages now
- Fix: Missing sidebars on frontend
- Added: Lost Password button in Login Widget
- Updated: Updated new demo content
- Fix: Months translation of Events Pro posts in Events Pro Element, Category pages
- Fix: Fixed map input "NaN" value breaking map in administration
- Fix: Some edge cases in Import/Export processing were fixed
- Fix: Detect correct locale for cloned item label in Page Builder
- Fix: Special edge case whean footer area has title "Footer 1"
- Added: OrderBy Title option for posts element
- New: WooCommerce breadcrumbs with categories on shop pages
- New: UI indication for delete theme cache and images cache buttons when deleting was finished
- Fix: Items with coordinates [1, 1] were displayed on header map
- Added: Item Extension plugin style
- Fix: datepicker time zones caused wrong time in admin inputs
- Update: Updated POT files
- Fix: Empty infowindow on geolocation pin
- Fix: Default category pin didn't load from Theme Options
- Fix: Map Infowindow phone number position
- Added: Burger style menu wrapping
- Updated: New theme implementation for Ait Get Directions plugin
- Fix: Some compatibility fixes for AIT plugins
- Fix: RSS widget does not display 'h3' tags anymore
- Fix: jQuery Waypoint does not throw error anymore
- Fix: On special pages some elements with categories (e.g. advertisements spaces) didn't work correctly with translations
- Added: Possibility to enable/disable whether map items will be paginated or not (Theme options > Item Category > Sorting Options)
- Added: Search Form Inputs On/Off Functionality
- Fix: Events without Image not showing
- Fix: Search pagination linked to 404 page in some cases
- Tweak: Search optimization
- Updated: Google Maps library
- Fix: Quickfix for map input in the admin
- Update: New version of Slider Revolution - v5.2.2
- Fix: Carousel arrows in Job Offers Element
- Fix: Items List Subtitle no-wrap fix 
- Fix: Map input crashing javascript when no location is found
- Fix: Date input problem with different timezones
- Update: Regenerated POT files
- Fix: Reset Layout Options functionality works again
- Tweak: CSS is now generating on "Theme/Page Builder Options" save instead on the frontend
- Fix: Php notice on events pro archive page 
- Updatad: Escaping characters entered to the search preventing possible xss
- Added: Dependencies for modernizr js lib
- Added: Added "Expired" word to title on single job-offers page when item has expired
- Updated: Page share conditions for items and locations pages
- Fixed: Item couldnt be trashed by single user
- Fixed: Items element item count condition when item reviews plugin is enabled
- Fix: Deleted non-functional Features Icon Color Picker 
- Update: Reduced number of DB queries about 59% 
- Added: Color Picker for featured Items
- Fixed: Nothing Found message on Item's detail page
- Fix: Breadcrumbs style fix
- Fix: Event in Item Detail Style Fix
- Added: Style for featured Items
- Update: All WooCommerce styles separated
- Update: WooCommerce default cart layout
- Added: Compatibility for Events Pro Plugin
- Updated: Item address javascript fix
- Fix: Official Revolution Slider, when you purchase it by yourself, not our custom bundled version, is supported by our theme framework (Page Builder)
- Fix: PHP error - redeclared class in WpLatte (occurred in Event Guide theme)
- Tweak: Compatibility tweaks for upcoming more performant AIT Toolkit plugin
- Added: Added captcha validation for registration widget
- Tweak: Implemented small performance tweaks
- Fix: Compatibility of comment form fields with WP 4.4 (Reverts the "comment" field position to below the other form fields.)
- Tweak: Minor internal tweaks of the framework
- Fix: Undefined variable wp_version
- Fix: Widget Login Style fix
- Fix: Prevent css import missing file error
- Added: Compatibility with Ecwid Shopping Cart plugin
- Fix: (Critical) Theme Options couldn't save changed values, there were still default values after page refresh
- Fix: Reset button on Default Layout admin page works correctly now
- Fix: Blog page menu item highlighting, if blog is currently opened page
- Added: Styles for Ecwid store
- Fix: Advanced search on directory themes when polylang is enabled
- Fix: PHP Notices in Shortcode Generator Modal Window
- Fix: Amongst some categories (e.g. Portfolios) there was incorectly listed language name from AIT Languages
- Added: Contact owner form options to define the sender of email
- Fixed: Package item count when item trashed
- Fixed: Package event count when event trashed
- Fix: Corrected behaviour of WP custom queries (mostly in Elements) when some CPT is set as non translatable in AIT Languages settings
- Update: Font Awesome v4.5.0
- Fixed: Register Widget Style Fix
- Fixed: Woocommerce Detail Item Page Style Changes
- Fixed: Embed URLs for YouTube and Vimeo videos were generated incorrectly resulting in not loading the videos
- Fixed: Fixed all dates where they were displaying current date and time
- Fixed: Issue with missing texts in widgets after updating to AIT Languages 2.0 is now fixed
- Fixed: Fullscreen option for youtube video element
- Fixed: Package upgrade process failed to change package
- Fixed: Re-enable map drag when geolocation is enabled
- Fixed: Weblink Labels on taxonomy and search pages
- New: Google Street View in Google Map Element
- Update: Various updates for upcomming new AIT Languages 2.0 plugin
- Fix: Improved compatibility of Advertising Spaces Element vs. Ad blockers
- Update: Updated author metabox display 
- Fixed: Stripe gateway user upgrade
- Fix: Removed http protocol from embed code in header video element 
- Fix: Condition when question is not in use, matching empty review rating will not be displayed
- Fix: Responsive Category Filters Style
- Fix: Get Directions Button Style Fix
- Fix: Review Stars Style Fix
- Fix: When adblocker extension in a browser blocked Advertising Spaces Element whole web page was broken
- Added: Added streetview functionality to google maps element 
- Fix: Item Gallery Style Fix
- Fix: Archive Page Style Fix
- Update: Contact form element form submit button disabled while form submitting
- Fix: No more huge amount of old cache files (mainly old .css) in uploads/cache/ folder
- Fix: Some forgotten text are now included in POT file
- Update: demo content - fix with missing images in Media Library
- Added: Header map dragging disabled while page loading
- Fixed: Changed zoom and street view map controls position, weren't clickable on touch devices
- Fix: Widget Login Style Fix
- Added: Package feature to enable / disable Yoast seo plugin metabox on item detail
- Update: Yoast seo compatibility with AIT Easyadmin plugin 
- Fix: Removed "Login failed" notification on successful login
- Fix: Updated metabox save callback preventing infinite looping
- Added: Lost Password feature in Login Widget
- Updated: Updated new demo content
- Fix: Header Resources style
- Updated: Admin author change feature
- Fixed: Register compatibility with wordpress 4.3.1
- Updated: Register compatibility with wordpress 4.3.1
- Added: Frontend notification on login fail
- Added: Item author change functionality
- Fixed: Map input verification
- Updated: Ajax emails formatting
- Fixed: Duplicate featured image for pages in page title
- Fixed: AIT Claim Listing plugin claim conditions
- Updated: Category / Locations header image responsive display
- Fixed: Single item contact owner mail form
- Update: Updated facebook element
- Update: Font Awesome v4.4.0
- Update: Framework compatibility with upcoming improved AIT Languages plugin
- Updated: Package on/off option for comments
- Fix: Typo in variable name in jquery.portfolio.js
- Tweak: Theme Admin: if switched section contains map preview trigger resize to re-render map
- Update: Font Awesome icons v4.4.0
- Update: Updated condition to show / hide item description in services element
- Update: Updated google map element
- Update: Updated capabilities for ait-item cpt
- Fix: Header map default position on location pages
- Fix: Translatable Label in Item Image
- Added: Preparation for stripe payments plugin
- Fix: Overleaping Title/Subtitle in Item List Pages
- Fix: Footer Login Widget Title displaying fix
- Fixed: escaping of special characters in Item gallery titles
- New: Active/Deactive button now works with streetview
- New: Added Active/Deactive button for small item map
- New: You can set custom link for Header Resources Button for non-registered users
- Fixed: Removed header menu
- Added: Support for updated ait claim listing plugin
- Fix: When Visual Editor is disabled in user settings, Text Element in Page Builder doesn't work.
- Update: Fixed version of Revolution Slider v5.0.4.1 compatible with WordPress 4.3
- Fix: Breadcrumbs Visual changes in Responsive
- Fix: Demo Content - broken map on Search Page
- Fix: Social Icons (PHP Warning: Invalid argument supplied for foreach())
- Fix: Allow special characters in Member custom post type Title
- Fix: Video element - fixed some PHP errors
- Fix: Posts element - fixed some PHP errors
- Fix: Added Sender parameter in Contact Form - some hostings didn't send emails from Contact Form
- Added: Close button for streetview on header map
- Updated: Header map element not showing item on default 1:1 coordinates
- Fix: 'Notice:  Array to string conversion'
- Fix: Missing some text elements on non-english WP installs after demo content import
- Fix: PHP notice on 404 page
- Fix: One letter of text string displayed in metabox text fields
- Update: Removed "Dev mode:" menu in Admin Bar and dev mode is disabled
- Update: Updated javascript for content element on woocommerce pages
- Fix: Fixed typos in English language
- Fix: Compatibility of demo content with non English WordPress install
- Fix: Demo content updated
- Fix: Theme incorrectly required AIT Languages plugin. The plugin is optional.
Built in Multilingual Support
First multilingual WordPress themes with integrated multilingual system and language translations. You can have your website in any language or create a multilingual website in multiple languages. Theme is ready to use right out of the box. Everything is already translated. Just type in content in your language and it's done.
Fully Customizable Directory WordPress Theme
We built this theme with the most desired features in mind and pushed it even further with a new much more customizable system. This will constantly improve with more and more features in the future. Now, you can set up any online directory portal as you wish, without the limit.
Responsive Design
WordPress Theme is 100% responsive and works great on all devices. Customers can shop online using their mobile phones, tablets, laptop and desktop. Whole website will adapt to screen size automatically. Theme was tested on many different modern and also older phones and tablets such as iPhone, iPad, Android and Windows devices.
Elements Which Make Directory Website
Website elements are designed to make your work as simple and fast as possible. You can pre-define settings in Default layout section and use them anywhere. Information you set in Custom Types can be easily re-used on any page, no need to type it again and again.
Map & Search
The main feature of any directory wordpress theme. The map shows a pins of all listed items with all important information shown by clicking on it.
We also designed a search bar way more interesting for the users with a fresh new approach, yet we still provide a classic search for conservative ones.
Geolocation is sure thing.
Taxonomy List
Displayed category: Item Categories
This is another important part of directory website. Element Taxonomy List shows the category or location listing.
You can set any icon for each category or location or their subcategories and set their descriptions.
Login & Register Widget
Pretty simple. But the widget doesn't have to be only in the sidebar. You can place it in any content with Widget Area element.
There are also registration packages and paid accounts for the users.
Search & Results
You can search by keyword, category and location. Additionally you can turn on geolocation and the radius of searching around your position. We support 2 units, kilometers and miles. There are 3 types of search bar. Classic, fields formed as a sentence or Category, Location and Geolocation formated as buttons. Result shows the matching items in the list with filtering options.
Categories & Locations
Items are categorized into categories and locations. You can have as many categories as you wish as well as their subcategories. You can set them any icon, map icon and description. Locations work the same way. In admininstration you can set a count of columns. Category detail can have 3 types of header: map, image or none.
Items Element & Detail
With this element you can show items on any page. They can be showed as a list or grid and in carousel. You can show all of the items or certain category. In item's settings you are able to set title, description, categories, address, contact info, opening hours and custom list of features. In the next version there will be more of custom content.
Woocommerce
Sell your products online using best e-commerce WordPress plugin out there. You can install the WooCommerce plugin for free and create your online store in few moments. Insert your products, upload images and you're done. Everything that you need to create e-commerce website is included in the theme.
Theme Full Of Features
You can see a few of main features described below.
Already Included in Theme
Right out of the box
Accounts

Admin will have more settings to control the user. For example settings for the limit of items which user can add, price and expiration, ability to renew expired subscription, turn on/off approval process, ability to set featured items.

Google Rich Snippets

Snippets are the few lines of text that appear under every search result which are designed to give users a sense for what's on the page and why it's relevant to their query.

Items Widget

Show dirctory Items in sidebar via Widget.

Layout Variations

Different options of displaying page and its elements. Make your website more compact vertically with Fullwidth Collapsed layout, make use of large displays and cut your page in two halves (ideal with search results in combination with map), or a classic Fullwidth option with everything in its place is always a safe bet.
Extendable by Plugins
Available for purchase
Reviews

Ability for the users to rate and review listed content. Star rating will be included in the items. Each category will have own rating criteria.

Easy Admin

Plugin provides easier administration for the user. The way to add items and management of their accounts.

Import & Export Plugin

Ability to import and export the content of the site with ease.

Payment Gateways

As an admin you are able to set multiple prices for account registration. This plugin will manage to accept payment through integrated gateways so you don't have to deal with it on your own.

Migration from older directory wordpress themes

Migration plugin for our previous and the most successful wordpress directory themes.

Get Directions

This plugin will add the ability to search more intelligent, where you can set A and B locations and the map will show you desired content with navigation info.

Claiming Listing

If the admin lists business which he doesn't own, the owner can contact him and take control of administration of his presentation on the site.

Events Pro

Let your users create their own events and link it to the profile of their event venue or other business. Events Pro plugin enriches event pages with key information about date, time, place and price of an event. Users can make events recurring and visitors can share with ease.
This is what it looks like
Who made it happen?
This item was created, developed and prepared for you by the following team of great designers and developers:
Peter
Position:
Designer & Front-end Developer
Maco
Position:
Designer & Front-end Developer
Jaro
DDJ
Position:
Founder & Senior Designer
And Many More Amazing Features
Each theme includes specially developed features and elements for it's specific segment. Apart from that you will get all amazing standard and business features you can use anywhere on your website. Have a look below for more details.
Unique Business Elements
The following Business Elements are available for you all the time. You can purchase Single theme or Membership. These universal elements and features are very useful for personal and company websites.
All themes are Responsive and work perfectly on mobile devices. All our themes come with built in multilingual support. Admin panel & Page Builder is fully translated to many languages. All themes also support WooCommerce plugin.
More details
read more about theme features
Best WordPress Directory Themes for Business Listing Websites in 2020
How to choose the right theme and which features you want to look at when planning your portal website. Let's get right into it.
WordPress directory themes must be easy to set up and customize. Be SEO optimized and have high-quality code. Very important are also regular updates with new features and security fixes.
Watch videos below on how to create a directory website. Let us know if you like them.
Key must-have features are:
Highly customizable

Multipurpose header variations

Easy Monetization: listing packages, advertisement, blogging & listing feature (new)

Advanced Google Map settings and features

OpenStreetMap integration

Dedicated support team
AitThemes best WordPress directory theme selection for 2020
DirectoryPRO
It is the second version of the WordPress Directory theme, and it is based on Ait Framework2. It is easily customized and fully responsive. One of the unique features is the Header setting. We believe the map is the significant point of most directory website because it shows pins and listings information. Assists visitors to navigate while looking for information. You can decide on which subpage you display the map.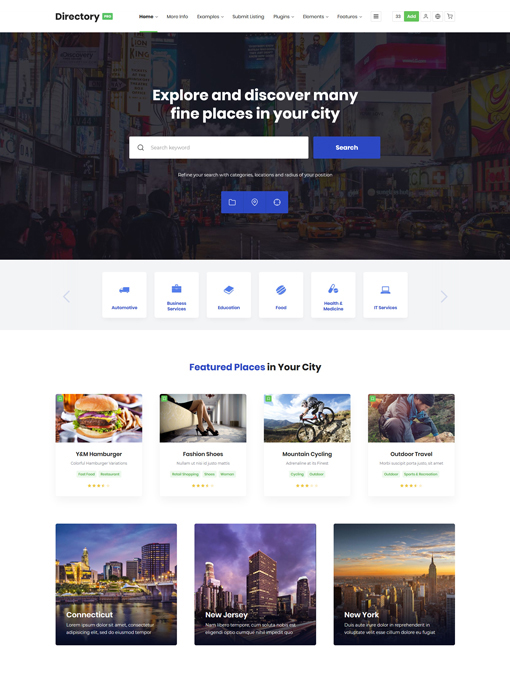 View Directory WordPress Theme
List items and categories
Another main section of the directory template is displaying listing. You can add Category and Location taxonomy list also to any Page you would like to. That all is easily manageable through Ait Page Builder. Thanks to you can compose own homepage in Classic style. Or go for Portal presentation with foremost attention to search bar.
Choose header
For local business portal, this WordPress theme offers a Search bar header with a geolocation feature. Results are from a close or selected area.
Google Maps is one of the best things in the directory WordPress theme. DirectoryPRO template has 4 variations of how Google Map is set up for the header part of the website. Business View with selected Address and Streetview turned on, 3D map display, classic map or Streetview map.
Except previous features remain two choices — static image or Revolution slider, which is the third-party plugin.
Installation
Use WordPress directory theme dummy data. Import demo right after the first installation. All subpages are ready, and you can edit them to your needs. DirectoryPRO website template works with 22 AitThemes plugins. Some of them are listing which extends directory functionality. We decided to build the listing theme with integrity to guarantee stability for big data projects.
The newest products in our portfolio are Citadela theme and plugins. We decided to build them on the latest WordPress 5 concept. Gutenberg WordPress Editor is the keystone fundament for the next WordPress generation. Our vision is to match new WordPress trend. And deliver the highest quality and reliability of WordPress Directory Theme and plugins.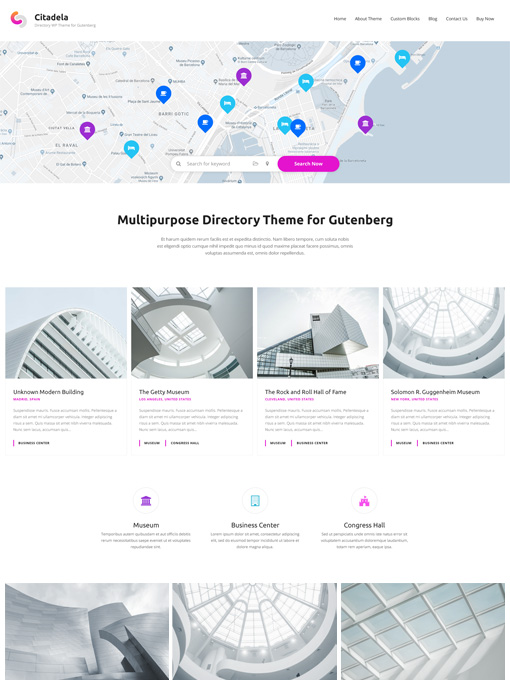 Unique listing and directory features
Our best directory WordPress theme has a unique way of its usability. We recommend using directory functionality also in WordPress website, which primary assignment is not the listing and directory portal website.
This functionality helps regular business to display any data in the well-arranged section. Think about the case when you need to list company affiliates. Or you need to publish a case study. Visualization can help understand readers what it is all about. Use map with location or some items. There is an uncountable number of occasions when to use directory listing theme on the regular website.
New WordPress directory theme and plugin pack aims:
create a stable environment across all WordPress section
better compatibility with 3rd party plugins
speed up thanks to containing only standard WordPress code and follows best practices.
turn any website build with WordPress theme into the directory and listing portal
innovative listing and directory portal features for Posts
Installation
To use directory functionality, please install Citadela Directory plugin. For demo content, please use the Citadela Directory Layout pack. After installation, you have ready to content with Unsplash free images from this WordPress directory theme.
Released features
Items custom post type with Category and Location
Special pages custom post type to custom listing subpages
OpenStreetMap
Blog post on the map
New blocks for Gutenberg WordPress editor to use with the listing plugin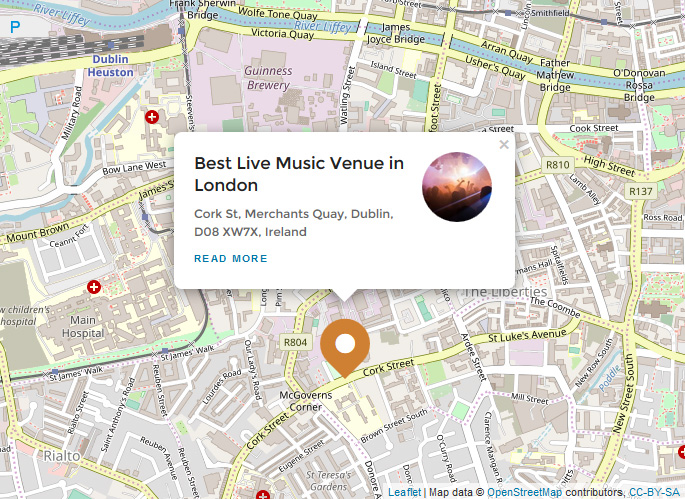 Coming soon
Packages & Subscriptions
User registration
Claim listing
WordPress Directory Theme Easy definition
WordPress Directory theme is the tool to create a portal website. It allows you to list categorized information in groups and attached to a particular position. Display information in various ways. Like grid, list, on the map or inside of common subpage or blog post.
The listing theme builds for WordPress has a search feature. Website visitors are looking for information according to location, segment group or just by the word. Furthermore, they can use an advanced filter for the more specified query and results.
Monetize WordPress
Directory template allows you monetize your website. There are several ways how to earn money. Usually, a combination of all of them comes in the best way. The most widespread is the income from Ads. Google Adsense is maybe popular, but lately, there are new providers. The paid listing seems a right way but requires to have a valuable website. It means you have to build enough traffic to your site.
How to monetize a WordPress blog
One of the latest trends in online marketing also has some possibilities. An influencer can use either as the only monetization way or as another source while recommending products or services.
In other words, use listing and directory portal features for your regular blog website and gain more because you find new opportunities and circumstances on how to sell the blog site. You can stand out of the crowd and convince visitors and customers with better-looking content.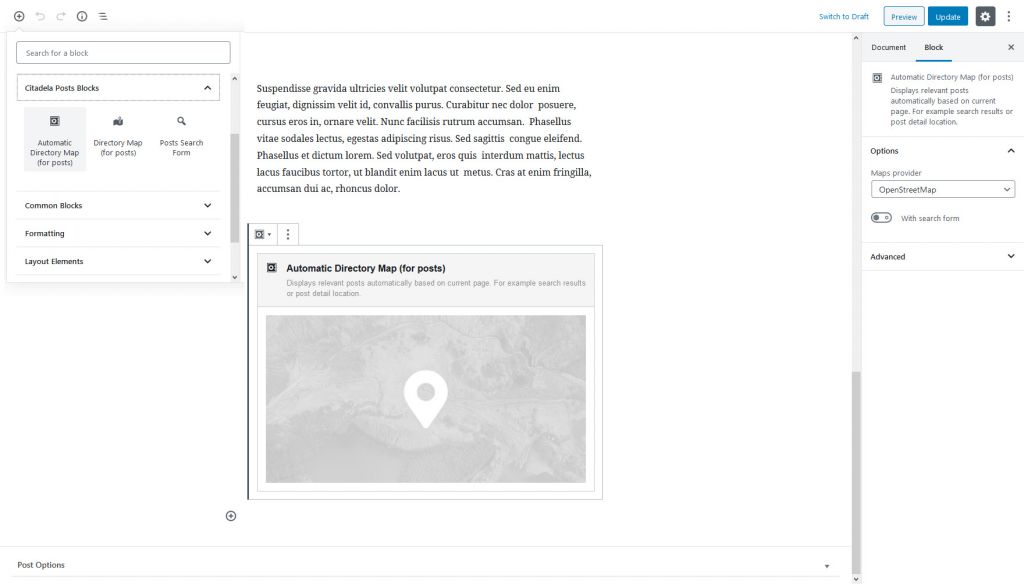 Another listing monetization model
You can create a database of local companies and businesses. This kind of listing portal was our first idea for which we built our primary WordPress Directory Theme. Seven years we develop specific directory themes features for WordPress. During this period, we created a custom solution for Events, Food area and Business Directory WordPress theme.
If you are a beginner in this segment, we recommend choosing some niche: cosmetic sector, hotel and accommodation, doctors, local attractions, non-profit organization or some community. Or put together a directory portal about schools. There are endless chances.
How to create a successful website?
Listing and directory website success bases on many things. The most important is the content, chosen sector and directory software. Begin building your business with WordPress directory theme. Lately, you can customize or move to another platform.
Besides you need directory data, you need to create general content. It is an excellent reason to choose your area where you feel comfortable. Where you have enough information, or you can learn them quickly. Think about the whole structure, do your homework and prepare you keyword list.
The advanced and expert directory website owner
If you are advanced or expert, you have probably existing listing project. You may want to extend directory and listing functionality or improve the website design. See the latest news and description of our best selling DirectoryPRO WordPress theme, which is perfect for many listing websites.
Current AitThemes development
Work on Citadela Directory theme and plugin pack
Continually working on creating new features for all Citadela products. We have the development plan for 2 years now. We are continuously adding new and new features to match all functionality made in the second generation of AitThemes WordPress directory themes.
Work on DirectoryPRO theme
Till the end of January 2020, you can expect:
a new modern design layout
a new feature for positioning maps
OpenStreetMap integration
FAQ WordPress Directory Themes
We have prepared answers to the most frequent question. They help the novice who may not hear about WordPress before. And also beginners or intermediate for better understanding of how WordPress directory themes work.
1. Novice, first time WordPress user
Q: How do work WordPress and listing template
A: Watch 5 steps beginner guide. We show you how to use WordPress and directory theme from scratch. We describe how to build a directory website from zero using a template for WordPress.
2. Users with some WordPress experience
Q: How to set up listing owners packages
A: Setting up listing packages are a crucial part of the beginning. Here you can see the video tutorial. You can create packages plan based on several parameters. For each user, listing package assign permissions and price. After that, you can create presentation subpage where you describe all packages in the pricing table.
Q: Where to set up frontend listing owners registration
A: Follow instructions and create a subpage for Login and Registration form. You can place Log in form into the sidebar as well.
Q: Why do I need captcha registration form
A: Defend against the spammy user's registration and activate captcha on the registration form.
How to get free WordPress Directory Theme
All active members have free access to all current and future directory listing themes, plugins and layouts for WordPress. Choose Full yearly membership for lower price or one-time fee Lifetime membership and get access forever. Both memberships guarantee you will always have full access to all products. Also any new features, themes, plugins, layouts or graphics. Almost 180.000 customers have access to all our products during the last 10 years.
AitThemes Support
We provide support over our dedicated ticket system. Professional developers take care of each question daily during the workweek. We have a flexible bug report system. Bugs solving has the highest priority in our company. We issue regular updates according to demand.
Trusted by amazing people
We build WordPress themes since 2008. See what are our clients say about our themes and after purchase support.
I am VERY VERY happy with this theme. Clear instructions, lots of great ways to personalize the pages, including slowing down the slide time, changing the slides to static images and more.
Great Theme and excellent support from Ivan
Awesome thanks so much for replying. Love the theme and have had no issues at all just wanted to update. Thanks for the support and for making a beautiful design
Thanks for everything. I will buy more themes of your company for the very well support you do!
Thank you very much! This was exactly the fix I was needing. As of now….very satisfied customer. Thank you.
Thank you so much. Keep up the good work.
Ivan you are the greatest support individual I have ever met. I dont know how many times I can thank you for giving me advice over and over and over again. I want you to know that when the time comes to purchase stuff I need – I am coming to you FIRST. Thank you.
Very nice theme and the support (for me) is great!
Awesome theme & feature progress, well done! Of course 5 stars!
Strongly recommended!! I'm very happy with this theme and the technical support is fast and accurate! Thanks Ivan and your team!!
Just wanted to say that I absolutely love the theme. Great job so far!
Excelent and quick support. Thank you Ivo.
We get great customer reviews on our site and good developer support. Recommended! 🙂
Thank you so very, very much!! Your troubleshooting is amazing, and I love this site. I'm sorry for the silly questions I've asked you, but you have been helpful and most excellent!!!! I highly recommend this site and your service is outstanding!!!
Your service is astonishing, thank you very much!
Beautiful theme. Easy to set up and works very well across all platforms. Great work! Highly recommended.
Do you have a pre-sale question or suggestion?
Feel free to write us your comment.
Other WordPress Themes from Our Portfolio