Quick overview
Citadela WordPress directory theme is a complete solution for any business website that needs a categorized list of any data.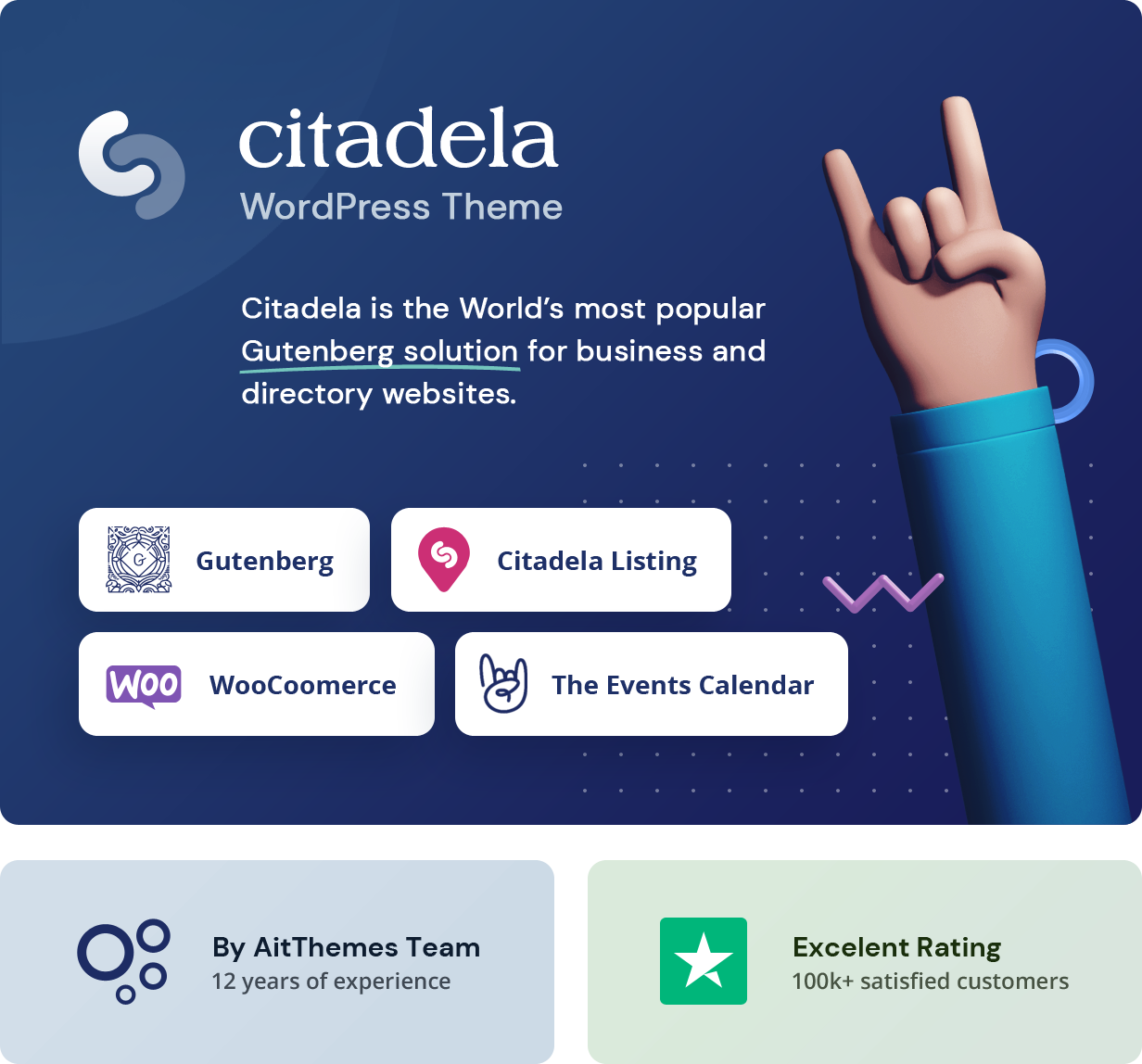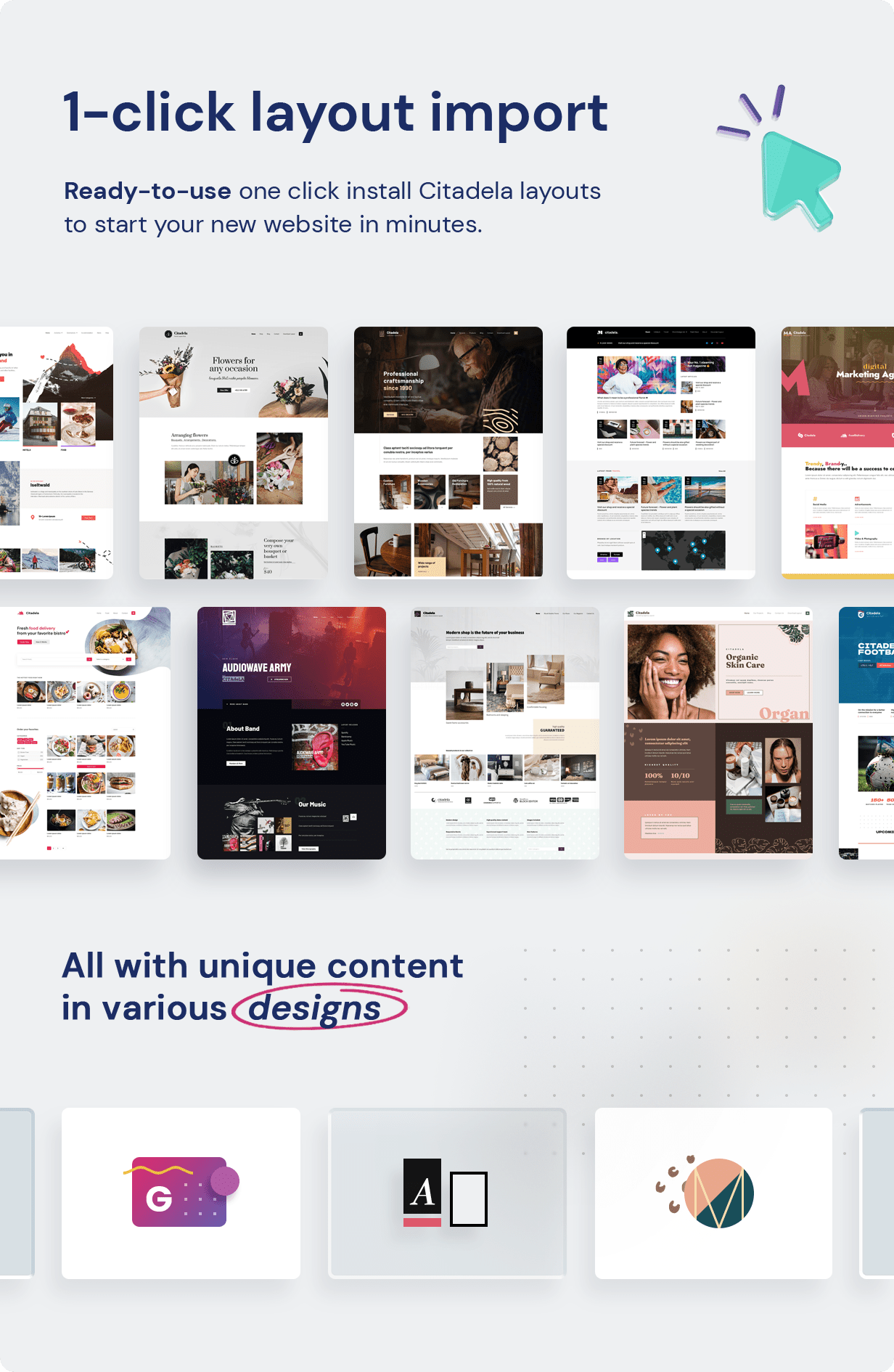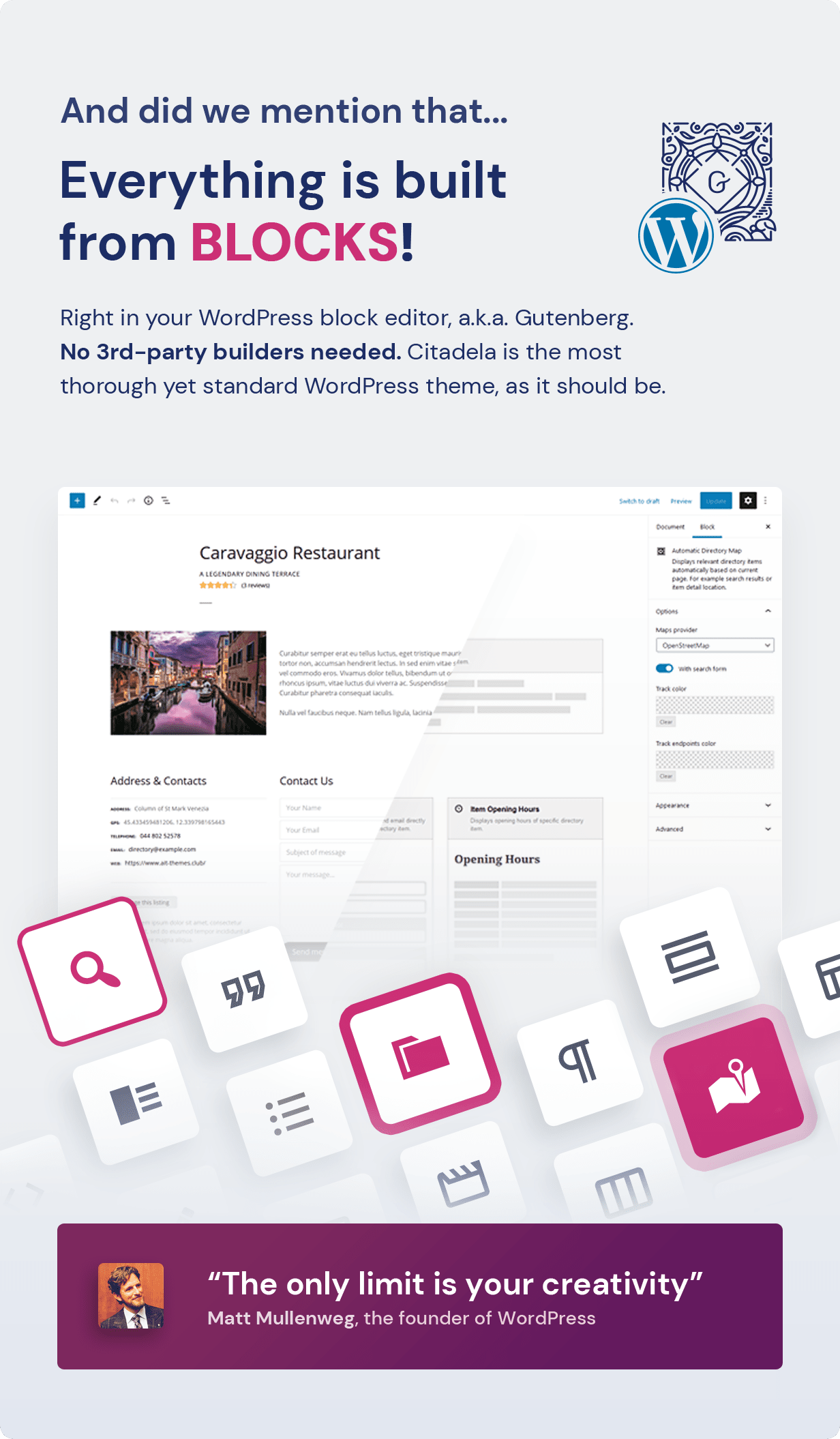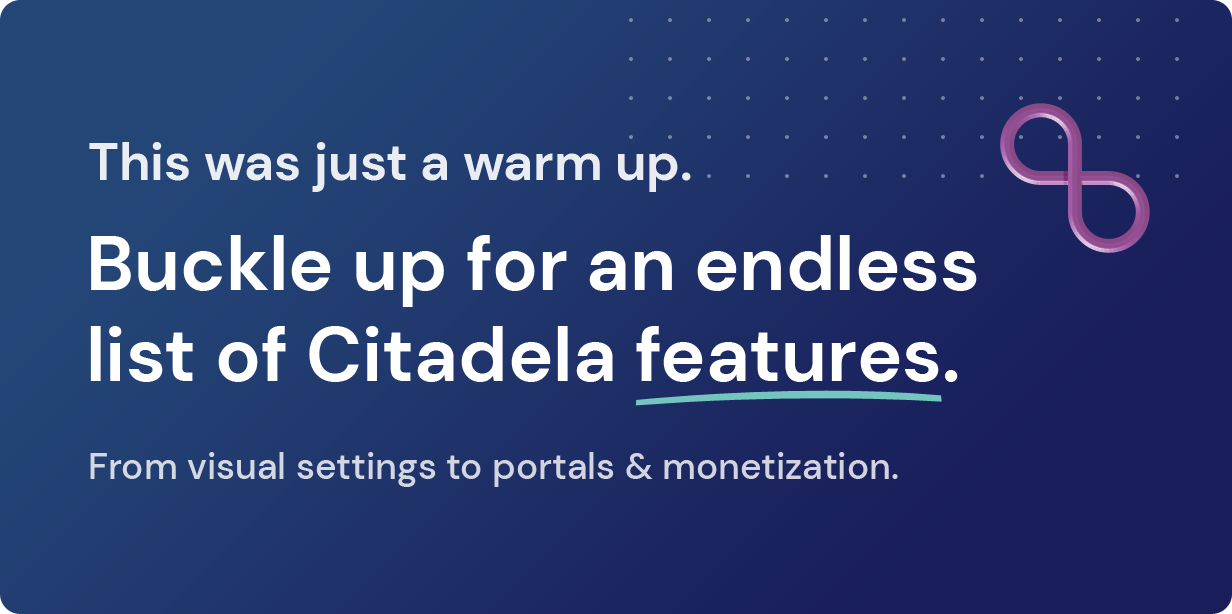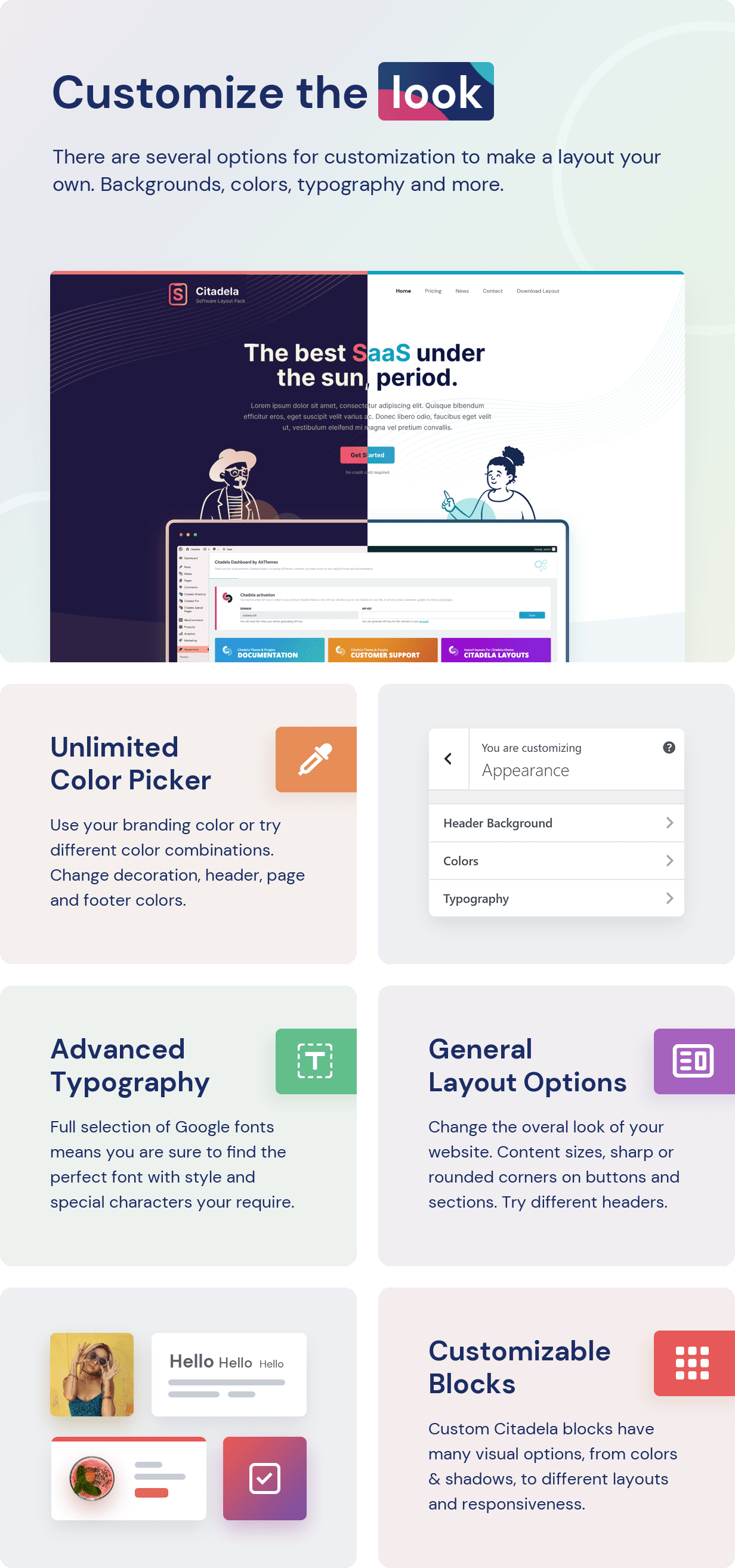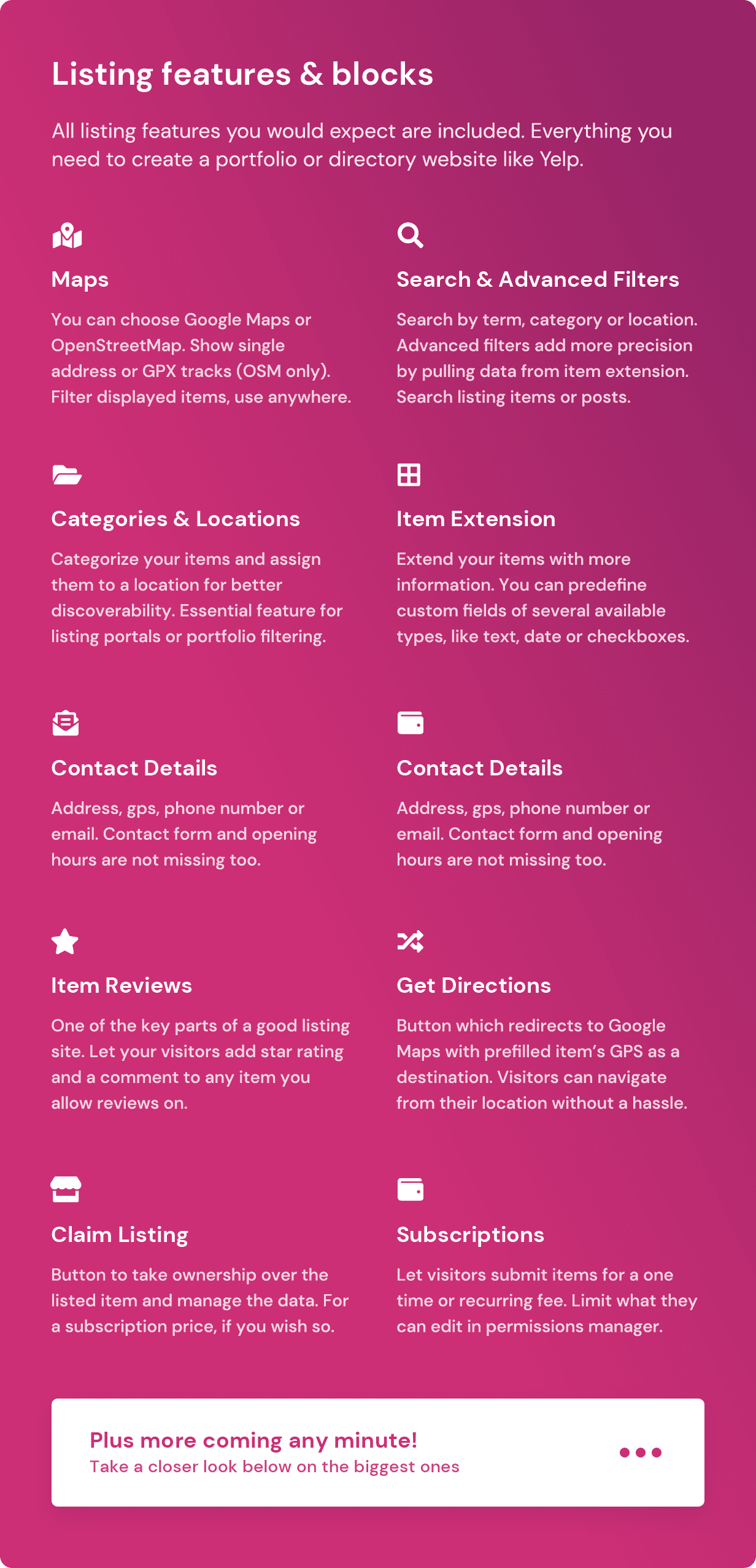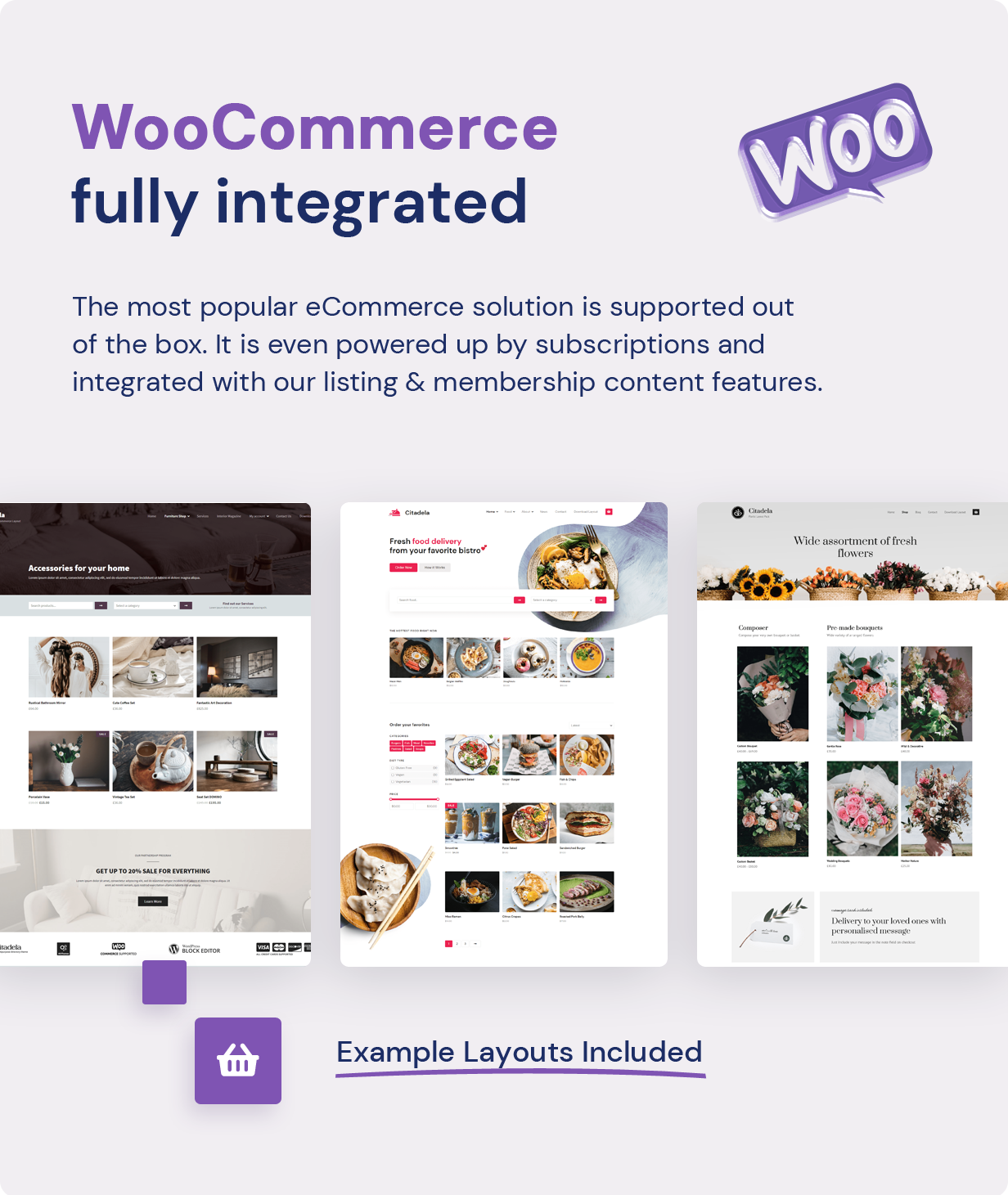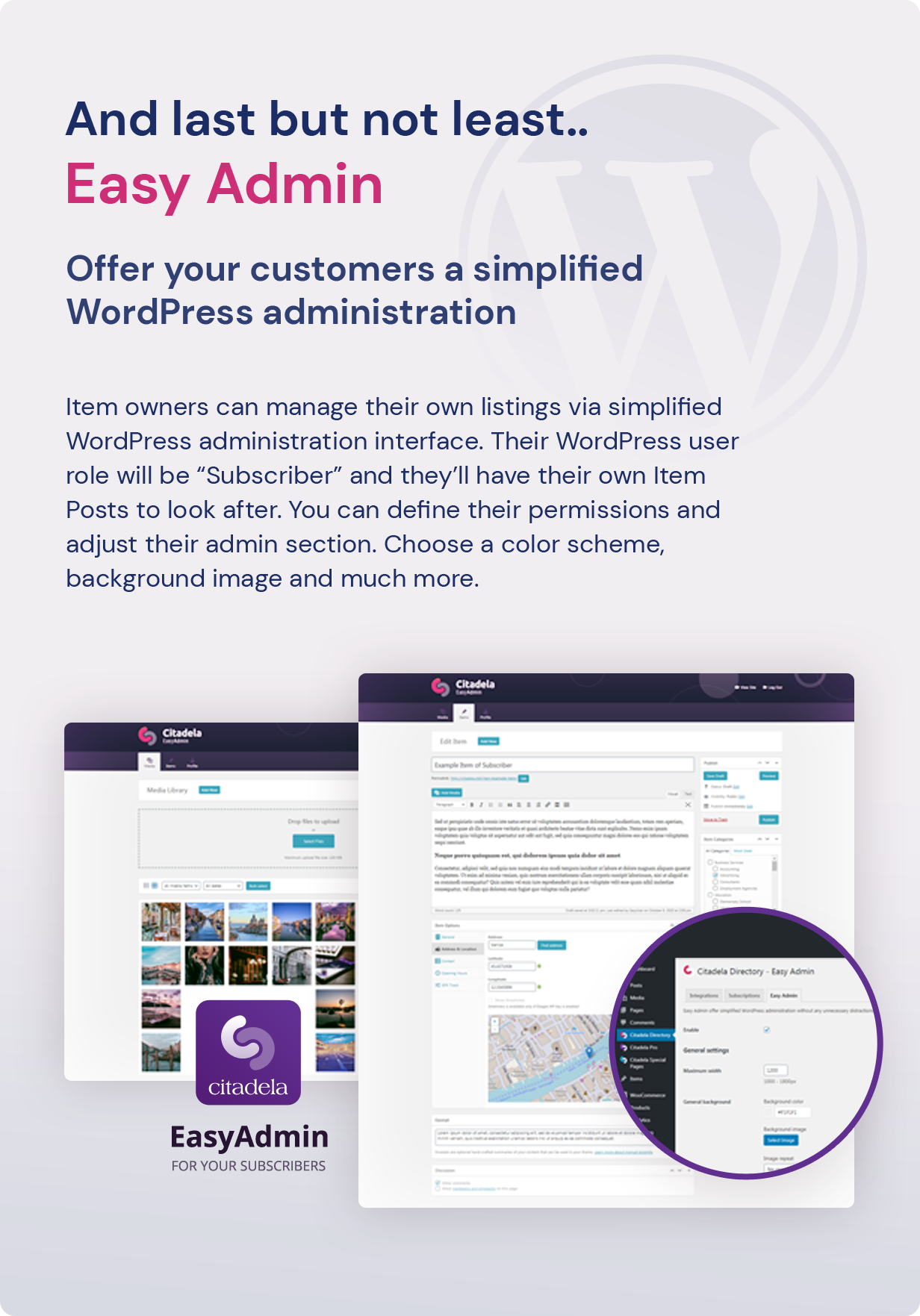 Download & test full version for free
Our best WordPress directory theme and plugins allow you to create a mighty, money-making directory website without any development knowledge. Therefore there are no limits, and you can create a business directory site for any niche, from classified, job, food, real estate, companies directory through a car dealer, portfolio, tour operator and other types of websites.
You can download and test Citadela theme and Citadela plugins right from your WordPress. Installation process is very simple, it only takes you 1 minute to have your fully functional directory website ready for testing:
How to import starter layouts
Citadela theme and plugins is the best WordPress directory theme cornerstone for your website. You can create your directory website from scratch or you can simply select a predesigned directory layout to start with. Process is very simple and straight forward. You can try it for free. After that, choose the license plan package, generate API key and you continue using our products.
Citadela: Modern Block-based WordPress directory theme
Citadela theme & plugins are our 3rd generation of directory solutions for WordPress. We took all our knowledge and customer feedback and created a WordPress directory solution for the future decade. It's using blocks, optimized code and WordPress features. Citadela is universal, fast and secure. It's a modern way to create a directory website. It matches the high-quality standards of both WordPress.org and Themeforest.
Citadela is a full-site editing ready WordPress theme. It's prepared for future WordPress 6.0 releases. Build your website with modern technology so your website will always be fast, modern and secure.
Citadela directory solution comes with a free Citadela WordPress theme and two premium plugins: Citadela Pro and Citadela Listing plugin. The best thing is that you're not "locked-in". Citadela Listing plugin plugin also work with any modern 3rd party theme. If you have a favourite theme, you would like to use it. It's your choice.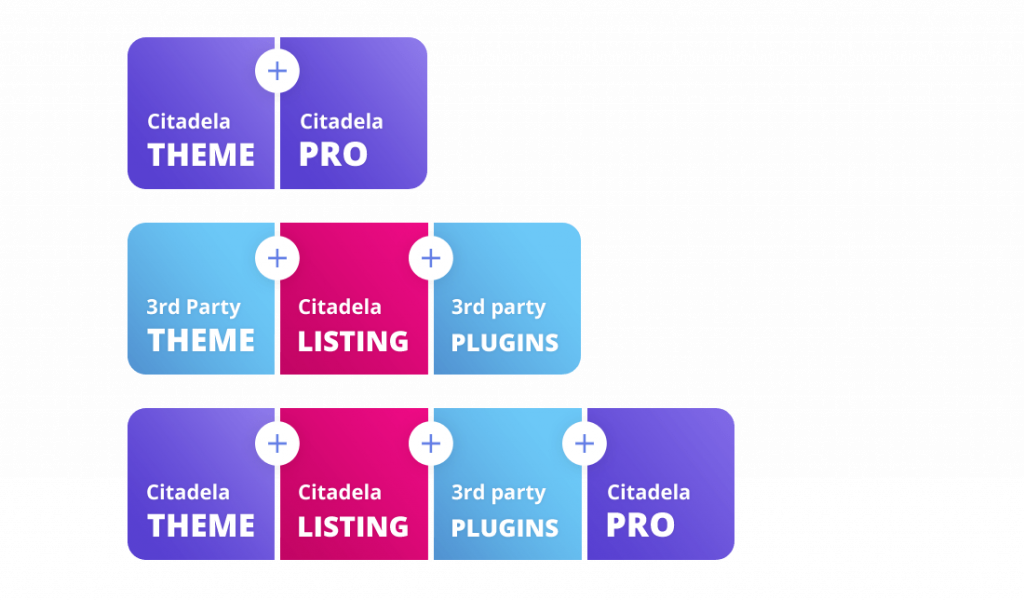 Why you should build directory website with Citadela?
Citadela is an exceptionally designed and developed business directory theme for WordPress with plugins that create a portal solution to list anything. WordPress directory theme is the starting point for business directory websites like Yellow Pages, Indiamart, real estate offers portal, etc. You can build a searchable database with a user-friendly experience. Easily searchable with or without a map. The business directory website can be on any topic. It can be a list of Physical places like companies, shops, restaurants, tourist attractions, things like books, reviews, job offers, classifieds, etc. Items can be categorized and localized.
In this blog post you can see several examples of directory websites built with our Citadela Directory theme.
What is the best page builder listing website in 2022?
WordPress directory themes must be a fast running solution able to maintain a massive amount of information. Since WordPress 5.0 has been released, we choose Gutenberg WordPress editor as a core for the new generation of our WordPress directory themes.
WordPress directory themes must be also easy to set up and customize. Be SEO optimized and have high-quality code. Highly customizable and user friendly with a future approach to build a stable business directory website.
Unique directory features
Our best directory WordPress theme has a unique and universal way of its usability. We recommend using directory functionality also in the WordPress website, whose primary assignment is not the listing and directory portal website.
This functionality helps regular businesses display any data in the well-arranged section. Think about the case when you need to list company affiliates. Or it would help if you published a case study using an excellent way. Visualization can help understand readers what it is all about. Use a map with location or some items. There is an uncountable number of occasions when to use directory themes on the regular website.
How easy is it to create a listing for your website?
There are two main options. You can use our complete Citadela directory solution for WordPress directory theme and plugins or use Citadela Listing plugin with 3rd party theme. Items data can be inserted on your own or allow users to do that as well. The procedure is easy:
Install and activate Citadela theme and Listing, Pro plugins.
Choose a pre-build business directory layout for WordPress.
Add directory categories and locations.
Add items with all details.
Set up a subscription to allow users to add directory listings item.
Citadela theme Installation
We recommend one-click installation for a complete WordPress directory solution that contains:
Citadela WordPress theme is a free template.
Citadela Listing plugin is a premium plugin that runs the whole directory website.
Citadela Pro plugin is a premium plugin that extends Gutenberg blocks. It has in-built features Layouts automatic importer, Infobar, integrations.
Additionally, choose one of the WordPress directory theme layout packs for an even more comfortable and quicker solution. The layout pack has automatic installation through wp-admin and comes with 1:1 content, including full-size images for commercial use for free.
Citadela is fully customizable
Citadela directory solution is a versatile solution for business directory websites. Pre-build directory templates packed in layout help you create the site much faster. It offers you a lot of customization, thanks to Gutenberg editor. You can even customize Item detail pages to individual needs. You can manage categories and locations that serve to sort information. Special Pages that are automatically created based on search queries can be also customized. WordPress business directory themes and plugins have many options for customization. Citadela business directory solution is the best choice for any creative and unique portal.
Blocks on any subpage
Thanks to Gutenberg editor and blocks, you can customize the WordPress directory theme and plugins to your needs. You can show a list of items, categories or locations on any subpage. Also, you have blocks in Posts, and it builds many variations on how you can sparkle your website. You can add a map with pins, search form, list of categories and so on. All these can be placed on any page.
Responsive Design
WordPress directory theme is 100% responsive and works great on all devices. The whole website adapts to screen size automatically. The theme was tested on many different modern and older phones and tablets such as iPhone, iPad, Android and Windows devices. Many of our blocks in Gutenberg have special responsive settings. You can find them right in the Inspector tool of the block. For example, you can modify the directory Listing Search Results block how the item image looks on mobile and desktop separately.
The primary purpose of the business directory and directory site is to create a database of information and display them effectively on the site. It includes sorting and searching. So the user finds what he is looking for on the site.
How to add a listing item?
The directory listing item contains a lot of information, and part of the whole directory and directory pages are generated automatically. Thus the process is straightforward and user friendly. Below are standard parts of the directory theme for WordPress that manage directory websites.
Add directory items
For this purpose, use Items custom post type. Items are an essential element. It is the starting point for any business directory website, and it has its custom post type. Each Item has a lot of information inserted through inputs like Title, Subtitle, Description, Address, Contact details (telephone, Email, Contact form, Web, Opening Hours, Images gallery, Videos, GPX track, Features and Services. You can assign location, category and featured image. Manage data via a classic editor or choose Gutenberg editor for advanced options. Add them one by one or allow users to register for subscriptions to add them as well. Items is a custom post type in the WordPress directory theme, and it is activated with the Citadela Listing plugin.
Create Categories & Locations
Items are categorized into categories and locations. You can have as many categories as you wish as well as their subcategories. You can set an icon, category color and description. Mark category as featured to prioritize it in displayed results. Locations work the same way and can have sublocation as well. You can write a description and choose a featured location. Categories and locations for the WordPress directory themes solution are stored under Items custom post type.
Customize Citadela Special Pages
We have developed special pages that help you to easily create a portal website. Imagine you have hundreds of items, and you need to display them. The layout is the same. Only the content is changing. You do not have to click one by one. Our Citadela Special Pages do that dirty work for you. All Special Pages are editable through the Gutenberg editor using blocks. Citadela Special Pages section is in the main menu in WordPress, so it is easy to find anytime you need to customize directory parts of the WordPress theme.
Item Detail Page
Each Item in the WordPress business directory theme has its page, which presents all Item's information you have in the database. It shows all data for a particular item. It is automatically generated, and you do not have to take care of it regardless you set up the common layout for all items. You can add some directory blocks in WordPress, which help keep users on the site. The Similar Items block is convenient. The most used is Automatic Listing Map, Contact Details, Opening Hours.
Search Results Page
Map with pins
We created our very first business directory website back in 2007. One of our great inventions was displaying maps with pins back then. Users love visualization. Items with physical addresses are an excellent example. It is a better way to imagine and enjoy the search process for them. The map displaying pins is the main feature of any directory WordPress theme. It shows the pins of all listed items with all vital information shown by clicking on them. Map behaviour for items without a physical address is under your control. Citadela solution lets you create a business directory website also with items with no address. In the Citadela WordPress directory theme and plugins solution, you can choose between Google Maps and OpenStreetMaps, which are entirely free.
Search process & Results
Allow users to search for information by adding a Listing Search Form block. It is our block in the Gutenberg WordPress directory theme. We designed a search bar with a fresh new approach, a classic search and geolocation. Users can search by keyword, category, location, advanced filters and geolocation. If you turn on geolocation, then the user can search in the radius around his position. We support two units, kilometres and miles. There are three types of the search bar. Classic, fields formed as a sentence or Category, Location, and geolocation formatted as buttons. The result shows the matching items in the list with filtering options. As web admin, you can define order options for results. Directory data can be ordered by title, date, order number, random and ascending or descending order.
Items with no physical address
There are many things on which you can make a fabulous searchable database. You can custom design and omit the map's features. Or, in case you have mixed items, you have the choice to display or hide the map for particular occasions. You have endless possibilities with all these settings in the WordPress directory theme.
Set up the Taxonomy List page
It is another essential part of the directory website. On any subpage, you can display a list of categories and locations. Taxonomy List shows the category or location listing. Choose to display only parent categories or one category with its subcategories. Furthermore, you can select only featured ones. You have a couple more design options like category details and carousel options. You can display the category list page in the navigation menu. Thanks to our blocks and Gutenberg editor in the WordPress directory theme, you can build a unique category list page.
Monetize directory website using Citadela WordPress Directory Theme
You can allow users to sign up for membership to add a directory listing item. This process is managed over WooCommerce, where you set up packages and conditions for them. Citadela WordPress directory theme and plugins now bring better options to sell directory listing subscriptions. No additional plugin is required except the WooCommerce base installation.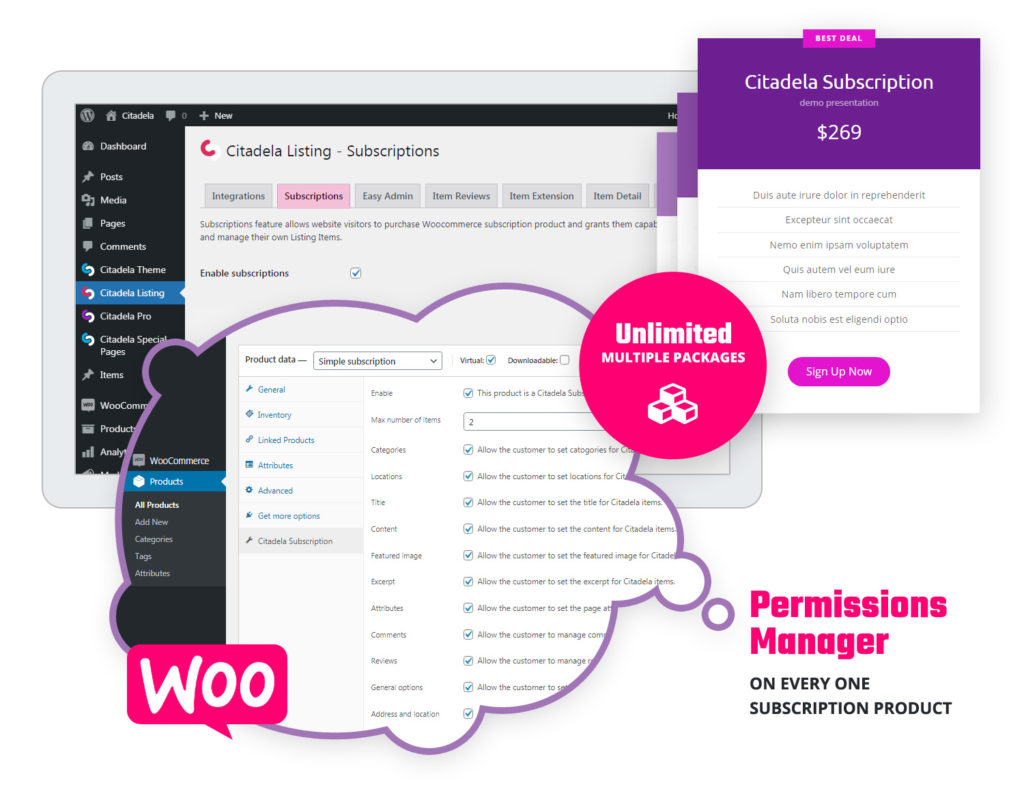 Web administrator controls the user capabilities. For example, settings for the limit of items users can add, price and expiration, renewing an expired subscription, setting featured items, etc. As an admin, you can set multiple prices for account registration. Payments are managed through WooCommerce. It is one of the ways to monetize directory websites built on WordPress directory theme and plugins specialized in portal solutions.
Additional Citadela Listing features
Features below are part of the Citadela WordPress directory solution.
Blog posts on map
If you write a travel blog this feature is a must have for you. With Citadela Listing plugin you can assign GPS coordinates to any of your blog posts and display them on the map. Categorized, searchable with custom pins.
Items reviews
The feature allows users to rate and review directory listing items. Reviews feature is built intuitive way similar to WooCommerce reviews. It is simple and fast for your website visitors to add a review.
Easy Admin in WordPress directory theme
The feature provides easier administration for the users to add items and manage their accounts using Citadela WordPress directory theme.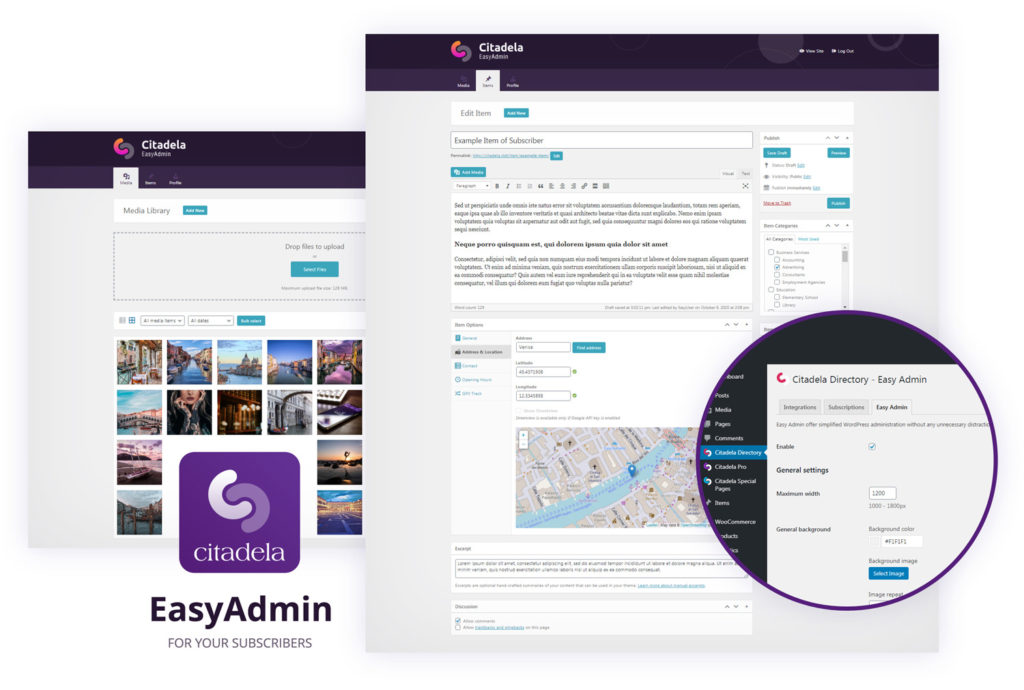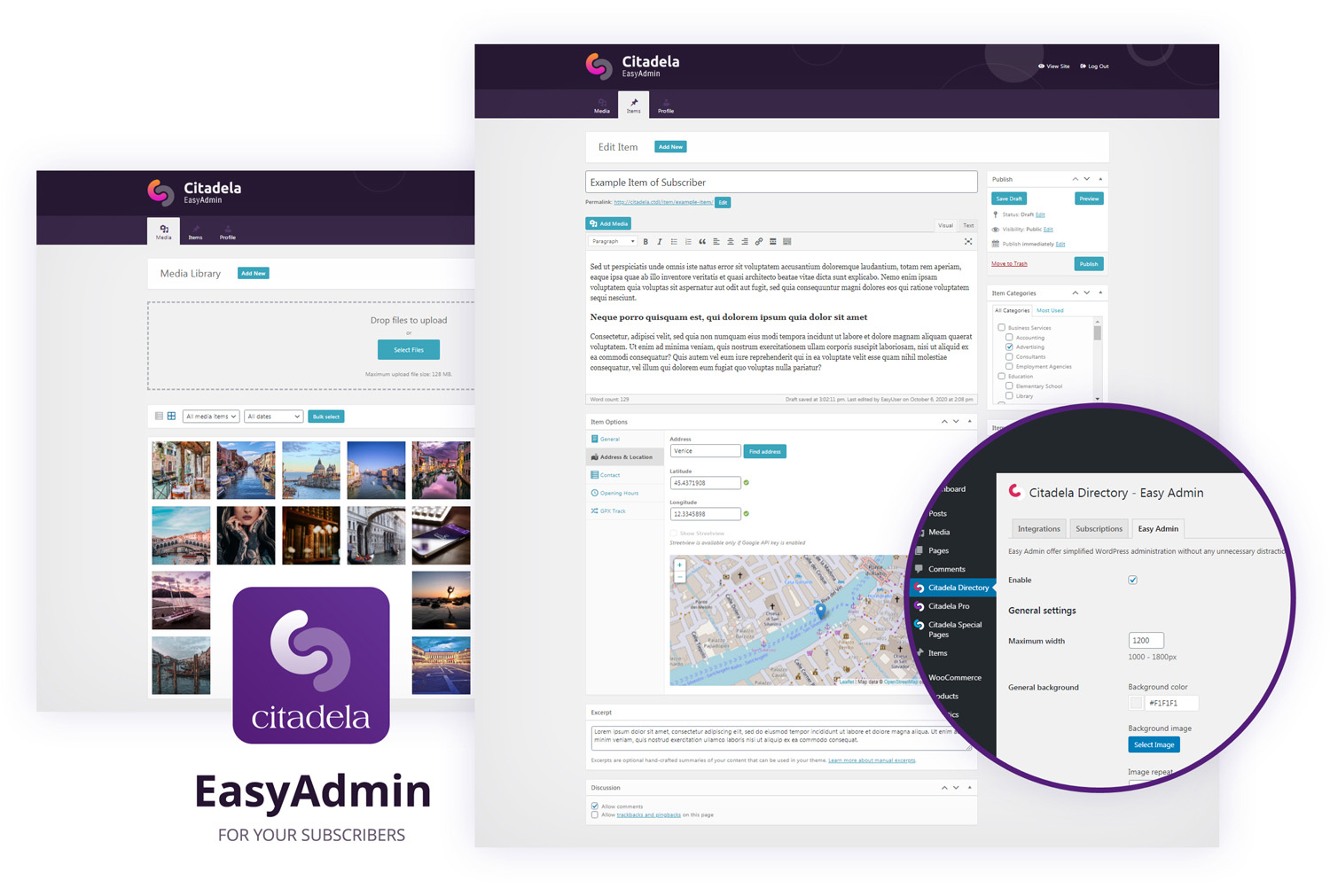 Claim Listing
Websites that aggregate public information can allow Item's owner to control administration and presentation on the business directory website. Claim Item feature manages this process through front-end and back-end actions required in WordPress directory themes.
GPX support
Display walking routes or bicycle paths on your website. This unique feature can be useful not only on dedicated travel portal but also on business website for hotel. This feature is integrated into Citadela Listing that makes any Gutenberg theme a WordPress directory theme.
Get Directions
The feature adds the ability to search more intelligently, where you can set A and B locations, and the map will show you desired content with navigation info. It works with Google Map.
Advanced filters
With many items it is sometimes hard to find quickly what you're looking for. Advanced filters and advanced search feature allows you to easily filter results by various types.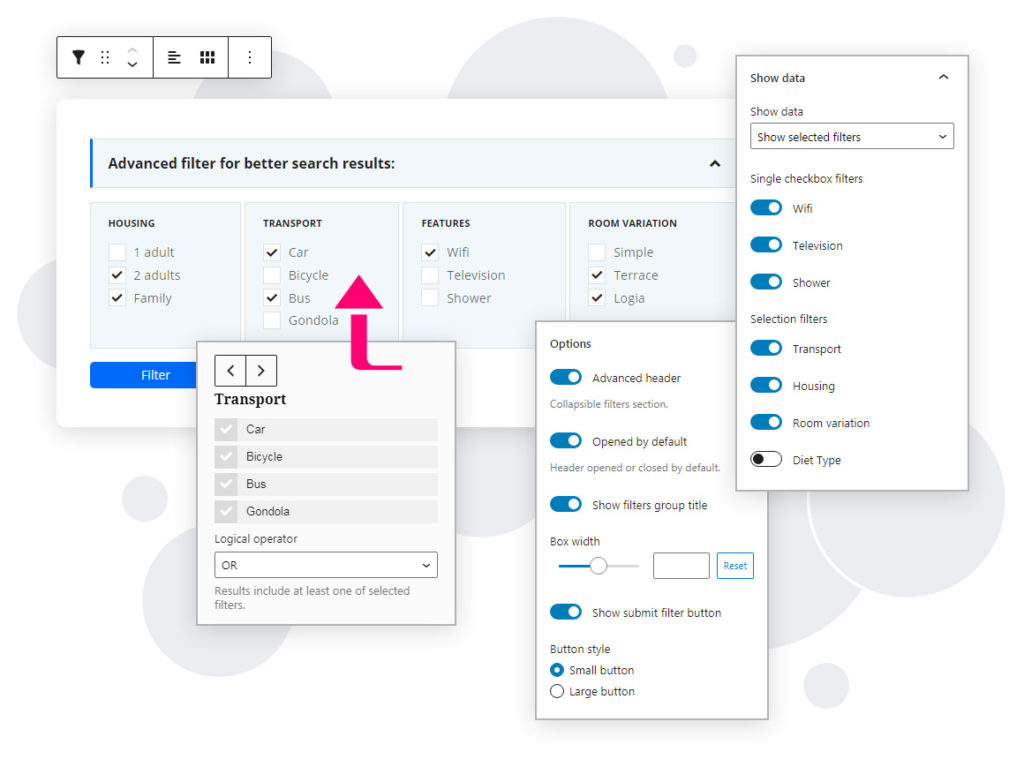 Similar items
Display other similar items on item detail page. You can choose to display similar items from the same category or same location.
Why is Citadela the best WordPress Directory Theme for Gutenberg?
WordPress is changing. This year will be the biggest year for WordPress in decades. If you followed a few past WordCamps, you know what I'm talking about. There will be no more WordPress as we know it.
In 2019 Matt presented his vision of the future of WordPress. If you haven't heard that already here's a quick overview. Gutenberg going to be implemented in WordPress in 4 phases.
The Four Phases of Gutenberg
Easier Editing — Already available in WordPress, with ongoing improvements

Customization — Full Site editing, Block Patterns, Block Directory, Block based themes

Collaboration — A more intuitive way to co-author content

Multi-lingual — Core implementation for Multi-lingual sites
The first phase is already implemented as we know it. Everybody is already using the WordPress Editor (Gutenberg). Each WordPress version includes new features, more options, better UI. It's just amazing how fast it is all moving. It's all thanks to the massive community of WordPress users and developers.
The second phase is currently under development, and we can expect it to be added to WordPress in 2021. WordPress 6 is planned to be released in December 2021. We cannot wait for it. It will be possible to edit the whole website using WordPress blocks. It will be amazing.
With the third and fourth phase, WordPress will be just beyond any other content management systems.
When we started working on the Citadela product family, we already had this big future in our minds. The WordPress Editor is the future. Blocks are the future. Citadela is the future.
Citadela WordPress Directory theme is already the best WordPress directory solution for Gutenberg in the world. It works flawlessly with the whole Citadela product family. Citadela Pro extends the free GPL Citadela theme, and Citadela Blocks is adding new unique blocks to native WordPress environment.
Non-standard page builders are a blast from the past. Blocks are fast. Blocks are secure. Blocks are the future. Citadela is the future. Start using Citadela today, and you will never look back!
New Citadela Listing features
We have a great list of new features. Many of them come from our customers' ideas. All of them bring new ways and options for displaying data. Also, we will deliver new types of data. We inform our customers about the development plan and keep updating.
These all are reasons why this is the best WordPress directory theme with plugins built on Gutenberg.
WordPress editor inside directory items
Citadela is the best directory solution for Gutenberg, and the new update is making it even better. We're introducing the WordPress Editor to directory items and Easy Admin.
Citadela Directory 4.0 brings you ENDLESS possibilities. You can use any Gutenberg block you like INSIDE the directory item. Here's just s small example of what you can do inside a directory item:
create a gallery
add a price table
insert multiple maps
use any 3rd party block
…..
I think you're starting to get an idea.
You can still use a directory item special page, but now you have an option to overwrite these settings. This way, you can create different looking item detail pages for each item.
We love this feature as now you can work with items like WordPress pages or posts.
Let's see some examples:
This feature is brilliant. When we were first analyzing and designing it, our eyes were sparkling with excitement 🙂
We're looking forward to seeing what you can do with this new feature. Feel free to post your creations in the comments below.
WordPress Directory Themes comparison
This is a WordPress directory themes and plugins features comparison for a better overview of our directory business website solutions. You can learn here the main differences between our new and old products.
History of Citadela
We released a new Citadela WordPress theme and plugins back in 2019. It is built on plain WordPress, and it is customisable using Gutenberg Editor. Since then, we have constantly been working on new functions.
Citadela solution is our 3rd WordPress products generation. We incorporate all our years of experience with WordPress and directory sites. We put attention to speed, multipurpose content usability and compatibility.
History of our old directory themes
We have updated the article to see what features are already included in Citadela compared to the old DirectoryPRO theme. As you can Citadela already has way more features than our legacy themes. The best thing about Citadela is that it is a universal theme. You can use any 3rd party plugin to extend default Citadela functionality.
Because Citadela only uses blocks and standard WordPress features, it's a solution that will be with us for years. We do not plan to replace Citadela with any newer theme. We will only make Citadela better and smarter.
The first Directory theme we created in 2013. It was the first directory listing theme in the world. We have started the revolution and showcased to the WordPress community what is possible to achieve with WordPress.
Back then, there were no page builders. Shortcodes controlled everything. After a few years, we made a new version, the second generation called Directory+, based on our Framework 2. Directory+ had our AIT page builder. In 2020 we decided to refresh our Directory+ theme with a new design and new features. We renamed the theme to DirectoryPro. DirectoryPro is now a legacy theme.
All our Framework 2 themes have been supported till the 1st of March 2022. After this date, we only provide support, updates and new features to the Citadela product family. Citadela is a modern block-based solution for Gutenberg. It will be with us for the next decades.
New revolution in 2022
Now it's 2022, and we're happy to show you our 3rd generation of WordPress Directory theme based on Citadela theme and Citadela plugins. Citadela fully replaces all our old directory WordPress themes.
Comparison between DirectoryPRO and Citadela Directory Package
Citadela Directory pack faster and better than our old WordPress directory themes. It has more features as well:

WordPress Directory Theme tutorial
Watch the following quick video tutorial to see how easy it is to get started with our WordPress Directory Theme, Citadela.
WordPress Directory Theme – FAQ
Where we would like to answer the most frequent topics related to our products. Please have a look on our Citadela Directory Plugin documentation and let us know what are you missing there.
1. How to decide which WordPress directory theme layout to use?
It depends on your project. You can create classic business directory website or hikes and routes directory site, events directory site or membership subscription based theme with hide content. Because it is fast and based on pure WordPress, you have a lot of blocks that are easy to use in the Gutenberg editor. Citadela products have unique directory functions also for non-traditional catalogue sites.
2. I use old WordPress directory theme, should I change the template and plugins to Citadela directory pack?
Because Citadela is based on Gutenberg editor and use pure WordPress code, it has strong advantages. Plus you can try full version before you purchase license.
Its standard code is ideal for customization. There are no limits on what you can create with this high standard and quality WordPress directory theme. Thanks to pre-made layouts, you can select which directory template suits your business needs. Directory templates come as standard business directory websites or travel and food-specific. Furthermore, you can create a membership directory website with paid content. It is up to you what kind of business directory website you will make. You can choose some niche and develop a local business directory website.
Choose one of the free WordPress directory theme layouts. You can try all of them. Thanks to easy copying in WordPress, you can combine blocks and elements easily.
3. What is the future of Citadela WordPress directory theme?
It will always be compatible with the newest WordPress, and new features will follow up.
Software is constantly evolving, just like everything around us. We flexibly adapt to current conditions to deliver to our customers the highest quality products for the next ten years of AitThemes' existence. The code principles we have chosen for Citadela products assure us that they will be more flexible and less maintenance-intensive for our customers.
4. What is a WordPress directory theme?
WordPress directory theme is a theme or function dedicated to creating a catalogue website. Allows you to build a structured data website. It has a custom post type with many features. Thanks to them, you can make classic yellow pages or specific business directory portals. In other words, you can create a website with a categorised data structure about any topic. It doesn't have to be about business. Thanks to our unique GPX support feature, you can build a tourist portal with many types of activity.
Multipurpose content
We have expanded directory features to have more ways how to display data. Besides that you can create portal content as classic Page, now you can show directory data inside your Posts as well. And it is so easy, drag the block in between of text paragraphs. The content is a king, and therefore directory listing data integration plays a considerable part. Let's get new ideas for a new type of content on your website. Now Citadela Directory Pack with WordPress and its Gutenberg editor offers better work with Posts and Pages. Get some flash about how to build micro portal site.
Website Monetization
We added a Subscription Plan feature. We decided to use WooCommerce as a basement. The package parameters are modular, and you can configure your own. Also, you have a big choice for payment gateways. WooCoomerce offers variable payments methods. The full documentation can be found under our Documentation section.
Easy admin feature brings a more elegant environment for directory owners while editing their items. This feature is built right into Citadela WordPress directory theme.
About the Citadela author – AitThemes
We @AitThemes have 12 years of experience in the WordPress market. For many years we produced numerous themes and plugins. We have nine years of experience in developing WordPress directory themes dedicated to business directory websites.
We have built the WordPress directory theme, directory theme and plugins on the latest WordPress 6 concept. Gutenberg WordPress Editor is the keystone fundament for the next WordPress generation. Our vision is to match the new WordPress trend. Deliver the highest quality and reliability of WordPress directory themes and plugins.
How to purchase Citadela WordPress Directory Theme?
All Citadela Directory WordPress theme layouts shown above are free layouts for Citadela. Directory layouts use free Citadela theme, Citadela Pro and Citadela Listing plugin. Citadela themes and plugins are included in our memberships.
All active customers have free access to all released and new products. Citadela can be used to create blogs, portfolio presentations and directory websites. You may need to use all of our appropriate plugins to make it work correctly.
If you're not a club member yet, create a free account and download our free Citadela theme. We do not require a credit card to create a free account. Free Citadela WordPress theme is free to use also for a commercial directory website.