If you're starting a new restaurant website or want to give your existing one a facelift, then you'll need a WordPress theme that's specifically designed for restaurants. Besides your delicious food and welcome atmosphere, you need a perfect online presence. Choose an easy-to-edit WordPress theme for restaurants so you can build a robust website that will help with your marketing.
In this article, we'll introduce you to some of the best restaurant WordPress theme features on the market. Whether you are a web design agency or food business owner doesn't matter. Our theme is ready to use out of the box and fully customizable, so it is the ideal tool for everybody. Content editing is no-hassle work.
View Citadela Restaurant WordPress Theme demo
Looking to launch a website for your restaurant, but don't want to spend a lot of time or money on it? Check out our Restaurant WordPress Theme. It's easy to edit and launch, so you can get up and running quickly. Plus, it's affordable, so you can keep your costs down.
Ideal for web design agencies and freelancers
As a web agency, you would prefer to use a reliable restaurant WordPress theme for your client. It would be best if you had a responsive, SEO-friendly and WordPress compatible theme foremost.
You can build a website that will run on WordPress for the next decades smoothly. While choosing the Citadela restaurant WordPress theme, you get features your website will need now or later. Here are three reasons why Citadela Restaurant Layout will be your perfect match for your website:
1. The Citadela restaurant WordPress theme can help you create a professional looking website. Your client's customers will be impressed with the overall look and feel of the site, and this can lead to more business for your client.
2. The Citadela restaurant WordPress theme can save you time and money. You won't need to spend hours creating a custom design for your client's site, and you can use the same theme for multiple clients if necessary. Thanks to the Citadela Pro Layout Export feature, you can customize and import the layout on a new site installation.
3. The Citadela restaurant WordPress theme is easy to use and customize. Even if you're not a web developer, you should be able to make changes to the site without any problems quickly. Citadela Restaurant WordPress theme and Gutenberg editor is an effective designer tool with no coding.
4. The Citadela Restaurant layout brings you unique features for rich content. These features are available in the Citadela Listing plugin that is part of the licence package.

Why use the Citadela restaurant WordPress theme?
It can be tough to decide which WordPress restaurant theme features are the most important for your restaurant. All important features for food establishment are included and thanks to high compatibility you can extend your website with many others plugins.
There are a few reasons to choose one of Citadela restaurant theme layouts for your WordPress website.
First, it is easy to work with it. You can install the starter layout, and the website will be ready in a few minutes. Then, the content work follows. Thus anybody can use any of the restaurant layouts. It is a powerful tool for marketing agencies or web design freelancers. Pre-made layouts are great starters however you aren't your limitation. it is an ideal way for business owners with little website creation experience. Thanks to pre-made layouts, you can create a polished website without hiring a web designer.
Layout import and export tool saves you time and money by providing you with pre-made templates and designs that you can customize to fit a unique brand.
And second, it can give your website an edge over others in the same industry by providing you with powerful tools and features that will help you stand out from the crowd. You get a unique Citadela Listing plugin to make great content your visitors will appreciate. You can create variable content types and sections with blocks.
Gutenberg editor instead of outdated page builder
Creating a WordPress restaurant theme with the Gutenberg editor is a great way to get started with your restaurant website. It is easy to use and you can create a unique website that will help you stand out from the competition. With the Gutenberg editor, you can create pages that are specifically designed for your restaurant. This will allow you to have a unique website that is tailored to your business.
The best advantage of the block editor is effortless content editing. Keep in mind that the restaurant website needs fresh content constantly. Only a website running on a restaurant WordPress theme and Gutenberg editor is ideal for clients who want to boost online marketing.
Restaurant WordPress Theme Features
1. A clear and easy-to-navigate menu. Your website's menu should be easy for customers to find and understand. Be sure to include both photos and descriptions of your dishes, as well as prices.
2. An online reservation system. Depending on your local habits, customers may like to be able to make reservations through your website easily. This will save them time and make booking a table at your restaurant hassle-free. Gutenberg editor gives you plenty of choices for the ideal plugin.
3. Information about your location and hours. Make sure your website includes all the necessary information about your restaurant's location and operating hours.
4. Food and Drink menu presentation. A food and drink menu website is a great way to present your restaurant's menu and make it easily accessible to customers. You can use a set of blocks to create a professional-looking website for your restaurant that includes your menu, photos, and contact information. Customers can browse your menu online and place orders for delivery or pickup. Creating a food and drink menu website is a great way to promote your restaurant and increase sales.
What should have a quality WordPress restaurant theme?
For a website to be a real sales channel, it must meet certain conditions. The restaurant marketer needs to edit texts regularly. Update the offer, add a seasonal menu, or write a blog post. Respond flexibly to market conditions. A quality WordPress restaurant theme should meet design trends. It should be easy to use and user friendly.
Practical examples of the need to edit website content
Look at the actual situation. When a covid-19 rages outside and the government issues restrictions often, there is nothing left but to change strategy and sell take-away. On the contrary, in standard times, you need to ensure that the company is occupied, for example, on Mother's Day or another holiday. It means that you need a WordPress restaurant theme that looks good but most importantly, the website's content is easy to edit. You can use the template and its features to add a block or create an engaging paragraph with a seasonal menu photo.
Own website versus social media
Even on ordinary days, it is necessary to work on marketing for gastronomic operations. You can argue that there are better social networks for this. However, the truth is that many of your customers may not be using the social network. Where can they find this information about you? And then the organic reach of social networks weakens. Have you heard about how easy it can be to block your social network account?
Social media certainly belongs to every marketing strategy, and you need to give enough attention. But don't build your online presentation exclusively on them. You can also process posts from social networks into engaging sections on the web.
Suitable editor for WordPress restaurant theme
So we see permanent work with the website from the position of content editing. Therefore the theme is essential. The simplicity of content editing means how the WordPress template for the restaurant is made. Gutenberg has many blocks; you can edit them without the hassle of breaking the design.
Honestly, WordPress itself is not a very simple system. In the early stages of its existence, it had limited customization functions. As a result, various third-party page builders were created. But now, when Gutenberg is well established with so many features, it is counterproductive to use a third party page builder.
How the Gutenberg Editor Can Benefit WordPress Restaurant Themes
Therefore, the Citadela WordPress theme and its layouts for restaurants are built on pure WordPress and blocks.
In favour of switching to the Gutenberg editor, it is vital for our customers and us:
ease of content editing on the web,
especially the parameter of website loading speed,
standardized solution
better opportunities for development in the long term
Citadela Restaurant Layout Pack for WordPress
View Citadela WordPress restaurant theme layout pack

Citadela Food Delivery Layout Pack for WordPress
Citadela Food Delivery is a WordPress theme for restaurant owners. Dedicates its main website area to sell food online. However, it can be easily switched to a standard restaurant website presentation.
View Restaurant and Delivery Food Shop WordPress theme layout pack
Avoid old themes using page builders
When choosing a Restaurant WordPress theme, take into account when the author created the template. Many templates on the market were produced before the release of WordPress 5.0. They are still on sale and have their own page builder.
They may look nice as a WordPress restaurant theme. However, what may happen is that their page builder will be unnecessarily cumbersome for you. Custom 3rd party page builders can slow down a web page. Maybe you would need extra expenses to make content changes on your website. What is crucial for a restaurant website.
You need content in the first place to become visible in a search engine for users. You don't want to get into a situation where a marketer or copywriter editing content on a site needs a web designer's help.
Parameters summarization
Let us summarize the qualitative parameters of WordPress Restaurant Theme.
What determines the quality of a template?
loading speed website
design trend
prearranged layout for instant start
simple editing in the wp-admin
frequency of updating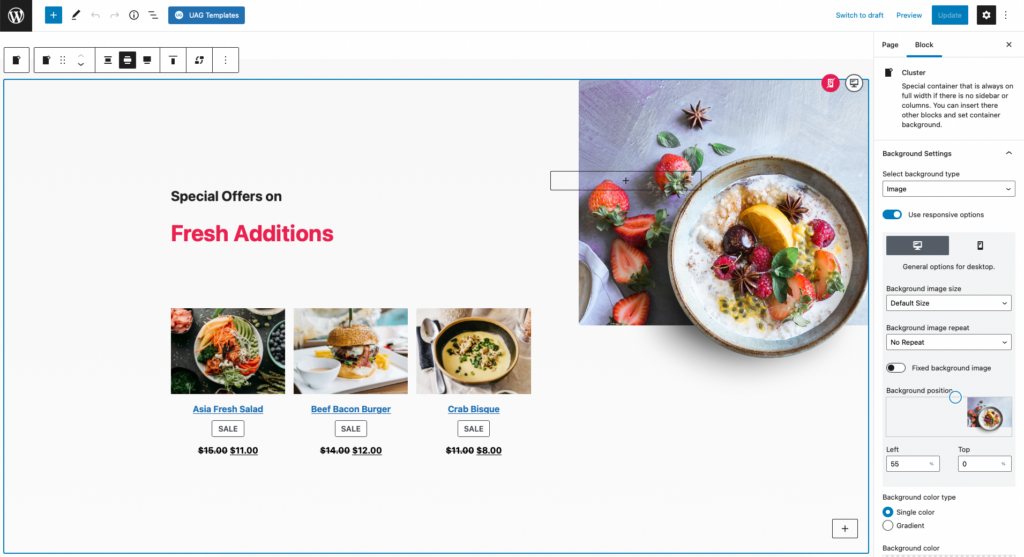 Why choose Citadela Restaurant WordPress theme-layout packs?
Professional-looking and modern web presence helps differentiate themselves and attract new clients. Our company AitThemes is one of the leaders in WordPress templates, and we have been operating since 2008. You will find a selection of our "WordPress restaurant" products in our portfolio that meet the highest requirements, the current trend in design and high code quality and, last but not least, client support. Thanks to the Restaurant WordPress template, you will overtake your competition and increase your income.
Way to save time when creating website
We have shortened the entire process of creating a website as much as possible, thanks to a pre-created design suitable for beginners and top restaurants. There is a choice of a couple of Citadela WordPress theme for restaurant layouts, which you get together with the entire website's elaborated structure and a set of images. Now you have to change the lyrics. Start to create a website for a restaurant today.