If you're looking to start a food delivery business using WordPress, one of the first things you'll need is a high-quality WordPress theme. With so many themes available, it can be difficult to choose the right one. However, if you're looking for the best food delivery WordPress theme, look no further than Citadela.
Citadela is a versatile and powerful WordPress theme that is specifically designed for food delivery businesses. Whether you're delivering pizza, sushi, or any other type of food, Citadela has the features you need to create a professional and engaging website.
One of the key features of Citadela is its powerful customization options. With Citadela, you can easily customize the layout, color scheme, typography, and more, to create a website that perfectly matches your brand. You can also use Citadela to create custom menus, order forms, and other elements that are essential for a food delivery website.
Another great feature of Citadela is its mobile responsiveness. With more and more people using their smartphones and tablets to order food online, it's essential that your website looks great on all devices. Citadela is fully responsive, meaning that your website will look great and function perfectly on any device, whether it's a desktop computer, a tablet, or a smartphone.
Citadela is also fully compatible with popular WordPress plugins, such as WooCommerce. This means that you can easily add e-commerce functionality to your website, allowing customers to place orders and pay online.
Overall, if you're looking for the best food delivery WordPress theme, Citadela is an excellent choice. With its powerful customization options, mobile responsiveness, and compatibility with popular WordPress plugins, Citadela has everything you need to create a professional and effective food delivery website.
In recent years, food delivery has become a popular option for those who want to enjoy a meal without having to cook it themselves. But is this option something that your website should offer? Here are some things to consider when deciding if a food delivery feature is suitable for your site.
Resources capability
Delivery management
New customer base
Give it a try with Citadela food delivery WordPress theme
If you're running a food-based business, you might wonder if you need a food delivery feature on your website. After all, customers can always come to your restaurant or store to pick up their orders. But there are some advantages to offering delivery that you might want to consider.
For one, delivery can increase your customer base. If you make it easy for customers to have your food picked up or delivered right to their door, they're more likely to try your product.
You can find new customer groups who will order for their party, team building event or another similar occasion. Let's be open-minded about how your revenue can raise.
Delivery management and the capability of your resources are crucial to keeping your customers happy. In the beginning, you can start with an easy personal pick-up system so you can prove your food delivery strategy. Citadela is a user-friendly solution that will be launched quickly and run smoothly.
Food Delivery WordPress theme with starter layout
If you own a restaurant, you know how important it is to have a solid online presence. Your website is often the first interaction potential customers have with your business, so you want to ensure it's a good one! One way to make your website stand out is by letting customers order food directly from it. Another criterion is website flexibility and adaptability. Citadela Food Delivery layout comes with two homepage versions, and you can turn it on and off depending on which one meets your current conditions. Do you need to promote takeaway service? Within a minute, your homepage is ready.

In the past, food delivery WordPress themes were challenging to come by. But now, many great options are available for anyone looking to create a food delivery website. Here are just a few reasons why you should use a food delivery WordPress theme:
1. They're easy to use. Food delivery WordPress themes are designed to be easy to use, even for those with no coding or web design experience. This means that you'll be able to get your website up and running quickly and without any headaches.
2. They're responsive. A responsive food delivery WordPress theme will ensure your website looks great on all devices, from smartphones to tablets to laptops. This is important because more and more people are using mobile devices to access the internet.
3. They're affordable. For a small fee you will get a starter layout for a food delivery WordPress theme, and your website will be ready in couple of minutes
WooCommerce is ideal for food delivery website
The Citadela Food Delivery WordPress Theme starter layout is a great option for setting up a food delivery service through WooCommerce. The theme has several pre-designed pages, including a checkout page, order form, and contact page. The theme also includes a map widget to display your delivery area easily. It is an ideal food delivery WordPress theme for food establishments with multiple locations.
You can start with a basic variant and let customers order the food they can pick up at your place. There are always options to push your food delivery project further. You can add functionality through additional plugins or add-ons. You'll have complete control over the delivery schedule.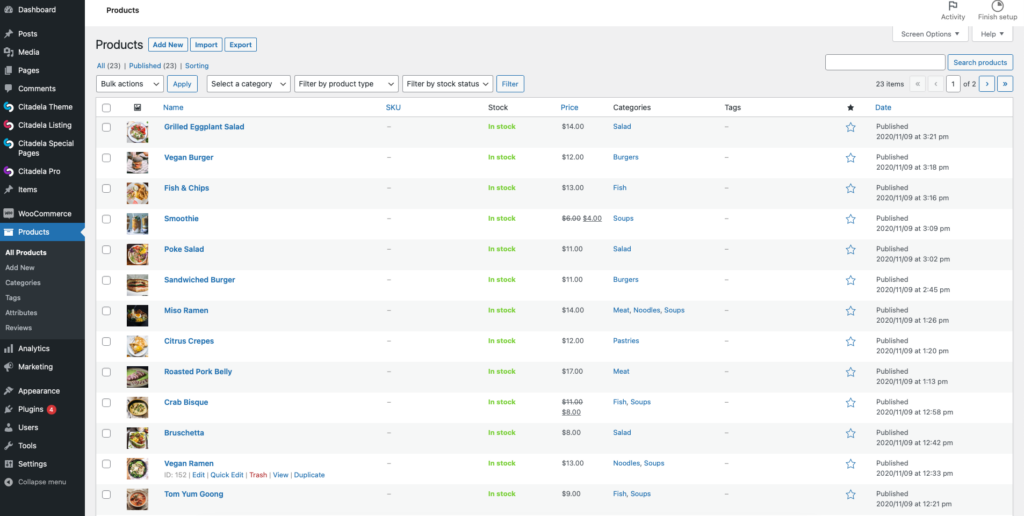 Essential sections on food delivery WordPress theme
The homepage consists of the top selection of your food offer. Plus, food menu filters and customers can browse through categories either. Detail map with location helps new customers who haven't been to your place yet. Personal pick-up has many advantages, and you'd like to make a good impression on customers so they can come to visit your place next time or for a more significant order.
Visible phone numbers and opening hours are important food delivery WordPress theme sections. These days you can take delicious photos with your mobile phone. Just let your creativity shine.
WooCommerce manages the ordering process, and you have control over it. Add food menu items as Products, and add a description, prices, and ingredients. Allow your customers to add reviews.
Once you decide you prefer to promote more local visitors, switch your homepage from shopping to a classic presentation. As well you can promote your food and drinks. You do not need an exceptional WordPress restaurant menu plugin.
In both cases, you need to build your brand by selling through food delivery or personal visitors. Pages About help you make a professional presence no matter your business model.
Get traffic through food delivery WordPress theme News section
Blogging will always be one of the practical marketing tools. Gain more visitors through posts about your food, events or famous visitors you welcomed. As usual, you have many options on how to organise posts. You can add them on any other subpage, and also you can promote your food menu inside the post.
Use Citadela food delivery WordPress theme layout, and you will get well-arranged pages, sections and menus. It is ready in a couple of minutes so you won't spend time designing.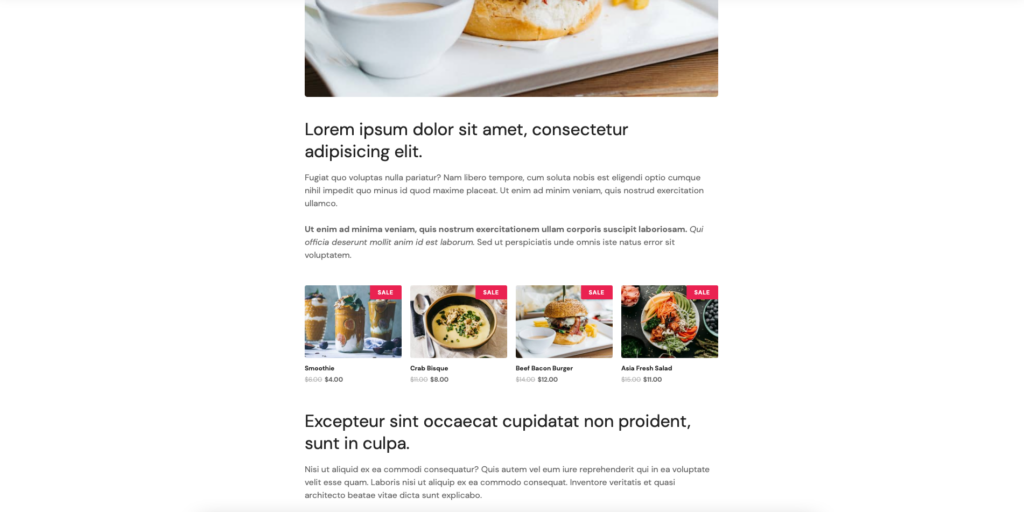 Start today your food delivery service
In conclusion, if you want to create a food delivery website on WordPress, it is not as difficult as it may seem. You will need to purchase a domain name and hosting, install WordPress, and choose a WordPress restaurant theme. Then, you can add plugins to create a menu, take orders, and accept payments. By following these steps, you can have your very own food delivery website up and running in no time.