We're introducing you to yet another way to monetize your website content or even start a new business. Citadela Listing plugin has WordPress Paywall feature. It is everything you need to make a fully working paywall membership website. There are more options for setting up a paywall, so you have more opportunities to scale your business. Our WordPress paywall plugin allows you to optimize your content even if hidden from the public.
WordPress paywall feature is not included in its core. You can get it with our Citadela Listing plugin. The Citadela Listing plugin is part of each license package. Choose one of the license packages for your needs. They differ in WordPress installations number.
WordPress Paywall is available in all Citadela Layouts. You can install the Citadela Listing plugin and find a new block directly in the block inserter area. You can add it on a classic WordPress Page or Post. Read below all details about WordPress Paywall, and feel free to post your questions in the comments.
What is a paywall website?
The paywall website sells the content. It is a monetizing method for websites. We say it is an alternative way to websites full of ads. In other words you won't pubhlish additional ads overcrowded website, often with weak content. Because you can sell it. Users won't pay you because they must-seeing ads; instead, they will read and see pure content after purchasing access.
It is possible to create any content website as a paywall website. You can be a blogger, professional publisher, teacher, guide or data processor. You can charge visitors for your articles, images, videos or processed data because our Paywall website solution contains a directory and listing features besides the Paywall feature.
A paywall website brings a better experience for users and you as the owner. Users won't scroll through pages full of ads. Instead, jump right into the point. As the paywall website owner, you can write better content, be in touch with them, better communicate, and make your website a profitable business.
The paywall website is a wholly or partly hidden website that allows users fully access content through their accounts only. Usually, the user purchases access to a paywall website. But you can give it for free also, as part of other product.
What is WordPress PayWall?
Now we can look in more details how to create a paywall website on WordPress.
The WordPress Paywall is the name of a feature that allows you to create the content on your website visible only for paying customers. In this way, you can sell your content website instead of sharing it for free.
It lets you publish hidden content and let visitors subscribe to your products or service through user-friendly steps. Through them, they choose a package and pay. The WordPress Paywall creates their accounts once the visitor signs up, the content is unlocked.
The Paywall WordPress feature is the set of many codes, parts, and interactions. Thanks to them you can decide what and how you will be selling.
You can decide what information will be:
entirely public for everyone,
shown to non-members,
only visible to members of your website.
It allows you to hide a specific piece of your page, post, or directory item from non-subscribers. The Citadela Paywall feature perfectly matches your content offering.
PayWall WordPress plugin
Our WordPress Paywall feature for the Citadela Listing plugin has all features you need to add content behind the wall.
The most important for you is letting locked content be indexable by Google (and other search engines) even if it is hidden to public visitors.
Our WordPress Paywall plugin called Citadela Listing has premium features that, besides selling content, allows you to add many different and non-standard content forms you won't find anywhere else.
Citadela Listing and WooCommerce PayWall
Citadela Listing plugin for Paywall WordPress feature contains all you need for selling content. You do not need to purchase any other paywall plugin or subscription WooCommerce paywall plugin.
The process is managed as a combination of our specific code, parts of the WooCommerce plugin, and WordPress, of course. We have chosen WooCommerce as a part of our WordPress Paywall feature because it is a tool that has many subscriptions variability and payment gateways. Altogether with Citadela products, it becomes an excellent solution for the WordPress paywall feature.
You can set up different subscriptions, free trials, or you can charge the starting fee. It is up to your business model.
WordPress membership PayWall meaning
The main principle of selling content is that you create a type of membership website. Registered members have access to those parts which you hide from public users and visitors.
Citadela Listing plugin is built for Gutenberg editor. It is a native WordPress approach to create paywall support. Thanks to Gutenberg and pure WordPress, you can make content imperium. Looking ahead, you can be sure that your site has a strong foundation, and you won't have to rework it in the future.
This paywall feature integrates nicely with many WordPress parts and settings and is easily set up. You can sell your subscription right out of the box, connect it to WooCommerce payment gateways, and you're done.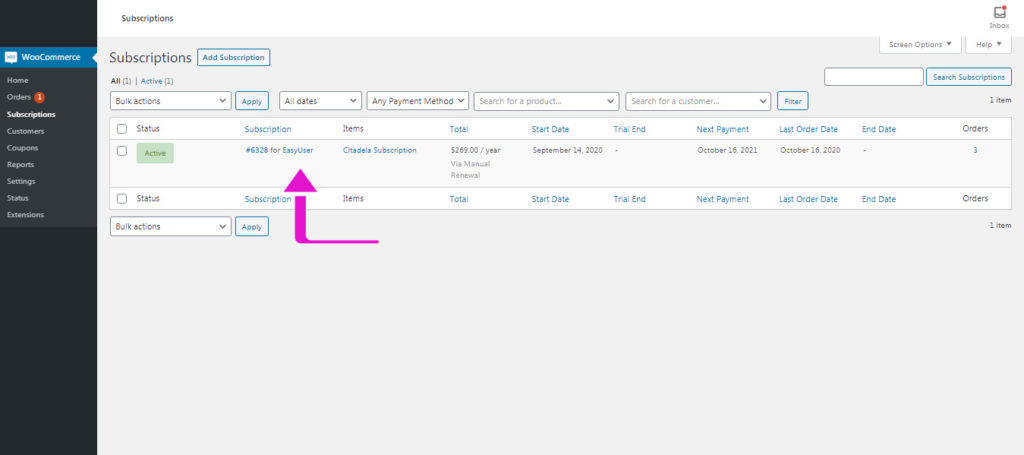 How to set up a PayWall
The Paywall WordPress feature in the Citadela Listing plugin consists of several parts. I recommend installing and activating the Citadela theme and Listing, Blocks, and Pro plugins to set up a paywall. If you decide to import Citadela Layout that comes with WooCommerce design parts, the WooCommerce will be installed automatically. Otherwise, please do it by yourself.
Then enable the bundle subscriptions and set up the WooCommerce settings and subscription product. There are many tabs, and it takes time to set up. But more-less, it is one-time work, so it is worth it.
After all the settings in the back-end, it is time to look at your front-end pages. Tune everything you need to convince the user to become your customer. Create a pricing page where you can use many blocks from Citadela Blocks plugin. You will need a Pricing table block to describe your packages. Even if you have only one package, it is always an attractive way to present the product. And in these steps of creating a paywall website, I have to mention that Gutenberg is such a great tool because of blocks. The work is so easy that I, as a non-technical person, can handle it.
Create a PayWall page
Now all that's left is to add settings for paid content subpages. Go to a page where you want to hide content. Add the block Listing Membership Content right after the paragraph that you want to have visible to everyone. Now you can add content apparent to paid customers. Right after the block that makes the paywall feature in WordPress.
What you can sell with WordPress PayWall
This feature is perfect if you want to:
This feature is so universal that your possibilities are endless.
Other segments have chances to use the paywall WordPress feature on websites as well. However, these segments have no place or interest in online selling. Maybe only until now.
I've thought about a couple of businesses whose core business is offline. They sell services or products in material form and use websites only as a small part of business promotion.
The content can be just transferred from the offline world on the Internet. Or it can be created as a new part of the business.
If I did this work, I would try to use modern technology to grow my business.
In the age of the Internet, it has become common for information to be free. But now that users are looking for quality and trustworthy sources, there is an opportunity for professionals to use their knowledge, skills, and information and sell them through the website.
Of course, paid information will not replace the physical need for the activities of these businesses. However, it is an outstanding opportunity to expand your business.
I can imagine creating and selling online videos, tutorials, and highly professional articles with solid demand from users.
Dog Trainer
Lawyer, tax advisor
Physiotherapist
Nutritionist
Driving school
Personal coach
Architects
We are confident that Citadela and Gutenberg in WordPress will bring you new opportunities and growth of existing businesses.