Multi-Purpose WordPress Theme
Even classic business presentation can be enhanced using big fonts and interesting pictures. This WordPress Theme can be used for company websites, project presentation or product microsite. It was developed as a first theme for our Club. Design works very well with animated pictures and icons. Make your own story that will fascinate your visitors. Take inspiration from 11 beautiful Homepages we created.
Less is sometimes More
Typo is a responsive multi-purpose WordPress theme that includes 19 Standard Elements and 11 Business Elements. You can in fact make any website using this theme. Minimalist design will make your website always looking professional. You can use it for company presentation, product microsite or even special site for events. You can also present your services or your creative portfolio. Case studies with photos and videos will surely look professional and neat.
You can also use this theme to sell your products or services. Theme is integrated with WooCommerce shopping cart plugin. Did we mention that everything is already translated to 16 languages? You and your clients can administer your website in you own language.

Portfolio
Portfolio element can be used to present your projects, products and services, art, customer case studies, categorize your photos or even to create video gallery. You can make a highly professional portfolio without any programmer, without coding knowledge by yourself in a few minutes. It includes handy filter and order feature. You can use various predefined look & feel layouts or even create your own.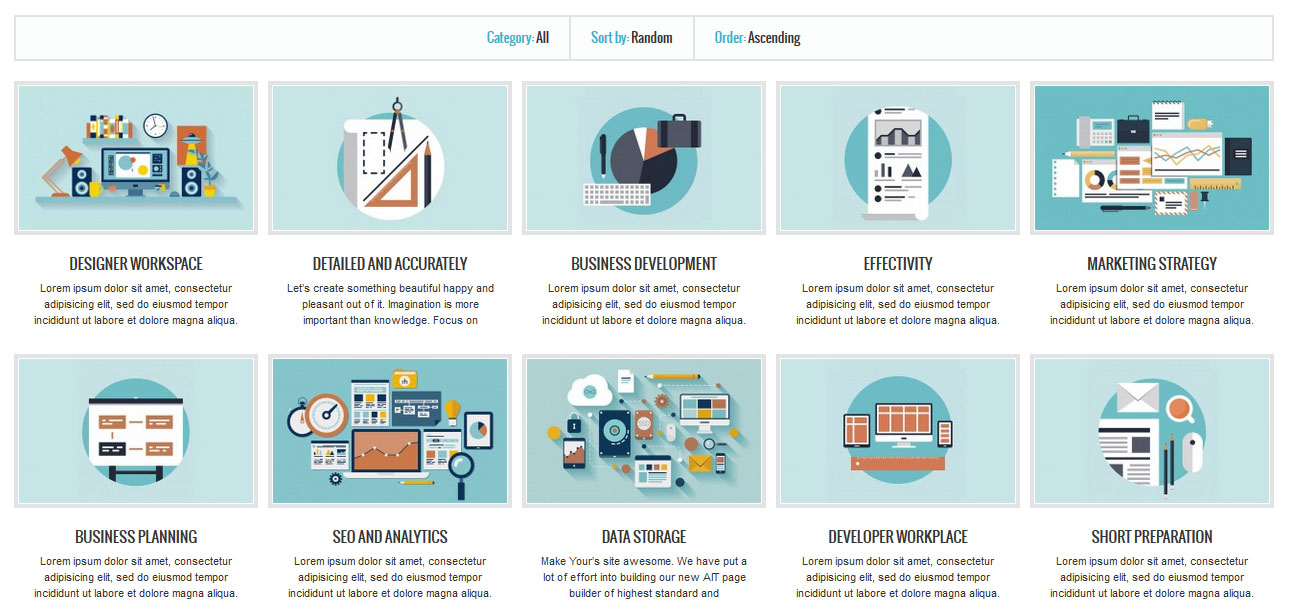 Anyone can do it. Simply upload your picture add some text. Description text can be separated into logical structures you can define yourself. You can for example add more information about your project, budget used or requirements. But not only that. You can also add more photos and even videos that can be played directly from your website.
Every portfolio item can be assigned to one or more categories that you defined. That way you can display different portfolios on different subpages. Simply drag & drop Portfolio element in the Page Builder and select required category. You can full control over everything. Portfolio can be placed inside sidebars or full width. You can configure how many columns it should have and what should be the image proportions. Do you have a lot of portfolio items? Turn on filter and customer can only display items that is interested in. You don't need to contact any web designer if you need to do any of the above.
Events management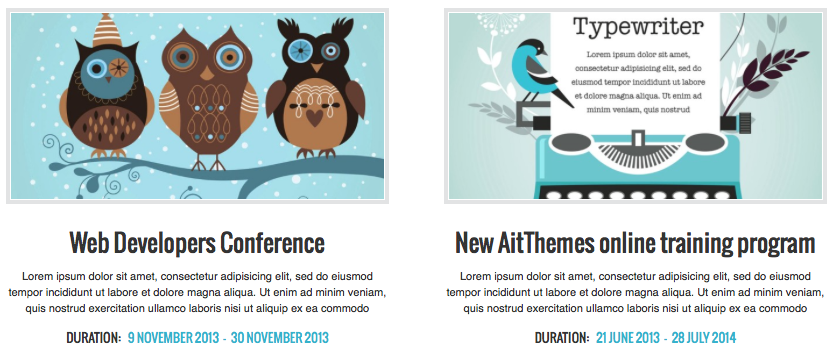 Just a few ideas what can be presented using Events element:
Company event, trainings or product presentations. Event for your customers, fans or even public. Seminar, product testing or anything big or small that needs attention. You can also use it to promote party, anniversary or even wedding and fundraising or public meeting.Everything on your website will look professional and be as a part of the whole presentation. It's easy to attach presentation image or icon. Dates of the event and description text. Categorization comes as standard.
Events element is very useful for inbound marketing. Your website is you main communication channel with your customers. All content will always be useful and interesting.
Visitors love to read stories, they don't want to miss something.
Anyone can do it. Working with Page Builder elements is easy. Showing events on your website was never easier before. It can be done in 3 easy steps:
Write your eventSet up title, description and event date on dedicated page. You can also add it to the category.
Drag & drop Events elementYou can place events anywhere you like. It can be placed in the column or it can be full width.
Configure look & feelEvents can be displayed in list or box view, you have control over carousel and how many items you'd like to see.
Price Table
Turn your visitors into customers. Price table element allows you to create nice summary of product or service features. Customers can clearly see what differences are. Set up the price and call-to-action button. You have control over everything.
Our tip: Identify most important parameters of your product or service. Based on that, make a detailed list of differences between offered products or services. It'll make your offer clearer for your customers. You can also add a nice icon or even image to make price table look more professional than the common price tables.
Members
Break the barriers and make your website more personal. You can find Members section on all professional websites that take selling online seriously. Show your customers who'll take care of them.
Build a long term relationship with your customers
Again it's an easy to use the element in our user friendly Page Builder. You can assign each member of your team with a photo, position, icons to their social network and a short description. Are you a bigger company and have several teams? Make categories and show your staff members on different pages. You can show the whole team or one member only. You'll define your members once and then use it anywhere on your website. You can full control over look&feel of this element. You can show it as list or box view, with carousel or grid. You can control image dimensions from the admin panel. Advanced settings allow you to change section background color or add a background image.
Our themes are strong tools in your hands for communicating with your customers. It's our goal to make our theme as easy to use as possible mainly for non-IT people.