Even after all these years, WordPress is the best solution to create an online magazine website using the Magazine WordPress theme. WordPress started as an online blogging system which makes it an ideal platform to run any magazine. First, WordPress themes in the past were only used as online magazine WordPress themes. It didn't take long for people to realize WordPress themes potential, and WordPress became the most commonly used system of all times.
2022 is Gutenberg time and brings many new opportunities for magazine websites. When Gutenberg started, we instantly saw the potential to create the ultimate WordPress theme that allow website owner to run magazine with many interesting features.
Citadela and its Magazine WordPress theme layout has uniques features like post on the map, GPX support or paywall. Only with this template you can create interactive online magazine with WordPress that gives users a better experience. As a magazine WordPress theme Citadela brings you a new online business model.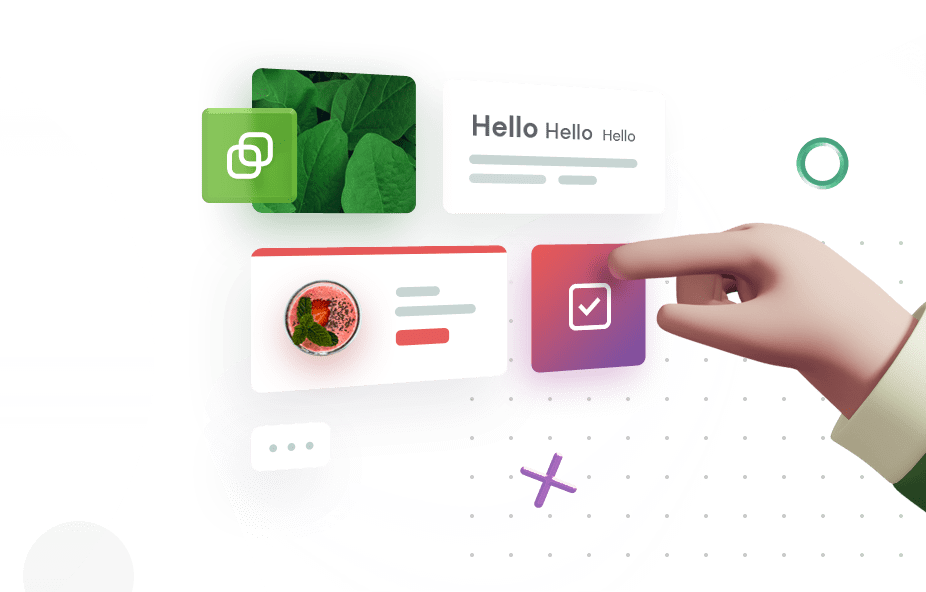 Citadela WordPress Theme, Pro & Listing Plugins Special Offer
100-days Money Back Guarantee.
How to create an online magazine with WordPress
Online content is growing and growing. Same as competition. If you plan to push further your online magazine, newspaper or simple blogging project, you need to flash your content.
First, you need a premium magazine website template. WordPress, together with Gutenberg, is changing massively. Components create pages. Choosing a magazine web template built on Gutenberg gives you a greater chance to run a news portal with easy update runnings for years.
If you are building website from the scratch you need to create a structure and determine posts categories. You can change it in the process, so start with basic and not overwhelm it. Citadela Magazine Layout theme is flexible and requires basic WordPress knowledge. News magazine templates have many features, and we have been adding some specialities which give you extra dimension. Therefore it makes one of the best WordPress Magazine theme you could use for successful online business or in the non-profit segment.
You can try full 7-Day trial. Import layout on brand new WordPress installation. After that you can import Posts as well.
Our Citadela WordPress Magazine layout gives your website a sparkle. Also, some components help readers get a better background and information. We integrate new elements into WordPress journal templates, and they are very accessible through Gutenberg editor.
Furthermore, it doesn't matter which Citadela layout or template you use as WordPress Magazine theme base. All magazine WordPress features are available in each of our Citadela layouts. All articles can have a map block inside the content. Citadela layouts for articles websites are flexible and fresh looking. Posts on Map in magazine websites are an excellent way to build a successful journal. So you can use any Citadela layout as WordPress Magazine theme.
Citadela Magazine WordPress theme
Citadela theme is a free GPL theme with full blogging functionality and supports all default Gutenberg blocks that you can use to create online magazines.
Because of that, you need no particular WordPress magazine plugin. Only what you need is Citadela Theme, Pro and Listing plugin. Citadela Pro plugin helps you set up a website in minutes, thanks to an outstanding layout importer. After you import the layout, you have the same website as our demonstration website.
You can extend the theme with the Citadela Pro plugin that includes customization options for your online magazine website. You can control colours, layouts, backgrounds and other things inside WordPress Customizer.
Another helpful feature that you get with premium magazine WordPress theme are sets of blocks. Blocks are tools that extending WordPress with special sections that are not in WordPress as standard. We have made them and continually develop them to bring you the best WordPress Magazine theme.
The cherry on the top is the Citadela Listing plugin that brings your online magazine website to a whole new level. Imagine a magazine WordPress theme that shows your magazine blog posts on the map. You can assign exact GPS locations to every post, and your magazine readers can view your posts on the map. You can also show businesses or any other listing items INSIDE your online magazine website blog posts. It all works like magic:
Citadela Theme + Citadela Pro + Citadela Listing plugins
Citadela theme with Citadela Pro plugin allows you to create online magazine websites simply with one click on the button. With Citadela Magazine Layout, it becomes the best and modern magazine WordPress theme in 2022.
Let's have a look at some screenshots below. We'll guide you through all of them and point out why Citadela is the best magazine WordPress theme in 2022.
Homepage of magazine WordPress theme
First of all, the Citadela Magazine WordPress theme has a modern black & white look that goes great with any image. Citadela is perfect for any online magazine portal, from travel blogs to food recipe online magazine websites. The top part of the magazine website homepage displays the latest articles. As Citadela magazine WordPress theme uses Gutenberg, you can choose which magazine categories you would like to include on your homepage. You can select one magazine category or mix several magazine topics into one list.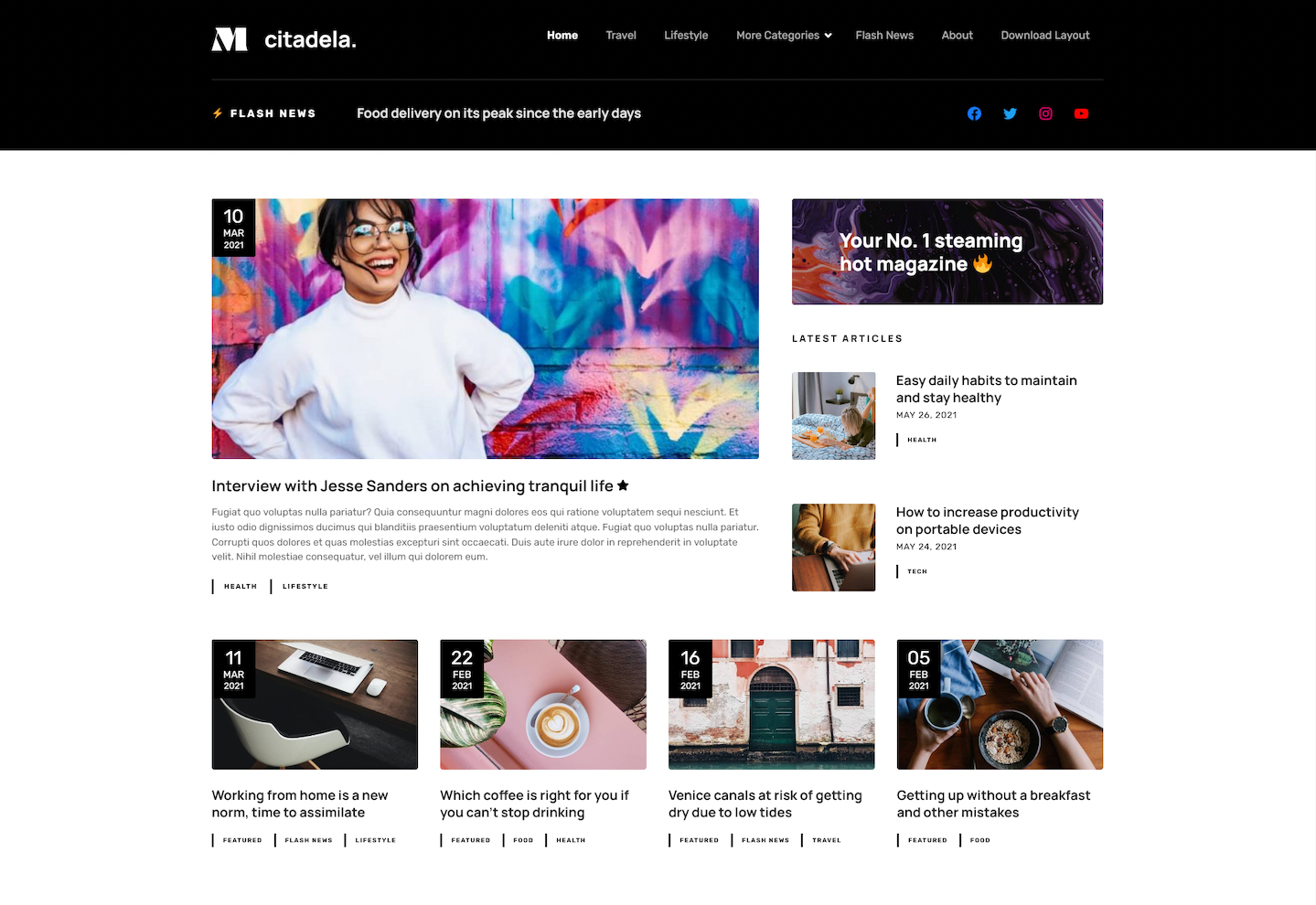 As I mentioned earlier, the Citadela Listing plugin has functionality that will make your online magazine website unique. You can display an interactive map with magazine blog posts on it. That'sThat's pretty sweet, and your magazine readers will love it.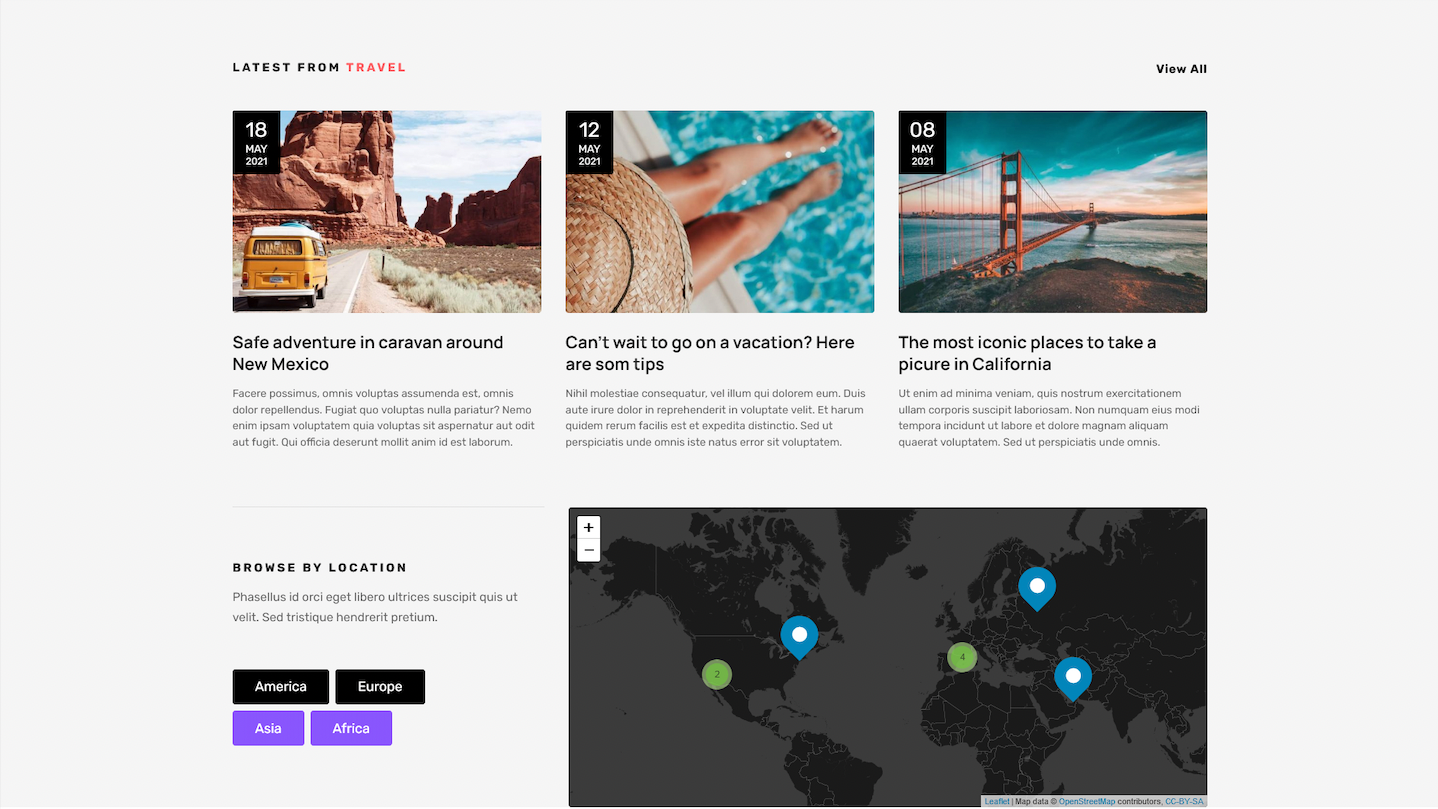 Gutenberg page builder allows you to create impressive presentations even if you are making an online magazine website. As a result, you can highlight the essential magazine topics or magazine categories.
The very bottom of your magazine website you can find flash news and more magazine articles to read. Bear in mind that we're only talking about the magazine WordPress theme homepage.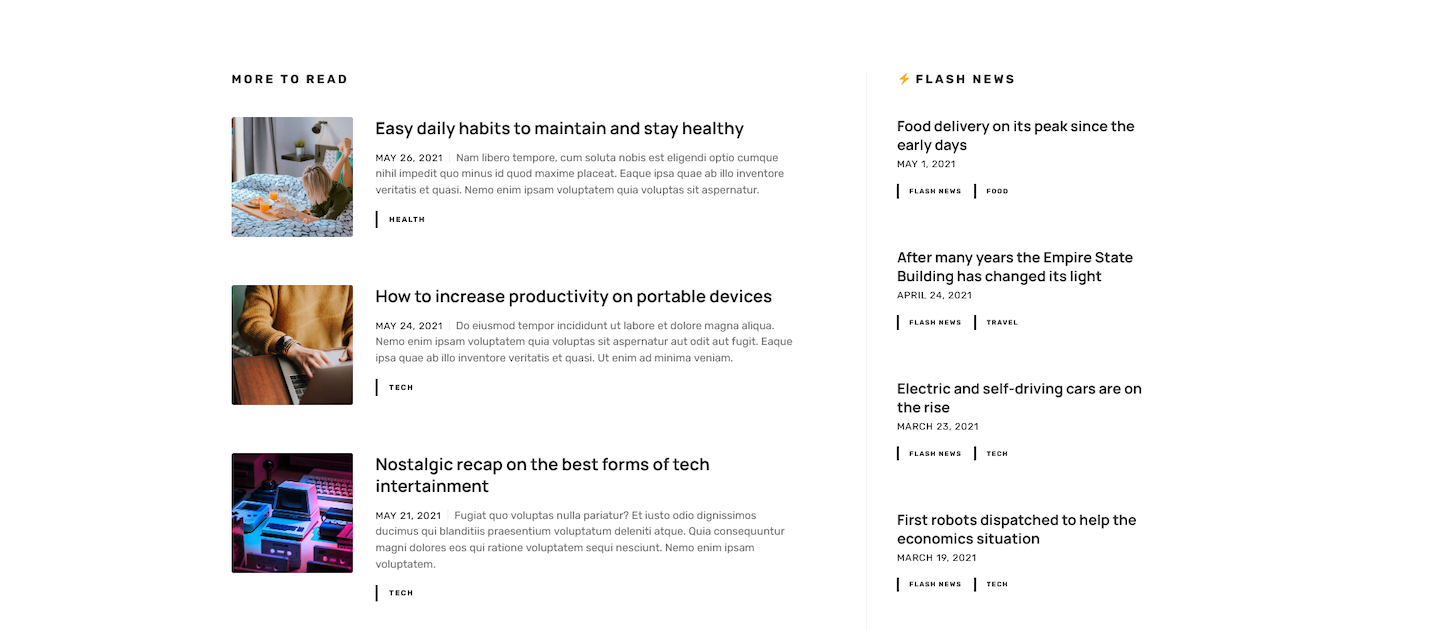 A call to action in the footer is also a nice touch for your online magazine business.
Category page in magazine theme introducing
The category page in Citadela magazine WordPress theme has a very compact header. You can define the background image for each magazine category. The rest of the online magazine category page is pretty straightforward and classic. Sidebar with most recent posts or comments and cross-link to other magazine categories.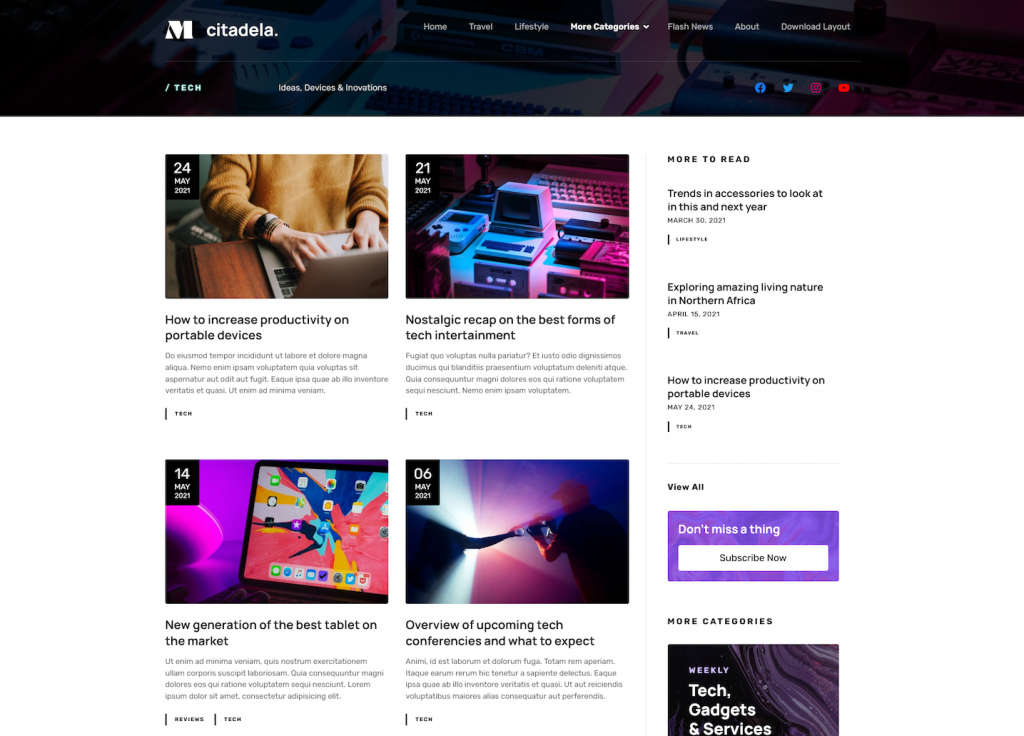 On the bottom of the magazine category page there is section with flash news.
Blog post in magazine WordPress theme
Finally – magazine blog post detail. The most important part of the magazine Website theme is the blog post title. The magazine post title is visible right on the top of your page, followed by the blog post featured image. The Magazine blog post detail page also includes a sidebar with recent magazine blog posts and a cross link to other categories.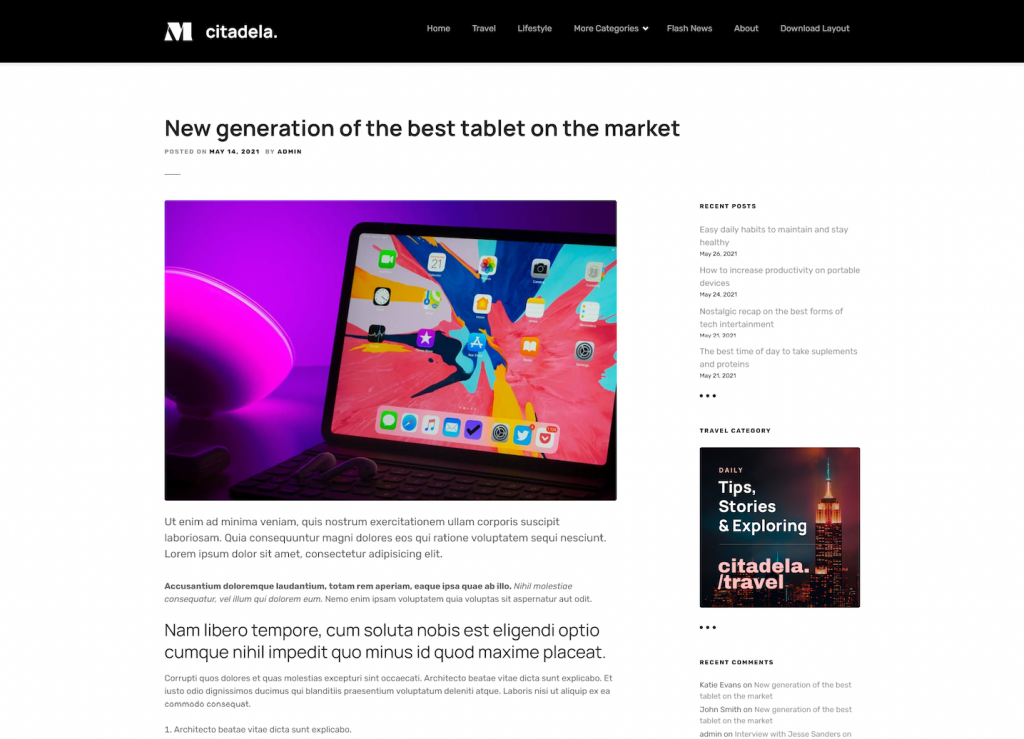 On the bottom of the magazine post detail page there is an elegant comment section. Comments section displays all vital information for your magazine website visitors.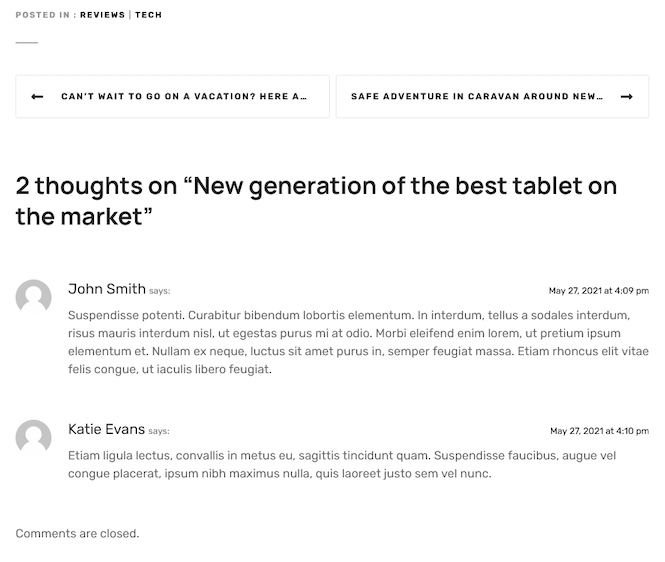 Archive page in magazine WordPress theme
Because online magazine archive pages are probably the most underrated and usually the worst styled pages in all 3rd party magazine WordPress themes. We took the time and styled it nicely. We used a magazine archive page to show the best you have in your online magazine.
The sidebar includes an interactive and fully functional map, together with a fully working search that will find magazine blog posts in selected locations or categories.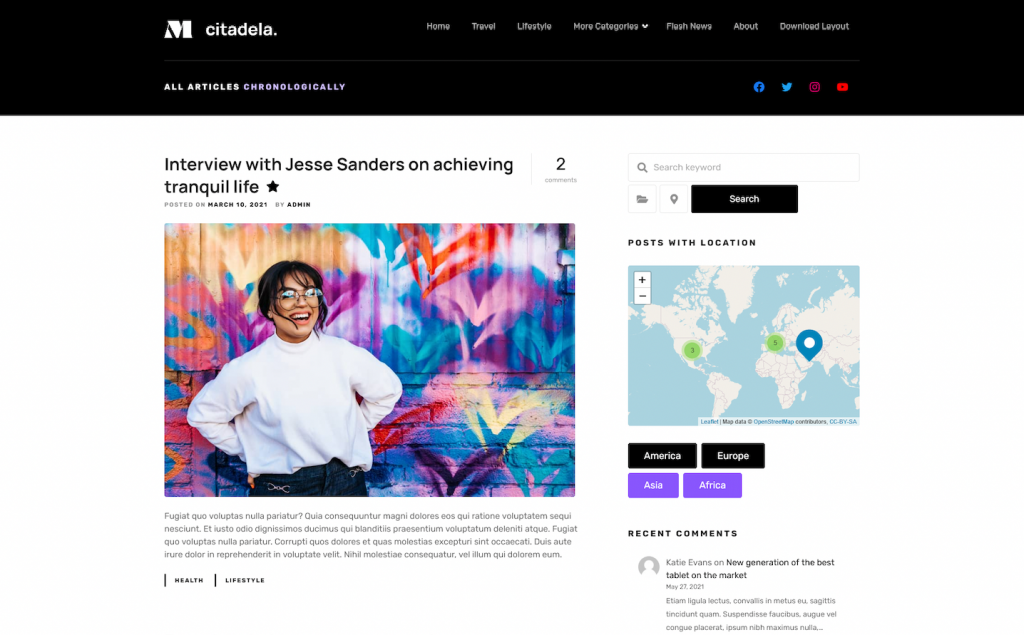 With the Gutenberg page builder, your possibilities are endless. You can take a boring magazine page like an archive page and make it memorable.
Search in magazine template
The search feature is the "pièce de résistance" of the Citadela Magazine WordPress theme. Your magazine readers can search your magazine articles by location, category, or keywords. They can also browse the map to find the magazine article directly on the map.
You can make this magazine search page even more impressive by adding flash news, recent comments or other magazine related Gutenberg blocks that will engage your magazine readers.

About page in magazine website
With the About page, is Citadela Magazine WordPress theme getting even better. You can display your magazine headquarters interactively on the map.
Our best magazine WordPress theme does not stop there. You can easily promote new job offers or display your office gallery.
Listing Item page in magazine theme
The listing detail page is something that you have probably never seen in a magazine WordPress theme before. Items were usually only part of specialized websites. Now you can use the same functionality without any limitations on your online magazine website.
As you can see, Citadela is the BEST Magazine WordPress theme in 2021. The best part is that Citadela theme is a free theme you can download and use without any limitations, even for commercial websites. You can test the Citadela WordPress theme for free and then extend it with premium plugins such as Citadela Pro and Citadela Listing plugin.
Our entire premium Citadela package that includes magazine WordPress theme layout only costs a few $$. It includes everything you need to create a successful magazine website.
Monetize website conente with WordPress Paywall
We are adding new and new features. One of the latest is the WordPress Paywall feature. It is included in the Citadela Listing plugin. It comes as a block that can be placed in any place on your website. You can define which part of the content is free and premium content for which visitors must pay.
See more details about WordPress Paywall feature in Citadela Listing plugin.