It's already been a year since we have transformed from a "normal" office based company into a remote team of developers, designers and supporters. How did we manage to keep working on our themes without any single issue?
The answer is: good project management software and discipline.
Project management software
Main core of our team has been with us since 2008, that's almost 13 years. We started using project management software right from the beginning. Each project management solution has it's advantages but also flaws. It all depends on you what works the best for you.

We have been using the Redmine system for over a decade now and cannot be happier. It is very customizable, universal and works great on mobile. We use Redmine for everything that we do. Designing layouts, developing new features, resolving bugs and writing content to our website. It's a great piece of software, if you don't know it, give it a try.
We do not use emails for any communication, we use project management software for everything. Even for announcing holidays or beer meetings.
Theme updates process
Those of you who are with us for a long time know that we release updates every week. We use project management software to plan theme or plugin versions and assign individual tasks to these versions. We use standard 3 number codes x.y.z. Increase of X means a very big update, Y means new features and Z is a minor bug fix of the actual version.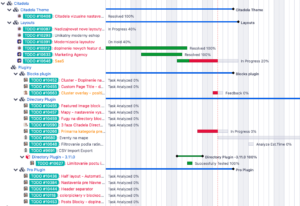 Each new feature or bug fix is tested and double checked by a different person. For example if Ivo makes a new feature, Patrik and/or DDJ will test it after him. Wednesday is a dedicated test day for us. We still have plenty of time to fix in case of an issue. Updates must be ready by Thursday night. There are cases when we need to postpone updates to Friday, but these cases are pretty rare.
Every team member has to be familiar with all processes. Everybody needs to roughly know what others are doing.
Designing new layouts
We treat layouts like real websites. We do our research on what this individual business will need. Designer draws sketches in Photoshop or Affinity Designer, and uploads them to Project management software for review. If we're happy with it, we can start building an online layout website.
Each layout usually needs new features to be added to Citadela theme or plugins. Design team communicates with developers with their requirements. Everything goes through project management software.
Layout usually takes about 4 weeks to be completed. It really depends on how complex it is and how many new features it requires. It's like making a real website.
What's your website development workflow guys? Let us know in the comments below.