Theme for Sport Clubs & League
Make a perfect website for your sport club, team or local league. Bring attention to your club and improve communication with your fans. Inform them about everything that's happening. Write about upcoming or past matches, show them something from behind the scenes. You can also sell products on your fan page. User friendly system will help you create beautiful website easily.
Why is it better to use a sport club theme
Using our sport club WordPress theme you can create a beautiful website for any sport club. You can create a website for one club or more sports clubs. Using ready to use elements you can present all information anywhere you like. You can add basic information about your club, past and history, news and information about upcoming events. Show players and trainers. Display upcoming matches and match history.
Each player can have it's dedicated page with biography and video or photo gallery. You can easily create statistics as number of goals or assists. You can also create an event page with a countdown counter to the next match. You can also show interesting stats about numbers of goals and assists. Do you need a new staff member? You can use Job Offer element for this purpose. Every good sport club website needs a blog. Your fans will love reading news from you. There are so many topics you can write about. Get more fans or new players using your website and internet presence. You don't need to be a programmer or web designer to make it.
League Tables & Matches
Display latest and upcoming matches on any page. You can categorize matches into categories. Show all matches on one page or display one category only. You can also display upcoming matches only, all matches or recent matches. Each match can have Match name, Teams names, Date and time of the match, Final score, Description or link to blog post.


All Matches Table
All Matches Table element can be added to any page using drag & drop Page Builder. You can show all matches in your league. Advanced settings allow you to display nicely styled Title and Description. You can display this element full width or inside columns. You can control about everything.
Individual Match Tables
You can also add your matches as a separate tables. It's up to you how many of them you'd like to show on one page and where you'd like to show them. There's no limit on how many matches you can add using Matches element or how many matches to show on your website. You can also colorize them for easier orientation. You can combine them with other available elements to create interesting content. For example, you can use columns, add photo gallery, text, list blog posts from given category or embed promo video.


Unlimited Color Styles
All colors in this theme can be configured directly in the admin panel. You can set them up to match your club colors. If you'd like to have a website for more sport clubs or the whole league, you can differentiate individual clubs using colors. That will simplify navigation and orientation on your website. Everything using handy color pickers, for example color of Matches table can be configured in the Advanced settings right inside Page Builder.

Products
Help your club going by selling presents & gifts with your logo, t-shirts or sport goods. Products element will help you present what you offer. You'll create a professional looking presentation extremely easily. Product item can be added very quickly, you don't need to configure whole e-commerce solution. Customer can make an order using the contact form that will be sent to your email. You can show products almost anywhere on your website.
What information can you add using Product element?
Product Name
Description
Price
Category
Product Image
You can also make product as Featured
You can create different product categories and show them on separate subpages. You can also combine Products element with other elements, embed video, links to social networks or show information that you'll be selling your products during your next match.
Team Players Element
Fans love your players. Players are the reason they watch your matches. They want to know everything about them. SportClub WordPress theme helps you establish relationships with your fans. You can show the whole team on one page or create subpage for each specific team member, trainer or manager.
What information can you add using Members element?
Player name
Photo
Position
Description
Social icons
You can also create categories to group team members into logical groups. Element can be almost anywhere on your website. Everything can be configured based on content that you have. You can show and hide sidebar with widgets, display in columns together with some other element. You can also show it as a full width. It's possible to show your members as grid or one line. Photo size can be also selected in the admin panel. You can also turn on carousel and auto-play to get an interesting effect. Everything in few clicks in the Page Builder. Advanced settings will help you create remarkably interesting sections with parallax effect.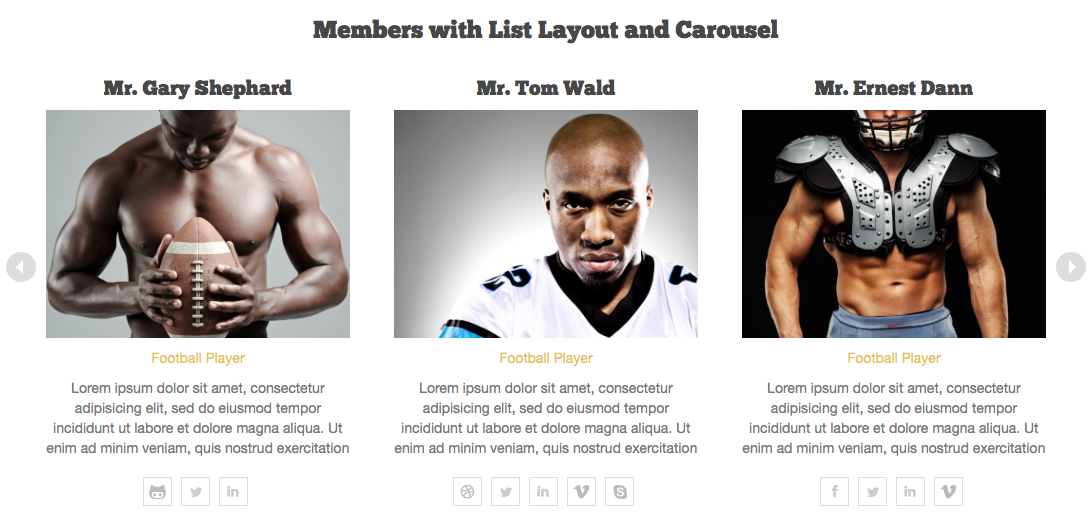 Partners & Sponsors Element
Each Sport club has partners and sponsors that support it. You need to show them on your website that's why we've made Partners Element that will help you with that. You can administer your Partners from one place and then add them anywhere on your website. You don't need to know programming or webdesign to add new partner's logo.
What information can you add using Partners element?
Name
Logo
Description
URL link
Do you have different partners or sponsors for different events? You can easily categorize your partners and show only selected ones on given subpages.