Health & Beauty WordPress Theme
WordPress Theme dedicated to Spa, Health & Beauty saloons and clinics. Build a product presentation or price list with enquiry form within minutes. Spa WordPress theme makes your new website nice and stylish, focused on great pictures that will show your customers everything you offer. Theme contains all important and necessary plugins and elements.
Theme made for you and your clients
Beautiful WordPress theme with Responsive design was specially developed for Spas and Health&Beauty saloons, Health and Medicine clubs, Gyms, Massage centers or even Plastic and Dermatological centers. With a unique "Products" element you can present your products and services you offer extremely easily. Enquiry forms can be added to any page.

Product Element
Products element is what's differentiating Spa WordPress Theme from all other multi-purpose WordPress themes. Most important part of the modern website is products and services presentation. It has to be easily manageable for you and simple to read for your customers.
You can use Products element to create price list of your products and services, add an image, description and also item price. You can also mark any item as Featured and it'll be highlighted on your website automatically.
If you offer many different products or services, categories will be handy. It'll be easy to ready and beautifully styled. As you can see on the above, we made an example of Standard and Premium services. You can also use categories to show only selected products and services on different pages of your website. For example page dedicated to massages will show only massages.
The best thing is that you can define all your products and services once and re-use it on your website several times, assign one item to more categories and so on. It's a very powerful tool that can be used easily very easily.
You'll enjoy working with your website
Health and Beauty come inseparably together. That's the reason we focused to build Spa WordPress Theme not only with modern design and also easy administration. Building and writing the content of your website is a work you will enjoy doing on a regular basis. It'll help your business grow and open you to new perspectives. We've built the tools that will help you with that routine. Website administration is very friendly and intuitive for beginners, but also robust and powerful for advanced users.
Relax & take a rest. It's that easy
Panoramic Slider
Your website is your first contact with your new clients. Stir up some emotions by showing them amazing pictures in minimalist design. Unique Panoramic Slider will take your website to a whole new level.

Over 30 unique business elements
Tell your customers everything they want to know. Your website has to be more than just brief couple of lines of text. Make a well structured and easy to read presentation. Start writing a blog or show them your staff members. News or events you organize or open positions you currently have. Spa WordPress theme includes 10 amazing predesigned home pages, blog with comments, filtered portfolio with categories. Information you write to your website will help you make a strong connection with your customers. You'll enjoy working with our theme.
Testimonials
Are your customers happy with your service? Share their experience on your website. Simply add a Testimonials element and their review will help your new clients decide. By collecting testimonials, you can get valuable feedback that will help you improve your service. Build your own brand with our help.
Present Your Services More Attractively
You can use Portfolio element to present services you offer and products you sell in very elegant way. You can add large pictures, video or even create photo gallery. Show your clients very nice structure of the content. Advanced settings will allow you to highlight your products even more.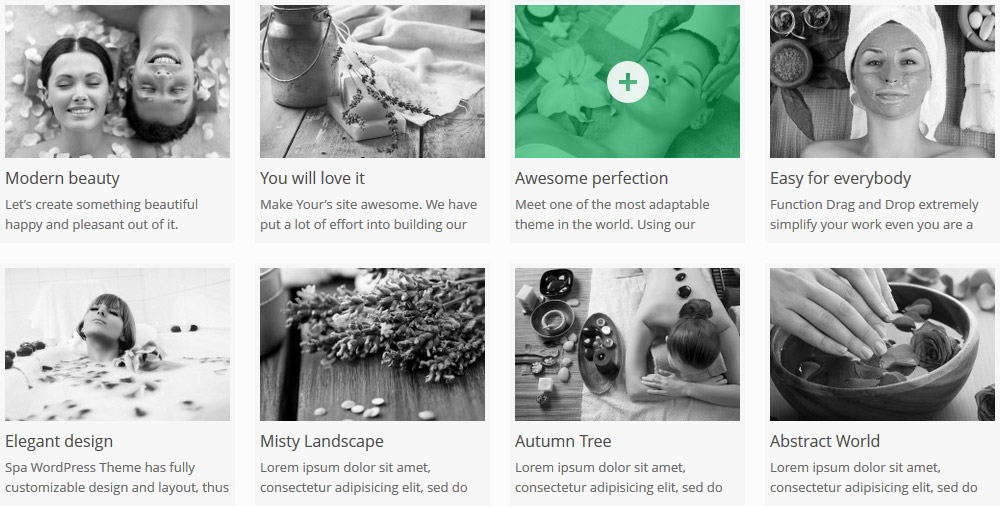 Contact information and Opening Hours
Help your customers to find you quicker. Create a Contact Us page with detailed Google Map, Contact Form that sends emails from your website and even Opening Hours. You can also show there your support staff members or testimonials. It's all up to you how you'd like to have it. You can also connect your site to social media such as Facebook or Twitter to show your latest posts anywhere on your website.