Theme for Bands & Musicians
WordPress theme specially designed for bands, DJs, concert events and musicians. Design is a combination of darker and lighter elements, with focus on large images or videos. Theme includes music elements such as Mixcloud and SoundCloud, also built in video embed features for Youtube and Vimeo. You can also add large video with autoplay on your homepage. Possibilities and endless. Events manager allows you to add information about concerts and band tours anywhere on your website.
Elements
Website elements are designed to make your work as simple and fast as possible. You can pre-define settings in Default layout section and use them anywhere. Information you set in Custom Types can be easily re-used on any page, no need to type it again and again.

Header
Several ready to use header types you can choose from.
Revolution Slider Included
Multi-dimensional Responsive slider comes free of charge with all our themes. You already saved $19!


Text and Mixcloud
Simple text element that can be used to create blocks of text and Mixcloud for playing songs.
Partners
Here you can add logos, group them into categories and link to your partners, as many as you like.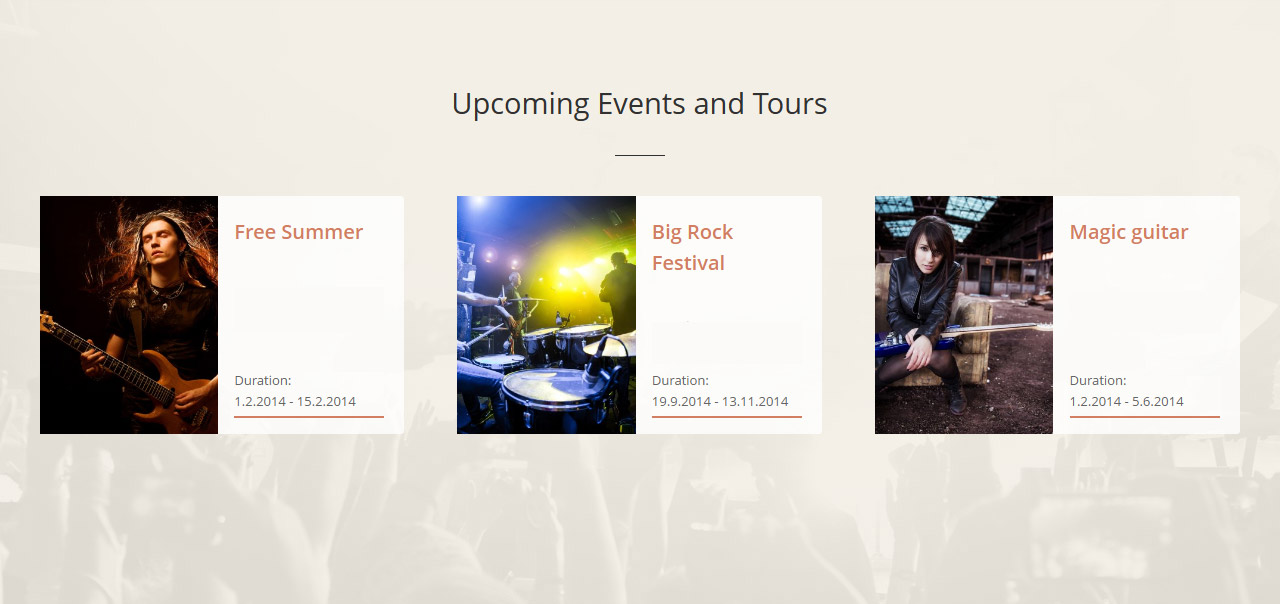 Events
Simple event manager included. Use Wysiwyg editor to create rich content, location, date duration.
Create an unlimited number of widget areas and sidebars. You can also place widget area into columns using Page Builder. No messy 3rd party plugin required as it's all nicely integrated.
Text
Eye catching parallax effect created using text element. You can copy & paste any embed codes as well.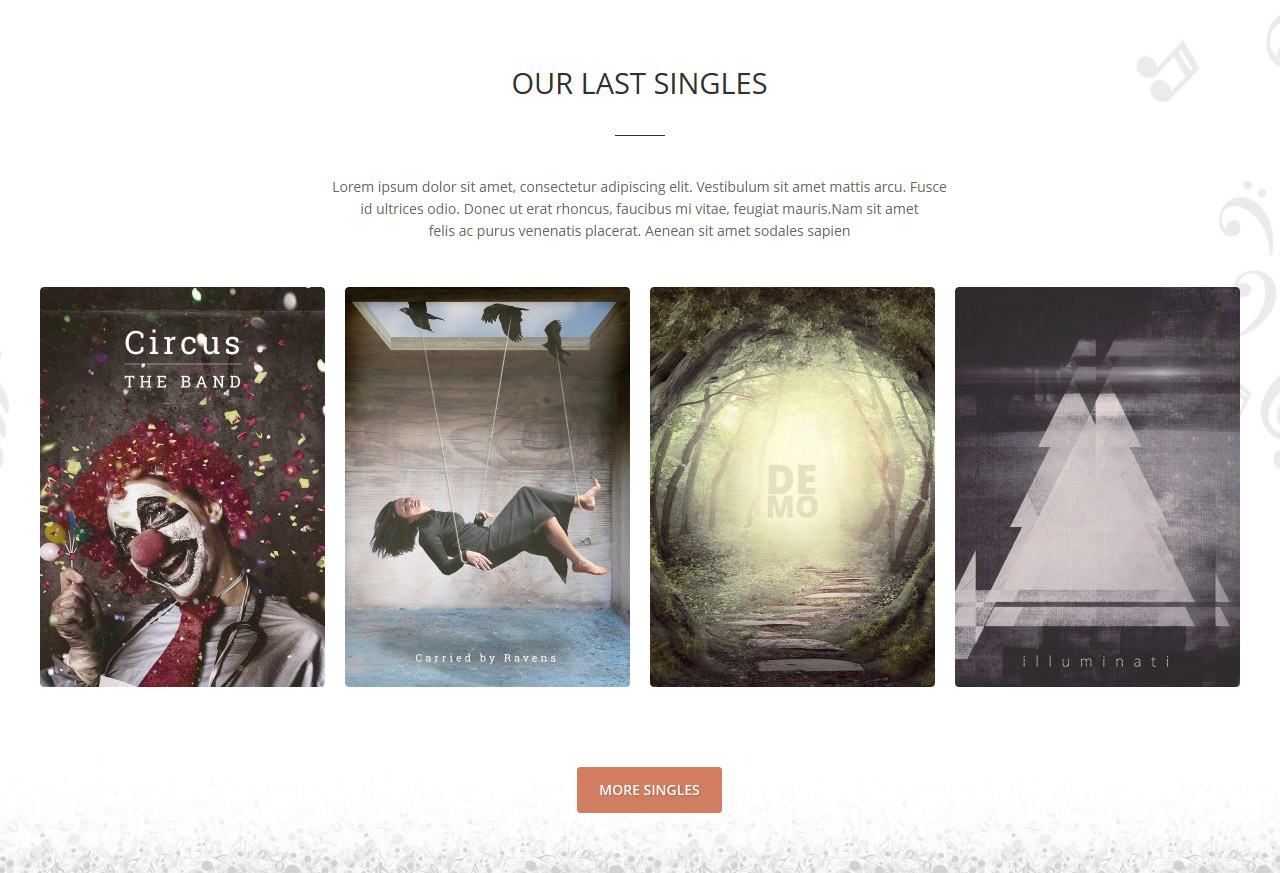 Portfolio
You can define a number of visible items, number of items in one row, portfolio layout and many others …
Member
Categorize members into teams and show them on any page.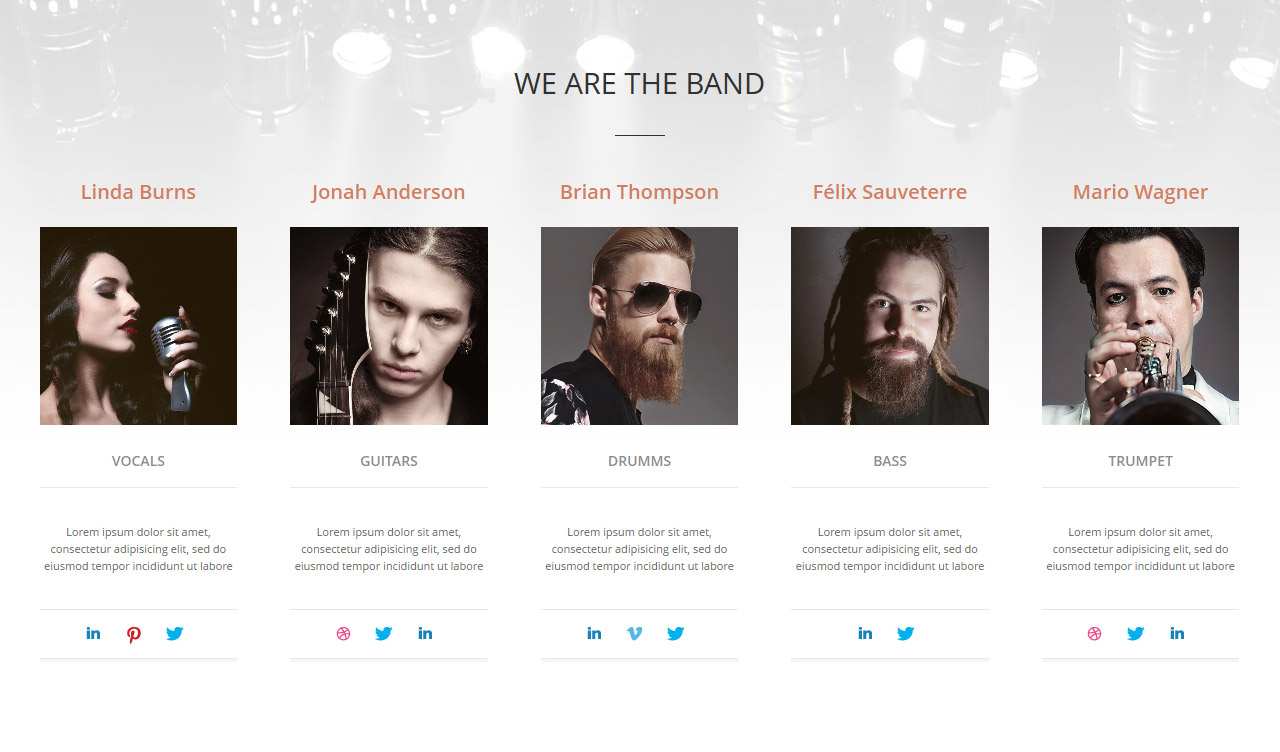 Google Map
Create custom maps with high quality markers containing locations, descriptions, images and links. Advanced layout color customization.
Footer
You can easily configure Copyright information and custom menu.

Events & Concerts
Displaying concerts on your website is very easy. You can use simple Event Manager that is included in the theme. Use Wysiwyg editor to create rich content, location, date and duration. You can categorize your events and show them anywhere on your website. You can show them directly on Homepage or create a dedicated page for your concert tour. It's all up to you.
Media Elements
Videos and music players. Embed your work directly onto your website. Use Mixcloud and SoundCloud elements to share your music over the internet for free. A fantastic online streaming service. It allows you to easily embed music content from various providers, you can use autoplay on page load with artwork displayed in the player. Youtube and Vimeo services can be used as full width or inside columns.
WooCommerce
Sell your products online using best e-commerce WordPress plugin out there. You can install the WooCommerce plugin for free and create your online store in few moments. Insert your products, upload images and you're done. Everything that you need to create e-commerce website is included in the theme.
Products on the Homepage
SELL YOUR PRODUCTS EASILY
You can display featured products or most recent right on the homepage. Customers can access product details or insert products right into the shopping cart.
Shopping cart can be accessed from every page. Your customers will never get lost on your website. They can go to the checkout page any time.
Responsive Design
WordPress Theme is 100% responsive and works great on all devices. Customers can shop online using their mobile phones, tablets, laptop and desktop. Whole website will adapt to screen size automatically. Theme was tested on many different modern and also older phones and tablets such as iPhone, iPad, Android and Windows devices.