In June, the WordCamp Europe 2018 (WCEU) conference was held, where news related to WordPress Gutenberg content editor were expected to be introduced. Therefore the key speaker of the event was the co-founder of WordPress, Matt Mullenweg, who announced an ambitious plan for the further development of Gutenberg in the next few months.
Mullenweg said his goal is to extend Gutenberg to as many pages as possible before the WordPress 5.0 release date. For this reason, testing by the WordPress.com community is continuously under way. Feedback from developers and agencies is valuable data and base for improvements of the editor prior to its official launch on the market. It is possible to try it out even now – according to wordpress.org, Gutenberg is already installed and actively used on more than 14.000+ WordPress websites.
What does the arrival of Gutenberg and WordPress 5 release mean for you?
The WCEU has also set out a roadmap for further progress in Gutenberg development. The next month (July 2018), version 4.9.x is expected. There should be one significant change – while currently wp-admin users have option to opt-in for Gutenberg, later Gutenberg will be incorporated into the WordPress core itself and thus enabled by default. The opt-out will be possible by installing a plugin that will return the original WYSIWYG editor into admin interface.
All critical issues should be solved in August, and Gutenberg should appear as part of Calypso admin interface on WordPress.com. However, the most important message from Gutenberg roadmap was that the WordPress 5.0 release is expected in August.
Many developers are a bit skeptical about this timing as according to Mullenweg, there are currently more that 1700 issues open, which is definitely not a negligible number.
What do we think about Gutenberg and what will the new WordPress 5.0 look like?
It is pretty clear that Gutenberg will become a new standard. But only time will show how easily users get used to a complete change in the way how content editing in WordPress works. End-users who are already in the process of testing Gutenberg are giving in general a positive feedback – it seems that easier content management in the style of Medium suits people.
We are really surprised how fast the development of Gutenberg is progressing. Despite the fact that we've invested a lot of our energy and hours of work into our own Ait Page Builder, we welcome Gutenberg. We see it as a breakthrough in the development and usability of templates for WordPress" – Martin, Ait Themes
Mainly developers are awaiting the official Gutenberg launch. This rich content editor should ensure backward content and Mark-up compatibility, but it's questionable how developers will deal with the compatibility of their themes, plugins or third-party Page Builders. And if they ever get into changing the "old" WordPress themes.
Some authors of the premium WordPress themes have a negative view on Gutenberg. They consider it a competitor to their own, custom-made Page Builders. This is because there is a huge amount of work behind these Page Builders. Custom Page Builders become redundant once Gutenberg editor arrives. But it is not necessary to look at it as an imminent threat. So far, Gutenberg lags far behind most of the most used Page Builders.
The greatest improvements brought by the Gutenberg editor
New Gutenberg replaces the original WYSIWYG content editor in WordPress, and sooner or later it will be the preferred editor in all WordPress templates. It will provide much more functionality than the original editor, so in most cases it will no longer be necessary to install another Page Builder. Thanks to Gutenberg, the use of content editors will be unified. Users will save on the fees for the third-party Page Builders. But it is unclear what prices will template developers set for their Gutenberg templates.
Block-based writing blocks
Gutenberg brings a completely new way how the editor works. It makes the content manipulation much easier as was the case previously. New content is added to Pages and Posts via blocks. You just need to click the "+" symbol in the editor. This way, you can add any type of content, such as gallery, videos or embed codes. Even custom blocks can be created.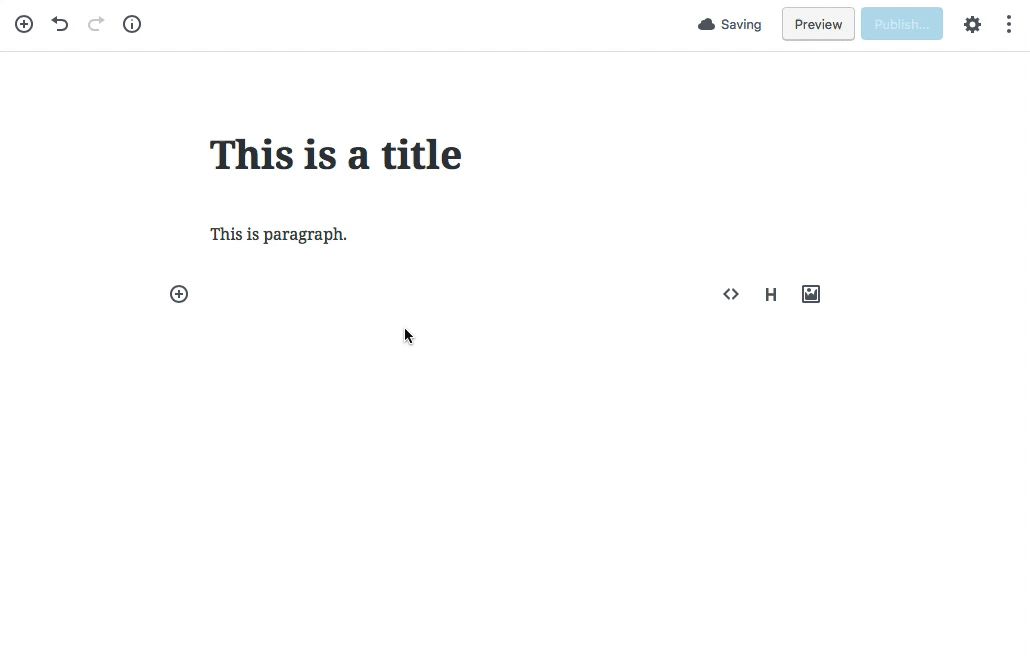 Image source: What is Gutenberg? by Yoast
Shared blocks and dynamically loaded content
Gutenberg automates work with blocks. Once a certain content type is created, it can be repeatedly used across the entire website. This way, you can set up different templates with a predefined layout of individual blocks. At the same time, each change in a given block will trigger the automatic update of content wherever that block is used.
The nested blocks functionality is primarily for developers who build their own custom blocks. Gutenberg allows developers to disable certain changes in the block so the users can't add something that simply doesn't belong there. For example, the block containing team members will have photo gallery disabled – users will be able to add just those elements that the developers let them (let's say just a photo and a description of the particular person).
Child blocks are directly linked to parent blocks. This means they only work when the parent blocks are present in the content. Otherwise they won't be displayed on the page.
The best feature of Gutenberg according to Matt Mullenweg is the support of copy & paste functionality. Thanks to this you can copy any content from a variety of sources (like Google Docs, Microsoft Word, Evernote etc.) and paste it directly to the content editor without the previous formatting spoiling the appearance of the WordPress website. Copying of URL links should also work automatically – not as is the case now when the link needs to be copied into clipboard, text for the link highlighted, URL added and finally submitted for the link to become active.
So when will WordPress 5.0 be released?
Gutenberg brings a whole new view on content building within Pages and Posts and according to the WordPress community, it can be a real revolution for WordPress websites and rich content editing. After the WCEU conference, it was clear that Gutenberg's developers had an ambitious plan for its official launch in August 2018 (although no exact date has been set).
Get FREE Gutenberg WordPress Theme
At this moment we develop brand new theme using Gutenberg's block-based system to bring our customers the 1st Gutenberg theme asap. Until WordPress 5 release we're working on many improvements we'd like to introduce.
And we have some good news for you…
We will provide Gutenberg WordPress theme also for free!
But If you can't wait for this theme, you can buy our Full Membership with all themes we have at discounted price. And right after Gutenberg theme launch you'll get its full version automatically.
Buy Full Membership with future Gutenberg theme update