In this post, you will find detailed information for building and running your own Directory & Listings website from scratch.

This guide will help you understand how to create a listing website. Every step necessary for website development is explained through Directory+ Theme but it fits to our other directory themes too.
You'll learn how to install theme, how to add Items (listings), enable Claim Listing plugin for your customers, create different types of Pages, work with Special Offers, Featured Items, ad banners etc.
1. Intro: Initial steps before you start building your website
These steps are the foundation stone of your future success. You need to do them right.
Please take extra time to make sure you choose the right domain, hosting and WordPress theme.
Choosing a domain
Domain is a name of your online presence. You want it to be:
Original

Attractive

Easy to remember
Do your research to see if the domain has been previously used by someone else and if so, what history does it have. Use Time Machine to check for its past content.
Ideally, domain name should relate to your future web content, so your web visitors can associate it with the type of information they find when they click on it.
Hosting
Business directory poses higher hosting requirements as it holds large amount of data. Therefore you should go for fast, good quality hosting. Minimum hosting requirements check will run automatically at the start of WP theme activation process (of our Ait theme). Detailed hosting requirements can be found here. Guide on finding the right hosting is in our article How to find the Best Hosting Provider for WordPress Theme Installation
WordPress installation
Luckily, WordPress is so popular, that many hosting providers offer one click WP installation. If it's not the case for your chosen hosting, you can download installation package from WordPress.org. Upload it to your hosting and install it.
Choosing the best WordPress directory theme
Before you start looking into themes, you need to know exactly what kind of portal you're planning to build. According to this, write down the list of functionalities the theme should have.
One of the reasons WordPress is so good and popular is that you can do (almost) anything with plugins. However, if you want to build something as complex as online business directory, you cannot choose just any theme and extend it with 20 plugins.
Rule number 1: Choose directory theme, not just any WP theme. Directory theme is the theme designed especially for listings of items.

Rule number 2: Choose theme that has all (or at least most) necessary functionalities – directory plugins – produced by the same developer – you will avoid incompatibility or design issues.
Get familiar with specific features and differences between our directory themes and choose the one that fits your needs the best.
2. Theme installation & configuration
Theme installation is very simple. Once you have your WordPress installed and domain all set up, log in to your WP-admin. Go to Appearance, Themes and click on Add new theme. Choose the installation file from your computer and install the theme.
After the installation, activate the theme by clicking on the Activate button.
Your theme will load blanc – with no content. You can choose to import demo content, but be careful – this will remove all your current content, if you have any.

You're deciding between two options:
Demo content import – it will fill in the demo content which you can change and modify as you desire later.
Bare in mind that you will need to delete every page and item you don't need  manually. It can be a bit time consuming as it's a big directory theme with a lot of demo content.
Own content – modify the look of your website and add content by yourself. Add new menu fields, categories, items or change layout through our Drag & Drop page builder.
When you have the bases of your website done, install plugins that you'll need for building classified website. After installation, you can activate and deactivate them any time.
3. Website content: pages, posts, items, categories
After configuring your website, you can start adding content. Begin with pages.
Page in WordPress is a static document type of site, which you can add to your menu or footer for easy access.
Your first pages could be: About us, Contact, Privacy policy, Terms of use and Cookies note.
Posts are news or articles that you write and want to publish to your website (for example in the blog or news section.) They appear in a chosen place on your site in chronological order.
Items sorted into categories is the core body of your directory portal. For example, you can have a list of restaurants, coffees, bistros, bars. Each item (a coffee shop or other place) will be listed in your catalogue, assigned to a category and will have certain attributes:
Address & GPS location, directions (plan my route button)

Opening hours,

Contact information – phone number, e-mail, website,

Item image

Social icons

Contact form

Map with the particular item only

Review form (available through WP plugin)

Excerpt (short description readily displayed when item is listed in a search results.

Slug (generated automatically or filled in manually)

Subtitle

Item featured (on/off) – top position in search results

Item header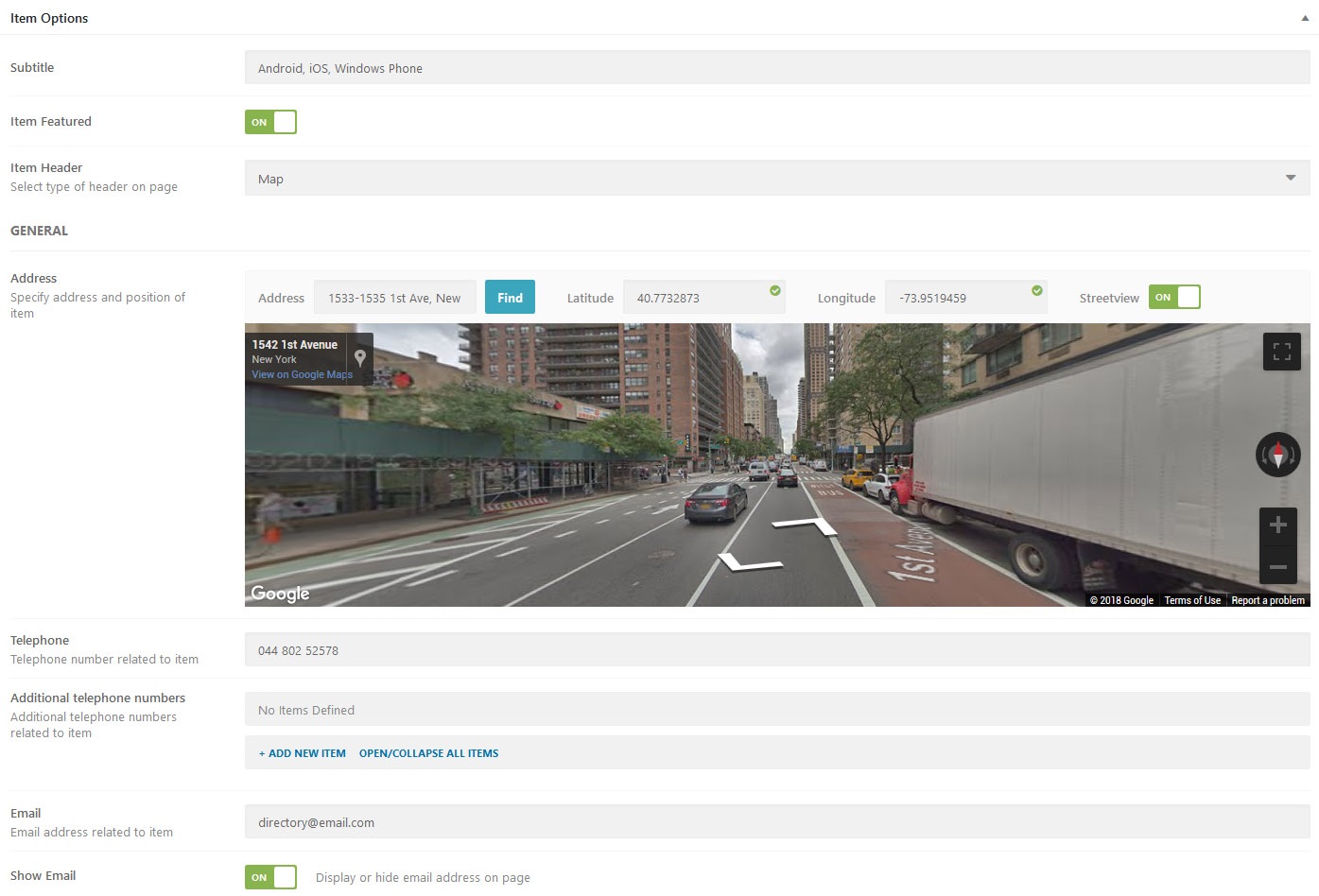 By filling out all the information about each item added to your website, you're creating the "GO-TO" place for web visitors who want to find all the information handy, well structured, in one site, where they can search, compare and more.
Items are searchable based on different criteria. You can list all bistros around you and instantly see their reviews or daily specials. After you choose the one you like, you can get directions by clicking "Plan my route.")
4. Creating packages, featured items, claim listing
Those are all possible sources of income from your business directory website. When your portal becomes popular enough, item owners will be interested in paying you for listings or displaying their items on the top of the search results as featured items. Your simple online catalogue will turn into money making classified website.
Packages
Packages are service bundles that you offer to item owners who wish to be listed in your catalogue.
You can create several packages for different prices. We recommend starting with the free package, which offers free registration in your portal. It will help you fill up your catalogue faster, without doing it all manually by yourself.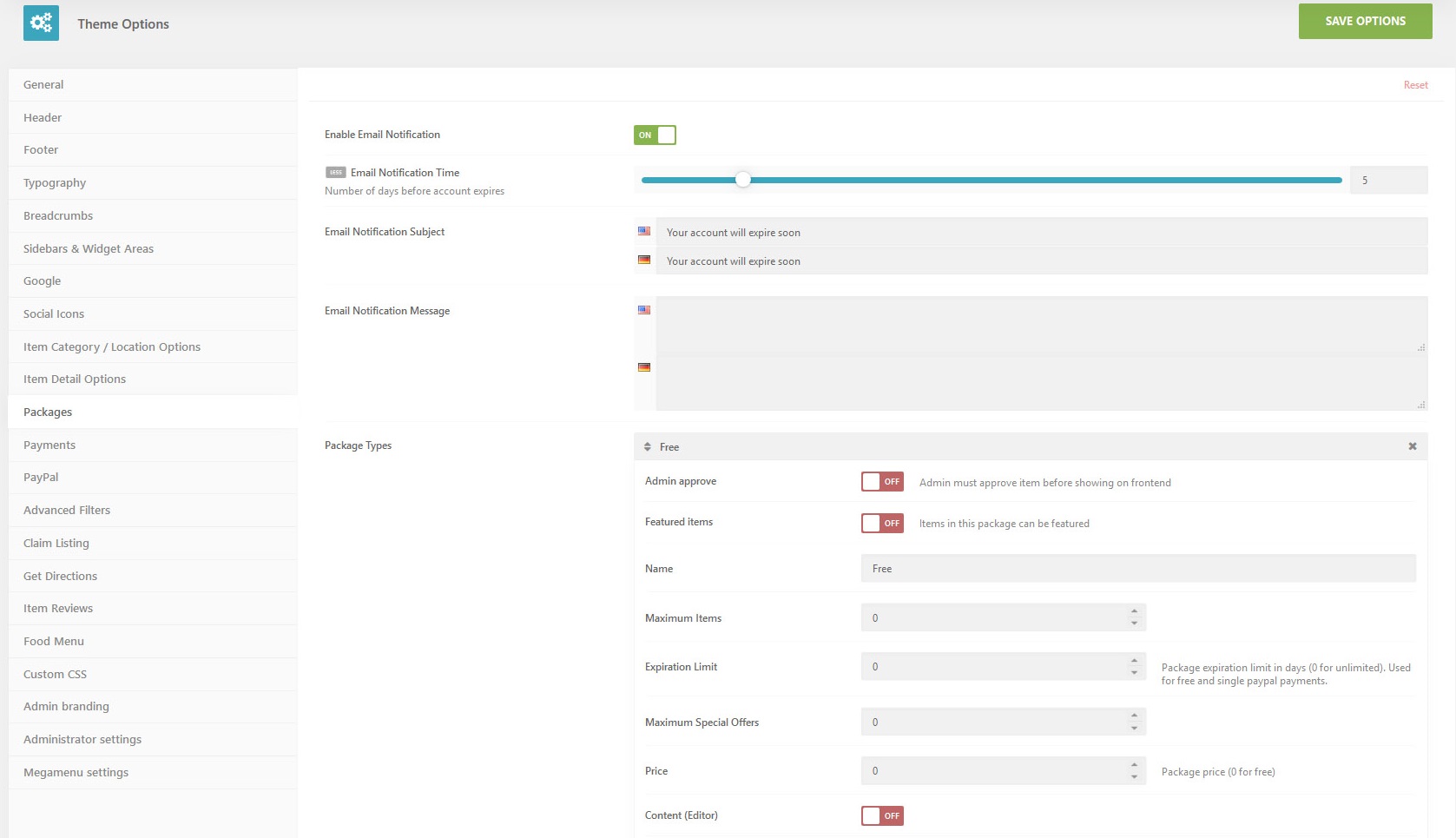 When you offer paid packages, they need to bring a real value to your customers. Adjust the number of items they can add, special offers they can promote etc. You can also mark certain number of items as featured for a fee.
Choose the currency you want to use, set up the payment methods (i.e. PayPal) and you're ready to go.
Claim listing
When adding items manually into your catalogue or when you allow web visitors to add items, you should also allow item's owner to claim listing. This way, the owner himself can take over the item, make sure all the listed information about it are up to date and they can become your customers by purchasing one of the packages.
Now your directory portal should have everything it needs: cataloque filled with items, map, easy search, registration form with payments (if applicable), news section (or blog) and necessary pages with privacy policy & terms of use. Last but not least, don't forget to make your website GDPR complient. Ait-themes offers full range of GDPR ready plugins and features that will help you comply with this European law easily.