Portal WordPress Theme
Our very first portal WordPress theme centered around events. Event Guide is ideal for founding your own online business. Maybe you would like to house event managers and their venues for a small monthly fee? Users can filter through events using our brand new interactive mini-map. Event Guide is packed with unique features like filtering events based on user's current location and its type, custom made event filters and much more. And yes, it's ready for any other kind of business that can utilize portal theme including events.
Why EventGuide WordPress Theme?
Make Your Own Business: Event Guide is not just another WordPress theme, it's a set of tools we've crafted to provide you with an opportunity to start your own business.
Promote Your Event Venue: Take your event venue to a whole new level. Event Guide gives you access to features that will redefine how your customers explore events online.
Unbeatable price on the market: Take advantage of the opportunity to save a lot of money. We have spent a thousands of hours on analysis, design and development. Bespoke solution would cost more than $10.000,00.
Event Guide Theme Features
Theme is fully customizable (colors, layout) and our page builder is implemented
Responsive design
SEO Optimized and Google rich snippets implemented
Search and filter by keyword, location, category or date
Geolocation and radius available
User registration, free or paid – build your custom packages
Registration extended by our existing plugins – paypal payments / subscriptions, stripe
Event organizer profile with list of events, opening hours, gallery, features, reviews, contacts, address and custom information
Navigation to event venue or organizer
Display advertisements easily
Events Pro Plugin Features
Custom item and event locations and categories with custom color and icon settings
Events can be created by registered users
Promote any kind of event (restaurant promotion, cinema, sport matches, live conference etc.)
Custom event address or use organizer's one
Recurring events with optional ending dates
Event has its own calendar with scheduled dates
Event dates can be exported to external calendar (Google, iCal, etc.) easily by visitors
Multiple fees
Sell your tickets by any provider of your choice or use WooCommerce
Share events easily on social networks
Show any event information or upload files
A lot of options to contact event organizer
Show and filter organizers or events on Google Maps
Promote any events (by cat., loc., count) anywhere on page
Option to promote featured organizers separately
Timeline with map which shows all upcoming events which can be filtered by category
Events Pro Plugin at Hand
Let your users create their own events and link it to the profile of their event venue or other business. Events Pro plugin enriches event pages with key information about date, time, place and price of an event. Users can make events recurring and visitors can share with ease.
Even though it's pretty much all you need, we're going to keep updating Events Pro with many more features.
Events Pro Element
Thanks to Page Builder, you can easily display all events on any site you want. You can choose whether to display them individually or in a certain numbers, based on its category or location, or without a filter at all. You can even manage what kind of information will be displayed. There are several visuals ready at your disposal.
All of this is just few clicks away.
Events Pro element is a part of Events Pro plugin which needs to be purchased separately.
Fully Customizable Portal Theme
Customization is very important part of setting up your own website. Our intention to innovate and to push the limits of customization has lead us to the current state of our system: you can set up your Event Guide without any limits. This system will keep improving with every new feature.
Responsive Design
Event Guide is 100 % responsive and works flawlessly across all devices. Your visitors can access every key element using their mobile phones, tablets, laptops and desktop. Tested and validated on almost every new smart device and even on older phones and tablets.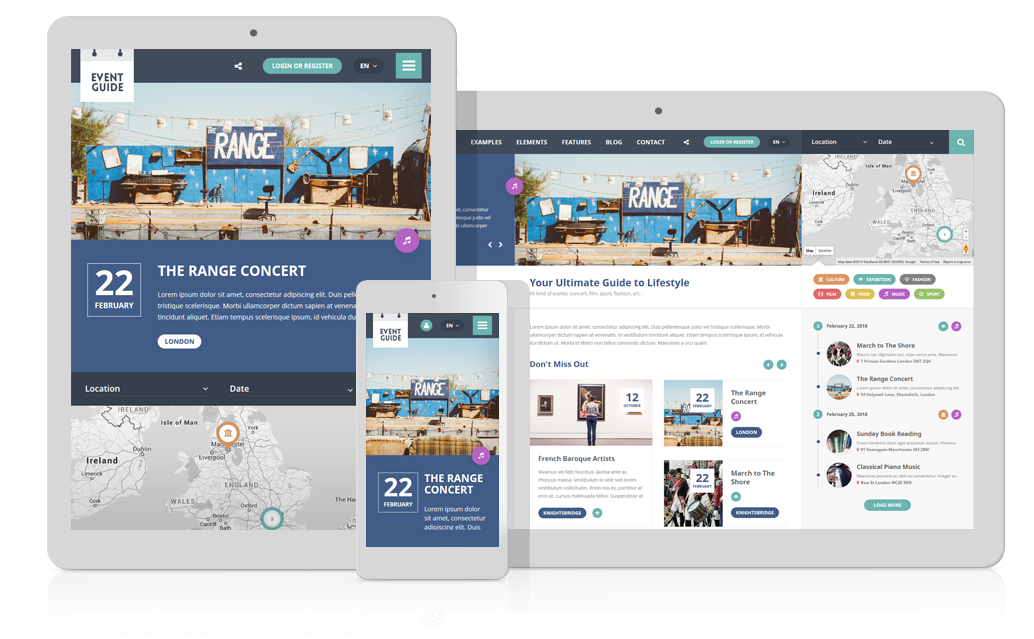 Elements Which Make Portal Website
Website elements are designed to make your work as simple and fast as possible. You can pre-define settings in Default layout section and use them anywhere. Information you set in Custom Types can be easily re-used on any page, no need to type it again and again.
Header
We designed Event Guide's header to provide access to several key features both for admins and users. You can enable easier header search on each page respectively.
Rich Enough Pages
Thanks to Page Builder and predefined Elements, you're free to shuffle page's content the way you like it. Layout is especially designed for displaying events.
Events Timeline
Timeline displays upcoming events in chronological order. It's available on every page and it adjusts to its content. If you decide to use Timeline on a page under "Music" category, only respective events will be displayed.
Taxonomy List
Element Taxonomy List shows the category and location listings. It's up to you whether you want to display it together or to separate it on a certain page.
Footer Widgets
You can easily configure footer widget area columns, change color, add copyright message and even copy&paste javascript code via theme admin.
Search & Result
You can search by keyword, category and location. Additionally you can turn on geolocation and the radius of searching around your position. It's so simple to find nearby events. We support units in kilometres and miles. There are two types of search bar available: classic one and one with the fields formed as a sentence. Result shows the matching items in the list with filtering options.
You can filter the list of items by date, title, rating and acsending or descending order.
Categories & Locations
Items and events are categorized into categories and locations. You can have as many categories as you wish as well as their subcategories. You can assign it any icon, color, map icon and description. Locations work the same way. Category detail can have 3 types of header: map, image or none.
Items Element & Detail
With this element you can show items on any page. Items can be showed as a list or grid and in carousel. You can show all of the items or certain category. You are able to set title, description, categories, address, contact info, opening hours and custom list of features in settings of an Item.