Theme for Architects
Imagine someone is looking for an architect for the very first time. What is he looking for? One thing: Perfection. Every single detail is important. And a combination of thousand little details is creating one majestic masterpiece. This is exactly how your website should look like. Tell your potential customer who you are and what are you capable of in a flash. Capture their attention and inspire them.
Unique features you won't find anywhere else
Over 5 years in WordPress themes business helps us creating excellent business themes. We listen to our customers and we also use the themes ourselves. Perfect WordPress theme needs to include everything what your website might need. Having everything integrated into theme makes the final presentation look nice and polished.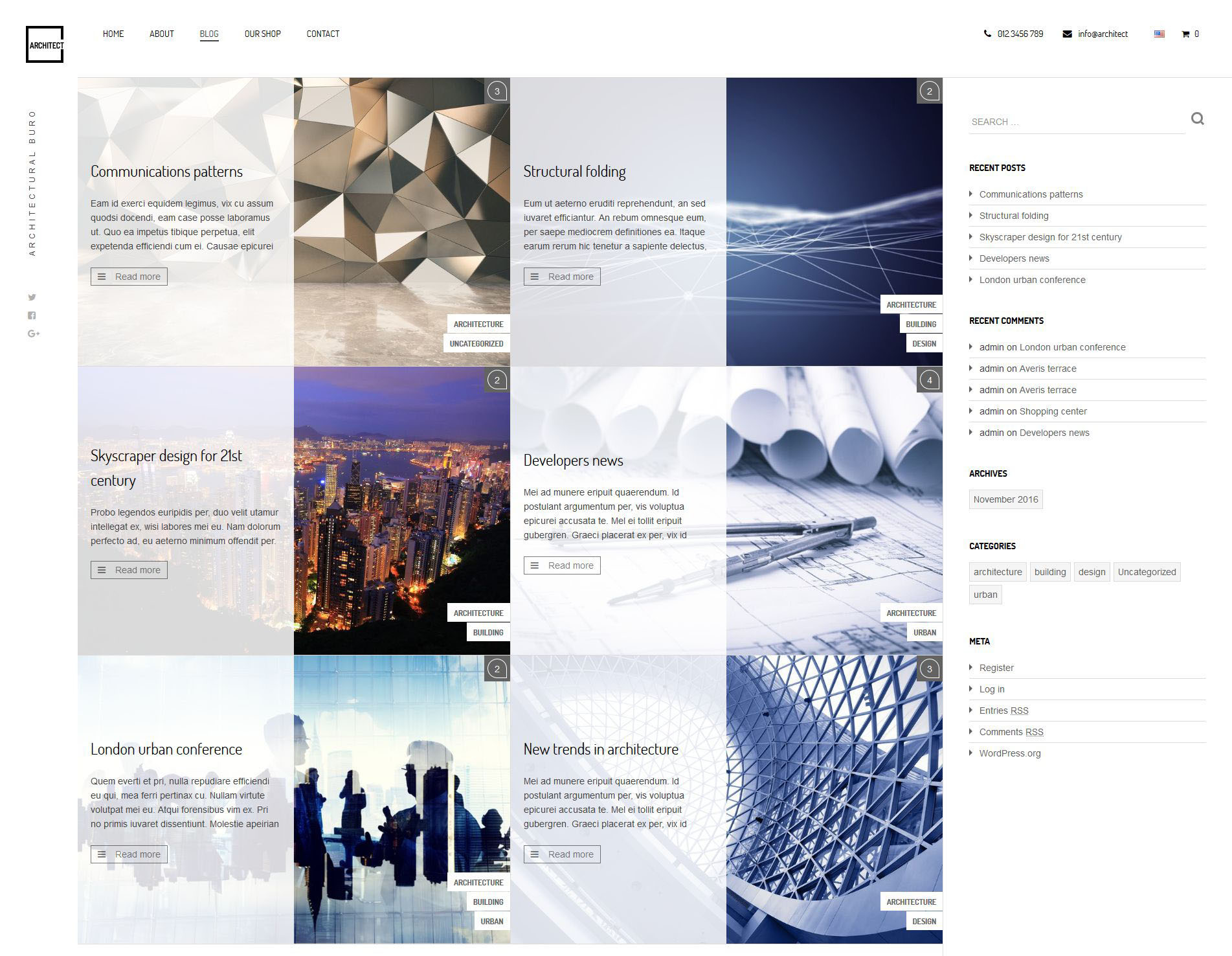 WooCommerceTheme is fully compatible with WooCommerce shopping cart plugin, special styles included.
28 Translations IncludedTheme frontend and administration is already translated to 28 languages. No more PO files.
Integrated Multilingual supportNo additional plugin required, no WPML plugin necessary. Theme is multilingual out of the box.
Amazing Page BuilderNew era or website administration. Intuitive for beginners, powerful for advanced users.
Over 30 ready to use elementsEverything you'll ever need for your online presence is already included in the theme.
Responsive designTheme is fully responsive from desktop and laptop screens through tablets down to mobile devices.
Highly flexibleYou can configure every part of your website from the admin panel. No HTML&CSS needed.
Unlimited color schemesColors, backgrounds, logo, images – everything can be configured in few clicks in the admin panel.
SEO Friendly themeSEO Tools are nicely integrated into Page Builder. No 3rd party plugin required.
Modern designTheme follows current design trends. It's beautiful yet functional. It'll convert visitors to your customers.
Elements
Building blocks of your perfect website. These are the tools in your hands. Easy to use and fast to achieve your desired result. Start with the Default Layout section and pre-define settings so you can keep using them where ever you want. Fill out information into Custom Types just once and use them over and over again on any page you choose.
Header
Usually belongs to Logo and Main menu. You can add other thing here too, like Social icons, Shopping Cart or Language switcher.
Revolution slider
Multi-dimensional Responsive slider broadens up your opportunities to promote your projects in an attractive way. It comes with the theme, free of charge.
Services
Present what you offer. Services, as the name suggests, is only one option how to use this element. It will allow you to display any information in a nice form within boxes.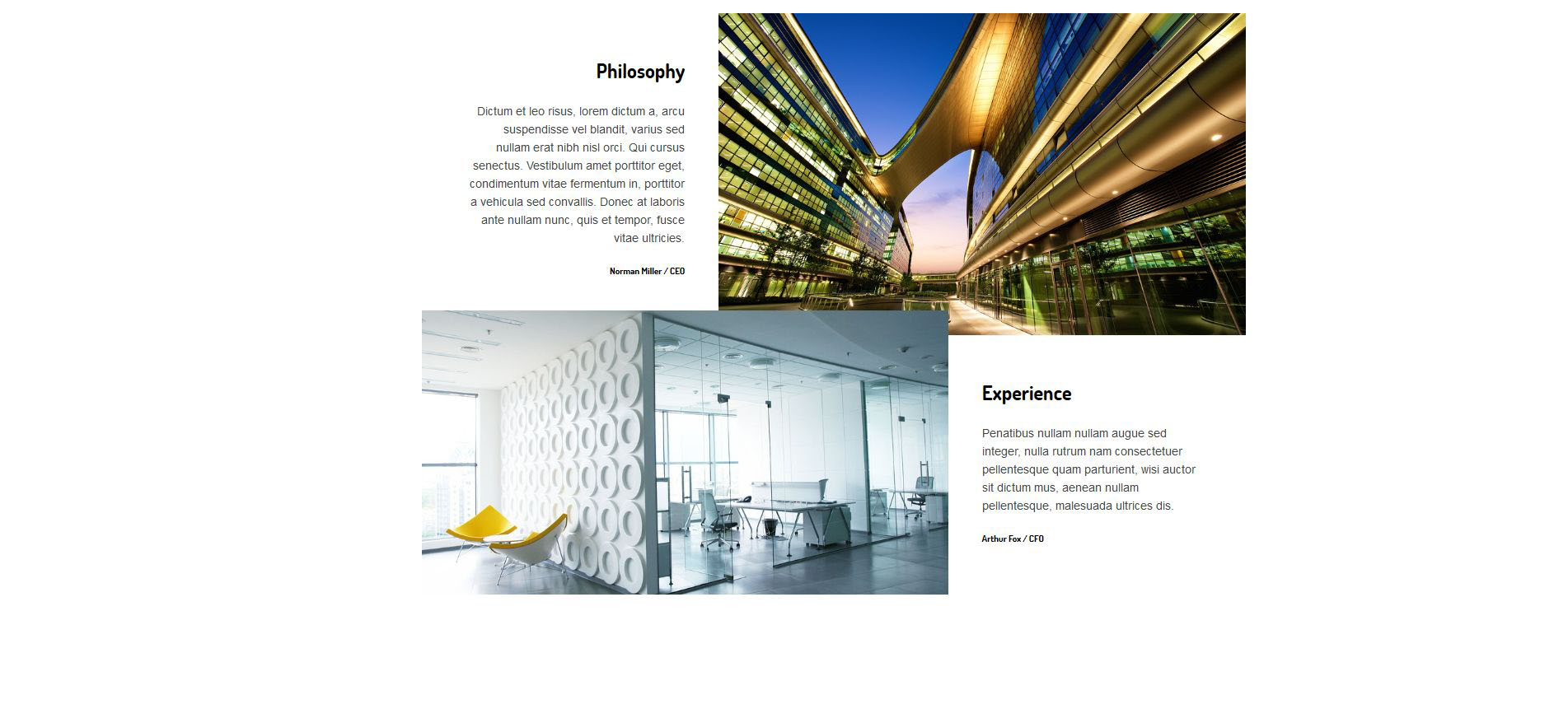 Promotion element
Image, description and Call To Action button. Nice and appealing way of promoting your business.
Footer Widgets
Could be organized into columns, with the colour of your choice and all the important information like copyright message, T&C, cookies, etc. You can even copy&paste javascript code via theme admin.

Portfolio
Element especially designed to present your projects, services, art works, interior design solutions, customer case studies or to create a neatly organized gallery of photos or videos. Remember, there's no coding knowledge required, you can do it all by yourself.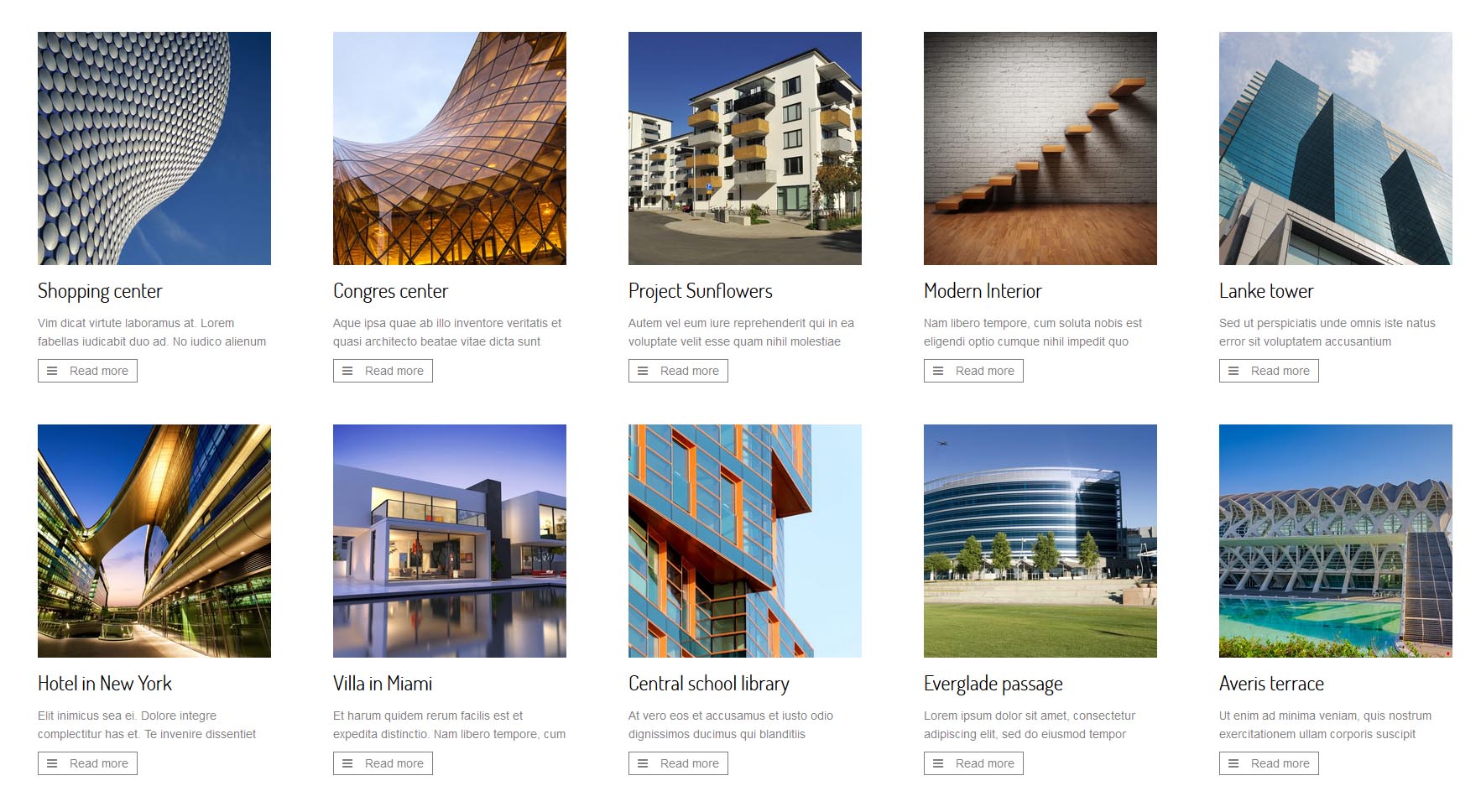 Promotion element
Create a presentation with all your services listed together, with an eloquent image and a button. Professional look and high attention to details, that's the key to your success. Add this element to any subpage of your choice, as it's one of the drag&drop elements in AIT Page Builder. Look for it within Sortable Elements in your page admin.
This is a visual presentation with text description, picture and link. It has multiple settings which allow you to customize the look according to your needs.
Woocommerce
Sell your products online using best e-commerce WordPress plugin out there. You can install the WooCommerce plugin for free and create your online store in few moments. Type in your products, upload images and you're done. Everything that you need for creating an e-commerce website is included in the theme.
Sell your products easily
You can display featured products or most recent ones right on the homepage. Customers can access product details or add products into the shopping cart.
Shopping cart can be accessed from every page. Your customers will never get lost on your website. They can go to the checkout page any time.
Responsive Design
Architect WordPress Theme is 100% responsive and works great on all devices. Customers can use their mobile phones, tablets, laptop and desktop. Whole website will adapt to screen size automatically. Theme was tested on many different modern and also older phones and tablets such as iPhone, iPad, Android and Windows devices.