A good WordPress theme can make all the difference when it comes to creating a successful website. A landing page WordPress theme is a great option for those looking to create a professional-looking website that is easy to set up and customize. There are many great landing page WordPress themes available, so finding the right one for your needs may take some time and effort.
Why is Citadela Landing page WordPress theme best in 2023?
Citadela landing page layout uses Gutenberg editor because the Landing page WordPress theme in 2023 must be fast and fully optimized for mobile devices. Your landing page website cannot load faster as it is not using any 3rd party page builders.
Video background is hosted right on your landing page WordPress website. That way, it is not loading any adverts from Youtube or other providers. You can upload many standard video formats. Videos on your landing page website can also be stored in CDN or hosted on Vimeo or Youtube. In case you upload video to the WordPress, video is included on your website using standard HTML 5 video tag. Video works great on all devices such as mobile phone, tablet, laptop or desktop.
You have complete control of your landing page website. The best thing is that you can work on your landing page website further after you launch it. You can extend the landing page website with features such as blog, portfolio, contact page or even job offers or pricing table.
What is the Landing page WordPress layout?
You can use Landing page to promote your company, product or service. Landing page websites usually include a strong call-to-action button or link.
You can use the Landing page WordPress template to launch your website quickly with minimum effort. The landing page website with Citadela will look professional and modern in a couple of minutes. Upload a background video or static image and change the contact details.
How can you extend your Landing page website?
As we mentioned earlier, the Citadela Landing Page WordPress template uses a standard WordPress editor. It is a standardized solution that every WordPress developer and the user knows how to use. It is not using any 3rd party page builder that is slow to load. Landing page WordPress website based on Citadela uses WordPress core for every single part of your website.
How to optimize the Landing page website for Google?
You can optimize your newly created landing page website with plugins like the Yoast SEO plugin that will guide you on which parts of your landing page website need optimization. For example, you need to add a title and description to your landing page website. Google will use these texts to display your landing page website to your visitors.
How does the Citadela Landing Page layout look?
The image below displays the entire landing page website. You can see the header section with a video background, logo, and text you would like to display to your landing page visitors. The header section of the landing page template shows strong CTA buttons that will guide your visitors.
The bottom part of the landing page WordPress template displays more information about your company, product or service. Handy contact information is also displayed right next to the text.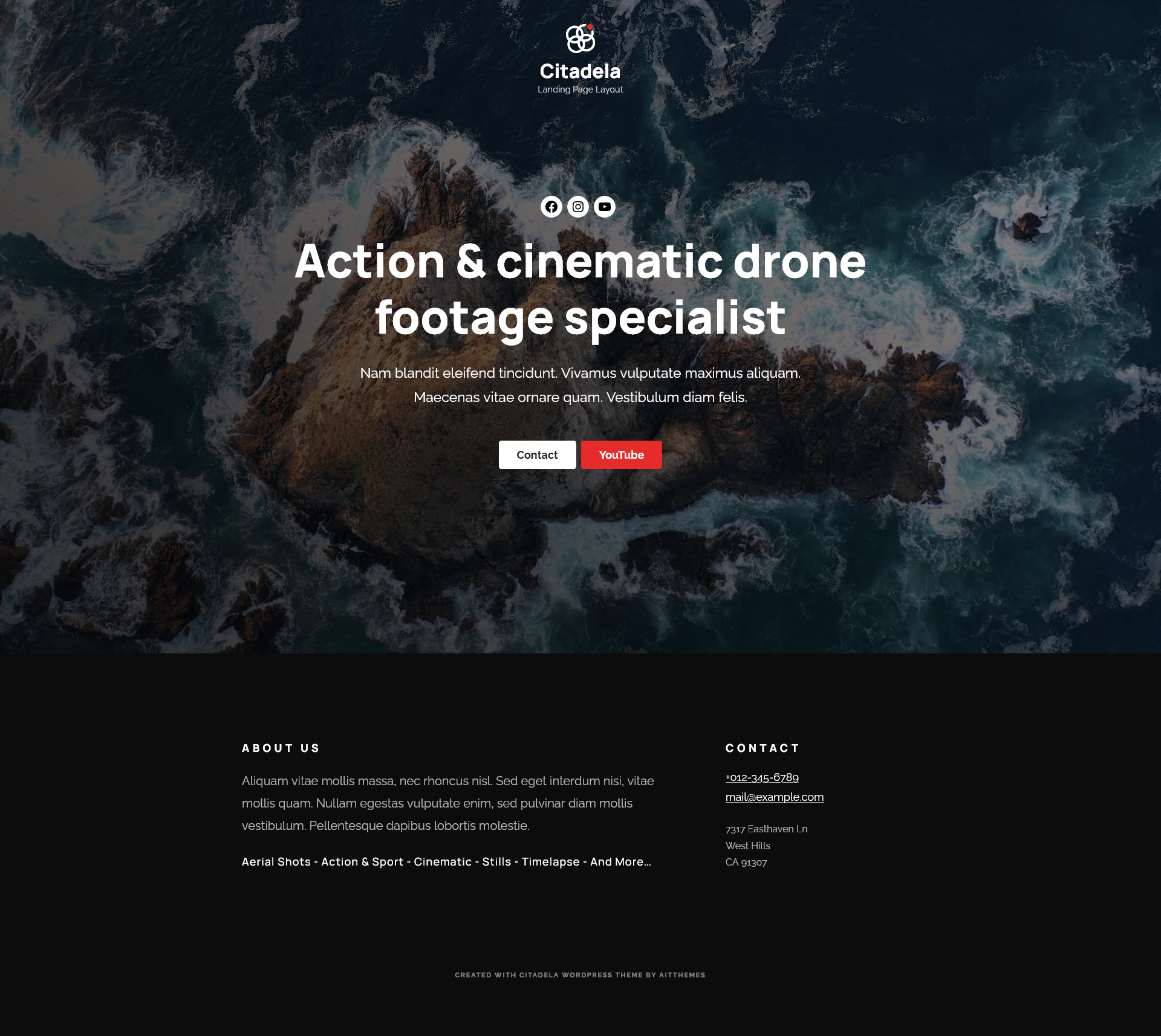 How to purchase a Landing Page WordPress Theme?
Landing Page WordPress theme layout is a free layout for Citadela. Landing Page layout uses free Citadela theme, Citadela Pro and optionally Citadela Listing plugin. Citadela themes and plugins are included in our memberships.
All active customers have free access to all released and new products. Citadela can be used to create blogs, portfolio presentations and landing page websites. You may need to use all of our appropriate plugins to make it work correctly.
If you're not a club member yet, create a free account and download our free Citadela theme. We do not require a credit card to create a free account. Free Citadela WordPress theme is free to use also for a commercial landing page website.