When speaking about WordPress, most people associate it with blogging. But it is much more than that. It provides a customizable and undoubtedly attractive base for almost every business ranging from cafes or food blogs, freelancers of any kind, to conservative corporations.
The correct terminology for what WordPress is, is "content management system" (CMS). It is just a technical way of saying that it helps web design amateurs like me or you to create and manage professional-looking websites without being a programmer. Here are only some of myriad of reasons, why to go for it.
Who wouldn't like to save costs?
Cost is not all, but you can count on an excellent price-to-output ratio.
Discover more than 1.650 templates ranging from multiple free versions to those that cost a couple of Euros. Anyway, it still remains to be the cheapest and financially most reasonable solution. Are you already tired and afraid of cheap, not-functioning and tough-compromised solutions? This will not be the case: the gain comparing to the price is unbeatable. Just keep on reading.
Differentiation is what you need
Let yourself think out of the box! WordPress will guide you.
Do you also stumble on websites of photographers that can't be distinguished from each other? Can you remember at least one of them? It is mainly because the approach is usually alike: a slideshow of chosen pictures or the whole gallery on the top of the page, centered, a horizontal bar added to provide visitors with "about" and "contact us" section, and that is it! Enlightened photographers know there are plenty other ways to display their artwork and give the impression of a creative professional instead of fading out of one's memory along with the crowd. Read our most recent post about differences between our most popular WordPress Photography themes.
 Adorable themes devoted to photographers
Can you handle 48 free themes designed to meet photographer's needs?
And there is much much more to choose from when you add a small sum to it, as from 18 Euros to 175 Euros. Check also for the portfolio, wedding or travel templates for your convenience.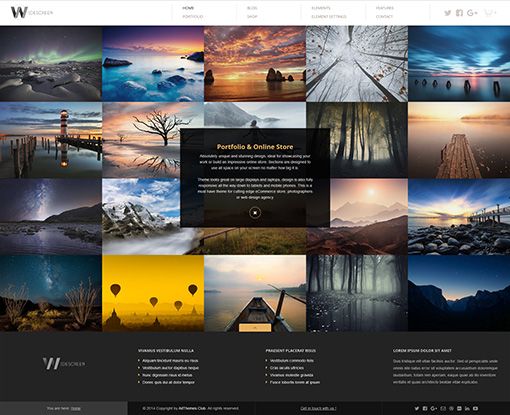 Google loves WordPress
Enjoy immediate indexing by the search engines. Simply get visible in an instant!
Having a fancy website with the traffic of a ghost town is surely not anyone's desire. However, bringing people to your new site can be truly expensive stuff. If you didn't mean to employ a SEO (search engine optimization) specialist, copywriter and buy media space, engage WordPress platform to care for it instead. WP (WordPress) provides each user with a built-in SEO automatically. What is more, by adding free plug-ins such as the "All-In-One SEO Pack", "Robots Meta", and "XML Sitemaps", you can enhance the standard SEO functionality.
Keep in mind: your new WordPress site and its content can be indexed by Google within 10 minutes after being published.
Easy to update
Adding photos easily and with no delay is exactly what you need.
Nothing is more withering than the never-ending process from the first shot of a romantic port in Indonesia to the final picture version upload and publishing. The do-it-yourself content management system is the base point of being up-to-date and bring the followers what they are waiting for promptly. Did you know, you can add new content also via WordPress mobile application?
 Application at hand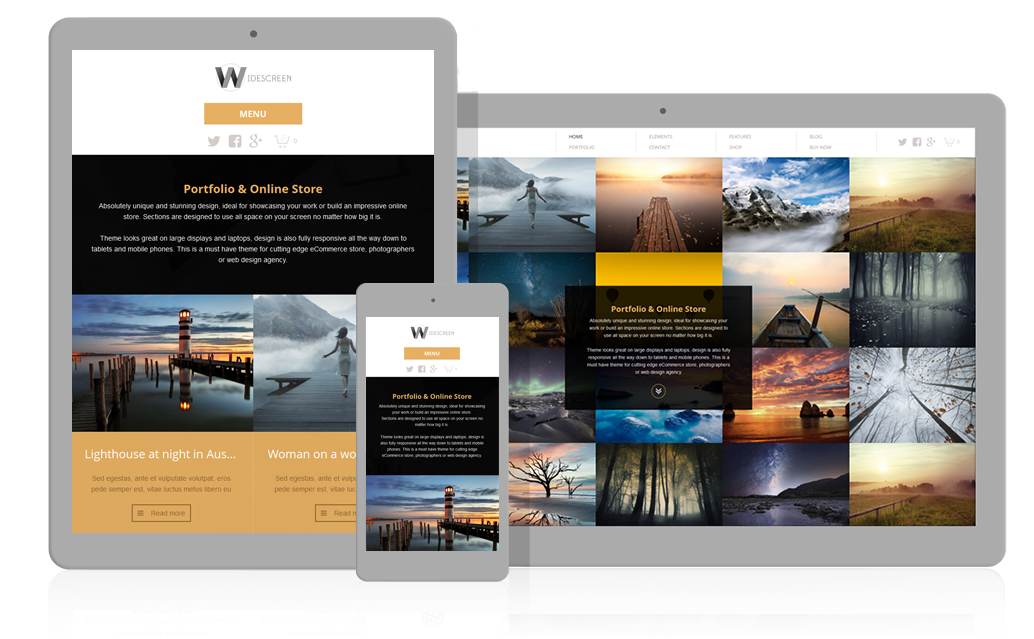 Upload new content without carrying the whole notebook along.
Managing website via application still sounds like a high-end dream to some of us. However, it is in place and wherever you are, it makes you just a small step away from creating new, fresh and ultra-current content. Take your website with you everywhere you go. You have a perfect tool now to make it living, interactive and be responsive to comments.
close
Update: Beat your competitors and get in front of them in organic search results. New content is attractive not only for your site visitors but for Google too. Your website will stay alive and will become more interesting for search engines than websites which don't change much.
Protect your online pictures
A WordPress plugin allows to add watermarks online easily.
Some photographers add watermarks to their photographs to protect them from misuse. Easy Watermark plugin allows you to add automatically watermark to image uploads in WordPress. You can choose a picture, set transparency, and watermark position. The plugin can also update all previously uploaded images.
Plugins heaven
Discover the selection of free plug-ins for your WordPress website enhancement.
Another proof that WordPress is not just a pleasant space for bloggers, but literally heaven for photographers, are additional options and free features that upgrade your website. These plugins would be of an extra charge if demanded from the web designer. Favorable information to you is that most of your peers will simply skip it, therefore. Soon you will become the one to be way ahead.
A Must-Have for photographers is with no doubt "Simply Instagram". This plugin will allow you to display Instagram photos straight on your web, but selectively. You can share particular pictures, add recent uploads stream, and show popular photos out of the Instagram network.
"Pinterest Pin It Button For Images" will be the second most important additional feature you cannot avoid.
After some time passes, you won't be able to survive without "Soliloquy", the best WordPress slider plugin. It allows to create fully responsive slideshows quickly. You can add those sliders to any page, post, or even your homepage.
Want some more of these awesome tools?
In fact, many of the websites we bump into occasionally are actually powered by WordPress without us even realizing it. Keep in mind that however professionally it might appear, it is all just a user-friendly interface and easy add-ons for free or at nearly undistinguished cost.
Get inspired by our best WordPress Photography themes and get recognized thanks to the new, professionally-looking website that provides your artworks superior support and presentation.