Summer is nearly over and long awaited new WordPress theme Citadela is ready for the release. As our first estimated release date was mid summer, we'd like to say a big thank you for your patience, support & cooperation and apologies for the delay.
It's YOU, Ait-Themes club members, our customers & fans who lead us to adapting Citadela development process to make it even more flexible and compatible than any other theme ever before.
First version of Citadela WordPress theme is now finished and will be released on 23. September 2019, once the final testing phase is over.
Thanks for your feedback
We're happy to say that feedback form we encouraged you to fill out at the beginning of summer has delivered great results.
After the thorough analysis of your feedback and suggestions we decided to implement some of it right into the first version of Citadela.
At the same time we started preparing the grounds for further elaboration of more sophisticated features in the future.
Heartfelt thanks to all of you who took the time to tell us what's important to you, it really feels as if you're part of our team!
Main Advantages of Citadela WordPress Theme
Speed
Citadela will lighten up your website and make it run faster than ever. Focusing on high speed websites is one of our main goals.
Compatibility
Citadela is coded with regards of general WordPress principles, without any individual framework. This ensures great compatibility with third party plugins and other components.
Why did we moved on from Ait Framework 2 to no framework? As we've always focused on user friendliness, simplicity of web creation and administration, we've developed individual framework with a page builder. It improved user experience and made website building process easier and more enjoyable for our customers. However, after WordPress 5 release, there's no longer a need for any special frameworks as WordPress itself became more user friendly than before.
Adaptability to evolving WordPress
Citadela theme has been designed to match the current state of WordPress with it's WordPress block editor and Customizer. It will easily adapt to any future changes WordPress will bring.
Citadela will welcome all updates and new versions of WordPress with the delight as there are great new features & options on their way.
Security
Of course, the security of your website is an absolute priority at all times. Because Citadela has been developed respecting all WordPress principles and it's state-of-the-art WordPress theme, you can be sure that it provides you with the highest level of security.
First version of Citadela: What's in it?
Citadela is a 4 levels concept to match the needs of different types of customers. Here's the list of basic features and characteristics of its first version.
1. Citadela WordPress theme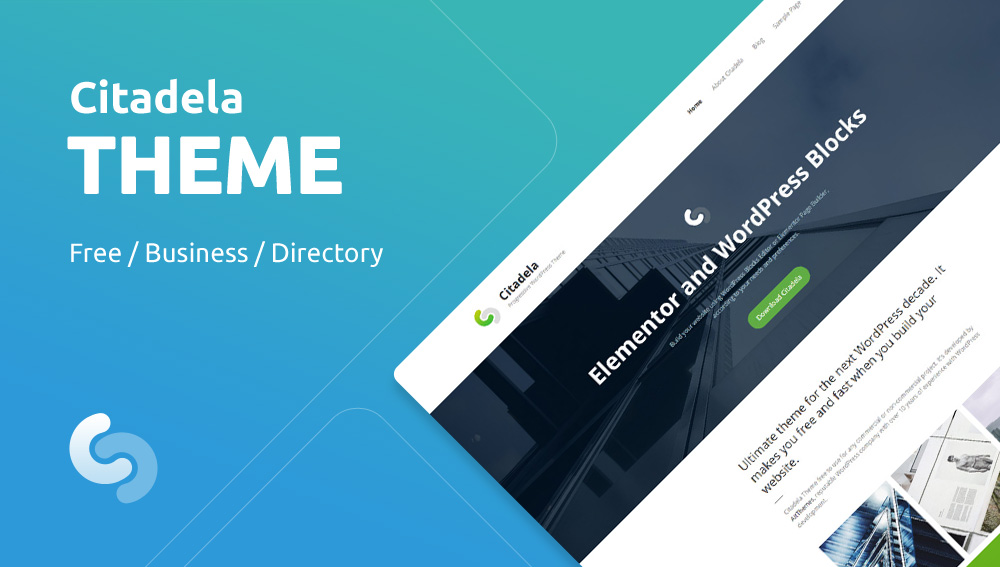 Free premium WordPress theme with refreshing design and basic functionalities with all amazing WordPress blocks.
2. Citadela PRO plugin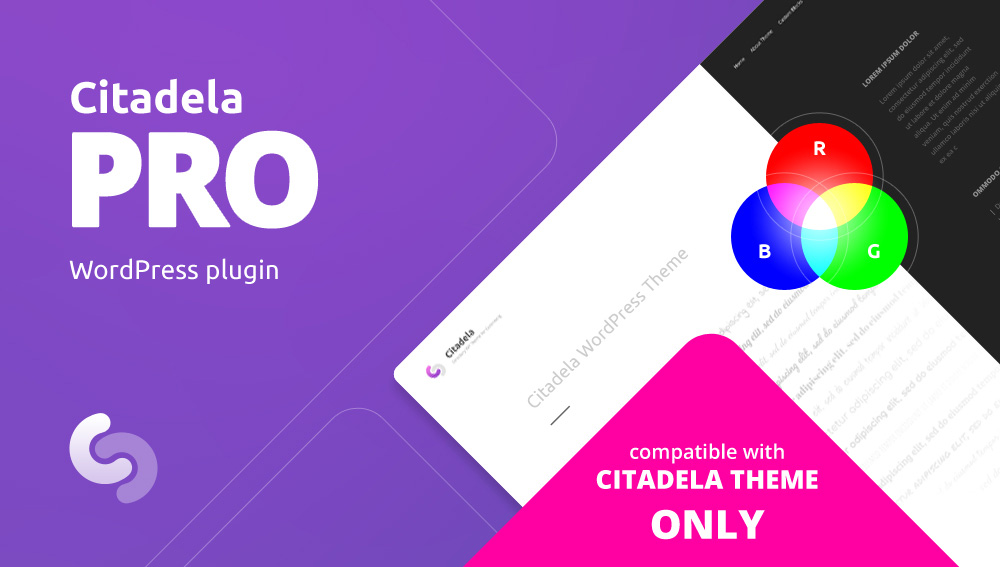 WordPress plugin designed for and solely working with Citadela WordPress theme enabling further customization options:
2 different theme layouts to choose from;
Classic or centered website header;
Customizable site header background;
Unlimited color picker with automatic font color changing based on contrast with chosen background;
Advanced typography with full selection of Google Fonts.
3. Citadela Blocks plugin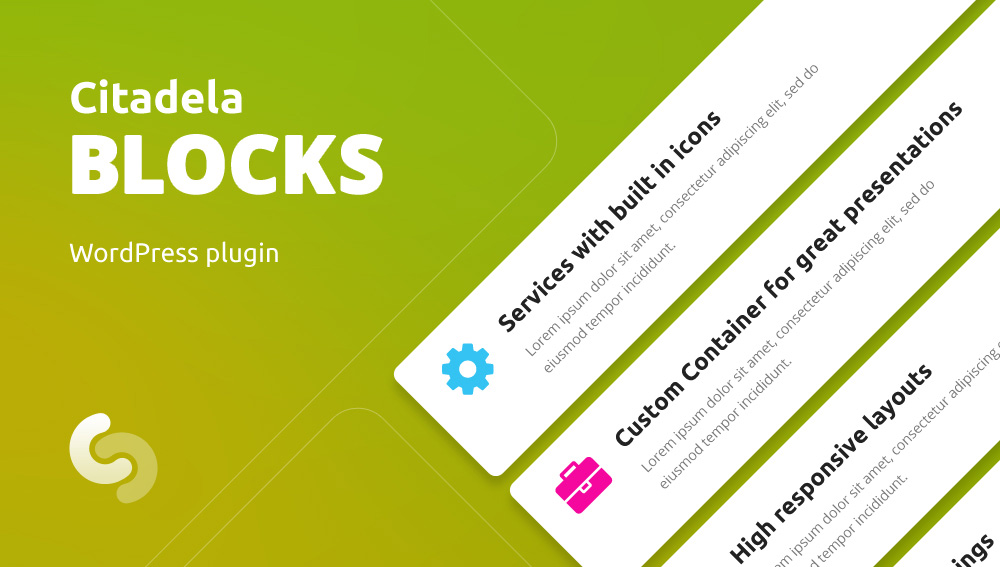 Citadela Blocks is an independent and fully compatible WordPress plugin with any standard WP theme. At its first release, it'll contain 3 special blocks. More blocks will be added in future updates.
Services – block that is an absolute essential of any business website. It will allow you to present services in an appealing way.
Custom container block – can be used as block of blocks with customized design.
Custom page title –  offers further setting for your page title.
4. Citadela WordPress Directory plugin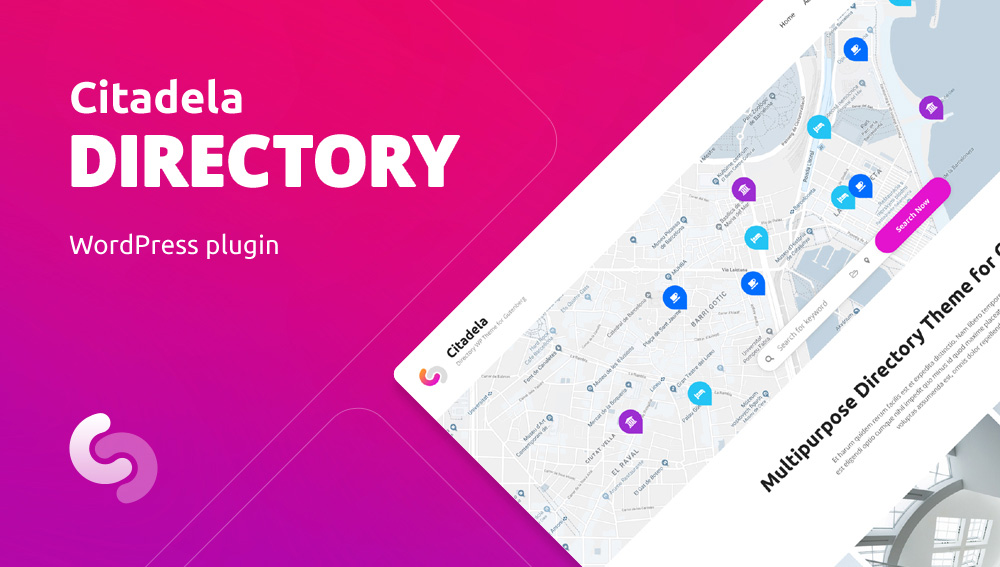 Citadela WordPress Directory plugin is a WordPress plugin which has an ability to turn any standard WordPress website into portal website. You do not need Citadela WordPress theme to use it.
First version of Citadela Directory WordPress plugin contains:
Map WordPress block
Search form WordPress block
Categories
Localities
Items
Fully customizable item detail
Search results with customizable layout
Customizable Category and Locality detail
WordPress theme compatible with Elementor
Citadela WordPress theme is fully compatible with Elementor. This is one of the most essential outcomes from customer feedback collected during this summer. You don't need WordPress block editor Gutenberg to work with Citadela, you can use Elementor instead.
With Citadela, you can count on compatibility with other third party WordPress ingredients such as Yoast, WPML, WooCommerce or BuddyPress (and many more) as well.
What are we working on?
We want to make Citadela as universal as possible. As a result, creating websites with Citadela will be fast and straightforward for seasoned WordPress users and simple to learn for newbies.
Migration of portal website data
Many of you are wondering about the migration process of your portal website to the new Citadela theme. New plugin contains automatic migration of WordPress data.
Once you activate the plugin, migration will begin. All your items, categories and locations will be copied over from your previous theme and will automatically appear in your new theme.
Of course, the original data will remain intact so you can switch back to your previous theme anytime.
Migration will work for all 5 portal themes based on Ait framework 2: Directory+, Business Finder+, Event Guide, Food Guide and City Guide. We'll provide you with more detailed information in a separate article about the migration process.
Subscribe to our newsletter

* Please add noreply@ait-themes.com to your address book once you're subscribed to make sure you won't miss out on any news from us.