Summer is just behind the next door and we're all looking forward to it. We'll be working less (hopefully), enjoying more sun, have some lovely beach time… It's the time for recharging our own internal batteries, letting of the steam and relaxing. Are you asking how does it all affects the online world, website or even WordPress itself?
1. This summer, no-one will bring their desktop to the beach
When packing for a summer holiday, with all the on board luggage weight restrictions, less and less people is willing to bring their PC with them. By PC I mean mainly laptop. Why would they bother if everything they need can be done through their smartphone or tablet? Mobile internet usage is constantly on the rise and more than 50 % of time spent online is via smartphones. Mobile browsing exceeded desktop internet browsing back in 2014. Your website visitors automatically expect all the sites to be mobile friendly and fully responsive. If the website doesn't work properly on their phone, they just shut it off and won't return 'til autumn time, if ever.
2. Multi language website is a great idea for summer time
People, by changing their physical location, are being exposed to different range of websites when they search on Google or any other search engine. When someone finds your site for the first time thanks to their changed location, it's a great start. If the website is multilingual and they can switch it to their own language, you get a big thumbs up. They're likely to revisit your website even after returning back home. Get ready for the summer and add few more languages to your website.
3. One click updates
Everybody wants to have their website safe & up-to-date, even during summer time. But nobody wants to spend the entire day of their summer holiday downloading, decompressing, compressing, uploading and installing zip files. But clicking "update" button is easy. Imagine that you wake up in the morning in your hotel room, perform the one click update of your WordPress website, call it a day and go for breakfast. Very favourable, right?

4. Be fast & user friendly
Internet connection in a sea-side cafeteria is often much slower than the one you have at home or in the office. So if your website isn't SUPER FAST, you can anticipate increase in your bounce rate. Along with improving the speed of your website, you should also try your best and make it as intuitive and user friendly as possible. Clockworks in our brains slow down during the holiday, so don't expert anyone to solve riddles in order to get information they need.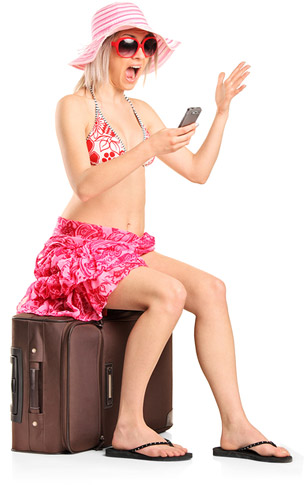 5. Simple & brief websites are in
When you're going for a summer holiday, you're looking forward to anything but spending time on your tablet or smartphone. People mainly want to get quick information. They don't want to read tons of text or get lost in a complicated menu. Having more pages which are simple, fast to load and easy to find in a main menu is much better than big overloaded pages. Less is sometimes more… Brief pages on your website will consume less of the mobile data of your site visitors and help rise your CTR.
6. Happy hour(s), days or even weeks: Special offers will boost your sales during summer
Nicely formulated special offers in a relaxing summer tone, exaggerated by hot summer photos and pastel colours might help your bank account stay loaded with income transactions. Sometimes it's worth to share your products with wider audience by giving a free trial or samples.
7. Cloud based solutions
Ideally, you should plan your holidays in a way that assures you won't need to work during that time. However we all know how unrealistic this is sometimes. Therefore you should consider using cloud based solution for as many working areas as possible. You cannot place your WordPress website on a cloud, unless you use WordPress.com but you certainly can share or update documents & files saved on a cloud. You want to pack a swimming suit in your suitcase, not a set of harddisks, right?
8. Videos & Photos
The latest trend is to be more personal in everything you do. It's not only about customization and targeting towards the customers. It's also about revealing who you are as a provider of certain service or a producer. Your customers want to know you better and be able to identify with you. Don't be shy and share some photos or even videos from your holiday with your followers on social networks 🙂
9. Check your bank card expiration date
There's nothing worse than finding out that your bank card has expired in the middle of your holiday. You have money on your account which you can't access because you're abroad and your card has just expired. The new one will be sent to your home address several hundred miles from where you are. All your automatic online subscriptions will fail to renew so you'll end up with no netflix or deezer too. Avoid this nightmare and always check the expiration date on your bank card BEFORE you leave the house for couple of weeks.