Effective 15th December 2015 terms and conditions for membership upgrade will be updated. Upgrade options will be more transparent and fair for everyone.
Please let me walk you through the most important changes.
Upgrade within 30 Days of purchase
After purchasing one of our single products you will have 30 days during which you will have an option to either ask for refund for the product or upgrade to one of our membership packages for only the difference of the full membership price and what you've already paid.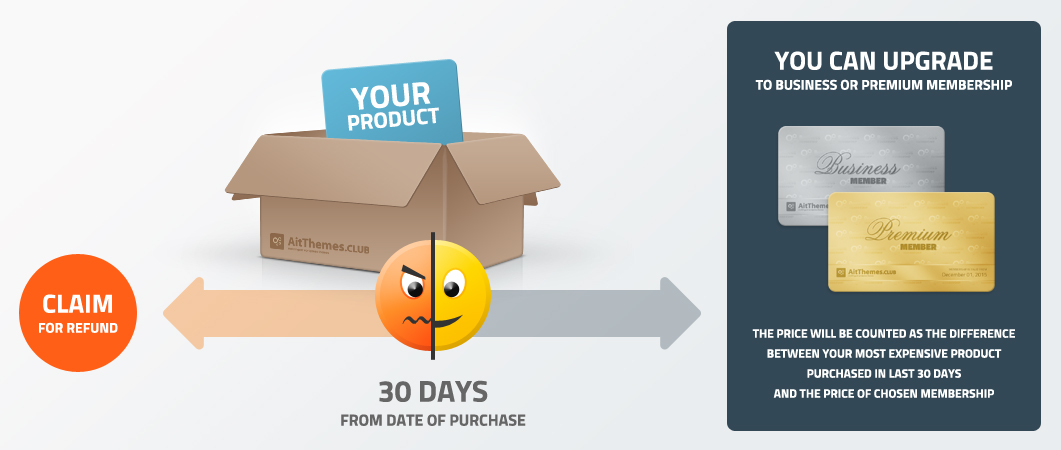 If you purchased more than one product, the highest price will be discounted. Adding up prices for several products is not possible.
What happens if I don't opt for any of these options in 30 days?
You can enjoy your product, support and updates for 1 year since the initial purchase date. If you decide to upgrade to a membership after those 30 days you will be charged the full price.
Membership upgrade
If you buy a business membership you can upgrade to premium for the difference of the prices within 30 days of initial purchase. Please note that membership prices are non refundable.
I already bought AIT product some time ago, how does this change affect me?
New T&C apply to all our customers. This means that you have 30 days since the purchase date to upgrade to a membership for better price. If you bought your product more than 30 days ago, you only have time till 15. December 2015 to upgrade under the old Terms and Conditions.
What is my costs when I decide to upgrade to Premium membership?
Let say you purchase single product because you would like to see if our themes, plugins and framework meet your requirements but later some other products may be suitable for you as well. You can upgrade for a difference in price between higher package and your most expensive product already bought within last 30 days. Validity of your membership package will be 1 year from the day of upgrade.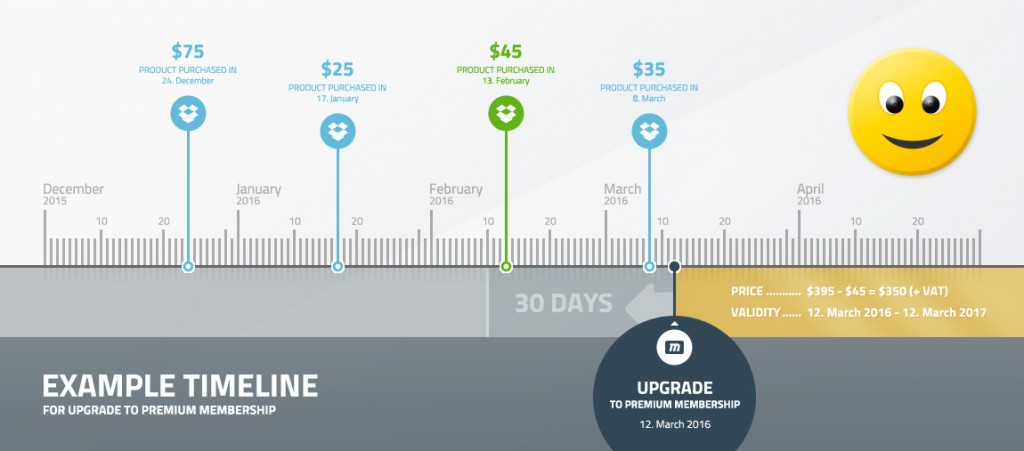 Please see below how the price is calculated.
1. In last 30 days I bought 1 single product (theme or plugin) for the price $55.
| | |
| --- | --- |
| a. upgrade to Business membership ($195) | price = $195 – $55 = $140 |
| b. upgrade to Premium membership ($395) | price = $395 – $55 = $340 |
2. In last 30 days I bought 2 or more single products for different prices (doesn't matter if themes or plugins). Let say 1st costs $45 and 2nd costs $35
| | |
| --- | --- |
| a. upgrade to Business membership ($195) | price = $195 – $45 = $150 |
| b. upgrade to Premium membership ($395) | price = $395 – $45 = $350 |
3. In last 30 days I bought some single products ($55, $25,…) & upgraded to Business membership ($195)
| | |
| --- | --- |
| a. upgrade to Premium membership ($395) | price = $395 – $195 = $200 |
You can find more information on our memberships and prices at the links below:
Pricing and Sign up
Why Premium Membership