It's been a long time since we needed to find a suitable reservation plugin for one of our WordPress templates. That's when we discovered easyReservation plugin that offers truly easy reservations for hotels/apartments, event booking as well as appointments planning. Since then we've built several templates, fully compatible with easyReservations plugin and precisely designed so that they look best when integrated with this reservation plugin.
Easy reservations for end user
The most important aspect for the website visitor when making the booking is the simplicity. Reservation plugin should therefore have a user-friendly interface so that the user can make a comfortable and quick reservation. Plugin easyReservations allows the end user to make a very practical event booking with the choice of the event, time and number of participants, choice of a hotel accommodation or restaurant visit, along with information on availability and price. All the key information is in one place.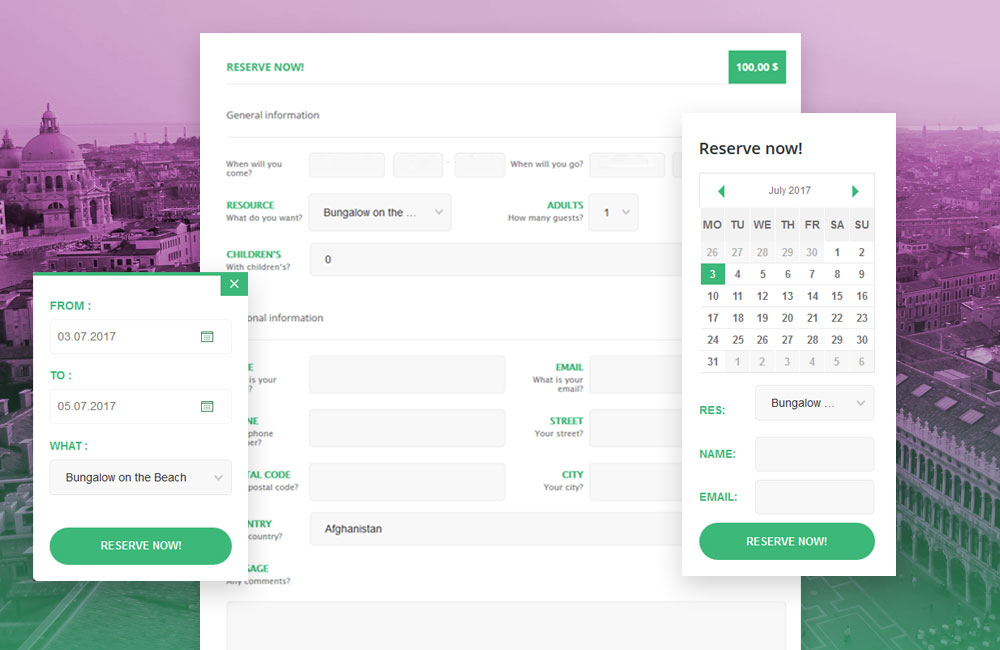 The reliability is also important for customers, so that they know for sure that the reservation has been registered. Therefore, email notification with booking confirmation is one of the features. In the free version, website administrator needs to confirm the reservation manually, Premium license allows automatic email sending.
Keeping the reservations tidy and better organization of work (for admin)
easyReservation plugin can also be used as an appointment plugin which means that it will facilitate the planning of meetings with your customers. It's not just an advantage for your customer who can make a reservation of an appointment in just a few clicks. It is an advantage for you as well. Booking plugin can improve organization of work and help you with more efficient time management. In addition, if you use it as an in-house system, you can also record other agreed meetings e.g. reservations made by phone. With a good quality reservation plugin, there is no risk of forgetting something or having 1 time slot booked by multiple clients at once.
Use of a reservation plugin in multiple ways
Plugin easyReservation is considered by many developers to be one of the best WordPress booking plugins, because it is very universal and can be implemented on a variety of websites.
Our restaurant Premium themes like Ristorante+ and Coffeebar support not only table reservations, but also event bookings. For example Beachclub WordPress Theme that is designed specifically for clubs and bars provides your customers with a comfortable way how to make a booking for the event you're organizing in your facility. You just need to download the easyReservations plugin*.
easyReservations plugin also works as a booking plugin for WordPress websites providing accommodation. Your guests can book a room, apartment or other accommodation unit directly on your website. Following themes are designed for hotel and tourist websites (and are compatible with this plugin):
This plugin is also suitable for reservation of appointments and various meetings. Do you want to provide your customers with opportunity to make a booking in your beauty salon? Or hairdressing salon? In this case we recommend our theme Hair in combination with the easyReservations plugin.
Free or Premium license?
The basic version of easyReservations plugin can be downloaded completely free of charge here. It provides a calendar, various booking forms and tables. You can also use many useful features such as adding and editing reservations, or customizing items in the booking form (they are fully customizable). Free license will suffice for a simple website, but for more advanced websites and booking portals, Premium license will be more appropriate.
close
In case you are not so sure which version is better for you, you can always download the Free version first and try out the various functionalities of the reservation plugin. If you like it and you will want some additional features, you can always upgrade the plugin to a higher, Premium version.
Premium license extends the plugin with additional features like:
implementation of payment gateways (e.g. PayPal)
the functionality to generate invoices (and templates for invoices)
adding coupons for discounts
automatic booking confirmations
additional options for visual editing of tables and booking forms
and many more other features…
If you're building a multilingual WordPress website, you also need the Premium version, because the Free version does not allow you to translate items within the reservation.
Comprehensive comparison between Free and Premium version of easyReservations plugin.
Why did we choose easyReservation plugin for WordPress Themes
When developing our themes, we needed to work with a convenient booking tool for appointment reservations and event or hotel room bookings and being able to integrate it easily into our themes at the same time. Apart from achieving the compatibility of our themes with the plugin, our priority was to choose such a reservation plugin, so that it can be managed efficiently and in particular – so that it could be used by our users without difficulties.
Download the easyReservations plugin.
*easyReservations plugin for reservations is a third-party plugin and it is not bundled into our themes. Selected templates are however 100% compatible with the plugin and fully functional once you download any of the available versions (Free or Premium) on easyreservations.org.