WordPress was created primarily as a blogging platform and content management tool. Although it has a much wider use today, author blogs are one of the most frequently built types of websites. Many of them, however, only use the basic WordPress features and therefore cannot offer any added value to the bloggers. In addition, they are all very similar.
When we started creating the Multi-Author Blog Theme, we wanted it to become one of the best blog themes on the market. That's why we've focused on creating unique features for blog authors.
Extended Google Map for blog post localization and their visualization on the map
Imagine having a travel blog and you write about different places in the world. Wouldn't it be great if your visitors were able to see immediately where you were on the map? And which places can they learn more about?
Or, you plan to make reviews of restaurants or cafes in your town. How useful it would be for your web visitors to instantly find out where to have a good dinner and which restaurant is the best in their immediate proximity :).
This is not just a nice fantasy. This is reality.
Our special Google Map Element allows you (and other blog authors) to easily enter an address to each post based on which the GPS coordinates are automatically
Generated. Or you can enter the coordinates directly.
Thanks to the exact localization on the map, there is a pin displayed on a single post page for each specific post.
In addition, Post Markers appear in various website sections – e.g. when searching for posts by category, date or when clicked on an Author page (here the map shows all the posts of the author). More detailed information on Post Markers.
Only in Multi-Author Blog Theme
Extended Google Map adds new opportunities for efficient use of WordPress Themes for writers & bloggers thanks to the post localization. This feature can be found only in our theme.
Easy addition of ads via Advertising Spaces
Just the best blog themes can provide their owners with useful marketing tools to maximize the profit. Therefore, our Multi-Author Blog Theme offers special element Advertising Spaces which enables the website administrator to easily add ads and banners (like Google Adsense and others). These can be inserted quickly and conveniently via Page Builder.
Author's theme as a multi-user blogging portal
Typical WordPress themes for writers usually work as a one man show – a personal website of one single blogger. Multi-author Blog Theme expands the standalone blogging platform to a live blogging portal where an unlimited number of authors can contribute.
Build your own blog authors & readers community around the world
Thanks to our template, you can create not just an ordinary multi-user author website. You can use it to build a worldwide online magazine! Because, besides being a multi-user, it is also multilingual. This means that there is 26 language mutations available, giving you a lot of new opportunities.
Thanks to the multilingual blog theme, you can attract bloggers from different countries. Because of this you will be able to provide a larger amount of unique content in all the most popular foreign languages. And you can also translate all the articles into multiple languages, which instantly increases the number of posts on your WordPress blog.
This will immediately attract a great number of potential readers from all parts of the world. In addition, thanks to different keywords (and in different languages), users will be able to find you via Google easier.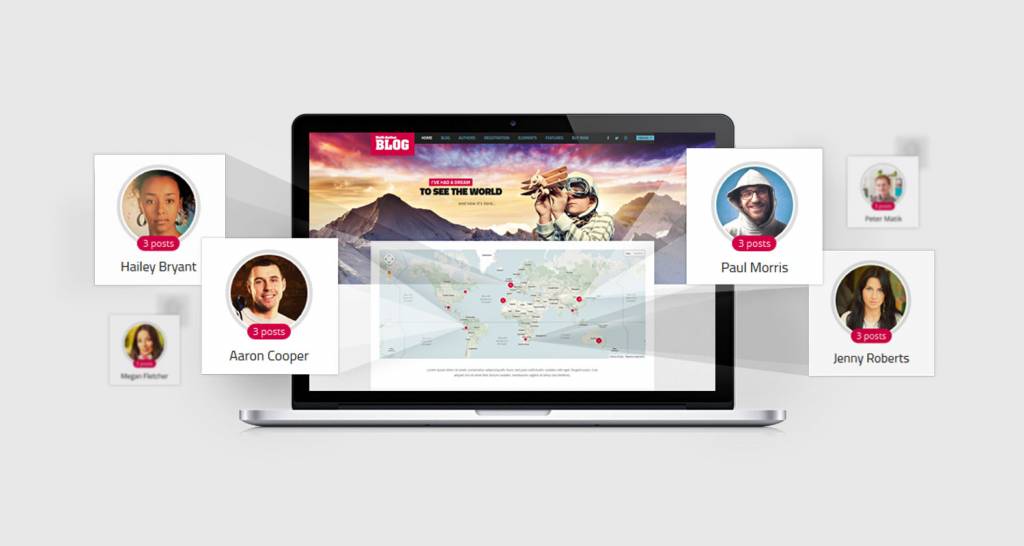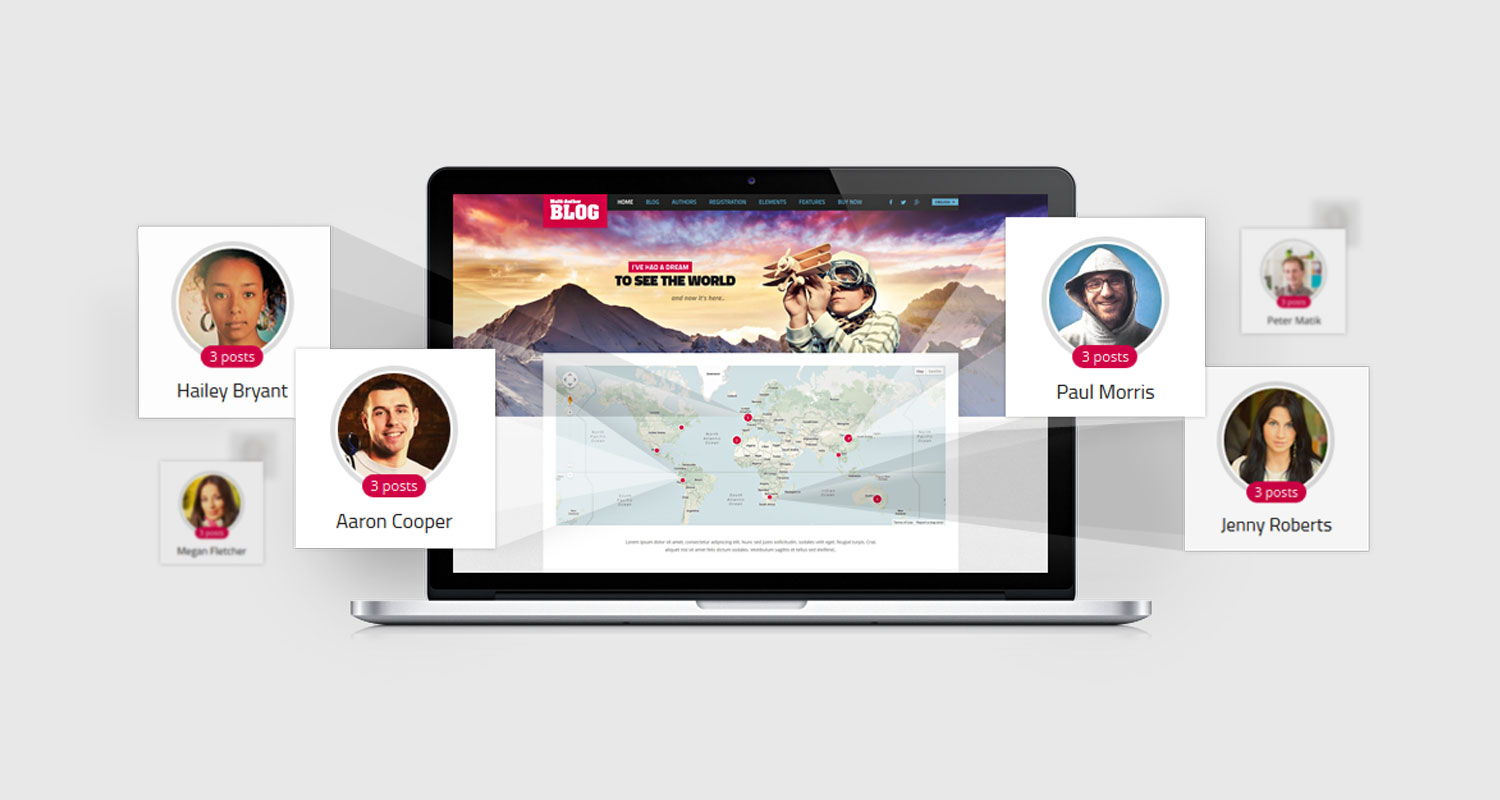 An original way to welcome blog authors through the Author's welcome screen
For registration of new authors in Multi-Author Blog, there is a custom Login and Register Widget available, where you can also design a separate Custom registration page for them.
But what's really special is the possibility of redirecting user to the Author's welcome screen. What is it good for?
This feature is designed to build good relationships with blog authors, helps to build confidence and creates a positive image of the blog.
Multi-author Blog Theme lets each blogger to stand out
Common WordPress themes for writers do not provide a great degree of personalization of blogs for each blog author. But we think that all the blog authors are unique.
Therefore, there is an option within the account settings for bloggers to customize their personal blog as they want. E.g. write information about themselves, add a photo, set up any background or paste anything into their profile (via WYSIWYG editor).
Thanks to this, authors can distinguish themselves from others, become more memorable for a regular blog reader and spice up the entire blog. Because each author's website will be unique.
Encourage your blog writers to be productive
If you have a WordPress blog, you want it to stay alive, so that there are posts added regularly. How to achieve this?
Via our next unique feature – a tailor-made Authors Element.
Authors Element allows you to display selected bloggers anywhere on the website. Their order can be set by the website admin. By setting exact rules (e.g. number of new posts added over a certain period, or ratings etc.) you can motivate blog authors to work harder and be more active. As an exchange for higher position in the bloggers list and better promotion on the blog.
Not just an ordinary blog theme for Travel blogs
Most often, our customers design our template as a travel blog (see the examples in our showcase gallery).
But our Multi-Author Blog Theme will help you to build any original author website. You can tweak it to any subject – travel blog, food blog, business blog, but also for example to a blog portal where blog authors will write about historical monuments, museums or even the most famous party clubs or fashion shows around the world.
Since it really is a multi-purpose WordPress theme for writers, its use has no limitations. It's up to you what kind of blog you choose!
Answers to FAQ on Multi-Author Blog Theme
1. Does Multi-Author Blog Theme allow addition of comments to individual blog posts?
Yes. Blog admin can enable or disable blog comments at any time.
2. How can I avoid spam comments on articles?
Captcha is used against spam comments and it can be activated by admin.
3. Is it possible to share individual posts of blog authors?
Yes, social network icons area is automatically available for each blog post.
4. Is it possible to follow a specific blogger?
No, currently it is not possible to follow authors via blog portal. Therefore we recommend that blog authors also include links to their accounts on social networks.
5. Is your template multi language?
Of course. Our Multi-Author Blog Theme is multilingual ready. This means you can easily create many other language versions for your blog. The template and its settings are readily translated into 26 most widely used world languages – you just need to download AIT Languages plugin (if you have a Full Membership) or buy it as a standalone plugin.
6. And what about RTL languages like Arabian? Are these also supported by Multi-Author Blog Theme?
No, the right-to-left languages are not supported.
Buy Full Membership
Buy Multi-Author Blog Theme along with 70 other great themes via Full Membership. Now for a special discounted price!