Food Delivery WordPress Theme
Do you run a food delivery business? Start accepting your orders online. You can expand your business and accept more orders without having to answer the phone. Theme is fully localized to 28 languages. Your customers can make an order in the languages they understand. You don't need any additional plugin or get the theme translated. No additional costs.
Unique features you won't find anywhere else
Over 5 years in WordPress themes business helps us creating excellent business themes. We listen to our customers and we also use the themes ourselves. Perfect WordPress theme needs to include everything what your website might need. Having everything integrated into theme makes the final presentation look nice and polished.
WOOCOMMERCE Theme is fully compatible with WooCommerce shopping cart plugin, special styles included.
28 TRANSLATIONS INCLUDED Theme frontend and administration is already translated to 28 languages. No more PO files.
INTEGRATED MULTILINGUAL SUPPORT No additional plugin required, no WPML plugin necessary. Theme is multilingual out of the box.
AMAZING PAGE BUILDER New era or website administration. Intuitive for beginners, powerful for advanced users.
OVER 30 READY TO USE ELEMENTS Everything you'll ever need for your online presence is already included in the theme.
RESPONSIVE DESIGN Theme is fully responsive from desktop and laptop screens through tablets down to mobile devices.
HIGHLY FLEXIBLE You can configure every part of your website from the admin panel. No HTML&CSS needed.
UNLIMITED COLOR SCHEMES Colors, backgrounds, logo, images – everything can be configured in few clicks in the admin panel.
SEO FRIENDLY THEME SEO Tools are nicely integrated into Page Builder. No 3rd party plugin required.
MODERN DESIGN Theme follows current design trends. It's beautiful yet functional. It'll convert visitors to your customers.
Sell your food online
Are you only starting your food delivery business or do you already have your company running? Our Sushi WordPress theme will help you grow. Take your business online today, it's that easy. Selling online was never that cheap and simple as today. You don't need to waste your time building custom made website, integrating shopping cart or getting everything translated. Everything is ready to use right away. You only need to add your logo, images and texts.
Using WooCommerce shopping cart plugin you can sell anything you want. It's the most popular WordPress eCommerce plugin. You can sell physical products, services or affiliate products. You can also sell virtual or downloadable products if you want to. Administration panel allows you to manage your stock, shipping options, taxes or payment methods. It's an easy to use and very powerful tool. There are many free or paid add-ons that you can install to extend your online store.
Your food can be categorized into categories. You can use widgets to add special offers or adverts to your subpages. You can easily show top selling products, top rated or recently viewed products. Filters come as standard. Watch statistics and other marketing tools to reach your business goals. You can also connect your shop with your blog, show your company insights or upcoming new products. All these things will help your visitors decide whether they'll buy or not. Give them all what they want.
Sushi WordPress Theme together with WooCommerce are making your online delivery business come true.
Make the shopping process easier. Less steps to finish the order will help you increase your sales.
Customers on your website can quickly add the product to shopping cart right from the list of products. They don't need to click on product detail anymore. Shopping cart content is shown on any page after you click on cart icon. You can also show it on it's own dedicated page where you can add or delete products. You can also go right to Checkout page.
Each product can have:
It's own custom attributes
Category with custom image
Shipping classes
Custom Tags
While adding your products to the system you can use handy "Duplicate" feature. It'll save your time significantly. Each product can have it's own main presentation image, image gallery, detailed description and also product reviews. Useful can be also up-selling and cross-selling your products that will allow you to offer your customers additional products that are related to selected ones. Each product can also have it's own Inventory, notes or menu order.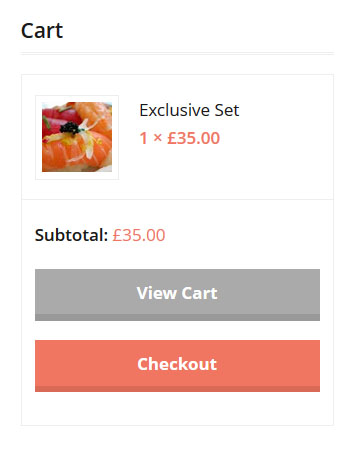 Portfolio
It's not a secret that we also eat with our eyes and usually even if we're not hungry and we allure to buy a nice looking tasty food. Nice images are therefore very important part of your presentation. You can use Portfolio element and make an interesting presentation of your products. You can tell a story, or even write a recipe. If you offer services like catering it's an ideal way to show your customers what you can do.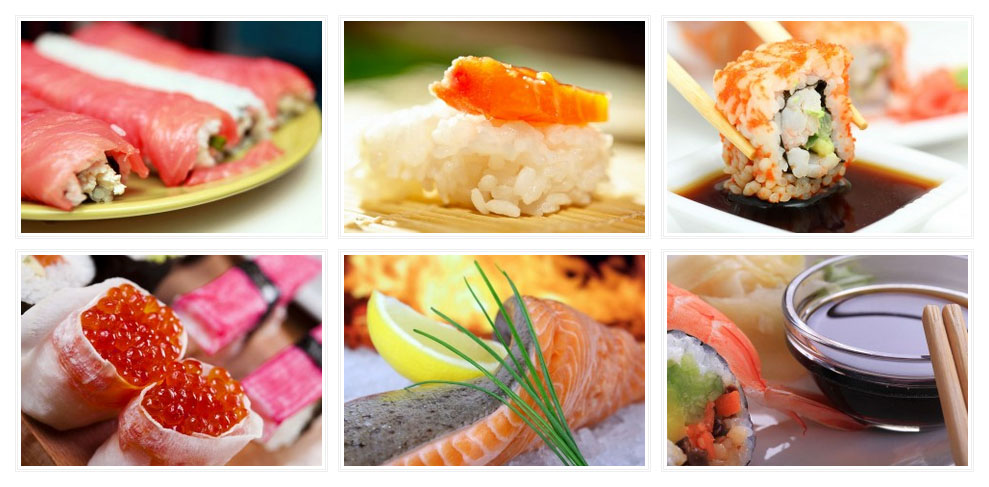 What can you do with this element? You can add a main presentation image, create an image or video gallery. Add detailed description and structured blocks of texts. You can categorize your portfolio items. Portfolio can be added almost anywhere simply using drag&drop in the Page Builder. You can control how many items to show, and even create a filter.
Do it like 3 best online stores
We're sure you know the best online stores like Express, Victoria's Secret or Metropark. It's not only their goal but should also be yours to make online shopping pleasant adventure. Mentioned stores have it's own unique style, shopping at their websites is easy and fun. Our Sushi WordPress Theme will help you make a similar effect.

Using Services Element you can show everything you offer in a pixel perfect presentation.
You don't need to contact web developer or web designer to add interesting images with descriptions. You can do everything yourself. Final result will be stunning.
How to present all the services you offer and why is this element the most popular one?
Sushi WordPress Theme includes fantastic element called Services. In a very intuitive administration panel you can find very helpful features like for example category you want to show, how to sort your services, how many lines of texts to show and most importantly there are many predefined layouts you can use. You can change all of these simply by clicking few options in the administration panel. Our clients also love that they can amend colors or add a background image using advanced settings. Show your products quickly and easily. Time is money.
Testimonials
Act professionally, ask for reviews and references. Don't underestimate the power of reviews. People love to read stories. Show them on your website.

Do you like clean design and layout of the websites? In fact navigation, browsing and searching for information is easier and quicker when there are fewer distractions. That'll all help to increase conversion rate of your website.