What made Google Maps user adoption really take off?
No, it was not a Street View.
We [Google] made Google Maps load faster… Thats it.

Mike Hearn, Google Developer
Never underestimate the effect that has showing up your website as fast as possible to your visitors. It can make a difference between happy customer and missed opportunity. We at AIT-Themes provide you with a tool that can make your web simply beautiful. Great selection of Page Builder Elements allows you to build almost anything you wish for and achieve professional looking web in no time. But the power that lies in ability to have all these Elements on your page comes with a caution. All this greatness to magically appear takes some time.. but your visitors are not here to wait for you to deliver the stuff!
You need to cache.
That's what big boys do. They cache and they deliver. Instantly. No waiting, mama!
Caching is what gives you that top-notch performance. It simply drastically reduces time needed to deliver page content because there is no reprocessing of all this pages that you made during your page development. If you don't edit all these About and Contact pages on a daily basis.. why would you want your server to render them again and again and again.. with every request that your visitors make? Simply throw them already rendered page. Don't worry, you won't offend them. They won't even notice. 😉
OK! I already finished building my web with your great Page Builder and I'm happy with the result. How can I enable this "cache" thing you talk about, hm?
Don't worry, it' not that hard. Simply go ahead and search for W3 Total Cache plugin in your WordPress Administration. This is what we use on our preview servers that made you buy our theme. Hell, this is what we use even when you read this post! Did you wait for this post to load? Contact your internet provider in case you did, because we serve you jet-speed!
So, you installed this "W3 Total Cache" thing, what next? Simply activate it. New Performance section should appear in your left Admin sidebar. Go to Performance → General Settings. Now, you may probably be in hurry (and yes, I know we're all about speed in this blog post!), but do not check Toggle all caching types on or off (at once) option. Don't ask. We just save you some headache from seeing weird error stuff on your website. What you want to do instead is enable only Page Cache, Database Cache and Browser Cache by checking Enable options in their respective sections.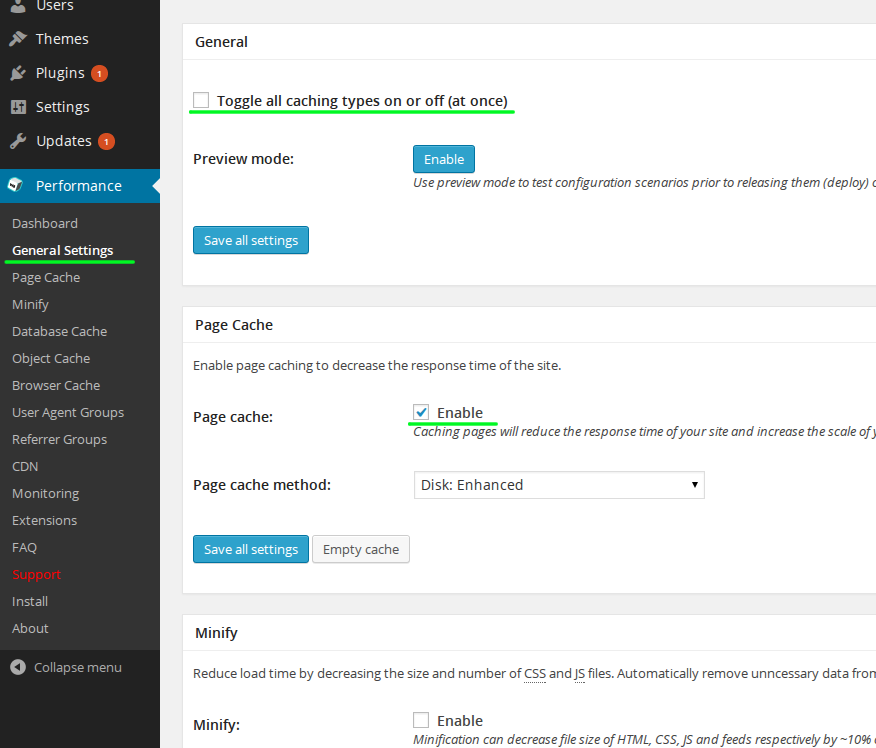 Hit that Save All Settings!
If you're using woocommerce plugin, there is one last thing you need to do. Go to Database Cache settings page and add _wc_session_ entry to the list of Ignored query stems and save it.
That's it.
Now.. you may feel like you don't see any change. Where's that jet-speed? you may ask.
You need to be aware of two things:
You need to be logged out for the cache to work
Cached pages are served only after they have been visited at least once
So, go logout yourself and load some awesome page you made using our Page Builder for two times. That second time was fast, wasn't it? From now on every visitor that loads that page will be served instantly. And that's how we big boys roll. Cache and deliver. Jet-speed!