Brand new WordPress features & layout packs
During the past couple of months, we have been working on different cool things. New features for directory plugin, blocks for Gutenberg editor, full compatibility with WooCommerce, the possibility of doing translations. And of course new Citadela Layout Packs. See details below and sneak peeks what stuff is coming soon.
Citadela + WooCommerce
We adapted Citadela Theme and Plugins for greater compatibility with WooCommerce. Alongside we created new layout packs for online stores. One is classic and another one is a specialized directory website for farmers.
Uses WordPress Gutenberg editor from which you can create online store faster. Minimalist and chic design suit any business. Online shopping has been part of our lives for a long time already. Nowadays, it seems to be more significant than ever.

It is the newest Directory website layout pack. It creates a portal for content and online shopping. The idea behind this pack is to create a virtual place for local food producer where they can inform about themselves. Every product needs marketing. Often small food producers do not have enough capabilities to cover this work. And there we have seen an idea for a local listing website. Online communication through web presence has become a marketing tool for many small companies which did not make it so-far.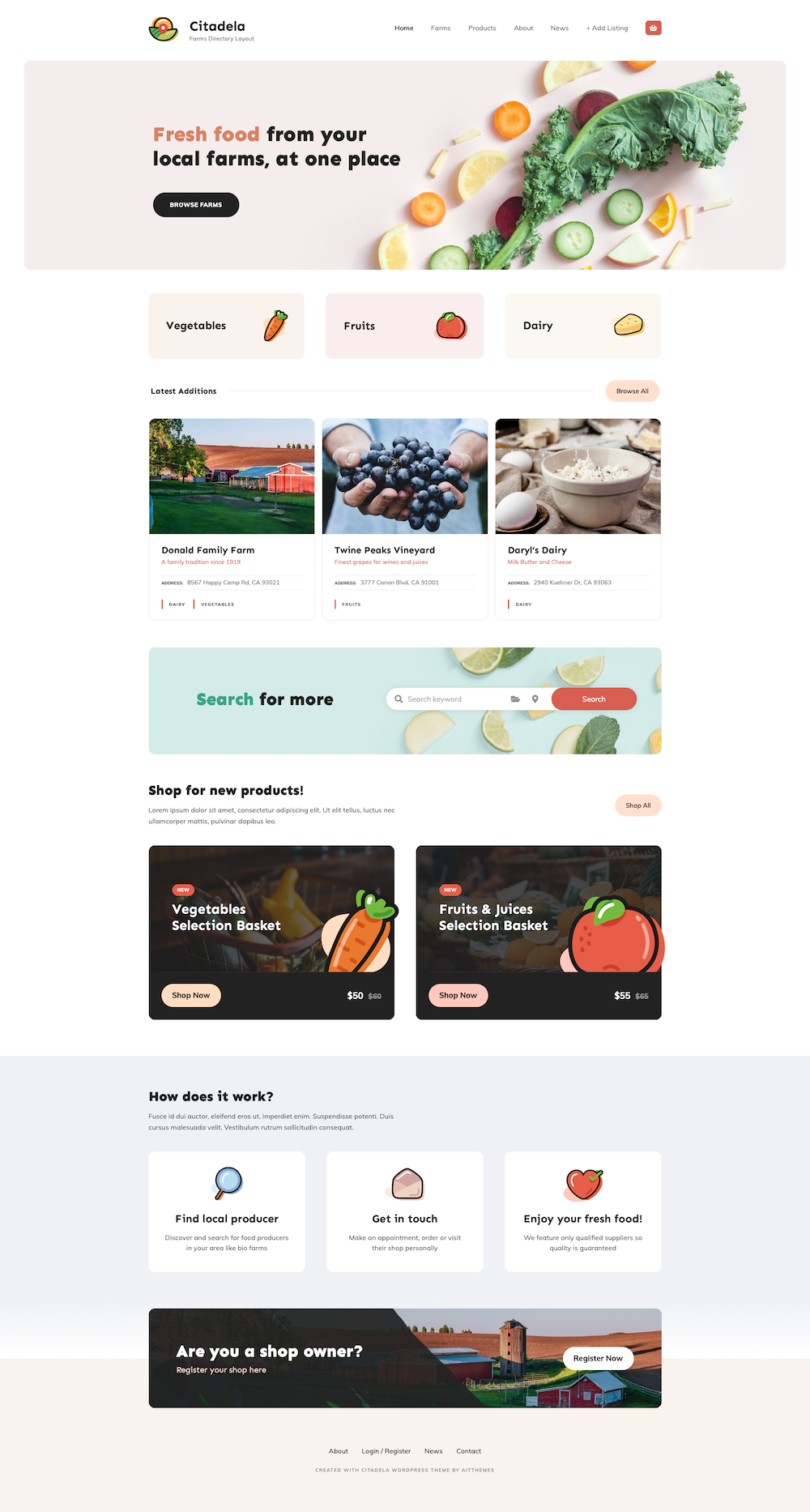 Directory features improvements
Allows you to offer paid listings. There are many options for how you can set your premium service. Determine for how long membership will last, sign up fee or free trial. See more details in the documentation.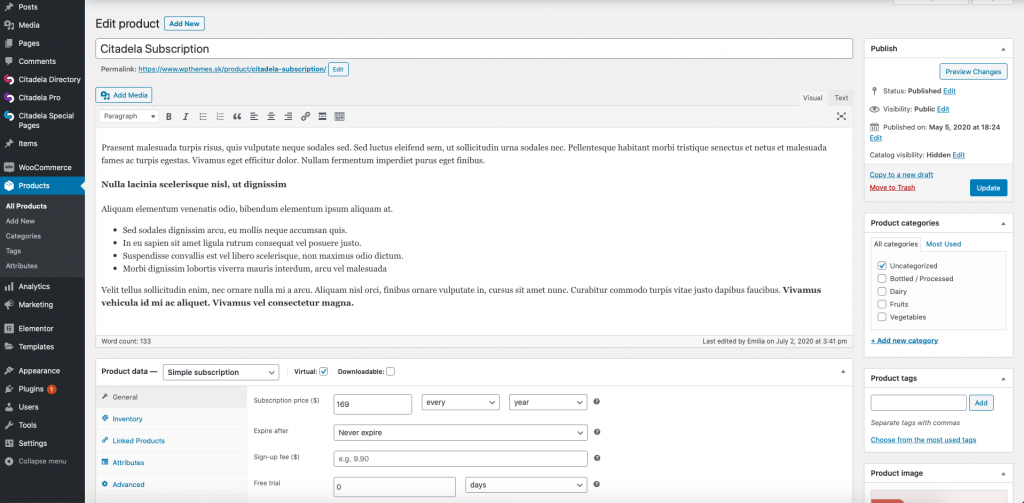 We use WordPress for directory functionality to accomplish a fast-running website. Also, listing owners functionality is developed as standard WordPress users. It means that user (with limited capabilities) access wp-admin environment. WordPress admin may look quite disturbing and Easy admin simplifies administration. We eliminate unnecessary distractions. You can make it more user friendly and set up colours to match your front-end. Now you can customize WordPress user admin environment.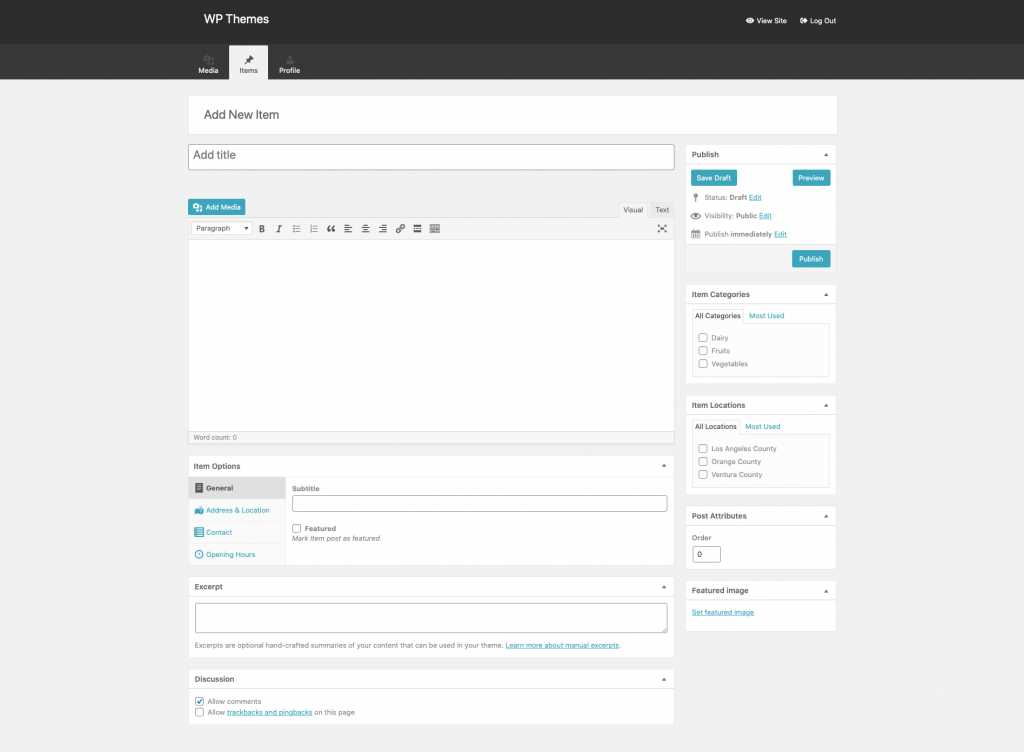 Citadela Blocks and Directory plugins
These two plugins add directory items on any Page or Post. Now you have more scaling options, and you can define more parameters. What and how to display. Each block is manageable through Gutenberg Inspector on the right side. You can decide to add Directory Item List block for all or specific category and location. Select the number of listings, order options, and detail information to be displayed. Carousel display is still eye-catching presentation. Choose to view only featured items, and you get an excellent premium section to offer paid listing.

More displaying variations
We have also made some improvements for Cluster block. You can show or hide on mobile devices a particular set of blocks inside the Cluster block.
Posts are a great way how to keep visitor reading. You can add posts to any Page via Posts block in Gutenberg editor. You can find it under the Citadela Posts blocks. Choose from the predefined layout: Box, List and Simple. You can set it as Small, Medium and Large size. Also decide the number of posts and details (date, description, featured image, category). You can order displayed posts according to date, title or random.
What is unique about our directory features?
You can create a unique directory website, but not only. Directory blocks are perfect for classic business presentation also. They give you a better way how to create content. Promote your service, classes, workshop or other events with directory features and show them on the map. It is the way you would like to publish a report from the exhibition you attended.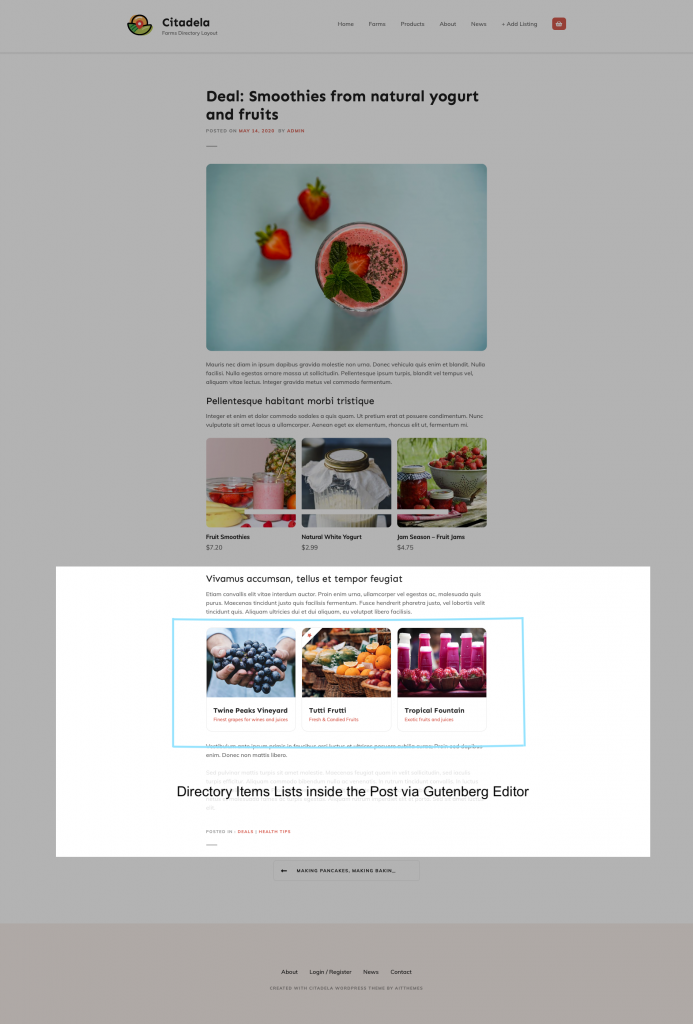 What else is coming next?
Functionality: Citadela Automatic Updates
Citadela Theme has automatic updates through WordPress.org. We had promised automatic updates also for our premium Citadela plugins. Work is in progress, and it will be available within a couple of weeks.
New directory feature: GPX Support
Another great work in progress is for a new layout for travel topic. New input will expand opportunity for website related to the country, travelling, tourism and other business and leisure topics. Stay tuned as this will be awesome.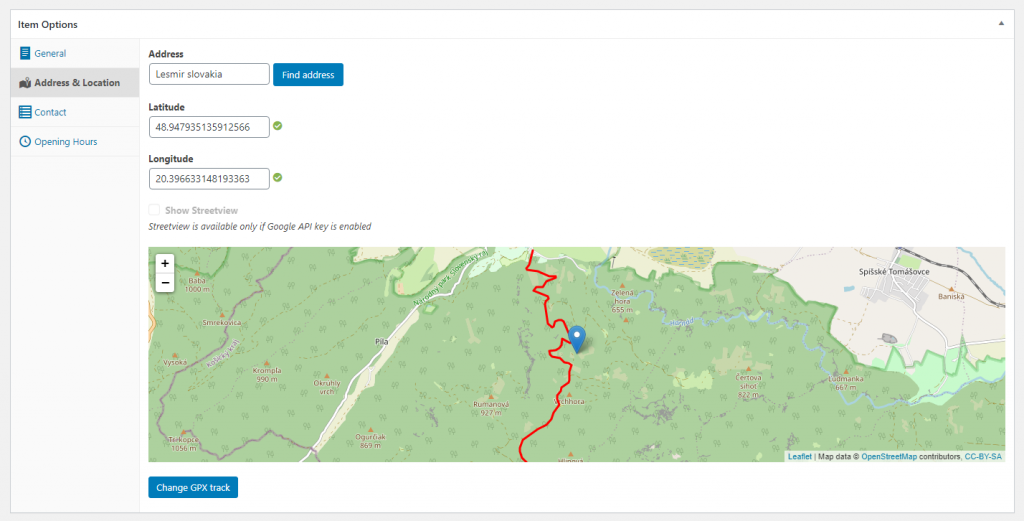 Citadela Layouts
Using one of our business Citadela Layout Pack gives you a chance to create a new website much quicker. Predefined layout with pages, blocks and images helps you to concentrate on the what is most important – content. We will bring you some new business designs. Eco Citadela Layout Pack will be ideal for technological and energy companies with a beautiful presentation of realized projects.
Another layout is going to be for one-page website – stylish and trendy design elements. We have chosen a barber business. All important information must be "in one place".
Join AitThemes Club with one of our membership and get access to all products and updates.