It has never been easier to create your own website without professional developer than now – with our new innovative AIT Page Builder. It is obvious straight away, that in contrast to its previous version, Page Builder has undergone huge changes. Let's have a look at them.
Complete redesign for the best UI & UX
We focused primarily on the simplicity of use when developing new AIT Page Builder. So that everyone who intends to create a web page utilizing any AIT Theme could work with WordPress administration in the most convenient way. That's why we've decided to change the visual layout of Page Builder and also to affect the structure of how the individual elements are arranged.
As you can notice, the most important part is the elements area. Elements are sorted in alphabetical order and they are split between two tabs – Columnable Elements and Fullwidth Elements. If you purchased a theme with additional plugin, elements of this plugin are automatically added to all the other default elements.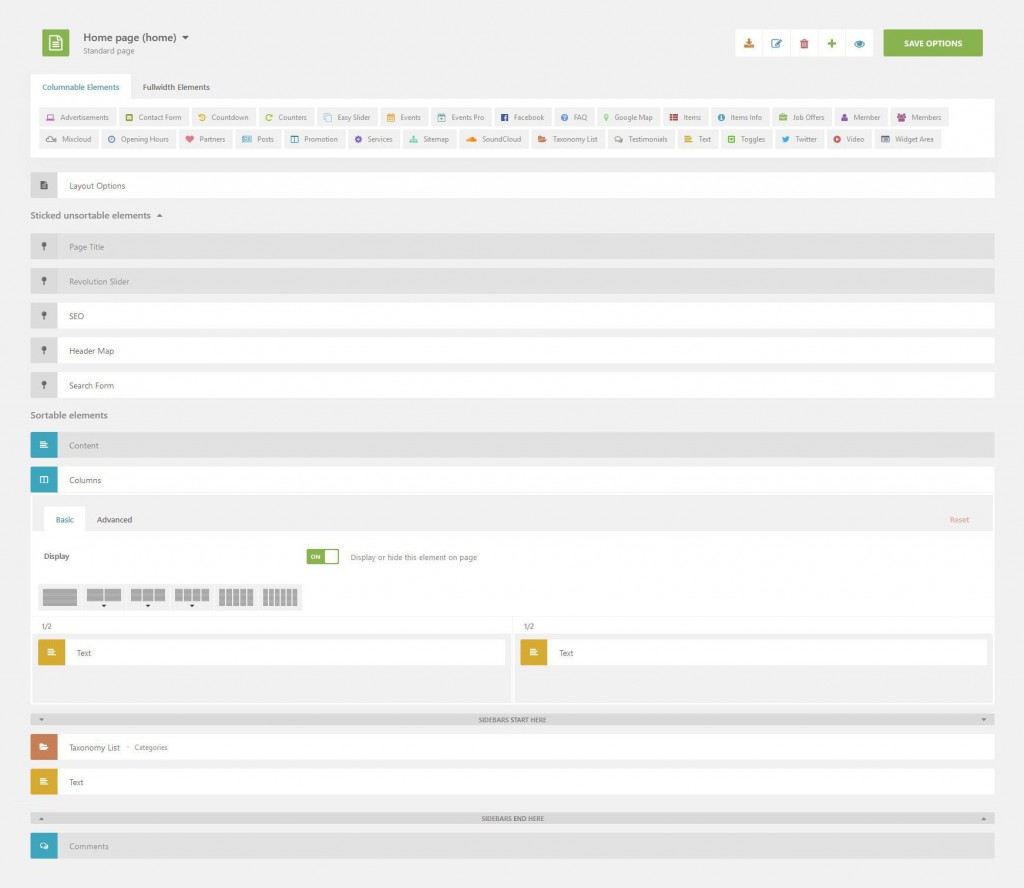 The most noticeable change is that there are now visually attractive and colourful icons assigned to each of the elements, what is significantly improving the speed of orientation when creating a web page. Unlike the old Page Builder, the elements are processed graphically in more detailed way. We designed them so that our customers don't waste time by searching for the right element.
Redesign helped to accomplish more favourable administration interface of our Page Builder and also brought time savings for the website creators when selecting and positioning various elements on their pages.
Changes in functionalities with big impact
The principle of how AIT Page Builder works remained the same – you can still rely on practical drag&drop functionality when adding elements. What we have changed and improved as well is the arrangement of settings available for individual elements. As soon as you click on any of the elements, a pop-up with all the available settings is displayed to you.
This method has proven exceptionally good as it saves space on the desktop. Thanks to the separation of elements and their settings in the pop-up we achieved, that the elements are not congested in one place. By this we simplified and mainly increased the transparency of the whole administration interface and you can now administer your website more intuitively. And of course faster.
Even better transparency
One of the new features is also a functionality to hide that section of elements you currently don't need to use, e.g. Sticked unsortable elements. The advantage is again the increased transparency of the administration part, because you can display only those elements you're currently working on and the other elements that you already set up won't be disturbing you anymore.
New Page Builder was designed in such way so that you don't need to scroll through all the elements until you finally find the right one that needs to be changed.
Edit your website just from your mobile device
The absolute advantage of our new, fully responsive version of AIT Page Builder is the possibility of making changes to your website directly from your mobile device. What is it good for? Whenever you need to quickly change something, but you aren't in your office and don't have access to your computer, you can simply make all the necessary changes via your smartphone or tablet.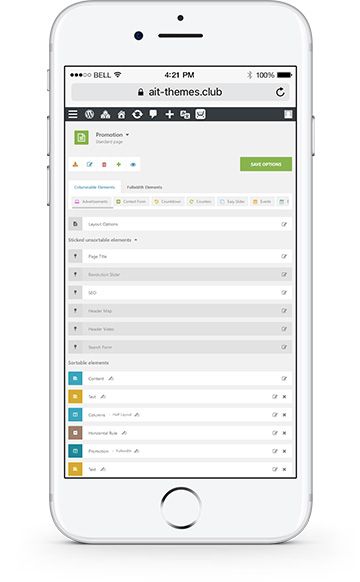 Wherever you currently are, you will have the administration of your website always at your hand.
AIT Page Builder is available for everyone free of charge
If you want to get our new AIT Page Builder, you just need to update all your themes and plugins to the latest versions. This update is free for all our customers who have a valid Membership.
AIT Page Builder brings useful changes that simplify creation of web pages, speed the whole process up and change the way of interaction with AIT WordPress Themes. Enjoy the new AIT Page Builder!