(Improved) Citadela Blocks plugin: Cluster
New functionality and more settings have been added to our Cluster block. Cluster is, in general, a simple block of blocks that you can use for creating various layouts and unique design elements on your website. Let's have a look at its latest improvements.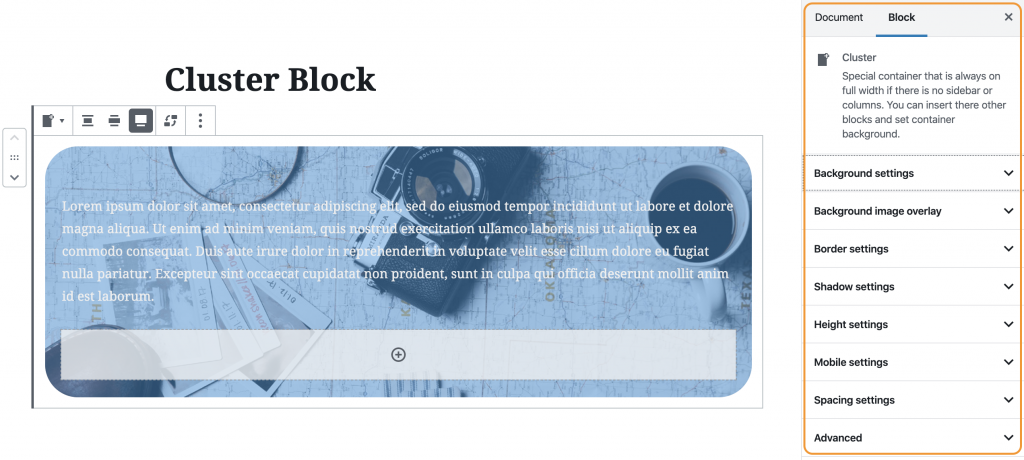 Background settings
Background settings include an image with various size options and also the responsive design where you can choose a different image to be displayed on mobile devices. Alternatively, you can go for cluster background color as a single color or gradient (one color will smoothly transfer to another color)
Color overlay for the background image
You can add image color overlay and choose different color and opacity for each of your Cluster blocks.
Border settings
Cluster block can now have a visible borderline in color of your choice. There is a smooth switcher to adjust the width of the border and border-radius to make rounded edges of the cluster block.
Shadow
Why not add extra emphasis by displaying a shadow of your cluster block? Of course, you can choose the color, direction, blur and spread of the shadow to achieve the desired effect.
Height
Cluster height can be defined in PX, VH and VW. It certainly helps you create a better responsive design.
Mobile settings
You can choose if a certain cluster block will or will not be displayed on mobile devices. This way you can simplify the mobile web design and create more elaborated, the better-looking website for desktops.
Spacing
Set forced inside space to increase the clarity of the content. Choose between small, large or none.
(New) Citadela blocks plugin: Opening hours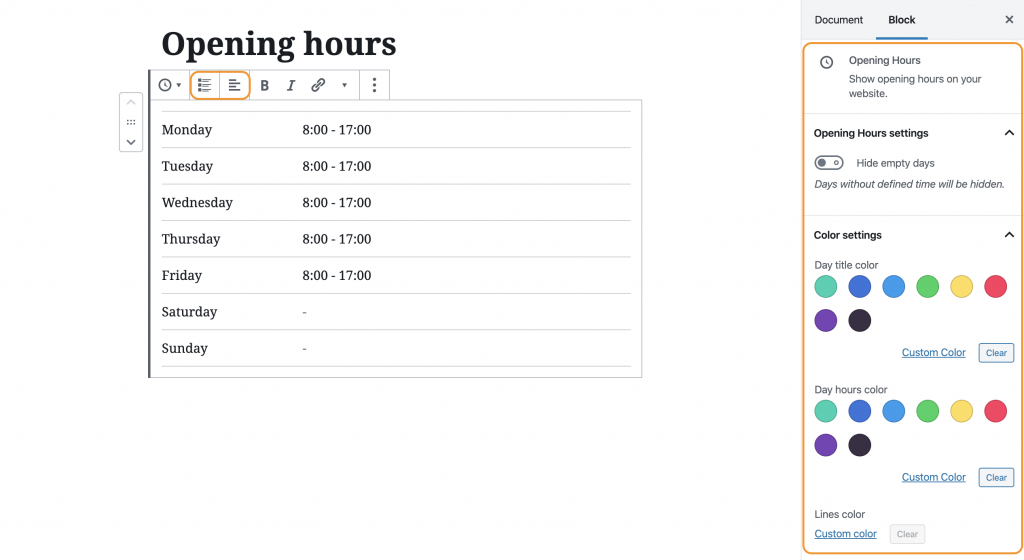 Opening hours block has been finished and released in February as promised. In addition, we've made it even more customizable than we've initially thought we would.
In the top settings bar of the new Opening hours block, there are options for alignment (left, center, right) and layout (list and box). These two options will give you enough variety for displaying your Opening hours in a way that fits your website.
As you can see from the image above, there are also multiple settings in the block inspector on the right-hand side. You can choose a different color for displaying days and hours and decide if you want to hide empty days.
Translatable day names
By default, days are in English. However, we didn't forget about our local and multi-language customers who would want to translate days to a different language. Simply overwrite the text in the block to your custom text and that's it.
Progress with DirectoryPRO
DirectoryPRO will be the new name of our well-renowned Directory+ theme once we release a major update we're working on right now. Let me fill you in on the progress we've made.
In February we focused our attention on Item detail. We've created a new layout WITHOUT a side bar. We've been also working on customization options (there are quite a few of them) and because we want it to look neat, we've dedicated extra time and effort to design.
(Coming soon) Citadela Directory Plugin: Registration, Packages & Payments
Finally, for the sneak peek of more functionality we're preparing for you, let me tell you that we've been analysing customer feedback and requests on Citadela Directory functionality. In February, we've managed to complete important preparation works for new, more advanced functions for creating a catalogue type of website.
Now we are working on registration, packages and payments that will be added to Citadela Directory plugin. Stay tuned as we will bring you also more details about other directory and listing features.
You can expect the update in the upcoming days. Please log in to your account and download the latest installation files.
All new features are available to active members only. For customers with expired membership, please renew your package or choose a new one.