How to access Ait Themes Support?
Have you bought theme on Themeforest and need technical support? Please register on our Club website to obtain technical support access. If you have more products, each of them need to be registered.  Furthermore you must purchase license for each project. Item support service is additional requirements by Envato. Since September 1, 2015 new Item Support Policy is applicable.
Follow steps below according your situation
1. I'm 1st time AitThemes Club Support user and have fresh purchase on Themeforest. Or I have old purchase but have never used AIT Support before. What I need?
GET A PURCHASE CODE
REGISTER PURCHASE CODE & CREATE ACCOUNT ON AIT-THEMES.CLUB
HAVE VALID SUPPORT ACCESS GRANTED BY THEMEFOREST
POST A QUESTION
Where to find a purchase code?
To get your theme purchase code, please log in to your Themeforest account. Go to Downloads and find the product. Click on green button "Download". A dropdown will appear. Click on "License certificate & purchase code". Beside this dropdown you can see information about Item Support validation.
Where to register purchase code?
Go to the link and fill in the form including purchase code:
Support Access for Themeforest Purchases

top

2. I'm old customer and I used to have access on your previous (old) support forum.
Likely your account was migrated in January 2016. Please go to Sign In site and check your for your username or e-mail whether the system can recognise them. If not, please follow according 1st point.
top

3. I have 2+ Themeforest products. How to get support for all of them?
While you have registered 1st product and created account, now you can log in and go to My Admin / Subscription page. There you can register another purchase code. All registered product are listed below.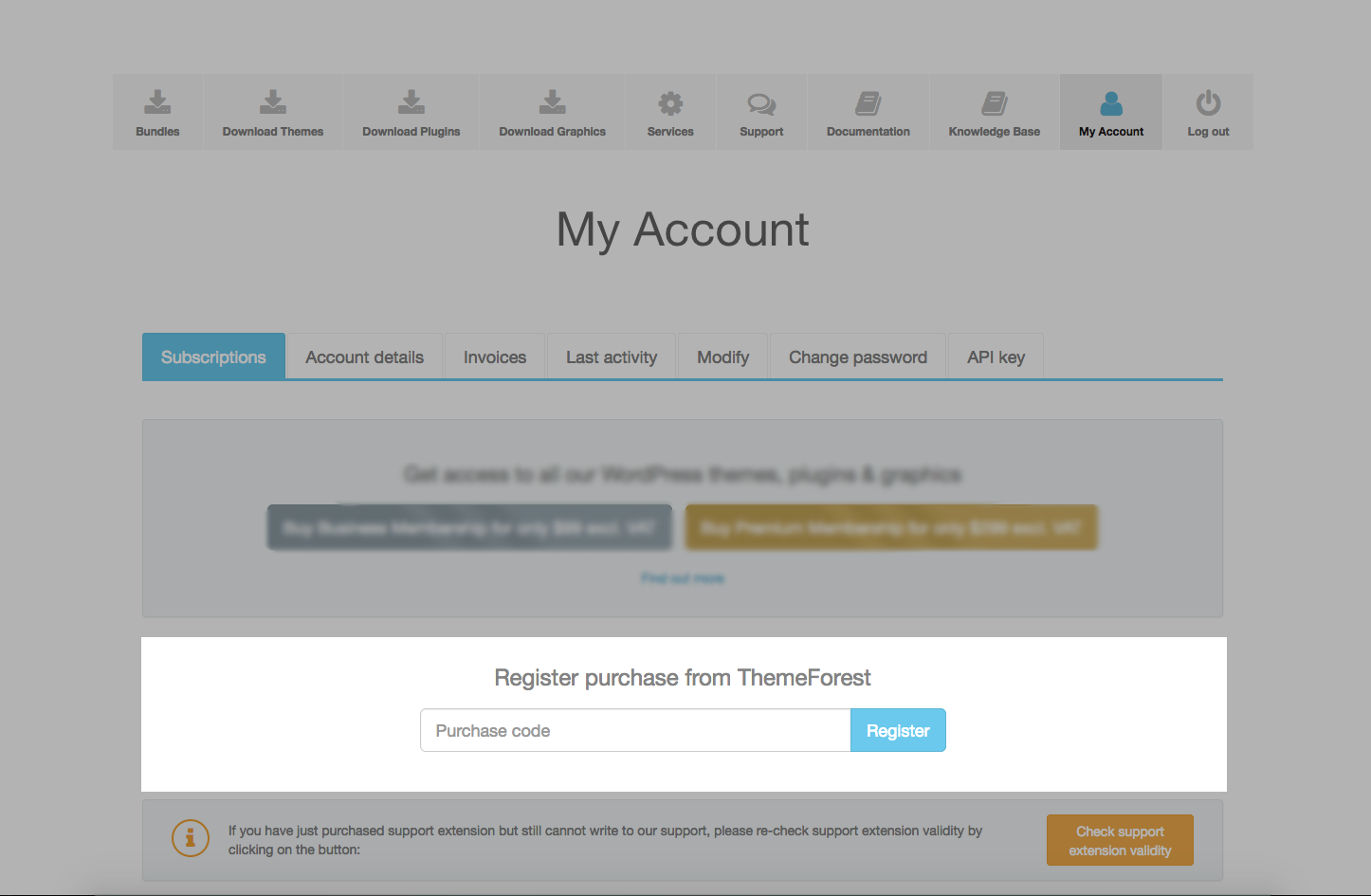 top

4. I have registered purchase code but I still cannot access support?
This happens when your Themeforest product has Inactive status. In other words this mean that your Item Support service has expired. To access support you have to renew support.

top

5. I have registered purchase code but I still cannot access support?
I have Club account but no product is under My Admin / Subscription page. Please follow point no. 3 to log in and register your purchase code.
top