There are many ways to earn money online. One of the popular ways are WordPress directory themes. There are literally unlimited options here. You can create online portal for given location or a specific industry.
How to get data on website?
The main task of portal website is to merge the same type of information in one place. Yet the actual items in the online catalog can be different. This may be a company, gastro operations, doctors, dentists, nonprofit organisations, sports clubs and the like. The volume of such information is crucial for any website. So how do you fill up the portal website data?
You can do it yourself, using your own personnel. Or you can give access to company owners, operating companies, ergo those whom you want to merge on your catalog website to register and through their own account add information about them-self. If you allow owners to add items directly, valuable content on your portal sites will grow faster than loading all items in-house. So how about it?
Choose the strategy. Free or fee?
Disclosure of information on portal website is one of the components of process of managing sales on catalog website. Fee for adding items to the catalog list is a common way of how to make a website a profitable project. User pays for the package in which there are permitted certain functions and a set number of items (does not pay for each item separately).
Many studies focused on pricing policy, recommend to offer several different packages. If they differ in price and content, they are more likely to generate a conversion for the benefit of your portal site. Your customer has therefore a better decision-making possibilities. The number of different packages is unlimited. Presentation site for them can be simply created using Pricing Table element.
Setting up and managing packages in portal template, all nicely together in one
place
Our Best WordPress directory themes offer you easy way to configure everything you need to get started as quickly as possible. Settings for Theme Options –> Packages play an important role for your business portal. In Packages you can define individual packages (subscriptions) for users, who will be registered on your portal page and add items. Package management is also important from the perspective of users themselves as you can customize the packages for each group of users and give them the opportunity to enter and display information as needed.
If you are starting with a portal website, you should consider to allow users to add items free of charge, making it easier for you to get important content for your website. This makes it possible to build traffic and motivate users (owners of items) to opt for the higher paid packages with enhanced functions. In free package you can allow adding of only one item with limited input – information about item.
So how to create different packages?
Packages may be differentiated by time horizon, number of items pertaining to one user and the range of functions. Difference in packages can be in activating inputs such as opening times, picture gallery, social icons and so on. For each package, you can choose the type of header for detail listing presentation, or whether the item is included in the special group "Featured" listings.
Package setup by administrator
As administrator, in creating packages you have virtually unlimited possibilities of how to set those individual packages. According to these settings and permissions within the package you provide for users, you can adjust its price (eg. the more functions you allow, higher the package price). This way you can differentiate your pricing strategy. As part of the package settings you can choose to automatically sent notification of the impending end of package's validity.
Specific examples of setting package:
Basic Package
Administrator decides to establish the basic, testing package. In the settings for Basic Package enables all functions related to the addition of Item – ability to add content, media, excerpt, image, etc …. He will set the price as 0, which means that it is a free package.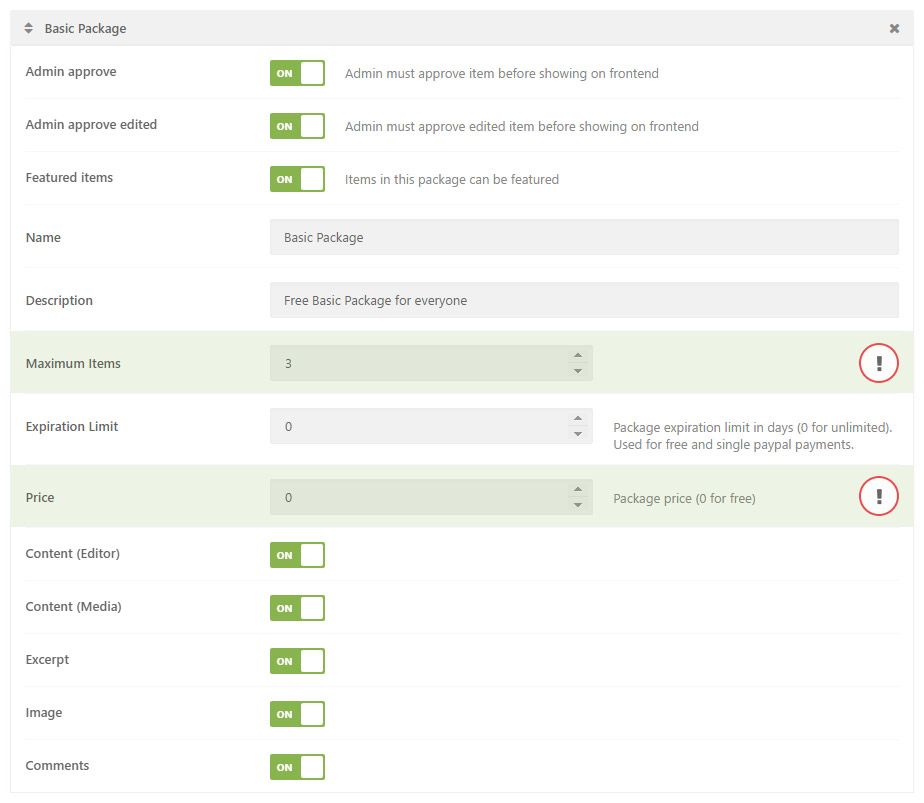 But since it is a testing package, which is free, admin can reduce a number of items that can be added, for example 3 items. When user fills that quota, he will have to purchase a full-featured paid package to be able to add more items.
Standard Package for premises owners
With Standard Package administrator decides that he wants to adapt it for owners of small shops. In the settings he enables many functions, but not all of them. For example, he does not allow the possibility of adding Featured items (items will not be shown at the top of the list). He will set number of items to 10, package expiration for 30 days and the price at $30.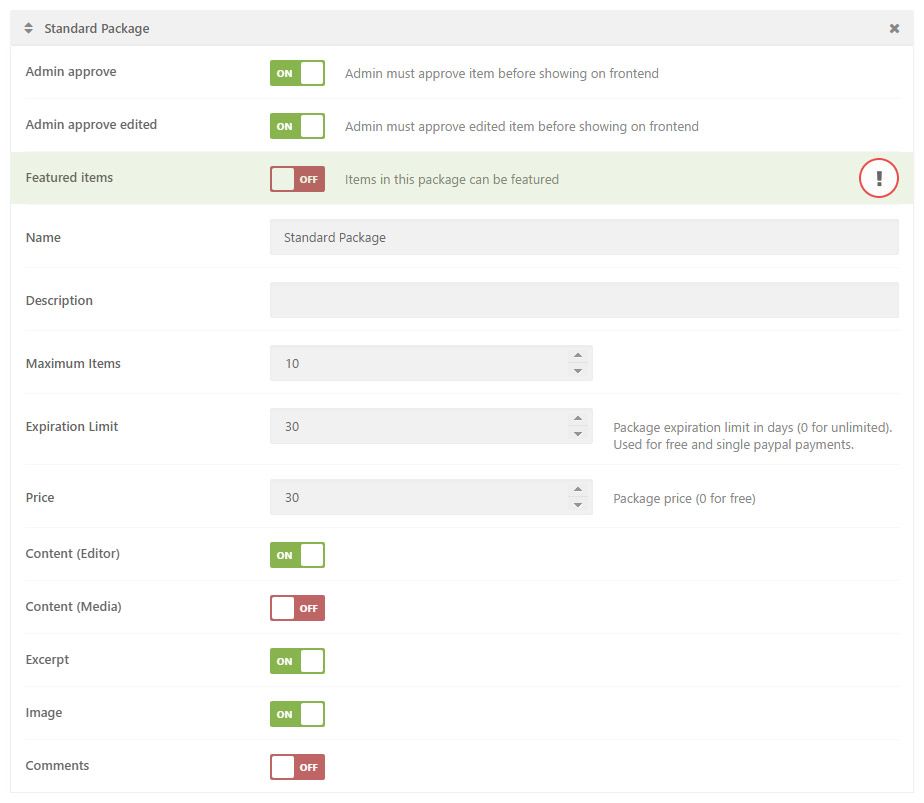 Professional Package
For this package all functions are allowed to all the features, including Featured items during 30 days. The maximum number of added items will be limited to 200 items. Price $ 69. Professional Package will use those users who want to add Featured items and for example media agencies which promote different clients various activities and opt for advertising on the portal page.

Pharmacy/ Doctor/ Dentist Package
Admin decides to create packages by type of business, adjusting the settings and price accordingly.
Note: Package names, permissions and prices are merely illustrative and serve as an example. All settings are variable and can be adjusted according to the needs of the portal page owner.
Location of the registration form via WordPress widget
How to create Submit listing page you can read in our documentation. Registration as well as entry form can be created using Widget – Theme – Login. By creating registration with a widget you can insert it anywhere on a website:
Sidebar
Footer
Anywhere within the content – via widget area element in Page Builder
The best part is that you create a widget once and then it can be used as many times as you need. No more duplicating of forms.
Video tutorials
For making it even possible for visitors of your portal website based on WordPress to ever register, you have to enable this feature in the basic settings of WordPress itself.
Here you can see how to create a widget for users to register.
How do Packages work from the perspective of user who wants to add items to your portal page
Every WordPress directory theme is a multi user website. That means users can register and manage their own information themselves.
1. If user want to start adding his items, he must first sign up for specific package and pay for it. The only exception is a free package. Temporarily, until payment is made, he is listed as a Subscriber and adding items is deactivated.
2. After the payment, system will change the role the Subscriber to one according to the prepaid package and then he can start adding items. Authorisations for adding items, as well as their maximum number are based on the Packages settings set by admin.
Which items can be edited by User?
Items owner (user) can add and change information about an items, which are allowed within his paid or free package. In general he can edit:
Basic information about items as Name, description or excerpt
Item Image and Galery
Item Options – Item options detials:

Subtitle
Header appearance for the item (map or picture)
Label item as Featured
Contact information related to the item (address, telephone number, email address and website URL)

Opening hours
Social networks (available for input from various social networks)
Features (icons for items features)
User himself can decide which data are for the business and its customers important and which are not.
Portal templates contain a lot of settings and features, giving you a great tool for your online business. Watch more articles about how to work with AitThemes.
Would you like to test any theme before purchasing? Download trial version.
Try themes for free
or you can uncover full version of 71 Themes, 25 Plugins and 173 Graphics. You'll get all AIT products.
Buy Full Membership