Thanks a lot for your comments and thoughts, guys. Let's talk about the most interesting questions.
Q: The amount of content on that is substantial. I am curious as to how you went about collecting the information for camping sites worldwide. Did you just google, country per country, region per region, city per city? Did you find/buy a DB with the info? Did you do it over a period of time, or grow the content little by little? Thanks, Julien.
A: Once again, thank you for your questions, Julien. Well, our camping portal was a lot of work. And this goes for the content as well. We had to manually search and insert enormous information ourselves. However, as the project started to grow and more and more managers started to claim their campsites, the content was growing on its own. People could register, add their campsite and even pay a registration fee for premium packages. On the other hand, managers could pay claim listing fee to be able to manage their campsite.
Q: Awesome reading, guys! One question thought.. i'm not skilled with google ads, so, how google know when to pay me?
A: Excellent question, Peter. Thanks! First, you need to create your Advertisement account – and everybody else who wants to use Google AdSense, then you can create your first Ad unit. By creating your Ad unit, Google gives you unique code that you put into your website. This code is then tracked by Google and it will automatically generate the ad displayed on your website. So, as you can see, it's not rocket science.
In our first blog, we promised you that we would talk in details about our side project that passively earned us more than $90.000 over the years thanks to a smart monetization through pay per click advertisement.
We've created a camping website that's utilizing Google Maps to create a portal of camps all over the world. For more than eight years, our camping portal was generating a solid passive income.
So what is this Google AdSense we've told you about in the previous blogpost? Well, it's not that hard. AdSense is basically an advertising placement service provided by Google. The program is especially designed for website publishers who want to display targeted text, video or image advertisements on website pages and earn money when website visitors view or click the ads. Having a popular page, AdSense is very effective. More website visitors means more money.
However, pay per click was not the only business model we created for our portal. We've generated enormous amount of content. Basic information about camps, their exact location, sample photos for people to see or contact information for respective managers for every major camp in almost every country. And a camp's manager was able to claim and further manage their camp's account on our website by paying a claim listing fee. And many managers have claimed their camp since the beginning. By the way, this is exactly how Foursquare did it few years later.
"And a camp's manager was able to claim and further manage their camp's account on our website by paying a claim listing fee."
So, with all this talk about AdSense, you might want to check the picture below to see how all the advertisement content on your website should be divided in order to maximize your source of passive income. Red colour means 'so-called' hot zone, the best place for your AdSense banner.
But that's not all you can do. After all, you've created your website for a certain target group. This is also an important part of setting up your online advertisement: to aim your advertisement model towards that target group. Basically, you have two options: 1) you can point out the ad on your web, so that your target audience can't miss it (however, this might make the ad more dominant than your actual web content); or 2) you can make the ad lost in-between your content or your web's design. But what if my target groups is served an ad of my competition? Well, you can simply ban their banners and they'll never popped out.
"This is also an important part of setting up your online advertisement: to aim your advertisement model towards that target group."
There're many more advertisement models you can use for your web. Ever heard of Google AdSense for search? It's a free product that lets you to place a Custom Search Engine on your site to provide users with web search. You'll also earn revenue from relevant ads on the search results page. Or you can utilize AdSense remarketing to reach your past website visitors or app users. Check out how Google AdSense for search looks like on the picture below.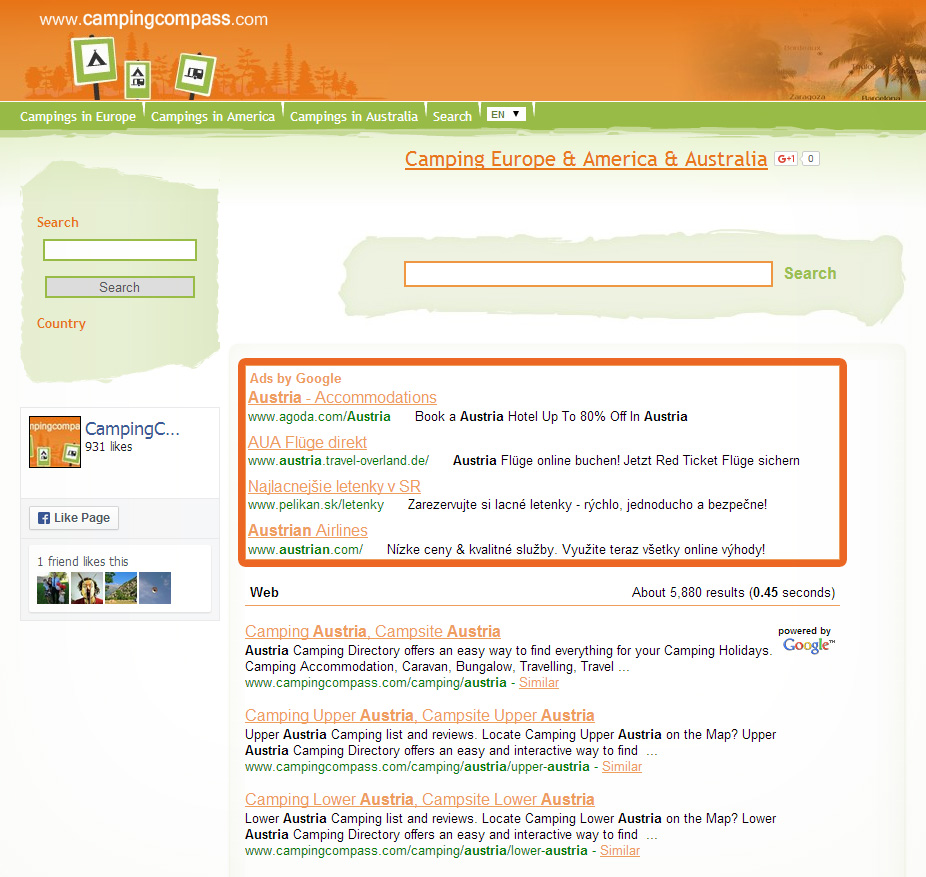 And yes, your AdSense advertisements banners and search pools don't have to spoil your design. There are many different types of banners you can choose from. Leaderboard banner, Large Mobile Banner, Large Skyscraper or a simple Responsive banner are just few examples. These banners are also customizable up to a certain point: color, font family or font size. You can see some settings on the print-screen below.
So, what was the selling point of our website? In many countries all over the world, people were able to search for camps in their country on a single website for the first time. All of this only thanks to our idea to innovate, to distinguish ourselves from the competition, to make our portal multilingual. However, this was a long process. And in the beginning, it was only in English. Over the years, we defined many new keywords in many languages that are now common in searching for a camp. And we even made some solid money off of it. With a claim listing fee, AdSense banners and custom search engine on a website with great traffic from all over the world, we passively made something over $10.000 per year.
In our next blog, we'll talk about exact numbers and we'll describe exactly how our side project turned into a business.
Don't forget to let us know your thoughts and questions. We're always happy to help.
Martin
Start your own online business today.
Related posts:
Case study Part 1: How we turned our side project into a business and earned passively more than $90.000
Case study Part 3: Your chance to make your own business with WordPress