The year 2017 brought a number of ongoing trends from last year and also some fresh news to the world of webdesign. These news were not just some minor changes that one can be inspired by. The biggest trend becomes the violation of the established rules – the web design is less smooth and more dramatic. In a positive sense.
Large background photos
Fullscreen WordPress websites with dominant full-size background photos are nothing uncommon these days. Background photos can nicely complement the website's context so that visitor knows at first glance what the website is about. The purpose of these photos is to gain attention and to induce emotion.
In the image focused design, the photos also act as a medium for delivering important messages (e.g. for headlines). When working with photos, there are some rules that should be kept in mind. If you insert image into the background, you need to customize the size of the headline and buttons that are placed over it too.
Color Scale and Patterns
The colors of the background photo also greatly affect the color of other elements on the page. The primary objective is to achieve contrast with the background photo (or ideally to choose a photo which is in natural contrast to the selected color scheme). Or alternatively you can adjust the photo to your needs. It is possible to use a black-and-white photo, darken the photo by adding an extra layer or tinge the headline and then place it over the fullscreen photo.
Duotone gradient backround images (two-color photos) are also hot trend nowadays, which some designers consider to be replacement for gradients. Even though gradients have "died out" for a certain time, this year they have begun to re-appear and it can be expected that they will be increasingly used in the web design.
In 2017, glowing photos started to be massively used on WordPress websites, along with geometric patterns, lines, patterns and various hand drawn elements. If you want to be inspired by these trends, choose the right photos even more cautiously. Geometric patterns and garish photos are indeed distinctive elements.
Stock photos are dead. Long live the stock photos!
In the ideal world, each designer should have a set of professional custom-made photos for every WordPress website he/she is working on. But not everyone can invest in their own product photos. Stock photos have become a must and a nightmare for designers at the same time.
If you depend on stock photos, never choose those that are too artificial or cheesy. Website visitors overlook such photos as they know they are fake.
It is not easy to find stock photos that fit into the website and make the user to identify with the product or service being offered. But naturalness and authenticity are the key when choosing the right photos for your WordPress website. Fortunately, nowadays most of the stock photo providers are aware of the trend of natural photos and they have adjusted their offer accordingly. You just need to find the right source.
Website photo quality and size
It is worth investing in the quality of background photos as these fill the whole page width. You should also consider the highest possible photo resolution so that it looks good on monitors of various sizes and in different browsers (important also for the page responsiveness). However, too large photos have impact on page loading time – this can be solved by website optimization plugins as well as the photo resizing functionality. WordPress themes from Ait Themes have integrated image resizer that automatically reduces photo size making the page loading smooth and fast.
Inserting photo into WordPress theme
Once you've picked photos of sufficient size and quality, it is time to upload them to your WordPress website.
Background photo
Adding a background photo into WordPress page is nothing complicated. Depending on your theme, the photo can be uploaded either:
directly via Theme Options within General Settings in wp-admin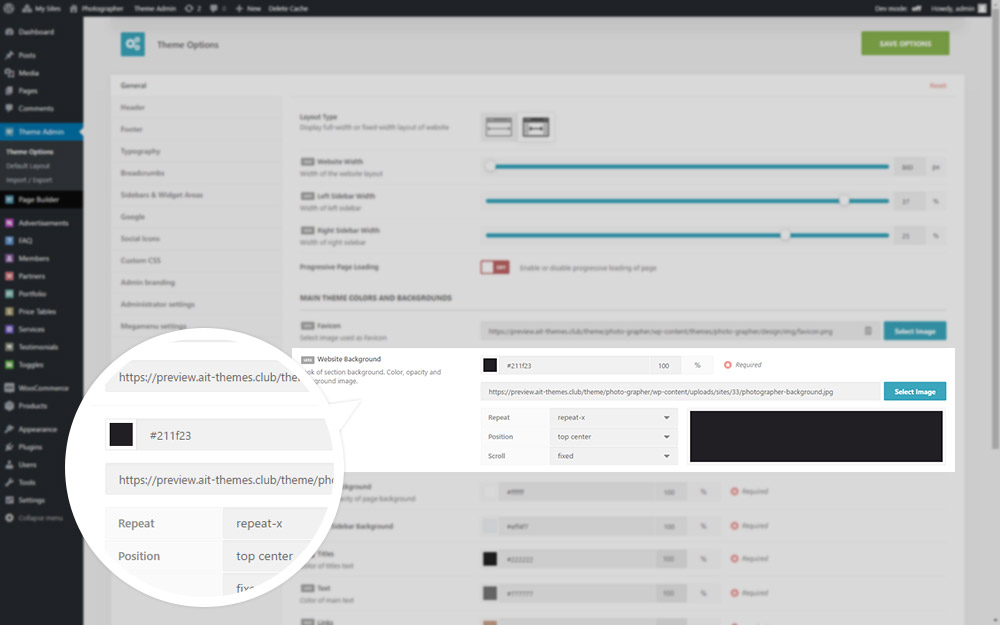 or: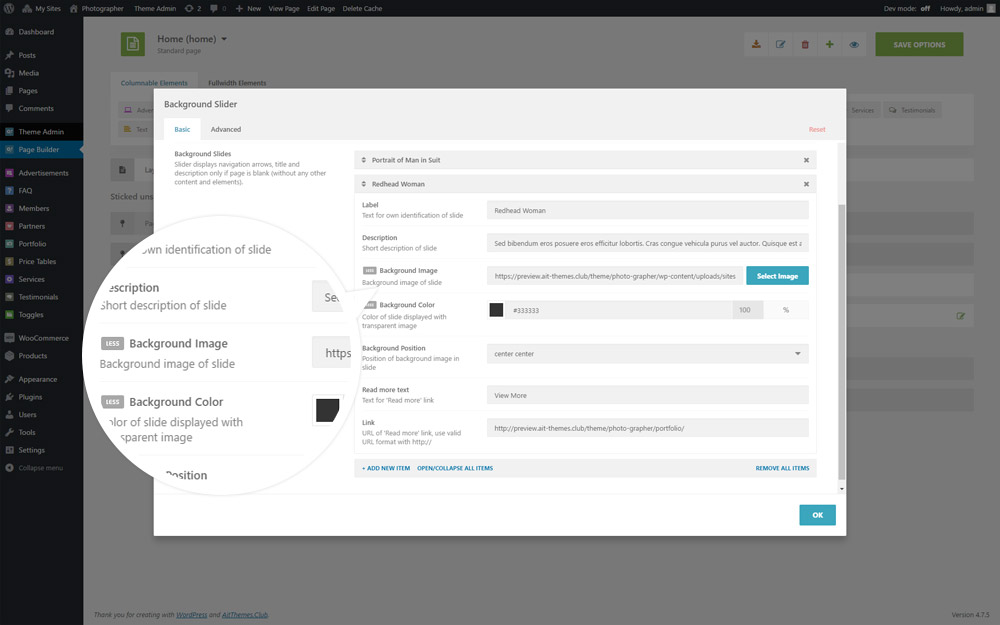 WordPress Photography theme enables easy image addition into page background via Background Slider element. Inserting multiple photos results in slider being created automatically.
Photos in Posts
If you want to insert photo to a WordPress post, this can be done in a standard way by using +Add media button where you can upload required images into gallery. Images can be inserted via drag & drop or uploaded from a folder located on your hard drive.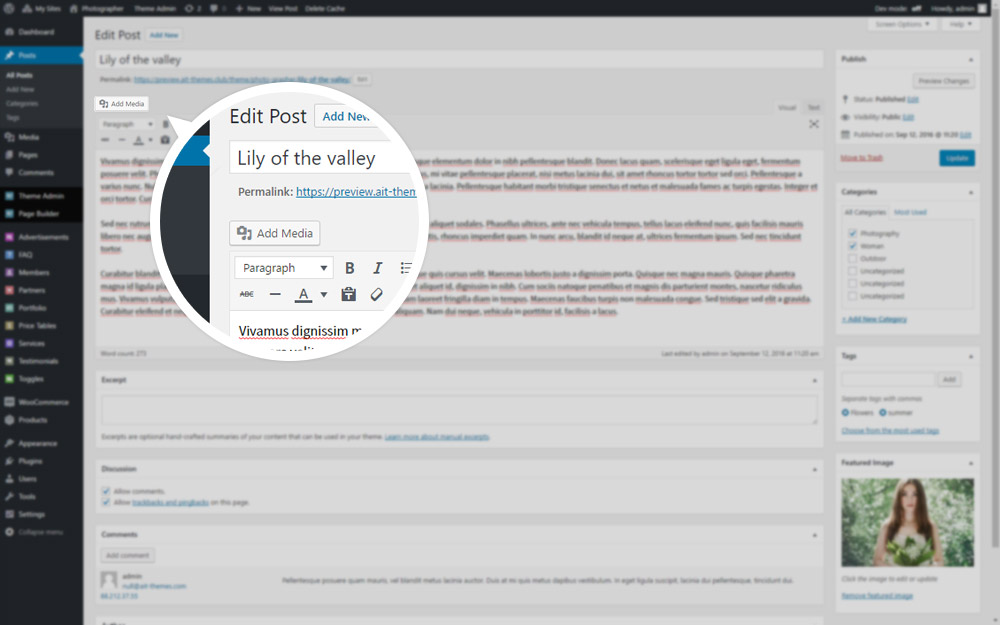 You can upload also featured image for your post (located in sidebar on the bottom right, under article's Tag settings).
Adding photo into gallery and portfolio
Adding photos into gallery depends on the specific WordPress theme you are using. Usually, there is a separate Image gallery and/or Portfolio element in Page Builder to help you with the photo upload into your WordPress website.