We have prepared a free version of all our premium or directory themes for each one of our customers. Thanks to this you can try any theme prior subscribing to Full Membership. What can the free themes be used for?
Trial version for testing purposes
The theme trial version can be used for testing of the product. You can check how the theme looks like exactly, get familiar with its administration, you can try the settings in the Theme Options section and find out, if the theme suits your needs – from the visual as well as the technical point of view. You can examine if it meets your expectations. The free theme contains everything what can be found in its full version, only some of its parts are not fully displayed (greyed out). These items get activated once the theme is upgraded to the full version.
close
Please bear in mind that the free theme is primarily designed for the theme testing purposes, not for the creation of commercial websites. Therefore some of the functionalities are limited. Elements and plugins are deactivated in the trial version, e.g. AIT Elements Toolkit.

Nevertheless the structure and location of individual elements & plugins is preserved therefore you can see all the theme elements and their arrangement. Thanks to this you have a great idea how the full version will look like.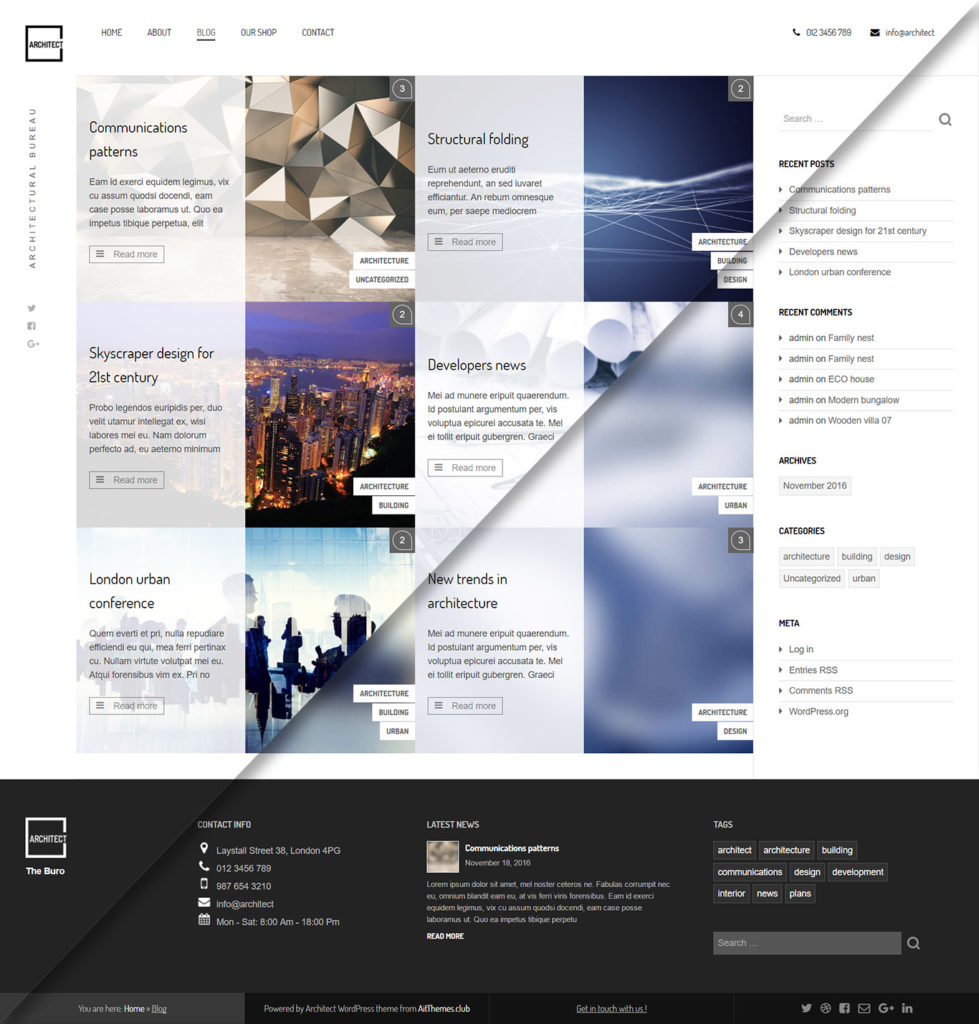 Full-featured personal website for non-commercial use
Apart from the theme testing itself, you can use the Free theme to create your own website for your own personal presentation. Trial version gives you full-featured:
Posts
Pages
Content
General layout settings
Import of demo content for upload of your own prearranged content
Thanks to AitThemes you get the best premium free theme for non-commercial use.
Added value of Free AitThemes
Main difference between our AitThemes and other free themes, which can be found e.g. on WordPress.org, is the utilisation of our themes for personal websites. The themes downloaded from WordPress.org have very limited functionality and the websites that are built using these free themes cannot be fully used in real world. On the contrary, AIT Free themes let you create full-featured personal presentation that can be published online without any problems and that can be continuously worked with in a simplified way.
Why are AIT Free themes better than WordPress.org free themes
Security – regular security and functionality updates
Reliability – bug fixes
Reputability – no anonymity, themes are developed by a reliable company that has many years of experience
Beauty – unique design created by professional designers
Variability – possibility to import own demo content
Configurability – full access to Theme Options
Extensibility – possibility to upgrade to Full Membership with new features suitable for business use
Once you subscribe to Full Membership, you gain access to support, technical documentation and Knowledge Base with detailed video tutorials that can help you with getting your theme set up.
Have you got your Free theme already and do you like it?
FAQ about Free Themes
Why my Free theme doesn't look exactly like the Preview of the theme?
Free theme has some limitations as it is a trial version and some of the elements aren't available. You need to buy Full Membership in order to activate the full version with all the available elements.
Import of demo content doesn't work. Is the upload of own content to Free theme restricted?
No. Even when using our Free theme it is possible to import demo content without any restrictions. If the import doesn't work, there might be an issue with your hosting settings. Please contact your hosting provider.
What does it mean that the Free theme is only for non-commercial use?
It means that you can use the Free theme for creation of your own website for your own personal presentation. Free theme cannot be used for commercial purposes – e.g. for building of business websites for your clients.
If I create my website via Free theme first and then I buy Full Membership, do I have to start loading my content all over again?
No. You can update your theme directly from the administration interface of your Free theme. All your saved data and content will remain on your website. You don't need to re-build your content and settings. Furthermore the elements and plugins that were not available (greyed out) when the theme was Free, get activated automatically.
Will I get updates for my Free theme?
Yes. Updates are provided for all our Free themes – you can fully enjoy your theme with confidence.