Many customers dream about their own online business when looking at Directory WordPress theme. But even though they are determined to get started and also have financial resources, they often miss the most important thing – the idea. We have recently brought you interesting interviews with the founders of Discover Fresno and Marbella Events Guide who have built successful local portal businesses.
Portal websites do not need to be necessarily just company presentations, upcoming events or restaurants in a specific city. They can also be used for a totally atypical business as well as activities that you might not even know they exist.
The advantage of non-standard portal websites is that they can distinguish you from your competitors. And this can often be decisive, especially when trying to launch a completely new, de facto unknown project.
Today, we would like to introduce you to such an atypical implementation of our Directory+ theme. We'll show you how to use our template and selected elements and plugins in practice.
Geocarp portal for carp fishing
Geocarp is a portal website for the presentation of fish ponds, lakes and other water areas in France, suitable for fishing of carp and other fish species. This website serves as a useful guide for hobby fisher community as well as professionals who can gradually discover new fishing locations. In addition, the portal offers a wealth of useful information on fishing, including various tips on the production and use of ledger-baits.
There's also a possibility to get a privately held water surfaces promoted on the website, once you make an agreement with the site admins.
Implementation
Homepage
The Search form Element is located on the homepage. It allows you to search for ponds or lakes by entering:
a keyword (e.g. lake name),
a category (lake/private pond/public pond allowing night fishing,…),
a city or a location (Paris/Bordeaux,…).
It is also possible to set the search radius according to the desired distance.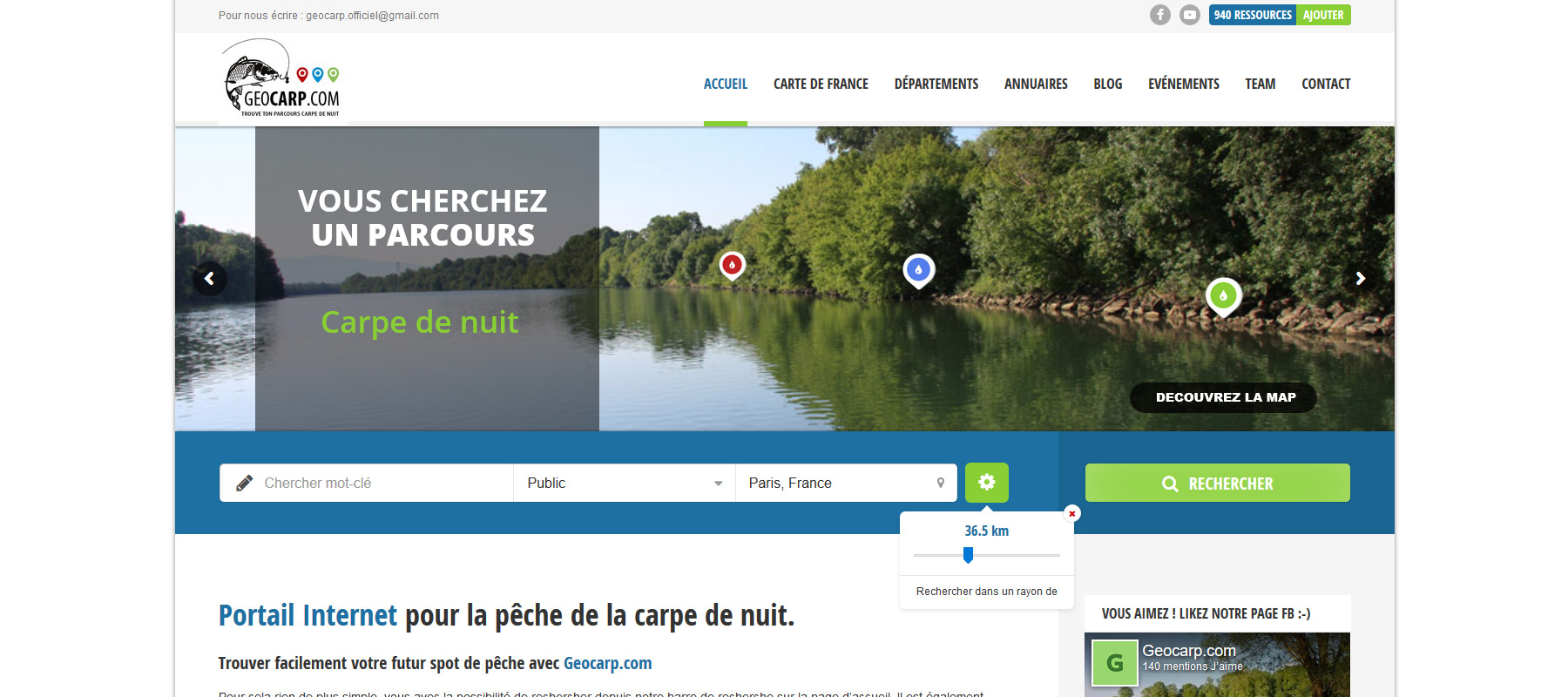 Mega Menu
A Mega menu is also used on the website, providing links to other sub-pages.
Item Element
Homepage also includes an embedded item element with the last added items for fishing at night.
Icons on the map
One of the web sections is Carte de France, dominated by the Header Map Element with icons showing the added items. As the website contains lots of items, these are grouped and the icons show the total number of items in the particular location.
At the same time, Geocarp uses differentiation of item types (Categories) based on the color of the icons, allowing users to better see the types and availability of individual water areas.

– red icons represent private and public carpodromes

– green icons are for public lakes and ponds

– blue icons are for private lakes and ponds
Localities arranged via the Taxonomy list
In the Départements section, individual locations (areas, regions or specific cities) are displayed, thanks to which website visitors can easily find their fishing place. E.g. they can get a list of water areas in their city where they live or where they plan to spend their vacation.
Items Detail
Item detail provides detailed information on the particular angling location. Apart from the closer characteristics of the locality where the lake or pond is located, the fishermen will find the specification of the fishing area:
Surface size
River density (what kinds of fish can be caught here)
Season duration (when fishing is permitted)
Difficulty
Average carp size
What types of ledger-bait are allowed
Whether the water area is a paid one (if so, prices are also listed)
Fishing conditions and any restrictions (prohibition of the use of certain ledger-baits, the requirement to put the fish back to the pond etc.).
In addition to the content, there is also an Item image with a gallery.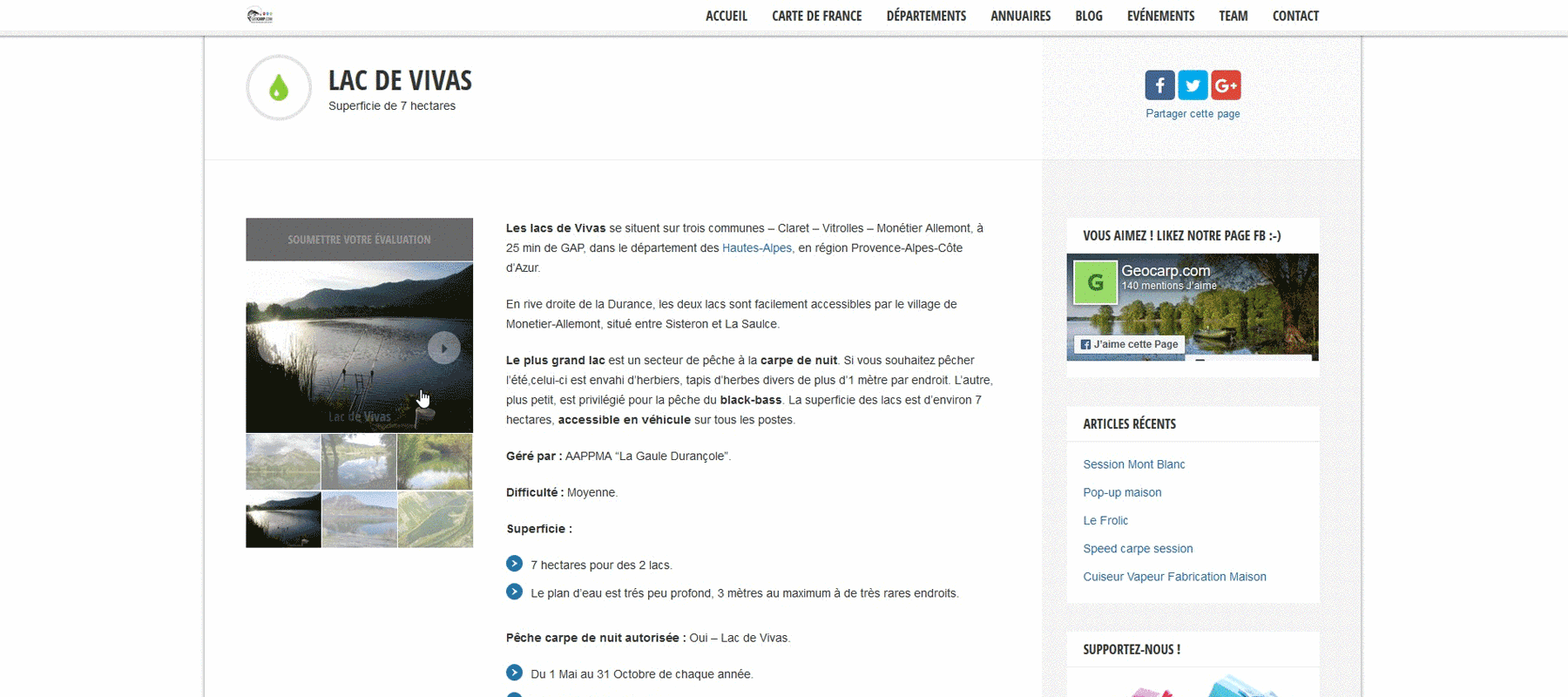 Easy Slider Element
In the Annuaires section, several Easy slider Elements placed below each other are used to define additional subsections on the web page, like production of fresh ledger-baits, equipment for fishermen etc.
Toggles Element
Clicking on one of the Easy Sliders will load another Page where Toggles Element was inserted through Page Builder. This element is mainly used for brands presentation that produce ledger-baits and other accessories needed for fishing. After clicking on the bookmark, you will see more detailed description and product pictures.
E.g.: Page French producers of fresh "boilies" baits with Toggles Element on the left side:
Blog
A blog is also included on the website and it uses Posts Element. This ensures listing of individual articles without the use of paging. Nevertheless, the blog can also be created using standard blog posts (via Posts).
Plugin Events Pro
The Événements section serves to promote events, competitions and exhibitions – simply all kinds of events related to fishing. It is created using Events Pro plugin, installed in the Directory+ theme. Once the visitor clicks on the event, detailed information are shown about the place and date of the event, as well as the price for the entrance ticket.
Think unconventionally
Through this showcase, we wanted to show you how to use our WordPress Directory theme in an interesting and non-traditional way and tailor it to different kinds of business. The individual elements can be modified according to the types of items you plan to present within the portal – regardless of whether the item will be a restaurant or a fish pond.
Thanks to the universality of our themes you can start any (non)traditional online business. Just like our customer with Geocarp portal.
Create your own online portal