Portal WordPress Theme
FoodGuide is the best theme suitable for restaurant listings. It was created in mind with Food Menu feature which allows you to unleash the full potential of listed restaurants. Food Menu plugin adds the ability to create and manage food menus starting from a-la-carte to even special food menus such as daily menu or any promoted and time limited food offers. Food is then easily viewable right on the item's detail by date, categories and tags. On top of that, it doesn't miss any feature which is must have for any portal theme.
Food Menu Plugin
Enhance your user's listed restaurants or similar businesses by giving them an ability to manage their food menus right on your portal website. Plugin provides an option to create a whole a-la-carte or any kind of food menu and even time limited or recurring offers. Each food is easily assigned to listed item and viewable on item's detail.
Food is properly categorized and can be filtered right on the page. Key information such as price, amount and picture are sure thing.
Food Menu plugin is not included in FoodGuide theme. Plugin needs to be purchased separately.
Fully Customizable Portal Theme
Customization is very important part of setting up your own website. Our intention to innovate and to push the limits of customization has lead us to the current state of our system: you can set up your Event Guide without any limits. This system will keep improving with every new feature.
Responsive Design
Event Guide is 100 % responsive and works flawlessly across all devices. Your visitors can access every key element using their mobile phones, tablets, laptops and desktop. Tested and validated on almost every new smart device and even on older phones and tablets.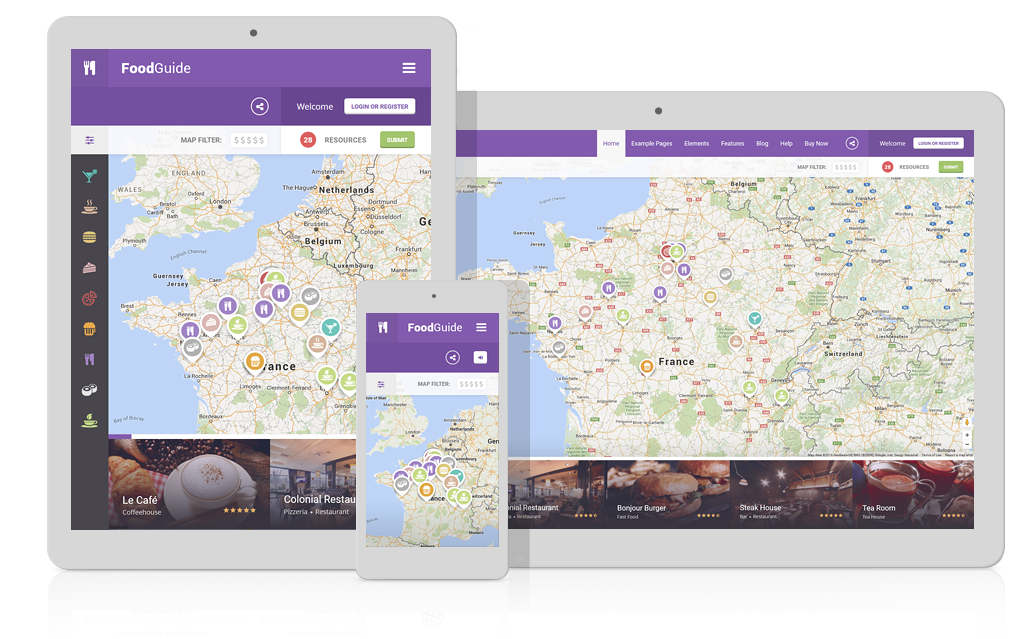 Elements Which Make Portal Website
Website elements are designed to make your work as simple and fast as possible. You can pre-define settings in Default layout section and use them anywhere. Information you set in Custom Types can be easily re-used on any page, no need to type it again and again.
Header
We designed header to provide access to several key features both for admins and users.
Taxonomy Menu
Thanks to Taxonomy Menu element you can have your item categories or location visible on any page all the time. And makes it easier for your users to reach them.
Map & Search
The main feature of any portal theme. The map shows a pins of all listed items with all important information shown by clicking on it.
We also designed a search bar way more interesting for the users with a fresh new approach, yet we still provide a classic search for conservative ones.
Geolocation is sure thing.
Taxonomy List
Element Taxonomy List shows the category and location listings. It's up to you whether you want to display it together or to separate it on a certain page.
Footer Items
Display your items everywhere. Now in the website footer with a style.
Search & Results
You can search by keyword, category and location. Additionally you can turn on geolocation and the radius of searching around your position. It's so simple to find nearby items. We support units in kilometres and miles. There are two types of search bar available: classic one and one with the fields formed as a sentence. Result shows the matching items in the list with filtering options.
You can filter the list of items by date, title, rating and acsending or descending order.
Categories & Locations
Items are categorized into categories and locations. You can have as many categories as you wish as well as their subcategories. You can assign it any icon, color, map icon and description. Locations work the same way. Category detail can have 3 types of header: map, image or none.
Items Element & Detail
With this element you can show items on any page. Items can be showed as a list or grid and in carousel. You can show all of the items or certain category. You are able to set title, description, categories, address, contact info, opening hours and custom list of features in settings of an Item
Theme Full Of Features
You can see a few of main features described below.
Already Included in Theme
Right out of the box
AccountsAdmin will have more settings to control the user. For example settings for the limit of items which user can add, price and expiration, ability to renew expired subscription, turn on/off approval process, ability to set featured items.
Google Rich SnippetsSnippets are the few lines of text that appear under every search result which are designed to give users a sense for what's on the page and why it's relevant to their query.
Items WidgetShow portal Items in sidebar via Widget.
Extendable by Plugins
Available for purchase
ReviewsAbility for the users to rate and review listed content. Star rating will be included in the items. Each category will have own rating criteria.
Easy AdminPlugin provides easier administration for the user. The way to add items and management of their accounts.
Import & Export PluginAbility to import and export the content of the site with ease.
Payment GatewaysAs an admin you are able to set multiple prices for account registration. This plugin will manage to accept payment through integrated gateways so you don't have to deal with it on your own.
Migration from older themesMigration plugin for our previous and the most successful portal themes.
Get DirectionsThis plugin will add the ability to search more intelligent, where you can set A and B locations and the map will show you desired content with navigation info.
Claiming Listing If the admin lists business which he doesn't own, the owner can contact him and take control of administration of his presentation on the site.