AIT Updater plugin makes theme and plugins updates easiest. We use as much functionality of WordPress core as possible. There is almost no difference between updating plugins or themes downloaded from WordPress.org and plugins or themes downloaded from our AitThemes.Club. It checks for updates on our servers and download updates via our API, instead of from WordPress.org.
Like WordPress.org themes must have the same directory name (also known as "slug") when you install them, the same applies for updates to process them properly. So our themes need to have same unchanged directory name too. You should not rename theme directory name ./wp-content/themes/theme-directory-name. When you download theme for the first time and you unzip it, directory name that you see should stay unmodified. Otherwise automatic updates will not work. Unfortunately, this is the way WordPress and its updating functionality works.
Plugin installation
The plugin itself is installed during the theme installation automatically. Anyway if you would like for some reason install plugin from zip package manually, you can download free AIT Updater plugin right from our website. Simply sign in to your account, via the Account in the main menu. Navigate to Download Plugins section and look for AIT Updater plugin.
You can decide which way of plugin installation is better for you:
in WordPress admin navigate to Plugins menu and click on "Add new" button. On the next screen click on "Upload Plugin" button where you will be asked to upload the plugin zip file. Upload ait-updater.zip file and WordPress will do the rest of the work. After a successful installation, please activate the plugin.
via FTP, unzip file "ait-updater.zip" and upload folder ait-updater to the following directory on your website installation: ./wp-content/plugins/
Plugin Settings
After plugin activation, there is a new WordPress admin menu item. For our newer themes based on Framework2 advertised as "Translated and Multilingual Themes" (so themes with AIT Page Builder), this menu item appears on single-site WordPress installation under "Theme Admin" menu item.
For all other cases like multisite installation or if our older theme is installed, the plugin menu item will be displayed as the last menu item in the main WordPress menu.
Please see the following pictures:
License credentials from 3rd of March 2020
To obtain an update through wp-admin, it is necessary to fill in credentials details to verify your license. Follow steps are applicable to all customers. They apply if you are going to create a new website installation or process next updates on an existing website.
Theme Admin → AIT Updater setting
AIT Updater plugin from 5.1.0 version requires these 2 indications:
Domain – It is the WordPress address (URL) of your website. This input is pre-filled in right after AIT Updater plugin installation and activation (also after the update to version 5.1.0).
API key – It is a unique code for your domain and you have to generate it in our Club System. ( My Account → API Keys). Each domain has a unique API key.
How to insert your credentials?
See your Domain – As the first step, please go to your website WordPress admin (wp-admin) and navigate to the Theme Admin → AIT Updater (for single installation). Domain should be pre-filled after the AIT Updater plugin installation. Copy Domain and go to  My Account → API Keys to generate code.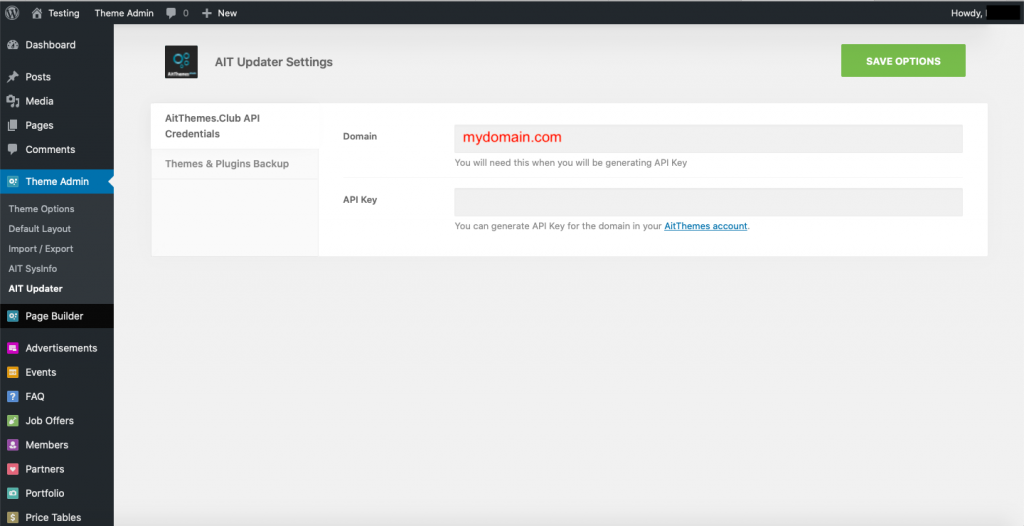 Generate API key – Please open  My Account → API Keys. Add a new domain to generate the API key.
Then copy your API key and go back to your website wp-admin and paste the code into API key input and save the settings.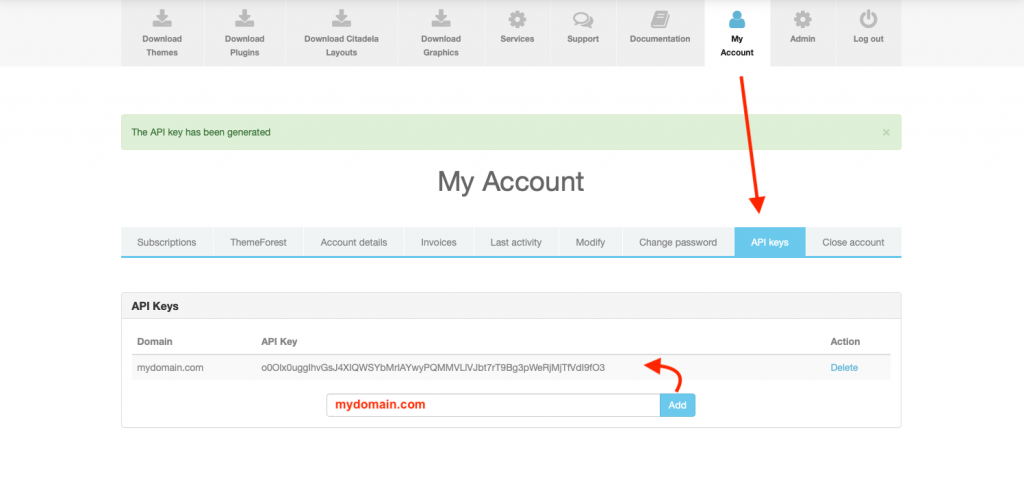 It is all that you have to do to allow AIT Updater plugin to download all updates for products covered by your purchased subscription. These settings are automatically copied into the Theme Activation settings. Once you have installed and activated theme it is not necessary to fill in Theme Activation data. However, in case you change the website domain, you must change credentials settings. It means you have to re-generate API key as well.
Error messages you can get during the update process
As it was mentioned above, to allow WordPress to download an update you have to enter your Domain and API key. With that credentials we can check if you are a member of our club, and whether you have the permission to download given package based on your subscription level. Because of these conditions, you could get the following error messages:
"Can not authenticate user due to incorrect credentials. Make sure you have correct username and API key."
This message says that you don't have any credentials entered, or those credentials are incorrect. Please double-check your username and API key in the plugin settings.
"You can not download this theme."
You don't have the permission to download the given plugin or theme due to your subscription level.
Old API keys generated before 19th of February 2020
All API keys generated before 19th of February 2020 that you have ever used on any of your websites will no longer work.
To obtain a theme update, you must generate a new unique API related to your Domain. Each of your installations must have a unique API. Please follow the steps described above.

Backup old versions before update
This plugin offers the option to backup your old version of the theme or plugin before update built-in by default. When the zip file is downloaded from our servers by WordPress, the whole process of making actual update is handled by WordPress and the process is following:
old theme/plugin directory is deleted
downloaded zip file is unpacked to the new directory with the same name as it was previous
Because of that, deletion of the directory with the old version of theme or plugin causes the loss of all your custom modifications which you did directly in theme or plugin folder. That's why we highly recommend using Child Theme for your modifications.
To save your modification we added option to the backup old version of theme or plugin and this option is turned on by default. The backup feature requires PHP extension that provides PHP class "ZipArchive", most web hosting have available this extension in their PHP installations. If this class is not present, there will be a message that you don't have this class and you will not be able to use this feature. In that case, you should contact your web hosting provider, or do the backup of files yourself.
Backup files can be found in ./wp-content/uploads/backups/ folder.
For convenient access to those backups, they are all listed as clickable links right in plugin options, just navigate to tab Themes & Plugins Backup.