Twitter element display Twitter tweets on your page.
To use this element properly you must first create "Application" on Twitter Developers site: https://dev.twitter.com/apps/new
Steps to set up Application
1. Go to https://dev.twitter.com/apps/new. You will need to login with your twitter account. In case you're making site for someone else you should create separate account or ask your client to accomplish these steps.
2. Fill in required form fields. Use whatever values as these are not important for our element. Don't forget "http://" prefix in URL address field. Submit form and create an application.
3. You will see your newly created application page.
That page include all necessary information for Twitter Element as Consumer key, Consumer secret, Access token and Access token secret (to get Access token and Access token secret click on "Create my access token" button):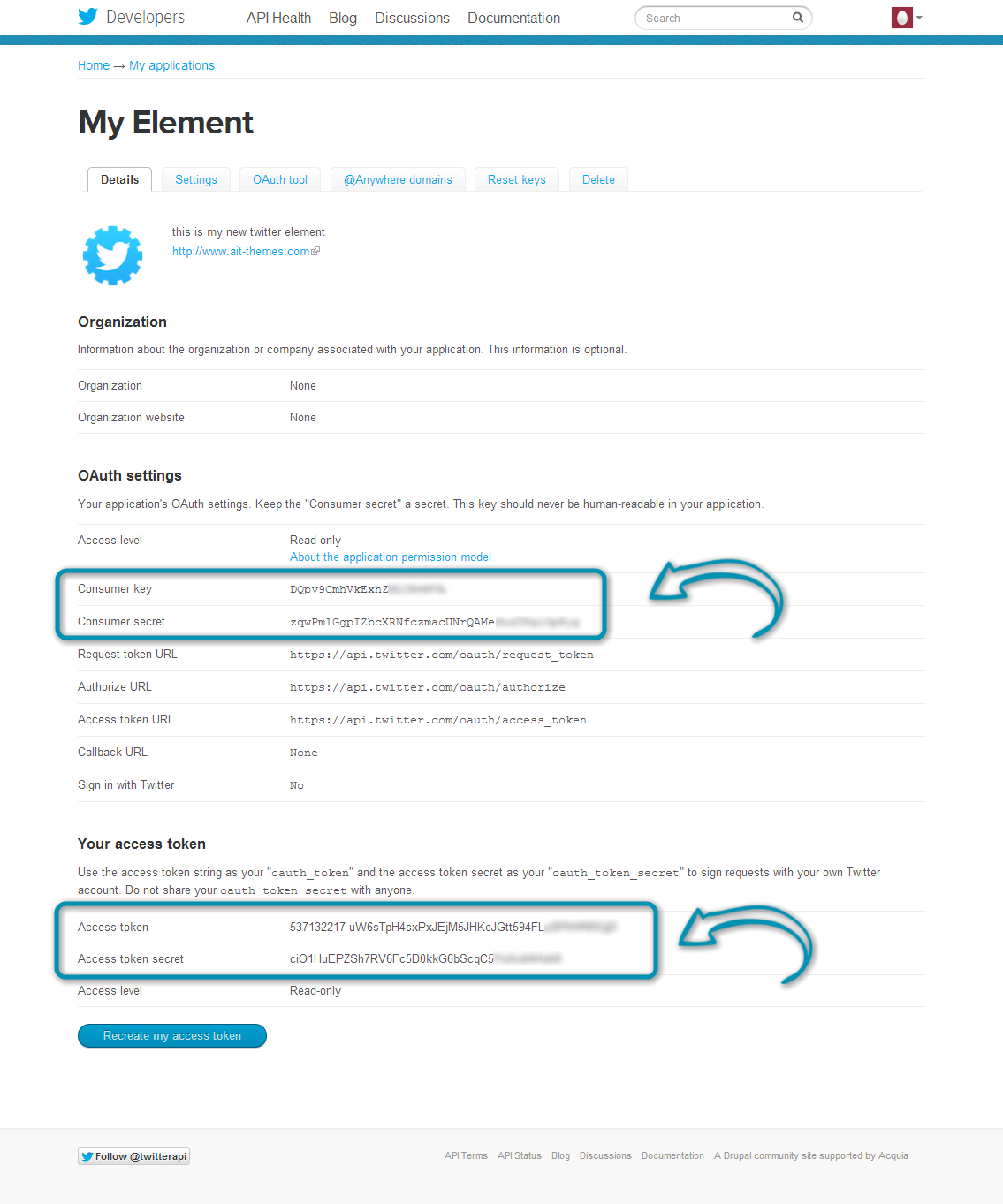 Element options:
Username – twitter username
Count – number of displayed twitter posts
Twitter API Data section
Consumer key – copy from your twitter application page
Consumer secret – copy from your twitter application page
Access token – copy from your twitter application page
Access token secret – copy from your twitter application page
Date Format – specify the format for date, find out more information about date format characters here

Examples:
format: j F Y
j – Day of the month without leading zeros
F – A full textual representation of a month, such as January or March
Y – A full numeric representation of a year, 4 digits
so the result time is for example: 1 December 2013
format: d.n.Y
d – Day of the month, 2 digits with leading zeros
n – Numeric representation of a month, without leading zeros
Y – A full numeric representation of a year, 4 digits
so the result time is for example: 1.12.2013

Escape Special Characters – escape special characters used in twitter posts
Clickable Links – use clickable links in twitter posts
Date – show or hide date of twitter posts