Note: This documentation is only valid for Translated & Multilingual themes (Framework2 themes). It does not apply to WPML Ready Themes (Framework1 themes) or Citadela Theme. 
What is theme activation?
Activation is the process of verifying a purchased license. The website will not work correctly until this step is done. This process is simple. You need to insert an activation key in the Theme Option setting section inside your WP Admin. It is immediately verified, and the website then works.
Since 3rd of March 2020, each theme requires a valid AitThemes API key or valid Envato Purchase Code. You will not be able to use the theme without it. It'll only take you a minute to set it up correctly. Important note for customers who did not update theme for very long term period:  API Keys generated BEFORE 19th of February 2020 will no longer work.
What is an activation key?
It is a unique identifier associated with the AitThemes product and the place where you purchased the product. Next, you will learn which activation key you need and how to obtain it.
API Key is the key for license purchased at www.Ait-Themes.Club
Purchase Code is the key for license purchased exclusively at www.Themeforest.net
Which activation key do I need?
close
Please choose the appropriate type of activation key depending on where did you buy the license.
Club Customer means purchased any license on www.ait-themes.club website.
Themeforest Customer means purchased any license on Themeforest.net website.
You could purchase AitThemes products at www.Ait-Themes.club or Themeforest.net. Alternatively, on both online platforms. Below are the possible combinations. Please read them carefully and rank correctly. It is the most crucial step.
How does product license match the activation key?
Where do I find my activation key?
close
It depends on what type of customer you are. Please, see instructions for Club and Themeforest customer below.
Club Customer: How to generate API Key
After you have installed WordPress and our theme you can go through the theme activation process.
1. Check your domain format in your WP Admin. You can see it in the Theme Admin → Theme Options → API Key. It is crucial to pay attention to the domain format of your website. It can be with or without "www".  Please double-check in your website wp-admin how did you install WordPress.
2. Generate API Key. Now go to your Club Customer account and generate for that domain a unique API Key. Please navigate to My Account → API Keys. Please, remember you need a unique API Key for each domain you run website.
Enter a WordPress address (URL) without http:// or https:// and click "Add" button. System will automatically generate new API key. If you do not know your WordPress address, you can find it in your WordPress admin → Settings → General.
3. Copy API Key and paste it into Theme Admin → Theme Options → API Key in WordPress admin and click "Save Options" button.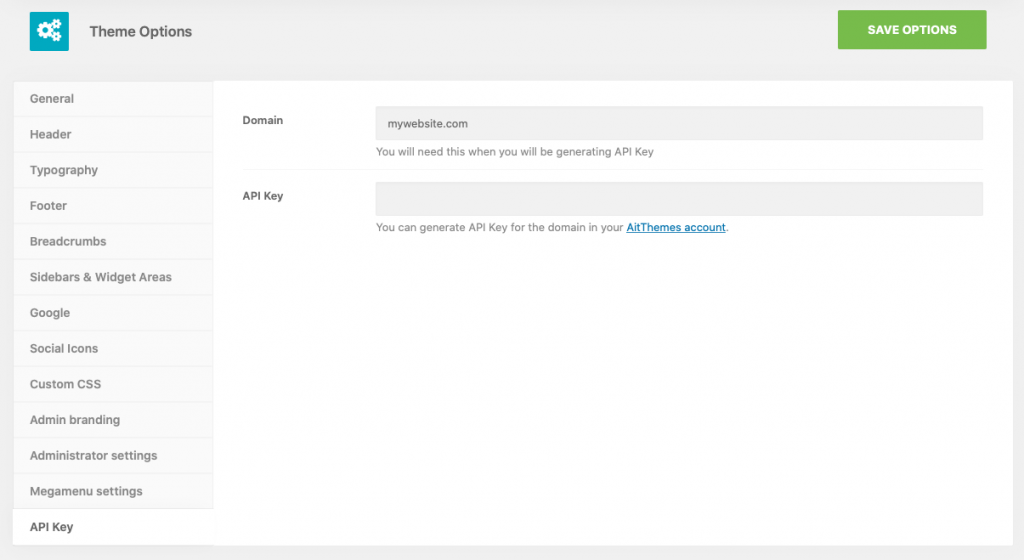 Use cases
"I have changed my website domain" Then you must re-generated API Key (My Account → API Keys) for the new domain and change settings in the Theme Admin → Theme Options → API Key.
 "I have deleted API Key in the Theme Options" Then your website won't be working. Every installation must have a valid API Key. Please insert your API Key. Your API Keys are stored under My Account → API Keys.
 "I have deleted API Key in the My Account" Then you have to generate a new one and this new copy and paste into the theme settings. Otherwise, your website will not be active.
"I have inserted the correct API Key, but website still not working." Please double-check where did you purchase your product license. If you have any doubts, please contact us via Ticket Support so we can help you straight away.
Themeforest Customer: How to use Envato Purchase code
1. Get Themeforest License. You can find Envato Purchase Code in your ThemeForest account → Downloads under the Download button. There you can see the installation and license source files. Purchase Code is in PDF or txt file. Download and open it.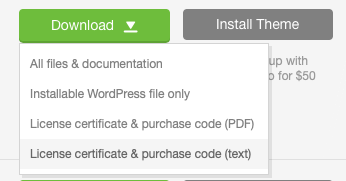 2. Insert Purchase Code into Theme Options. Copy Purchase Code and paste it into Theme Admin → Theme Options → Themeforest Purchase Code in WordPress admin and click "Save Options" button.