Documentation is valid for themes purchased on the Themeforest website: DirectoryPRO, Event Guide, City Guide, Food Guide and Business Finder+.
Please read carefully.
After puchase, you have to verify the Purchase code to activate your website. Following steps allows you to run automatic updates and access support services.
Register Themeforest Purchase Code on @Ait-Themes.Club website.
Download AIT Updater plugin from Members area.
Install theme and AIT Updater plugin on your website.
Save Purchase Code on your website to verify the theme license.
Generate and save API key to run automatic updates on your website.
Theme Activation explanation
Activation is the process of verifying a purchased license. The website will not work correctly until this step is done. This process is simple. You need to insert an activation key in the Theme Options and AIT Updater setting section inside your website WP Admin. It is immediately verified, and the website then works.
Since the 3rd of March 2020, each theme requires a valid AitThemes API key and valid Envato Purchase Code. You will not be able to use the theme without it. It'll only take you a minute to set it up correctly. Important note for customers who did not update the theme for a very long time: API Keys generated BEFORE the 19th of February 2020 will no longer work.
When you purchase and install this DirectoryPRO theme (created on AitThemes Framework2), you need to process the following steps to verify your license and get access to automatic updates. You need to insert 2 activations keys. Envato Purchase Code and API key generated under your customer account on AitThemes.club website.
Theme Activation
Download instalation file and license file with unique Themeforest Purchase Code. Under your Themeforest account, you find the Downloads tab. Navigate to the product you would like to activate and download the installation file and license certificate with the purchase code.
Install the theme on your website.
Insert Purchase Code. Purchase Code is the key for products purchased exclusively from @AIT at www.Themeforest.net and is valid only for one domain. Once you insert Purchase Code and it is correctly validated, your website is active. Navigate to Theme Admin -> Theme Options -> Themeforest Purchase Code tab.


Automatic Updates activation

Register Purchase Code on system.ait-themes.club website. If you are a first-time buyer and do not have a customer account @AitThemes.club, please fill in the registration form and verify your Purchase Code. If you have registered a license already, please sign in and add a new license under My Account -> Themeforest tab.
Download AIT Updater plugin – Log in to your AitThemes customer account (Members area – AitThemes.club) and navigate to Download Plugin tab and download AIT Updater plugin now. (Press "Alt" to download if using Safari.)
Install and activate the AIT Updater plugin on your website.
Go to Theme Admin -> AIT Updater and copy the Domain name so you can generate API Key under your AitThemes.Club account Members area -> My Account -> API keys Domain name must be the exact match from your website settings. Then copy and save the API key to AIT Updater settings on your website.
The section where to save API Key: Theme Admin -> AIT Updater -> AitThemes.Club API Credentials. Then click on the SAVE OPTIONS button.
INSERT and SAVE purchase code. Please note, whenever you change the domain, it is necessary to de-register the purchase code, detailed info you'll find underneath.
Now you have the active theme and access to automatic updates: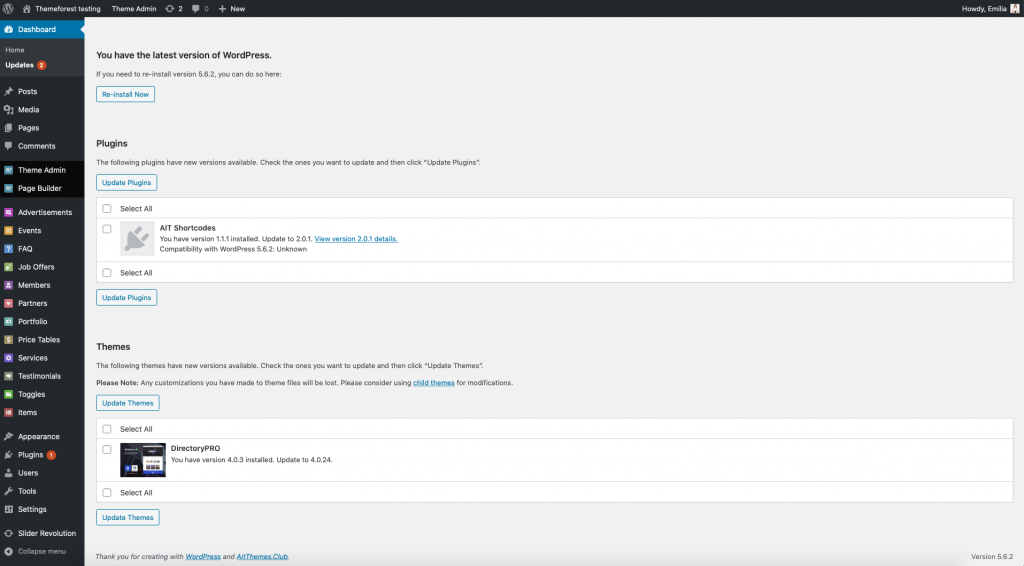 How to de-register Purchase Code
If you need to change the domain for which the code is registered, follow these steps:
Delete Purchase code from Theme Admin settings in your wp-admin.
Sign in to your account in Members Area and navigate to  My Account -> Themeforest
Copy and paste the Purchase code you need to de-register. Press button Deregister. You should see a notification of a successful action.

Now you can register Purchase Code on a new domain, follow steps from the beginning.