With activated Food Menu Plugin you can create Food Menus via Food Menu Custom Post Type available from main left side WordPress menu and display created menus using several modules specific for each theme (usually on item's detail page).
Create new Menu
In main WordPress menu navigate to Food Menu menu option where are available options:
All Menus – display all your Food Menus posts
Add New – page to add new Food Menu
Tags – page to manage tags of Food Menus
Steps to add new Menu
1. Click on Add New link in menu or button on page with all your Menus to create new Menu.
You will see the following screen: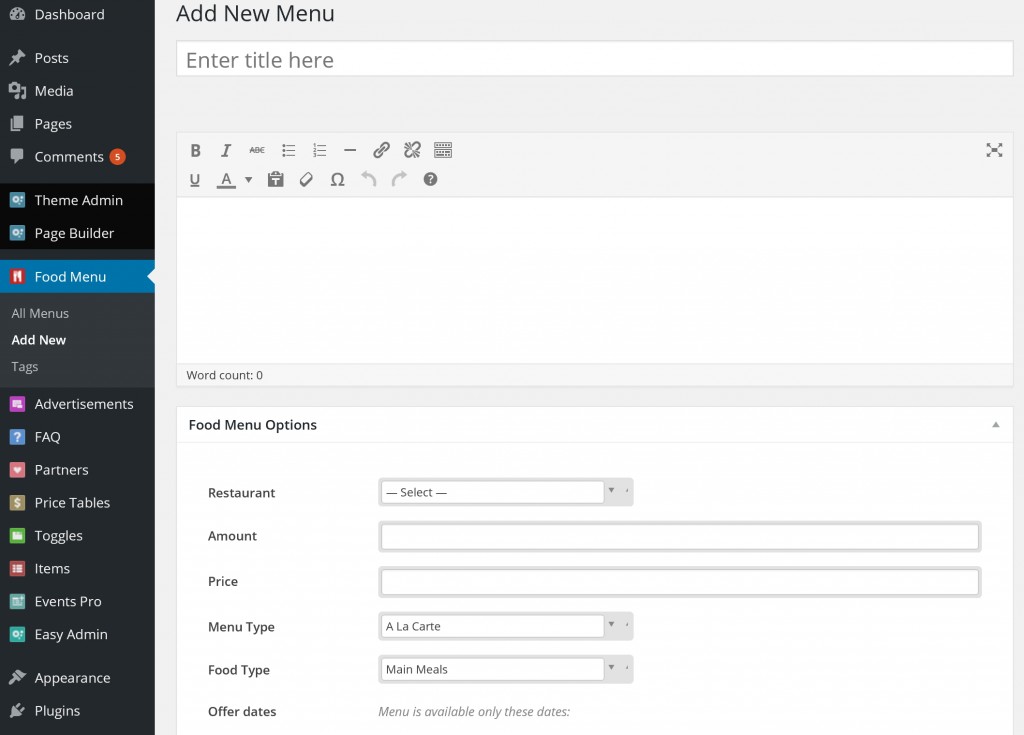 2. On the top of Add New screen write title for your new food menu and inside text editor text related to menu, below title and text editor fields are available options to add information like restaurant, price, dates etc.
For each menu are available options:
Restaurant – Assign food menu to an existing Item post type. Consider it as a restaurant.
Amount – specify volume, weight of meal
Price – price of meal
Menu Type – read more about Food Menu categories
Food Type – read more about Food Menu categories
Offer Dates – multiple, cloneable inputs to set when food menu will be available (useful for special offers which are available only during specific days/periods). Offer Dates are considered only for Special Menu Type section. In a full menu section dates are ignored
3. On the right side is place to add tags for new Food Menu. Tags help users to filter meals by more specific categories.

4. Click Publish button to submit and create your new Food Menu