With activated Events Pro Plugin you can create Events Pro via Event Pro Custom Post Type available from main left side WordPress menu and display created events using several modules specific for each theme.
Create new Event
In main WordPress menu navigate to Events Pro menu option where are available options:
All Events – display all your Events posts
Add New – page to add new Event
Categories – page to manage categories of Events
Item Locations – page to manage locations of Items (please note that this taxonomy is shared with Item Locations if Items are available for certain theme)
Steps to add new Event
1. Click on Add New link in menu or button on page with all your Events to create new Event.
You will see the following screen: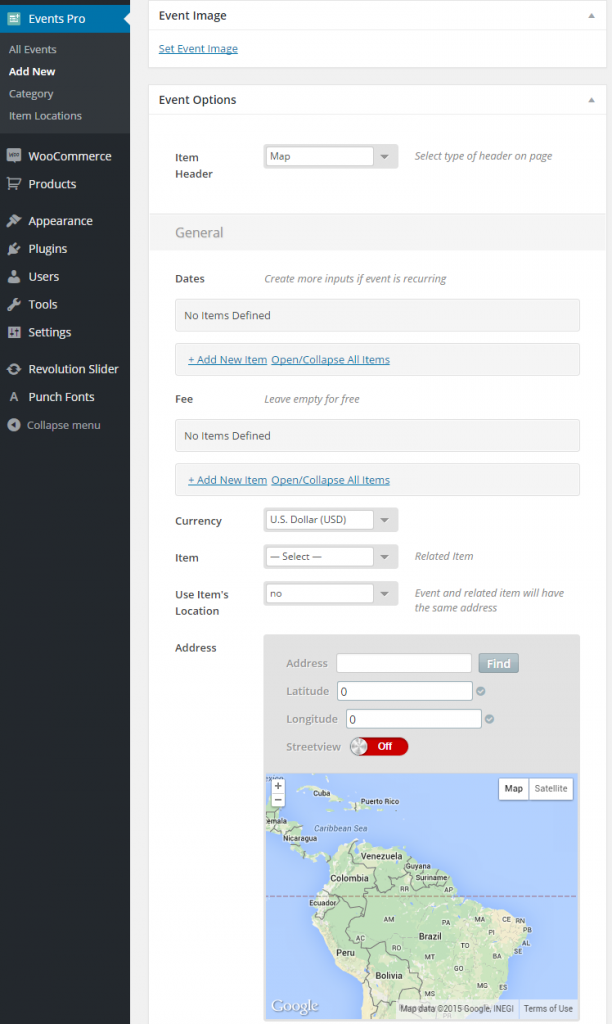 2. On the top of Add New screen write title for your new event, below title field are available options to add information like address, dates and fee.
Event Options
For each event are available options:
Event Header – Type of header displayed on event detail
Dates – define at least one date or date range of event, for recurring events you can insert more dates
Fees – define for example price of tickets for this event, you can add more fees (prices)
Currency – currency assigned to all fees
Item – you can link certain event to the existing business/item
Use Item's location – if linked business/item exists you can use its address (the one below will be ignored)
Address – Location of the event
3. On the right side is place to assign new event to some category and location, so you can divide your events to more categories and decide then which category of events will be displayed on page. In case you are creating multilingual website, select also language of currently created post.
To create a new event category click "+Add New Category" or navigate to Categories in the left wordpress menu. The categories and locations comes with custom options. Avalaible custom options are:
Icon – category icon displayed in the detail for the current category
Category Color – background color for current category labels and icons
Icon in Map – icon displayed in the Header Map
Header Type – header type displayed in the detail of the category (Map, Image, None)
Header Image – image displayed in the header when header type is set to image
(Please note that some settings might be different depending on currently installed theme)
4. Click Publish button to submit and create your new Event