Plugin options are available in the left side WordPress menu and they are divided into several sections:
General
General section allows you to define Default Page where comments are posted in default wordpress Comments section, in case the page from which comment was posted doesn't have turned on WordPress Comments.

Texts
Texts section offer all necessary inputs to customize text in your own Quick Comments bar. You can change all text information displayed in the bar.
Even the most of text fields available in settings are clear and self explained, let's describe the purpose of each of them:
Title: the main title displayed in header of the bar
Message: the main text information displayed with form body
User Information Label: label for the input
User Nickname Placeholder: placeholder for the input
User Email Placeholder: placeholder for the input
Privacy Statement (in compliance with GDPR): short text information where you could describe why you need visitor's personal information, used may be also link to your Provacy Policy page
Consent Text: additional text with which visitor can agree or disagree – consent or rejection with text is stored in database
Message Information Label: label for the input
Private Message Label: label for the checbox where visitor select if message would be sent as private, not publised in public comments section
Subscription Label: label for the input
Captcha Label: label for the input
Button Label: label for the button
Validation Error Message: notification message after submit
Captcha Error Message: notification message after submit
Sending form message: notification message after submit
Successful form message: notification message after submit
Error form message: notification message after submit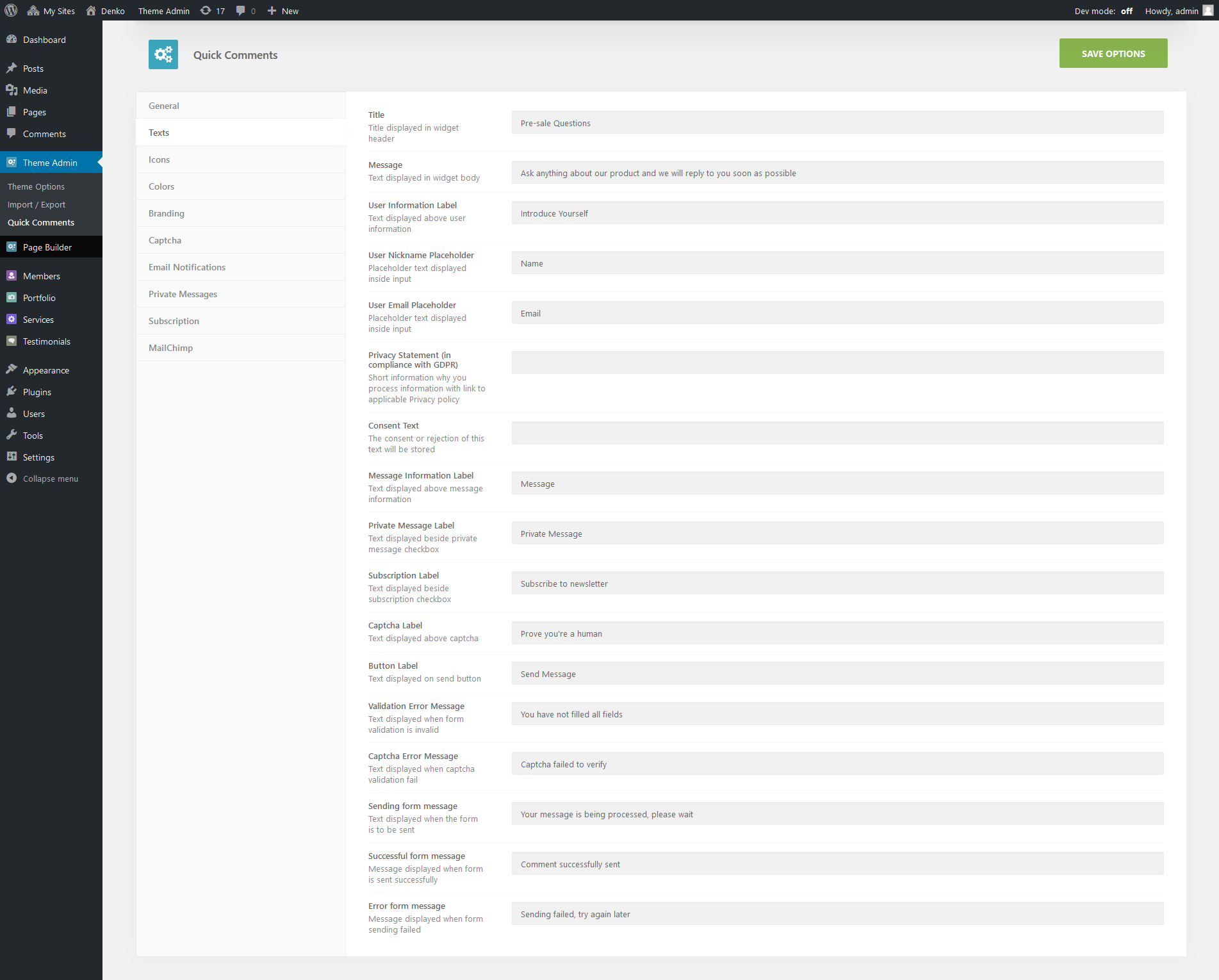 Icons
The main icon displayed in your website can be changed to any other Font Awesome icon, the same way you could change the icon to close the Quick Comments bar.

Colors
Colors can be customized to meet your website design and color combinations. Change the color of main text, links, titles, general decoration color and the background of Quick Comments bar.

Branding
Using branding settings you can display message on the bottom of Quick Comments bar which point visitor to defined url. Available are options to display message and change the text with url.

Captcha
Simply turn on or off Captcha functionality before the message is sent.

Email Notifications
Modify an Email which is received after Quick Comments form submit. You can define From Email address (usually would meet the same domain name like website where plugin running), Name of sender, Subject and content of message too.
Content of email message is designed in standard html tags, please be careful while edit the content and change the content of email content only if you know what you are doing and you are experienced in html. In the content may be used placeholders like [content] or [link] which are automatically replaced with related text.

Private Messages
Beside the standard WordPress Comment which is submitted via Quick Comments form, plugin allow visitors to send also Private Message (checkbox for this option is available in the form before visitor submit his message). In this section you can turn on or off this functionality, and define email information the same way like in Email Notifications section, but email Subject and Content offer much more placeholders tu customize message as much as possible:
email subject: available are placeholders like [name] and [excerpt], excerpt include in the subject short part of main message
email content: available are placeholders like [name], [content], [content], [email], [link], [location], [time], [branding].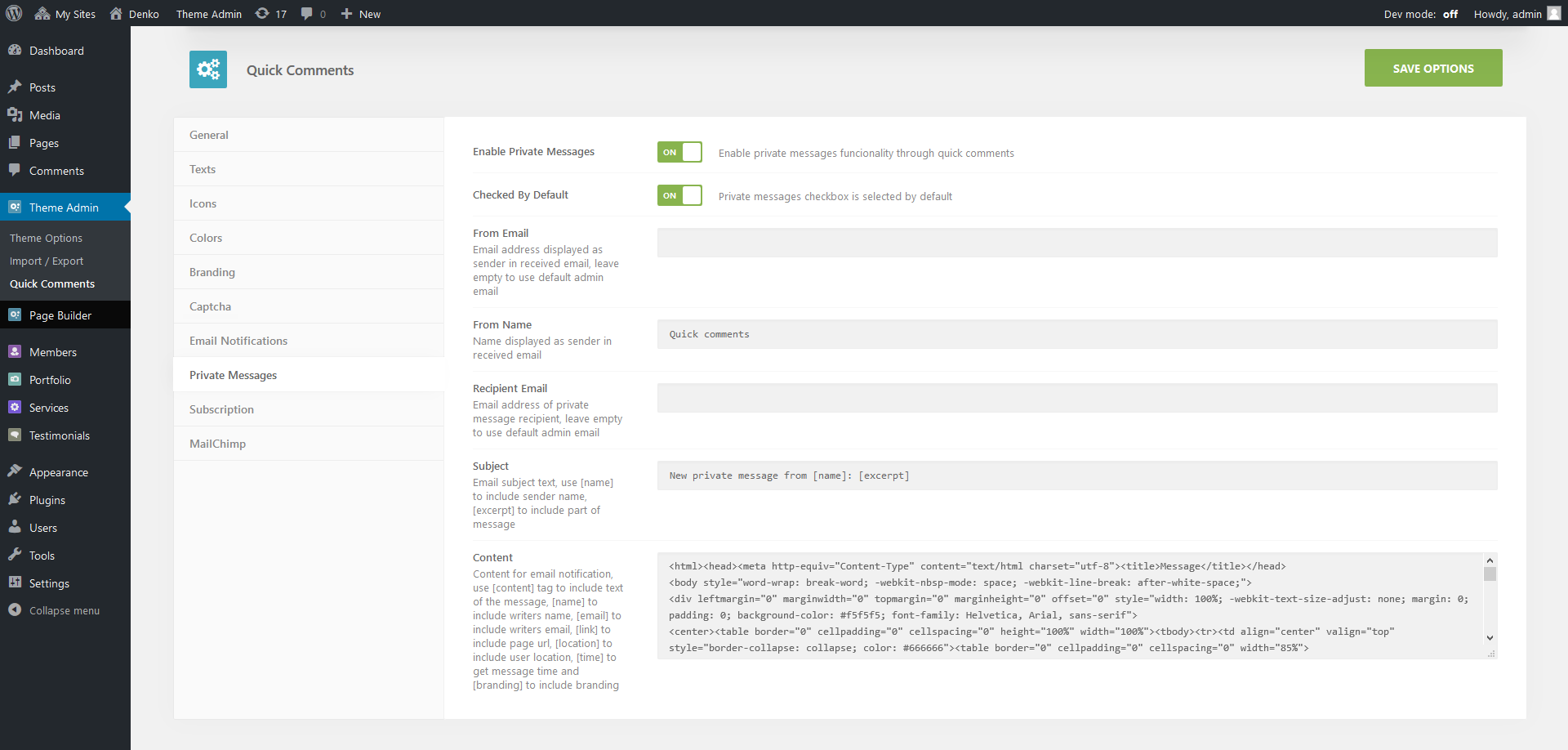 Subscription
Subscription section allows you to enable possibility for visitors to subscribe, displayed is the list of subscribed customers. Please note that the list of subscribers might not reflect real subscriptions if you are using MailChimp integration. That's because MailChimp members may unsubscribe from different applications than Quick Comments plugin.
MailChimp
Using correct MailChimp API Key and List ID you can use MailChimp integration and allow visitors to subscribe to your MailChimp database.

Activity Log
Activity Log is available only for administrator, displayed is each action like subscribe / unsubscribe from Quick Comments plugins. The log doesn't reflect actions from MailChimp, only actions done via Quick Comments form on the website.