Page Builder provides several extended options for EventGuide Theme:
Header Quick Search
Header Type
Sidebar Map & Timeline
Static Sidebar
Search Form
Header Quick Search
You can either enable or disable this section and select which Post Type will be searched with this element (Events option requires Events Pro plugin). Frontend appearance depends on the post type. If Events are selected, Date field is available on frontend.

Header Type
Event Slider (requires Events Pro plugin)
Item Slider
Header Map
Revolution Slider
Image
None
On special pages for Items, Events Pro, Categories and Locations these settings might be overridden. More about this behaviour you can read here: Header Types.
Event and Item Slider
Both sliders have identical options for basic sorting and ordering. Item slider has one additional setting Display only "Featured Items" that will force slider to slide only featured items from selected category. Slider has autoplay function but you can switch between slides with arrow controls.

Header Map
Header Map settings are located separately as "unsortable" element. On this link you can find basic documentation for Header Map element. With active Events Pro plugin you can decide which post type will be displayed by default on the front-end map. Users can switch between Items and Events with small button in upper right corner of the map.

The map infowindow which you know from other Google Maps applications is placed on the right side of the map container. If two or more Events are located on the same position the infowindow of the map has a selectbox to display information about specific Event. Before you open any Event you can see only number of Events available on this position.

Sidebar Map & Timeline
Requires Events Pro plugin
This element consists of 2 main parts:
Sidebar Map – displays all Events from the timeline below
Timeline – Displays Events in chronological order even with the recurring dates
Between those parts are displayed Categories of the current timeline events. This categories panel works as a filter for the map and timeline. After clicking on category, there will be displayed events only from this category. Multi-select is possible. You can toggle between categories, which means you click to enable and second click will disable them.
Upcoming Events aren't loaded all at once. By clicking on Load More button a few next Events will appear. At the same time Sidebar Map is updated and new markers are included.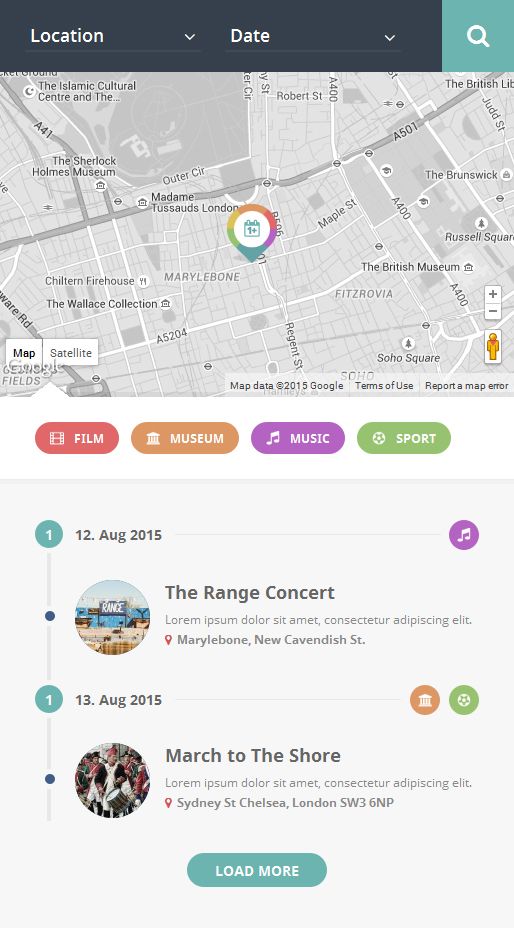 Timeline has a specific logic to display different content on these special pages:
single Item page – Timeline and Map display Events which are linked to this Item
single Event page – displayed are similar Events from the same categories
taxonomy pages – displayed are only Events from this category
When WordPress right sidebar is enabled, widgets are included and follow right after Map and Timeline.
Static Sidebar
Static Sidebar displays certain important information for some special pages like single Event/Item, Taxonomy page. In the main part of Sidebar you can enable 4 different modules that display:
Events (requires Events Pro plugin)
Items
Posts
Advertisements
Each of these sections has its own settings. Simply select corresponding entry from select-box and adjust your settings.
When WordPress left sidebar is enabled, widgets follow in Static Sidebar right after Modules section.
Search Form
Search Form element is already described here. EventGuide with active Events Pro plugin provides 2 additional features:
Post Type option in Page Builder to define whether Items or Events will be searched on frontend (unfortunately there is no way how to combine Events and Items in single search result)
Date field to define from which date you want to search Events. This field is available on front-end and only if Events Post Type is selected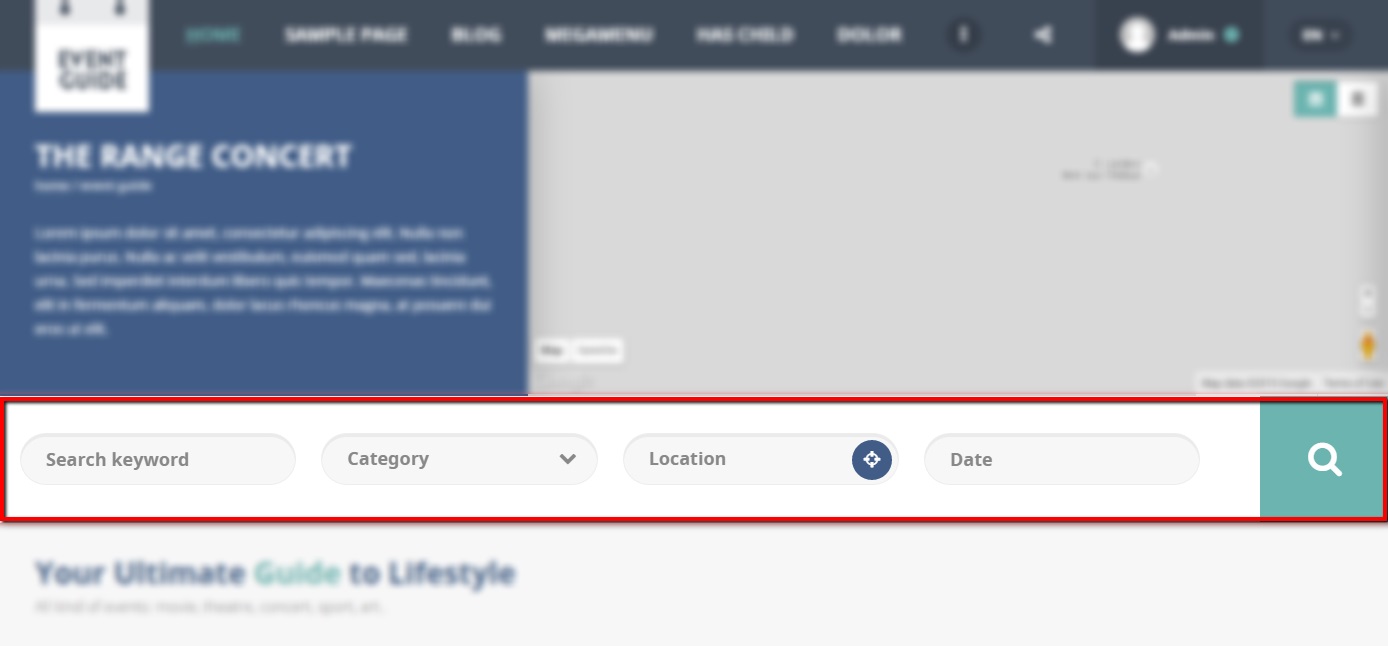 Events Pro Plugin adds new available keyword for 'search sentence': {search-date}. This keyword will be substituted by datepicker in case you have selected Events as a Post Type. Be careful and don't forget to remove this keyword from search sentence after you disabled Events Pro plugin or if you selected Items as a default Post Type otherwise it will not be 'translated' into datepicker input. See the image below: