Online reservations used in theme are managed via separated plugin easyReservations which is available for free here.
After plugin installation you'll get also sample data and pages uploaded with Demo Content to familiarization with plugin functionality.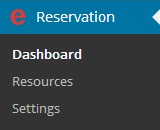 Options related to easyReservations plugin are available in the main WordPress menu bar after plugin installation. Menu allows you to access and manage all received reservations, create resources available for reservation and set up all general settings of plugin.
We highly recommend you to read official plugin documentation to get detailed information about easyReservations plugin.
Direct links to important official documentation pages:
Demo Content provided with theme include all shortcodes related to plugin which are presented on our preview website of theme. Used are also shortcodes related to PRO version of easyReservations plugin. In case you have installed Free version of plugin, some shortcodes are displayed on the site like simple text because Free version of plugin can't process shortcodes related to PRO version.
Plugin functionality is fully supported by plugin developers on their forums.