Unique Obituary post type available in Memorial theme allows you create and manage obituaries like separated posts.
Information related to Obituary post are displayed on detail page of Obituary post like on the following image:
Create new Obituary post
In main WordPress menu navigate to Obituaries menu where are available options:
All Obituaries – display all your Obituary posts
Add New – page to add new Obituary post
Click Add New option to create your new Obituary Post with following options: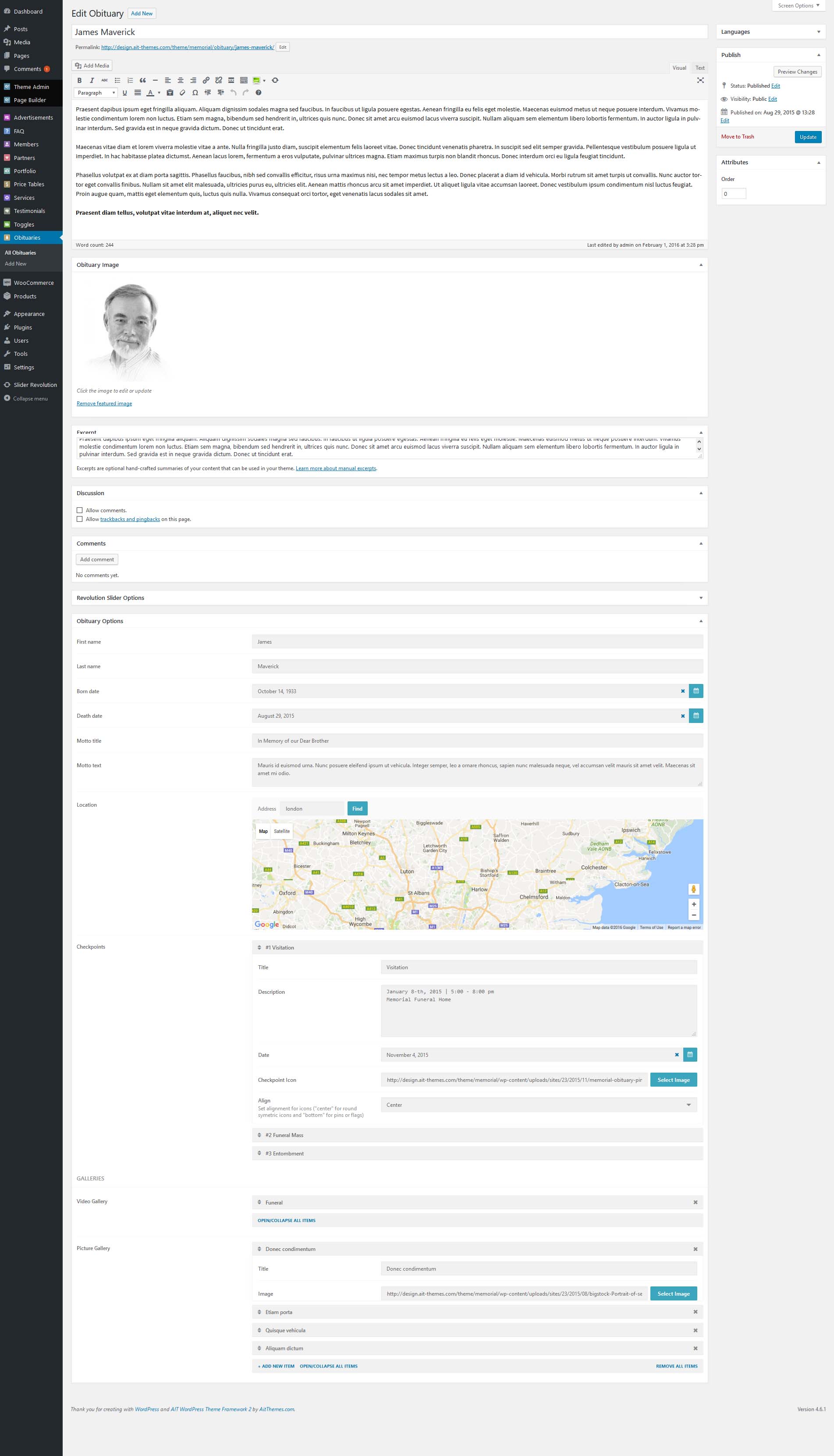 Main Post options
Post Title
Post title is used generally for own post identification, name of person presented on the frontend represent inputs First Name and Last Name.
Post Content
Main post content displayed on the Obituary detail page.
Excerpt
Excerpt text displayed instead of Post Content text in the lists of Obituaries posts like page with all Obituaries, or Obituaries in Header Slider section.
Obituary Image
Main post image
Obituary Options
First name
First name of person used on the frontend.
Last name
Last name of person used on the frontend.
Born date
Displayed date of birth.
Death date
Displayed date of death.
Motto title
Motto title displayed in the header of Obituary detail page.
Motto text
Motto text displayed in the header of Obituary detail page.
Location
Location section allows you to create map on detail page with markers (Checkpoints) that represent your points of interest with custom information.
Checkpoints
For each Checkpoint you can set up Title and Description text displayed after click on map marker and also in toggles section under Photo Gallery on Obituary detail page.
Video Gallery
For each video created in Video Gallery section you can write label text and preview image displayed in header of Obituary detail page. Specify also type of video (YouTube or Vimeo) with appropriate link to video.
Picture Gallery
For each image displayed in Photo Gallery section under main post image you can set up Title of image and link to image displayed in gallery.