In Sportclub theme you can create Matches via Matches Custom Post Type available from main left side WordPress menu and display created matches using Matches element.
To see where on frontend are displayed information filled for Matches Custom Post Type, follow Sportclub Specific Documentation here.
Create new Match
In main WordPress menu navigate to Matches menu option where are available options:
All Matches- display all your Matches posts
Add New – page to add new Match
Categories – page to manage categories of Matches
Steps to add new Match
1. Click on Add New link in menu or button on page with all your Matches to create new Match.
You will see the following screen: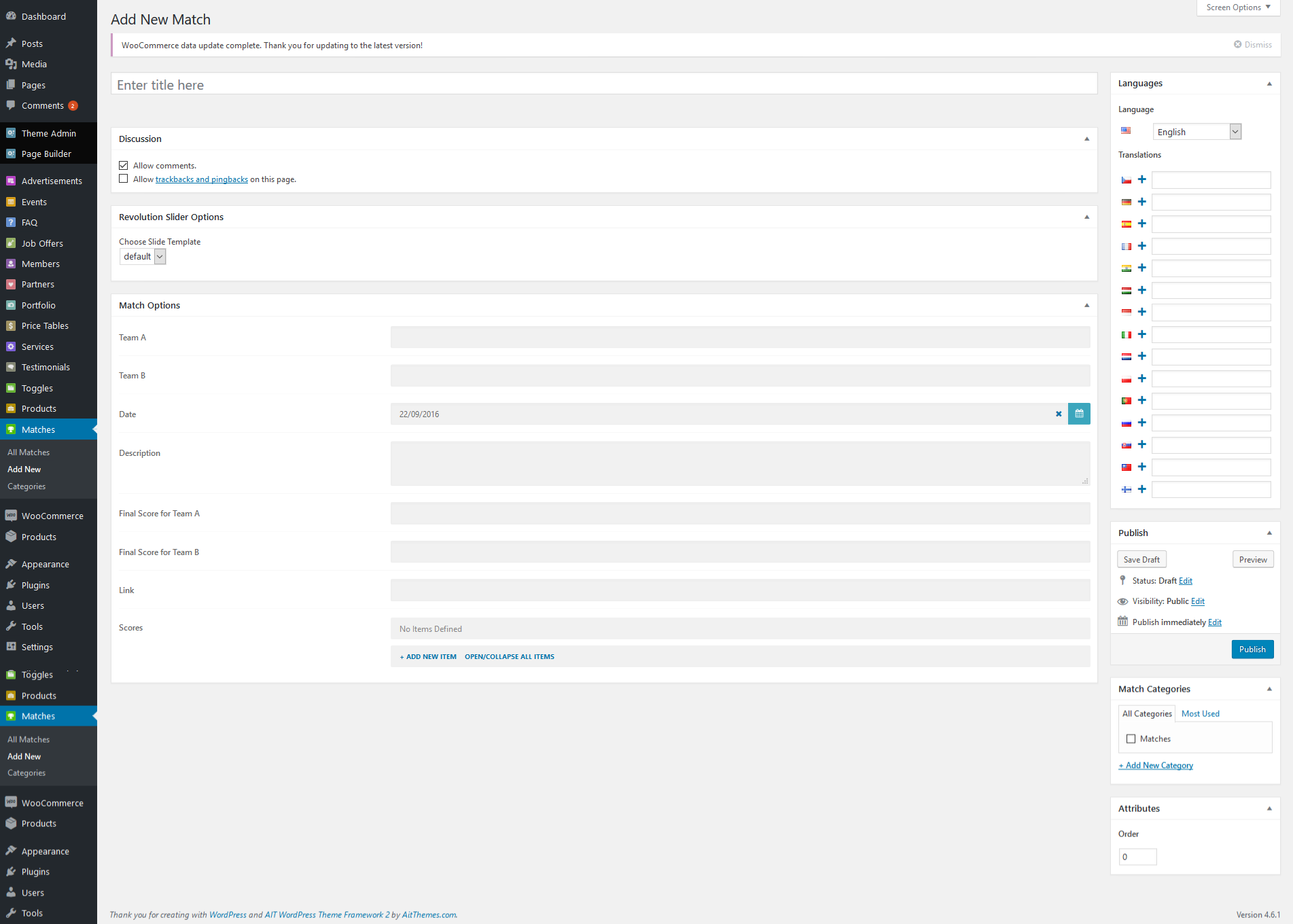 2. On the top of Add New screen write title for your new match, below title field are available options to add information like names of teams, date of match and scores.
Match Options
For each match are available options:
Team A – name of first team
Team B – name of second team
Date – date of match displayed with Next Match
Final Score for Team A – final score for first team
Final Score for Team B – final score for second team
Link –
Scores Section provide options to add more scores divided for example into half-time in football, thirds in hockey or quarters in basketball. For each of them might be set up:
Title – title for score, just for own identification (not displayed on frontend)
Score A – score value for Team A
Score B – score value for Team B
3. On the right side is place to assign new match to some category, so you can divide your matches to more categories and decide then which category of matches will be displayed on page. In case you are creating multilingual website, select also language of currently created post.
4. Click Publish button to submit and create your new Match
Check out our Page Builder documentation to see how you can display created matches using Matches Element.
Edit Match
To edit your existing matches go to page with All Matches and click on the title of match. In opened page you can change values set up for match in the same way as you did when you create new match. After editing click Update button on the right side of edit screen.