In CityGuide theme you can create Item via Items Custom Post Type available from main left side WordPress menu and display created items using Items element.
To see where on frontend are displayed information filled for Items Custom Post Type, follow CityGuide Specific Documentation here.
Create new Item
In main WordPress menu navigate to Items menu option where are available options:
All Items- display all your Items posts
Add New – page to add new Item
Item Categories – page to manage categories of Items
Item Locations – page to manage locations of Items
Steps to add new Item
1. Click on Add New link in menu or button on page with all your Items to create new Item.
You will see the following screen:
2. On the top of Add New screen write title for your new item, below title field are available options to add information like address, features and gallery.
Item Options
For each item are available options:
Item Header – Type of header displayed on item
Address – Location of the item
Telephone
Email – You can hide the email by setting Show Email off
Web – Website
Contact owner – Display or hide contact owner form
Opening Hours Section provide options to add opening and closing hours for the current item. For every item might be set up:
Monday: 8am – 8pm
Tuesday: 8am – 8pm
Wednesday: 8am – 8pm
Thursday: 8am – 8pm
Friday: 8am – 8pm
Saturday: closed
Sunday: closed
Gallery Section provide options to add pictures to the current item. For each of them might be set up:
Title – title for image
Image – image url to display in the gallery
Features Section provide options to add item features, for example restaurant have a wifi, card pay, happy hour drinks, etc.. For each of them might be set up:
Icon – icon for the feature
Title – feature title
Description – feature description
3. On the right side is place to assign new item to some category and location, so you can divide your items to more categories and decide then which category of items will be displayed on page. In case you are creating multilingual website, select also language of currently created post.
To create a new item category click "+Add New Category" or navigate to Item Categories in the left wordpress menu. The categories and locations comes with custom options. Avalaible custom options are:
Icon – category icon displayed in the detail for the current category
Icon in Map – icon displayed in the Header Map
Header Type – header type displayed in the detail of the category (Map, Image, None)
Header Image – image displayed in the header when header type is set to image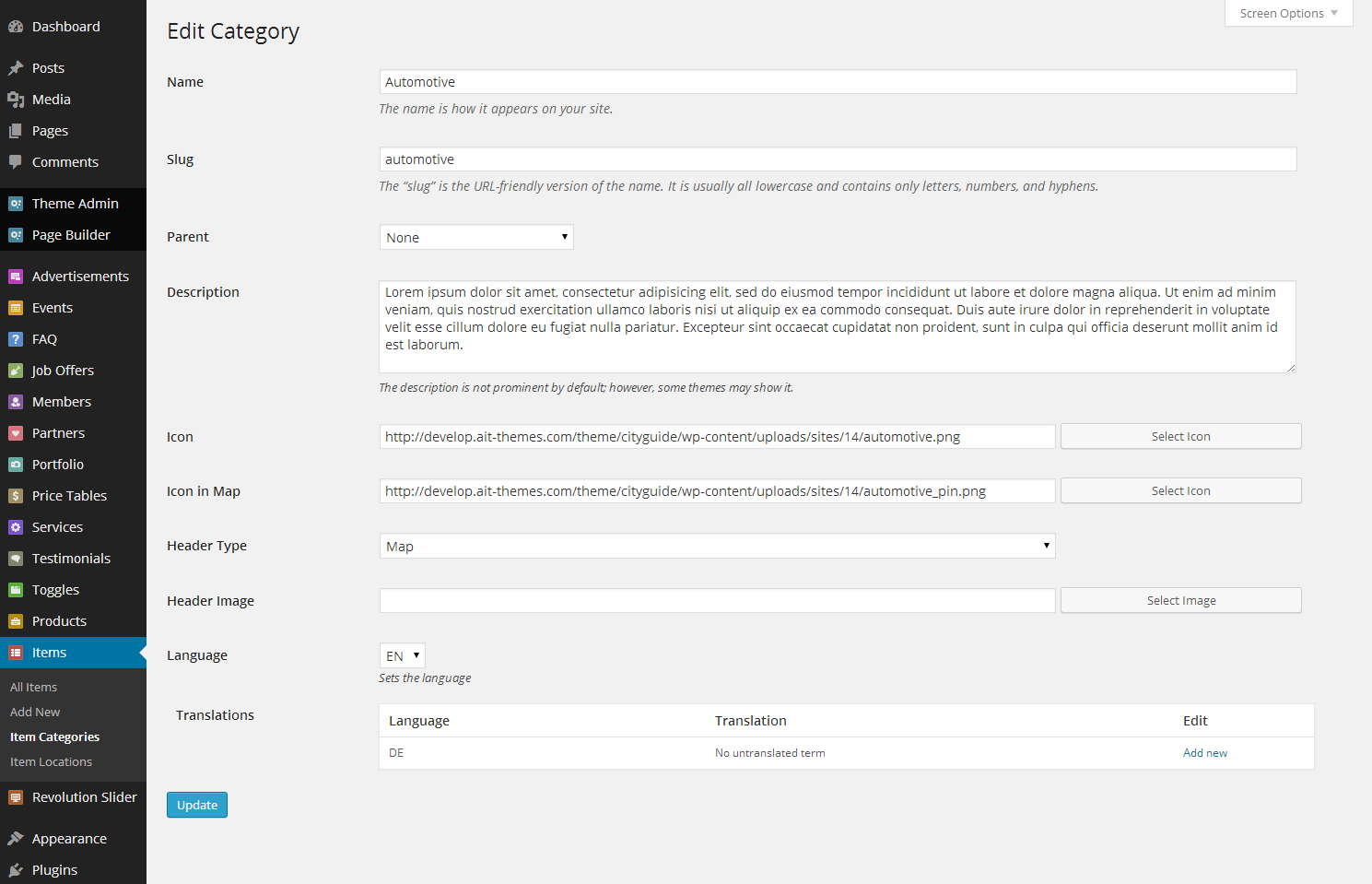 4. Click Publish button to submit and create your new Item
Check out our Page Builder documentation to see how you can display created items using Items Element.
Edit Item
To edit your existing items go to page with All Items and click on the title of item. In opened page you can change values set up for item in the same way as you did when you create new item. After editing click Update button on the right side of edit screen.