After plugin installation you will find new menu item "Item Filters"under Items menu: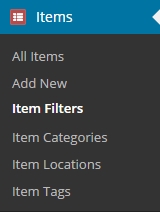 Item Filters screen allows you add new filters one by one like standard WordPress tags. All available filters are listed in the table on right side of screen:
For each filter are important options:
Name – the name of filter displayed on the site to filter results
Icon – icon is not required, but is displayed with filter on Items Detail pages between provided Features added for Item post.
Depending on installed theme, Icon of filter may be added as standard image or FontAwesome Icon:
image icon is available in themes CityGuide, EventGuide and FoodGuide
FotnAwesome selection of icons is available in themes Directory+ and BusinessFinder+
See diffence on screenshots below:
Created filters are ready to use and available for Items. How to assign filters to Items, read more here.
From Theme Options can be changed number of Filters displayed in one row on search results page: