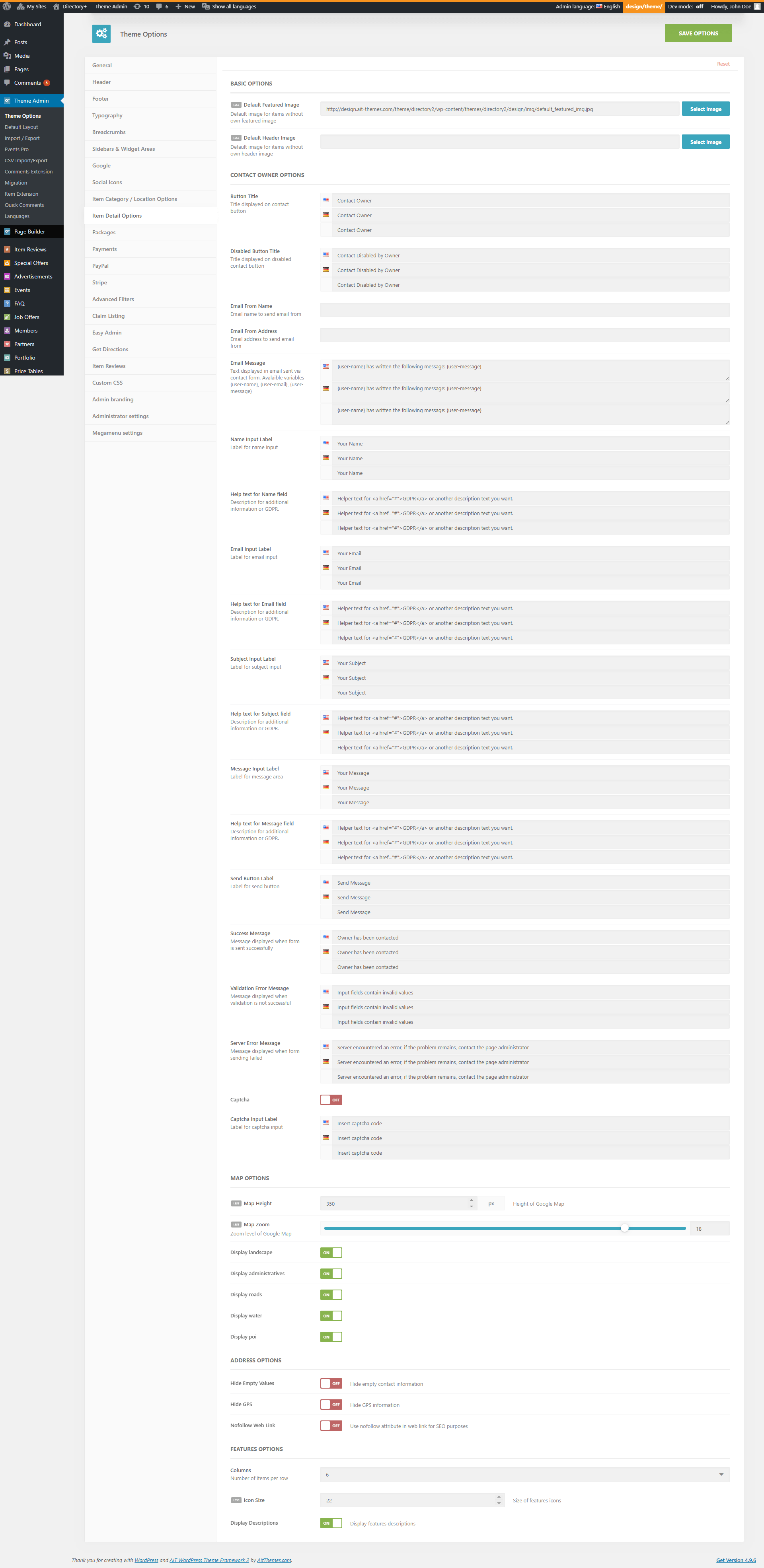 Options for single item are divided into sections:
Basic Options
Contact Owner Options
Map Options
Address Options
Features Options
1. Basic Options
Default Featured Image – is used, when the current item doesn't have the featured image specified. The featured image is used in the item loop and also the search.
Default Header Image – is used when the current item has the header type set to "image" but no image for the header was defined.
2. Contact Owner Options
Button Title – title for the button
Disabled Button Title – title for the button when the contact owner form is disabled
Email From Name – used as the name of sender
Email From Address – email address of senter, if the field remains empty, admin email is used. Added due to some hosting providers banning the default wordpress email address.
Email Message – message displayed in the email. You can use the keywords {user-name}, {user-message}, {subject} and {user-email}. These keywords will be replaced by the current values from the form.
Name Input Label – label for the name input
Helper text for Name field – may be used as text for GDPR or any other custom description text displayed under input in the form.
Email Input Label – label for the email input
Helper text for Email field – may be used as text for GDPR or any other custom description text displayed under input in the form.
Subject Input Label – label for the subject input
Helper text for Subject field – may be used as text for GDPR or any other custom description text displayed under input in the form.
Message Input Label – label for the message input
Helper text for Message field – may be used as text for GDPR or any other custom description text displayed under input in the form.
Send Button Label – label for the send button
Success Message – message displayed when an email has been sent successfully
Validation Error Message – message displayed when some field was not filled correctly or is empty in case of required field
Server Error Message – message displayed when the server encountered an error
3. Map Options
Map Height – height of the small map displayed on item detail
Map Zoom – zoom of the small map displayed on item detail
Display landscape – turn on/off displaying of Google Map Landscapes
Display administratives – turn on/off displaying of Google Map Administrative areas
Display roads – turn on/off displaying of Google Map Roads
Display water – turn on/off displaying of Google Map Water
Display poi – turn on/off displaying of Google Map Points Of Interest
4. Address Options
Hide Empty Values – with option turned on will not be displayed values for Address information which are not filled in admin side
Hide GPS – do not show GPS information on Item Detail pages
Nofollow Web Link – use "nofollow" rel attribute in Web Link for seo purposes
5. Features Options
Columns – number of columns for the features section
Icon Size – size of the icons
Display Descriptions – display or hide each features description