Using elements you can build easily professional look of your pages in a moment, simply drag and drop elements to the place and order them to achieve wanted layout of page.
To have access to Elements, install free AIT Toolkit plugin.
More information about adding elements to your pages find in Default Layout and Page Builder documentation page.
Sticked unsortable elements
Elements with fixed position on page, their position can't be changed.
Page Title
Revolution Slider
SEO
Sortable elements
Elements which you can drag and drop to order them and achieve wanted layout of page.
Advertisements
Columns
Comments
Contact Form
Content
Countdown
Counters
Easy Slider

Events
Facebook
FAQ
Google Map
Horizontal Rule
Job Offers
Member
Members

Mixcloud
Opening Hours
Partners
Portfolio
Posts
Price Table
Services
Sitemap

SoundCloud
Testimonials
Text
Toggles
Twitter
Video
Elements listed above are default elements included in all themes (according to purchased membership), each theme might include also own Elements related to special functionality of theme! So take a look at Specific Documentation of your theme too.
Elements displayed on pages
Main part of Default Layout or Page Builder screen contains all elements which are currently used in page layout.
Used elements are divided in two sections:
Sticked unsortable elements – have fixed position on page which can't be changed
Sortable elements – order of these elements may be changed, simply drag and drop element to wanted position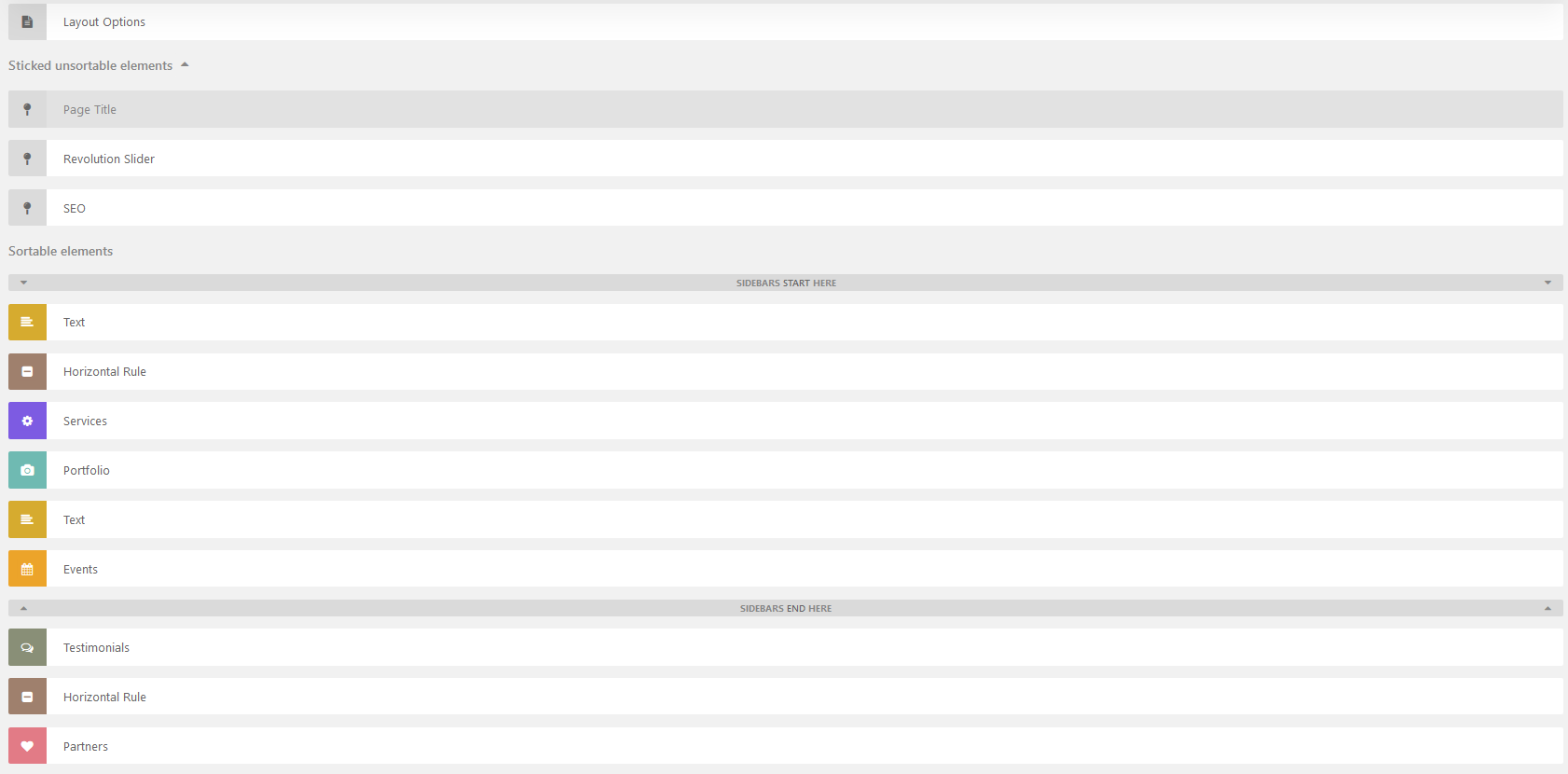 Section with Sortable elements contains also two sidebars panels which specify part of page which will contain sidebars. You can drag and drop both panels to wanted positions or insert elements between them. Sidebars appear only beside elements inside sidebars panels.

Insert elements
On the right side of Default Layout screen you can find all available elements which may be added to your pages. Simply drag and drop element into section with Sortable Elements.
Available elements are divided in sections:
Fullwidth Elements
– elements can't be used inside Columns element
Fullwidth or Columnable Elements
– elements may be used also in columns of Columns element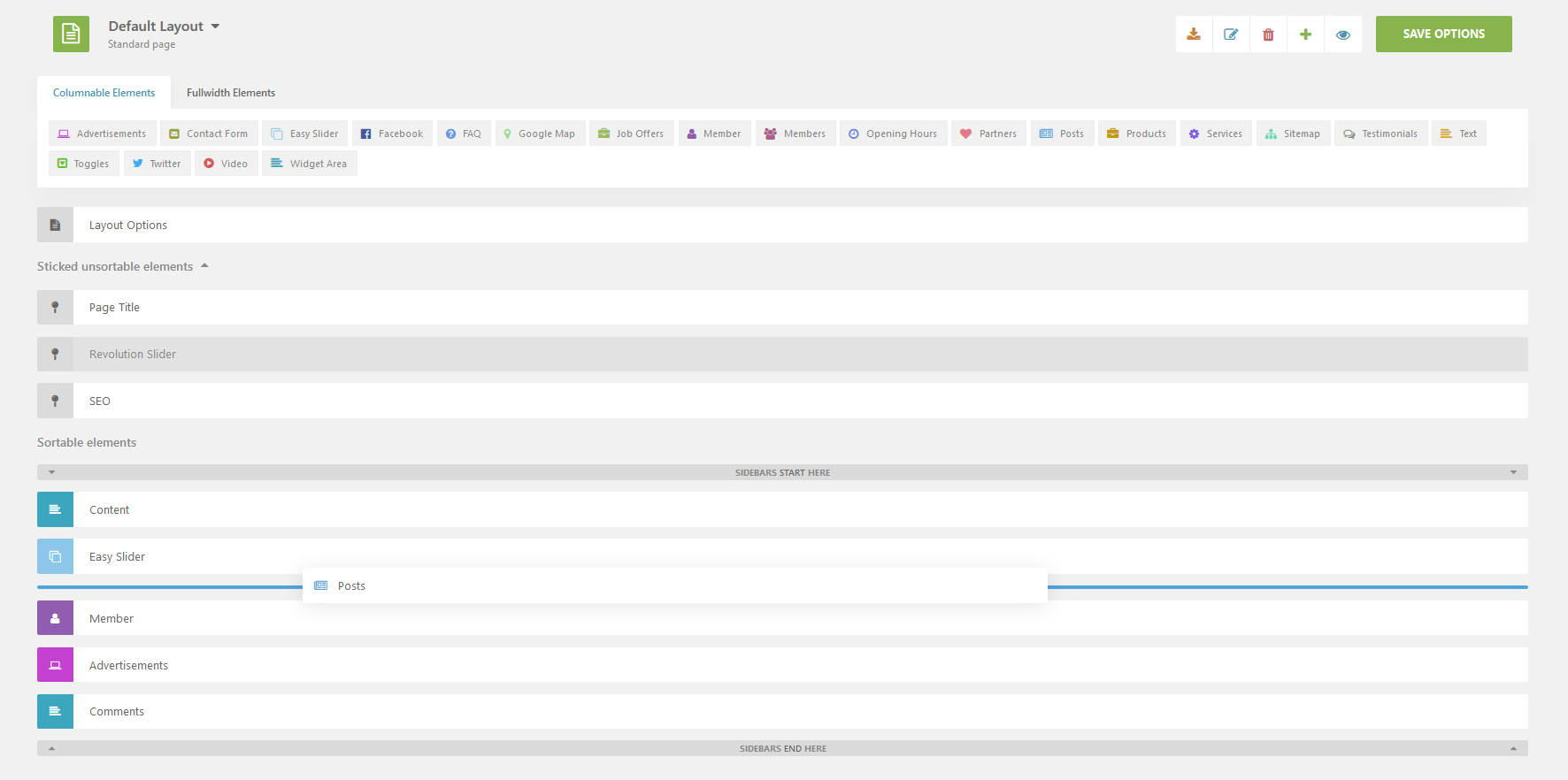 With simple click on element you can open and edit Basic or Advanced options of element.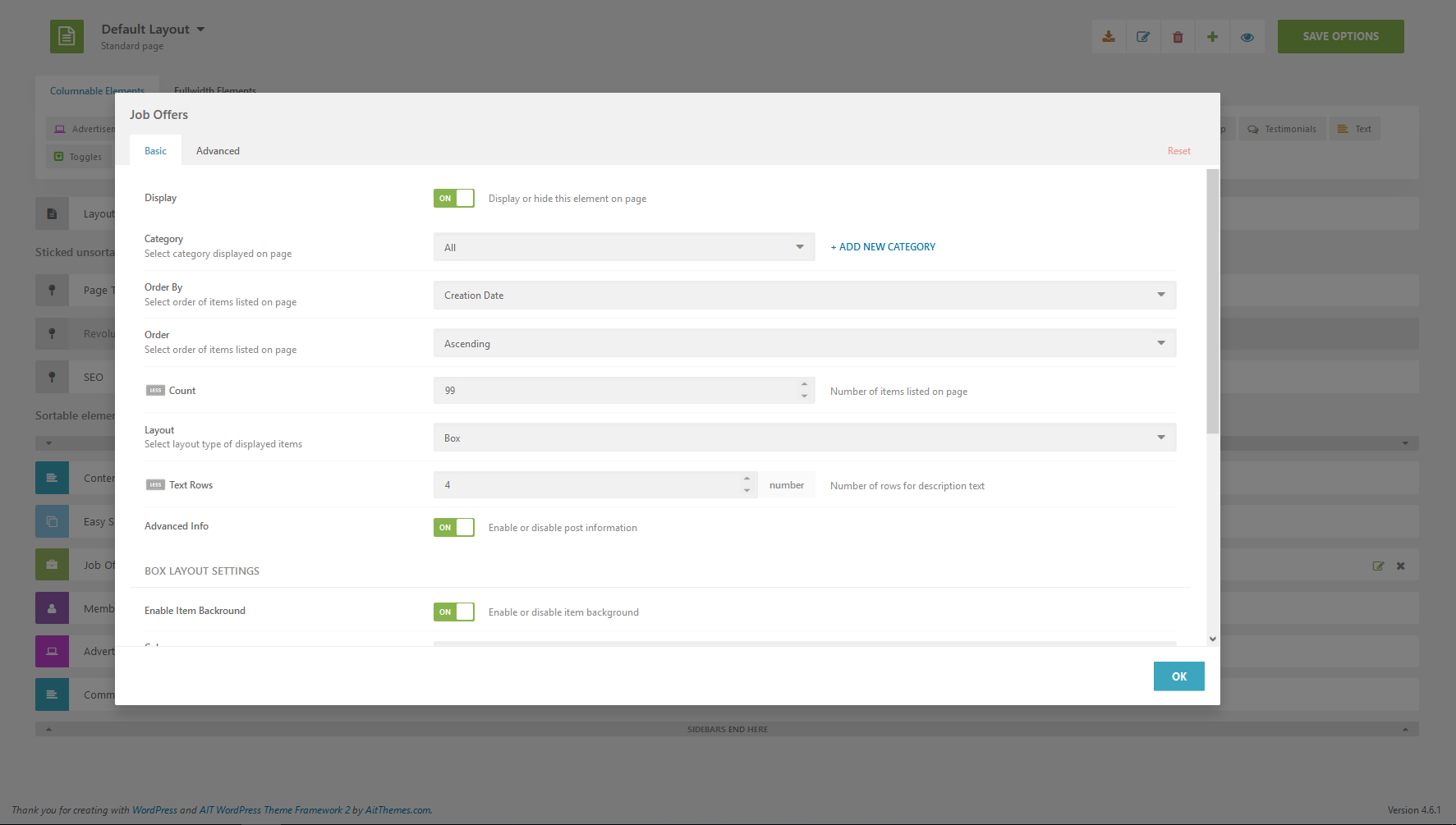 Name your Elements
For better clarity in a heap of elements you can write name for each of them, so you can still find fast element which you need modify.
Basic and Advanced options of element
Settings of elements are divided to Basic and Advanced options.
For more information about Basic options of elements, visit please documentation page of specific Element.
Advanced Options
If you are editing element in Page Builder screen, so you're going to made specific settings for element just on specific page, you can enable or disable using of Advanced options with selection Enable.
If you select Yes, used will be settings which you made for this element in Page Builder screen.
If you select No, for this element will be loaded settings from Default Layout options where you set up some settings for element globally for whole site. Every time you select "No", values set up for this element in Page Builder screen will be overwritten with values set up for this element in Default Layout options.
Custom Class – write your own class or more classes, you will be able easily add your own custom css styling for elements through your own classes
Title – title text displayed above element
Description – description text displayed above element
Alignment – select alignment for title and description text
Element Background section
Background – set up background color for element section, you can set up as background image with all positioning options like Repeat, Position and Scroll
Spaces around Element section
Top Margin – space above element
Top Padding – top space inside element
Bottom Padding – bottom space inside element
Bottom Margin – space below element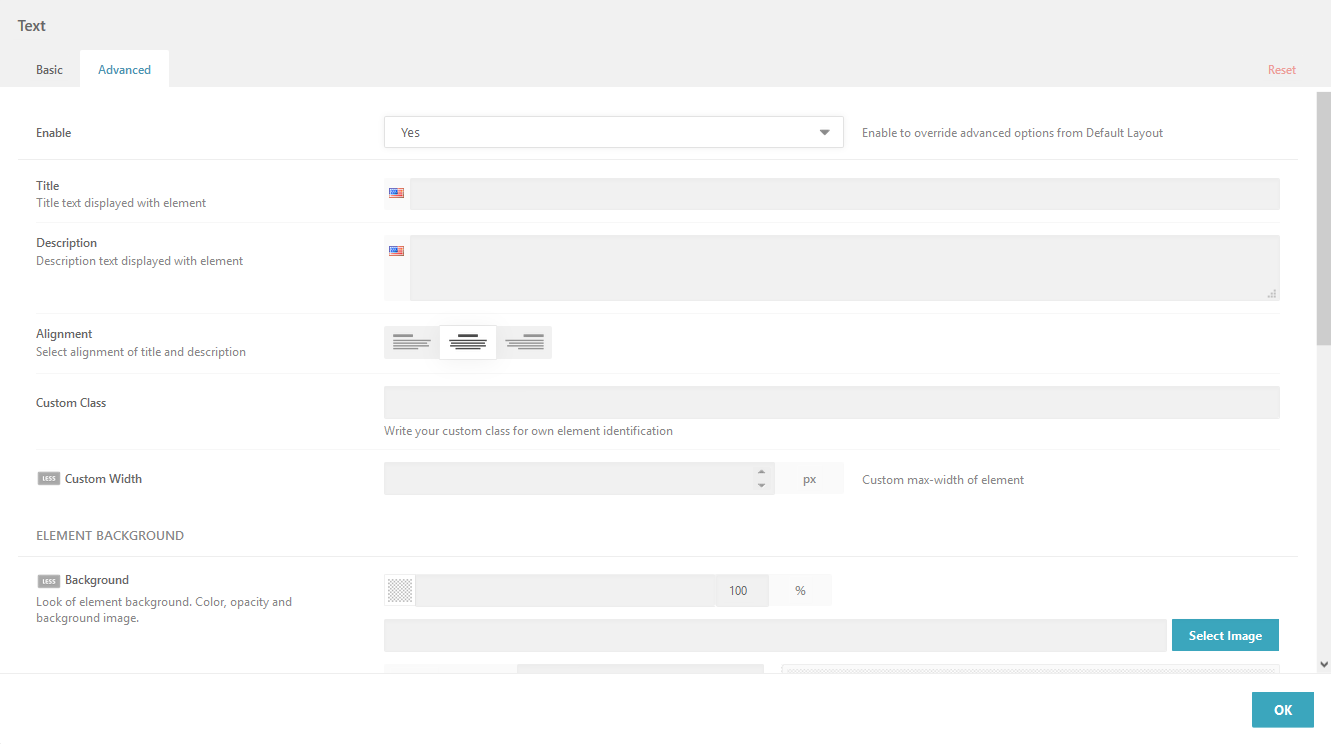 Other settings available in Advanced options of specific element are related to currently edited element and these options are explained below, for each element separately.