Because GDPR has entered into force, we have made a number of changes to our templates. All of these updates are designed to help you collect, process and store personal information. Our priority is to provide customers with useful tools through which it is possible to implement all the necessary GDPR obligations.
You can read what GDPR is and why it certainly applies to you in one of our previous articles.
Changes in all the templates build on Framework 2
Change in Contact form Element
Contact form element now includes option to add help text to each input field. You can write any description, help or notice for the website visitors here. For example, you can specify the reason for which you are requesting this information from the website visitor.
Changes in Directory templates
Register form
Within the Register form widget, we added the option to add a description or help text for the following inputs:
In addition to all directory templates, the updated Register form is available also for the Multi-Author Blog theme.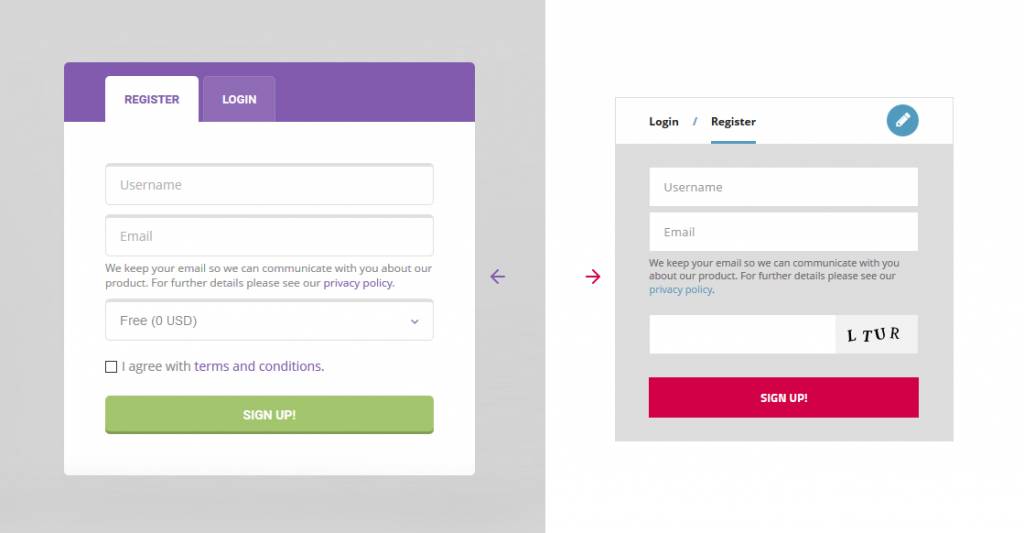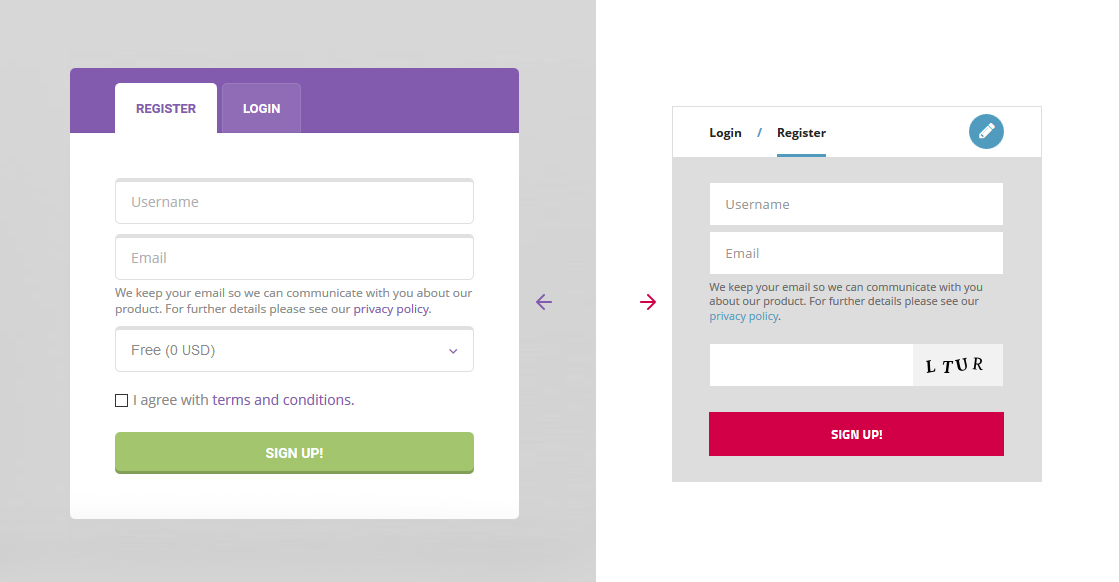 Contact Owner form
The option to add help text for all the inputs on the form that is located on the detail page of a specific item. Namely for:
Name
Email
Subject
Message

Changes in the current Plugins
Quick Comments plugin
This plugin is used for communication with the website visitors. For such communication personal details are used thus needs to comply with GDPR requirements. It is possible to add help text in the Quick Comments plugin for:
Input Email
Subscribe to newsletter
In addition, radio buttons have been added to express the consent of the commenting user with subscribing to the newsletter. In order for the Quick Comments plugin to be GDPR friendly, the consent is automatically saved. The archiving of consents including the exact wording of the agreed text is one of the most important obligations.
The new feature is also integration directly with MailChimp. You can connect your MailChimp account with our plugin using your MailChimp API Key. With this plugin, you can automate the collection and management of email addresses for marketing purposes. You need visitor's approval for such collection. If you're provided with the consent, the email address gets automatically imported from the Quick Comments form to your MailChimp list.
It is very important that you also make it easy for the visitor to unsubscribe from the mailing list. For this operation, the user can use the same form and the change will also be reflected automatically in MailChimp.
Claim Listing plugin
This plugin allows the user to take responsibility for their own "listing item" from the list and manage it. For the mandatory fields in the form through which such user is registered, we have now added editable help texts. You can enter the help texts for:
Item Reviews plugin
When adding a review, users complete certain fields in the form. To clarify why you request this information, custom help texts are now available for: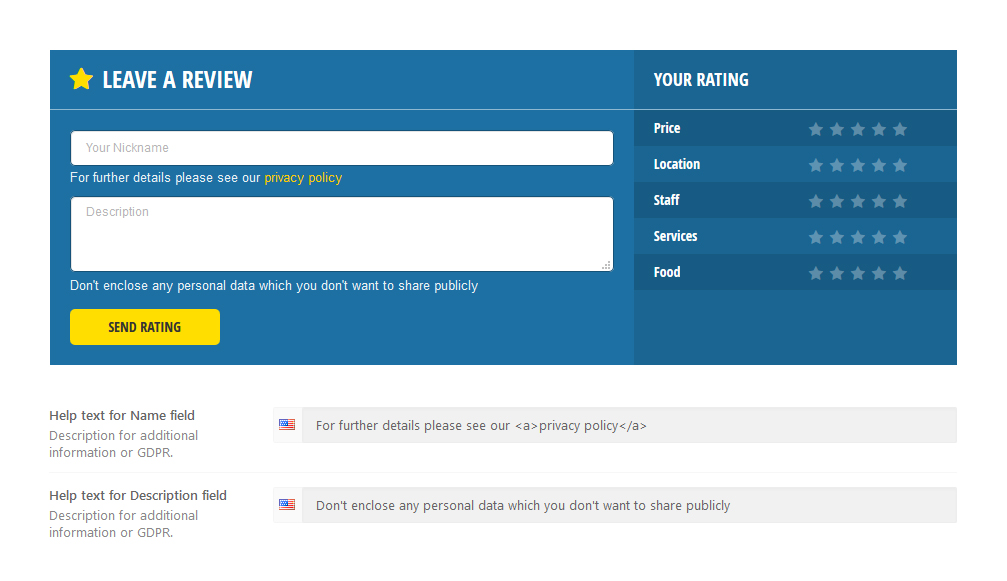 New GDPR ready Plugins
We have created brand new plugins to help you to work easily with personal data:
Ait Subscribe Form
If you want to collect and store customer email addresses on your website, this plugin will allow you to do so in line with the new GDPR legislation.
Ait Subscribe Form adds a new element with subscribe form that can be added anywhere on the website via Ait Page Builder. This element also provides logging of user activity. Thanks to this, you will exactly know which user (and when) expressed their consent with subscription via the form. Or alternatively when the user decided to unsubscribe from the newsletter.
Of course, Ait Subscribe Form plugin can be linked to the MailChimp account. This plugin communicates with MailChimp via API.
Comments Extension Plugin
The Comments functionality is a built-in functionality of WordPress itself. Visitors have to fill in their email address if they want to add a comment. Our plugin extends the standard WordPress Comment form for Pages and Posts by providing an option to add new help texts for all the input fields in the form.
Comments Extension is a universal plugin which means it can be used for all Ait WordPress templates, and even for the templates provided by other authors.
How to work with Comments Extension Plugin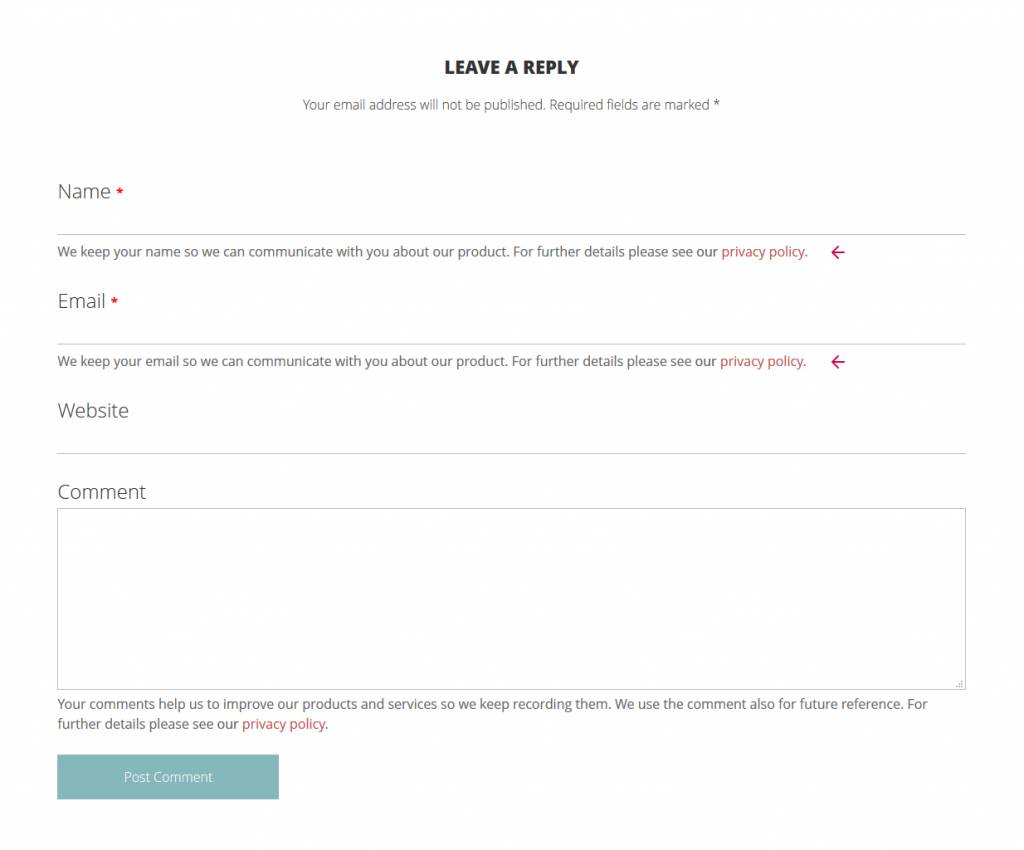 Infobar Plugin
Infobar Plugin turns on the information bar at the top or bottom of the web page. You can add any text into this strip – such as information that your site uses cookies or any other alert for your visitors. Infobar can be closed by clicking on "X" or text button. Consequently it will no longer be visible to the visitor.
How to work with Infobar plugin
Infobar is a universal plugin that is compatible with all Ait WordPress templates. You can also use this plugin with templates from other authors.
List of updated themes for GDPR
Translated & Multilingual Themes
Langwitch
Widescreen
Expedition
Aqua
Architect
Denko
OnePage
Multi-Author Blog
Photographer
Ristorante+
BeachClub
Cargo
FarmWorld
Brick
Doctor+
Memorial
Hair
Solitudo
Retro
Hoteliour
Typo
Gourmet
Band
SportClub
Anchor
Sushi
Spa
Coffeebar
Multilingual Directory Themes
Business Finder+
Directory+
Event Guide
Food Guide
City Guide
Plugins
Comments Extension
Infobar
Quick Comments
WPML Ready Themes
Doctor
Fairytale
Tour Operator
Basic Themes
Universal Business
Glamorous
Corporate Easy
New Plugins
Ait Subscribe Form
Comments Extension
Infobar Plugin
Coming soon
Ait Languages plugin upcoming actualization
At this moment we're currently waiting for an actualization of translations from our translators who we cooperate with. Translations will be included in the next update of Ait Languages plugin.
close
Disclaimer: Please note that Ait Themes provides product technical solutions. Ait Themes Club is therefore not responsible for incorrect handling of data or insufficient incorporation of GDPR requirements. The complete implementation of the legislation must be ensured by each company individually based on the personal data it processes (or does not). Do not forget to consult your lawyer in order to help you to be fully GDPR compliant.