New GDPR WordPress Plugins
The main benefit of these plugins is that they can be customized by website needs. You can adjust their functionality, design and purpose as you want.
Infobar Plugin helps you get cookie consent
Infobar Plugin working as a special WordPress cookie plugin and its goal is to notify user. It turns on the information bar at the top or bottom of the website. You can add any text into this bar – such as information that your site uses cookies or any other alert for your visitors.
Because it's closeable bar, it can be canceled by clicking on "X" or text button if available. By this "action" user expresses his consent with statement displayed inside the bar. So that's why is Infobar perfect for get GDPR cookie consent from every user. It's not annoying for the visitor because after closing, consequently it will no longer be visible to him.
If you'd like to see how to activate Infobar on your website and how to create privacy policy, watch this quick tutorial:
Work with email subscriptions more precisely via Ait Subscribe Form
If you need to collect and store customer email addresses on your website you have to do it right. This plugin allows you to work with sensitive personal data in line with the new GDPR legislation.
Ait Subscribe Form adds a new element with subscribe form that can be added anywhere on the website using Ait Page Builder. This element also provides logging of user activity.
Plugin connected to MailChimp
What's the next benefit, Ait Subscribe Form plugin can be linked to the MailChimp account. This plugin communicates with MailChimp via API. This feature provides you the order in your email database. It means, that you'll always know what kind of emails would like your subscribers receive.
By using Ait Subscribe Form you have detailed database with chronological order of user consents with any type of emails.
Comments Extension plugin for privacy policy clarification
The Comments functionality is a built-in functionality of WordPress itself. Visitors have to fill in their email address if they want to add a comment. Our plugin extends the standard WordPress Comment form for Pages and Posts by providing an option to add new help texts for all the input fields in the form. Comments Extensions provides you an opportunity to better clarify your privacy policy.
You can use help text (fields) to explain the purpose of data collecting to keep privacy policy as GDPR requires.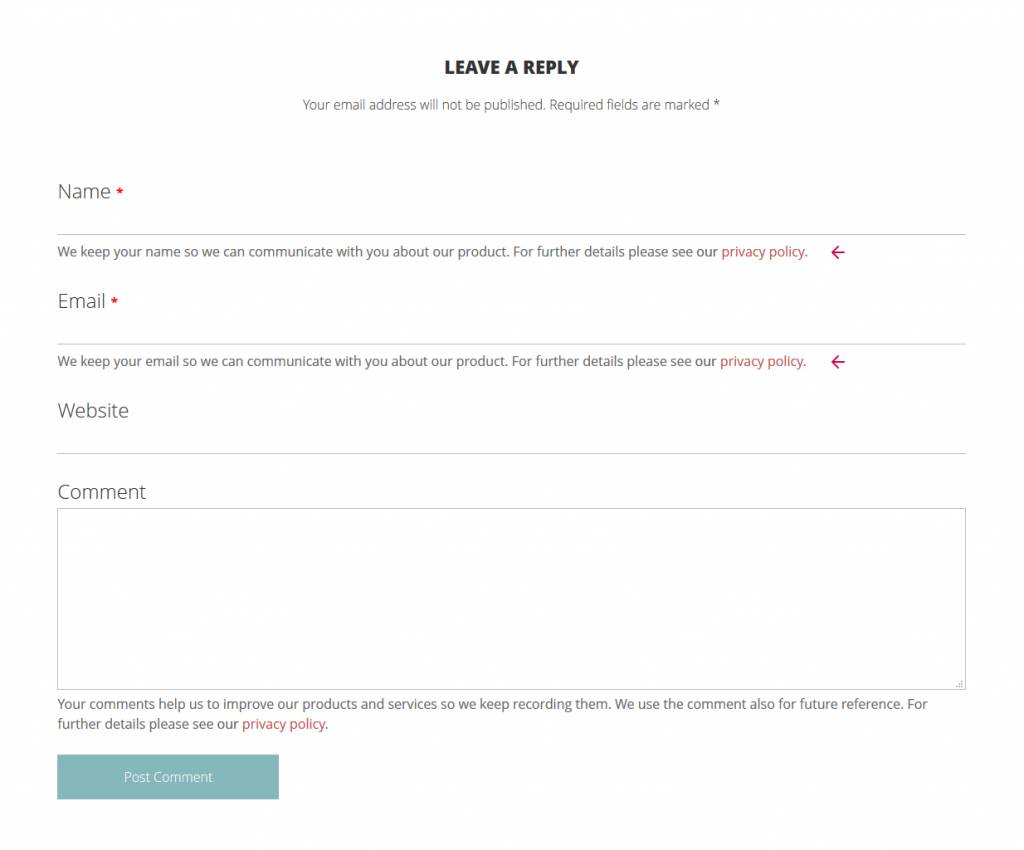 Need our special plugins for GDPR compliance of your WordPress website? Now you can get them for discounted price in Lifetime Membership. Without yearly renewals or any additional fees.
Buy GDPR WordPress plugins in Lifetime Membership
Changes in our current WordPress plugins
Because GDPR has entered into force, we've extend some plugins to help you meet new criteria about privacy policy.
Quick Comments plugin
This plugin is used for communication with the website visitors. For such communication personal details are used thus needs to deal with them in secure way. It is possible to add help text in the Quick Comments plugin for:
Input Email
Subscribe to newsletter
In addition, radio buttons have been added to express the consent of the commenting user with subscribing to the newsletter. In order for the Quick Comments plugin to comply GDPR privacy policy, the consent is automatically saved.
Integration with MailChimp
The new feature is also integration directly with MailChimp. Now you can connect your account with the plugin using your MailChimp API Key. With this plugin, you can automate the collection and management of email addresses for marketing purposes. You need visitor's approval for such collection. If you're provided with the consent, the email address gets automatically imported from the Quick Comments form to your MailChimp list.
It is very important that you also make it easy for the visitor to unsubscribe from the mailing list. For this operation, the user can use the same form and the change will also be reflected automatically in MailChimp.
Claim Listing plugin
This plugin allows the user to take responsibility for their own "listing item" from the list and manage it. For the mandatory fields in the form through which such user is registered, we have now added editable help texts. You can enter the help texts for:
Item Reviews plugin
When adding a review, users complete certain fields in the form. To clarify why you request this information, custom help texts are now available for: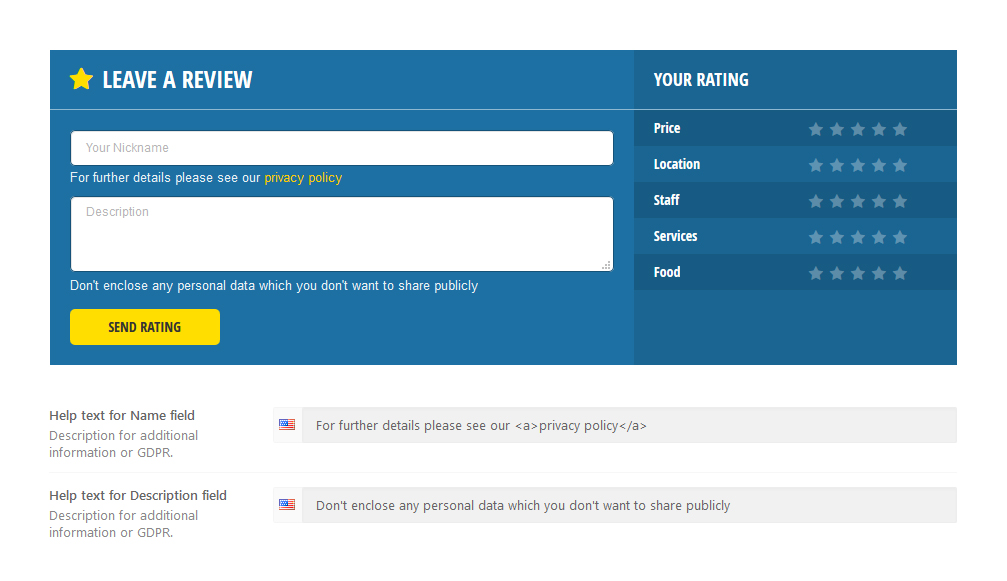 Updates in multilingual themes
Beside plugins changes and release of brand new GDPR plugins, we've made updates also in our WordPress themes.
Change in Contact form Element
Contact form element now includes option to add help text to each input field. You can write any description, help or notice for the website visitors here. For example, you can specify the reason for which you are requesting this information from them.
It's always good to give your visitors closer information about dealing with their personal data (e.g., email or name). GDPR law requests to tell users a purpose of collecting/ processing data and in some cases you need to specify also the way, how you are going to do it.
Updates in portal themes
Register form
Within the Register form widget, we added the option to add a description or help text for the following inputs:
In addition to all portal templates, the updated Register form is available also for the Multi-Author Blog theme.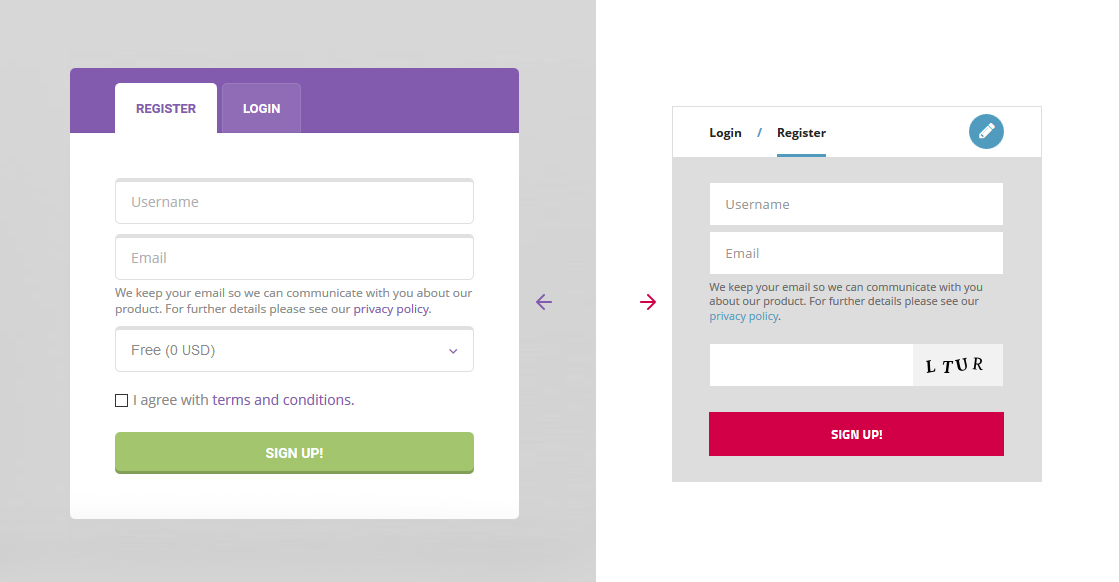 Contact Owner form
The option to add help text for all the inputs on the form that is located on the detail page of a specific item. Namely for:
Name
Email
Subject
Message
GDPR doesn't have to be a nightmare for website
All changes that we've implemented same as our brand new GDPR WordPress plugins help you to deal with personal data. These plugins work as useful tools to comply privacy policy on your website.
If you're not sure what text should be inserted to individual fields to be displayed within our WordPress plugins, there exists many "GDPR for dummies" guidance and tips for better understanding the law. Also we highly recommend you to discuss it with your lawyer.
A complete list of updated themes for GDPR
Translated & Multilingual Themes
Langwitch
Widescreen
Expedition
Aqua
Architect
Denko
OnePage
Multi-Author Blog
Photographer
Ristorante+
BeachClub
Cargo
FarmWorld
Brick
Doctor+
Memorial
Hair
Solitudo
Retro
Hoteliour
Typo
Gourmet
Band
SportClub
Anchor
Sushi
Spa
Coffeebar
Portal Themes
Business Finder+
Directory+
Event Guide
Food Guide
City Guide
Plugins
Comments Extension
Infobar
Quick Comments
WPML Ready Themes
Doctor
Fairytale
Tour Operator
Basic Themes
Universal Business
Glamorous
Corporate Easy
New plugins
Ait Subscribe Form
Comments Extension
Infobar Plugin